Three upstarts look to establish themselves, and maybe even upset St. Olaf.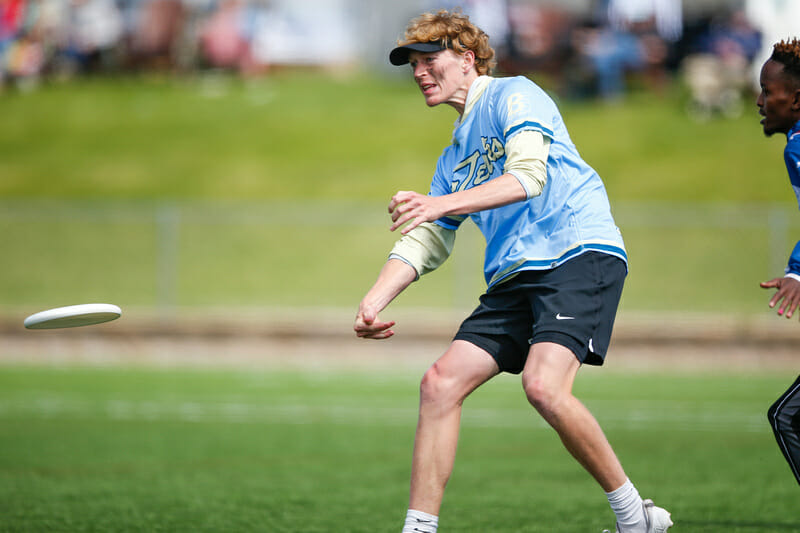 Ultiworld's coverage of the 2023 college ultimate season are presented by Spin Ultimate; all opinions are those of the author(s). Find out how Spin can get you, and your team, looking your best this season.
We are less than one week out from the D-III College Championships, and that means it's pool preview time. With the first full regular season and rankings post-COVID, 16 worthy teams arrive at the campaign's final weekend ready to crown a national champion. This season we have a men's field that looks wide open after the two-time reigning national champion, Oklahoma Christian, was shockingly eliminated at Regionals. Expect a frenzy as team's vie for their vacated spot on the throne.
We've got you covered for all the exciting action this weekend, but before the first pull goes up, let's get to know the teams who will be competing in Ohio. Then follow along on the D-III Nationals Event Page for updates and livestreams throughout the weekend!
Pool A | Pool B | Pool C | Pool D
St. Olaf Berzerkers
Seeding: B1; overall no. 2
Power Ranking: #7
Path to Nationals: NC 1; defeated Grinnell in the NC final
Past Nationals Appearances: 2012, 2015, 2021, 2022
Location: Northfield, MN
Looking to avenge a loss in the 2022 National Championship game, the St. Olaf Berzerkers return as the number two overall seed and the top seeded team in pool B this year.
The Berzerkers come into Columbus riding high, having absolutely dominated during the Series. St. Olaf has gone 10-0 with a point differential of +73. Their closest win of that stretch was by four goals, and the record was punctuated by a dominant win over Grinnell in the regional final. It's tougher to ask more of a team than what the Berzerkers have done this postseason.
Despite their postseason dominance, there were a few hiccups by St. Olaf this season. A loss to a B-team (albeit while playing a developmental squad, but still), a loss to a team seeded 9th in this tournament, and a blowout loss to the one team seeded ahead of them are reasons to feel concerned about the Berzerkers.
St. Olaf's undisputed leader is Will Brandt. The 2022 Offensive Player of the Year is one of the best combinations of athleticism and skill that the division has seen. He's shown an ability to assert himself on offense in a variety of ways. Whether he's throwing over the top of a zone or exposing his defender in matchup defense, Brandt is able to impose himself against whatever look a defense brings.
St. Olaf lost 2022 All-American Second Team member and leader of their D-line Luke Bleers to a knee injury earlier this season, but the Berzerkers have plenty of depth that has stepped up to fill the void. Eric Crosby-Lehmann and Matt Kompelien are both playing much bigger roles this year and are candidates to have breakout performances in Ohio.
The Berzerkers are a big, athletic team capable of overpowering their opponents. Riding a hot run in the postseason up to this point, St. Olaf has to be taken seriously as a threat to get over the hump and win it all this year.
Williams WUFO
Seeding: B2; overall no. 7
Power Ranking: #8
Path to Nationals: NE 2; defeated Bowdoin in the second place final
Past Nationals Appearances: 1995*, 1996*, 2003*, 2007*, 2009*,1 2022
Location: Williamstown, MA
A young Williams WUFO team are able to build off their 2022 Nationals appearance by making a return to the big show this year as the second seed in pool B.
After a middling 6-4 start to the season, WUFO found their stride and have been on a 12-1 run, with the only loss coming on double game point against Middlebury. Despite playing in one of the toughest regions in the country, Williams have been nearly flawless this postseason. Nobody can accuse them of beating up on a weak schedule, and WUFO have looked every bit of a quarters-level team, if not better.
Williams returns almost everyone from last year's team that finished 12th at Nationals. Juniors Danny Klein and Reed Kendall spearhead the WUFO offense, while sophomore Charlie Tantum anchors the D-line. When asked for key players to watch this weekend, the team shouted out the defense of senior Jonah Tobin and freshman Wade Buchheit stepping up into a key role on offense. Perhaps the most important piece for WUFO this weekend is the addition of their coach, Will Savage. The steadying presence of a coach will help maximize the considerable talent on this team.
Getting the experience of Nationals last year was big for WUFO, and earning the chance to build on that success this year is a huge accomplishment. Can Williams improve on last year's showing to make quarters this year?
Navy Poseidon
Seeding: B3; overall no. 11
Power Ranking: #10
Path to Nationals: AC 2; defeated Elon in the second place final
Past Nationals Appearances: 2022
Location: Annapolis, MD
After making Nationals for the first time in program history last year by winning the Atlantic Coast, Navy Poseidon were able to return to Nationals this year after fighting their way through the backdoor bracket at regionals to claim the region's second bid.
This season for Poseidon has been an absolute rollercoaster; the team has shown the ability to play at the highest of levels, but also has had some low lows. Navy have wins over three other Nationals teams (Berry, Kenyon, Richmond), but they also got bageled by Penn State and lost to Elon at Regionals. Granted, they avenged that Elon loss the next day to earn their bid, but it was the kind of game one wouldn't expect a team of Navy's caliber to lose.
Navy are a team built around their defense. Both of their captains, Max Benedetti and Michael Pyle, play on the D-line. When he's at his best, there aren't many players in the division better than Benedetti. He's always one of the best athletes on the field, and his aggressive, decisive throwing is the catalyst of most of their breaks. Pyle is a block machine, despite constantly guarding the opponent's best cutter. The O-line, led by Chuck Dunn and Jack Bassett, are solid, but if Navy are to make any noise this weekend, it'll be on the back of their defense.
Navy have shown the ability to hang with, and beat, the best teams in the division this year. Can they reach that level enough times this weekend?
Colorado School of Mines Entropy
Seeding: B4; overall no. 14
Power Ranking: #13
Path to Nationals: SC 3; defeated John Brown in SC third place final
Past Nationals Appearances: None
Location: Golden, CO
Perhaps the biggest Cinderella story at the tournament, Colorado School of Mines (CSOM) Entropy overcame an 0-3 start to South Central Regionals to win three straight games in the backdoor bracket and claim the region's third bid to Nationals.
We covered Entropy's regionals journey in great detail, but the story remains remarkable. Emerging from the toughest region in the division with a Nationals bid is impressive, but doing it in the way CSOM did is almost completely unheard of. Entropy have believed all season that they're a Nationals-level team, and now they have the chance to prove it this weekend.
CSOM are a deep team; according to their coaching staff, 17 of the team's 23 players caught a goal at Regionals. Even with that depth, the team has star power. The freshman duo of Randy Lahm and Derek Liebich anchor the O-line, and a strong performance from either at Nationals could vault them into the Rookie of the Year conversation. Senior captains Manav Vats and Campbell Beals are the leaders on the team's defense.
CSOM achieved their goal of making Nationals; everything from here is an opportunity to show the world they deserve to be here. Entropy defied the odds to get this far, and in a pool with three top ten teams from our power rankings, they'll have to defy them again to extend their season past Saturday.
---
All as part of the singular — now D-I — College Championships ↩