Rating everything from offense to depth to sideline impact, and the margins are thin at the top.

Ultiworld's coverage of the 2023 college ultimate season is presented by Spin Ultimate; all opinions are those of the author(s). Find out how Spin can get you, and your team, looking your best this season.
Over two thrilling days of competition the field of 16 teams has narrowed down to the final two contenders. On Monday, the D-III Men's College Championships will crown a new national champ. Will Colorado College Wasabi's crew find success and defend their top seed all the way to the end? Or will the deep well of Middlebury skill drown out Colorado College's chances? We break down both teams by considering the building blocks of their approaches for the big game tomorrow.
A note on our approach to grades: these are the top two teams in the country. They've proven themselves to be the cream of the crop, and we're not going to go easy on them. If anything, we might curve them down as they've already made the A+ tier of the division ahead of their final chance to fight it out for the top spot on Monday.
Star Power

Colorado College: A
In their semifinal against Richmond, Wasabi's stars stepped up and made big plays. There are three that stand out: Lincoln Grench, Oliver Kraft, and Oliver van Linder. Grench has been the subject of discussion all weekend; he's the engine for the Wasabi offense, and plays as a true hybrid. Van Linder has a great offensive game, as well, and had five assists for Wasabi against the Spidermonkeys. On defense, Kraft had a standout performance in the semifinal, notching five assists and two blocks. This might be just the tip of the iceberg for Wasabi's star power, though, so keep an eye out for other names on the roster to jump out and get themselves in the Twitter thread.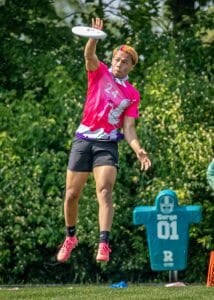 Middlebury: A-
Middlebury brings solid wattage to the field throughout the top lines of their team. Expect to see players like Ethan Lavallee, Raffi Najarian, Malachi Raymond, Colman Bashore, and Geir Hartl among others build on their CVs from this weekend as the top goal scorers and assist throwers for one last match. The 'minus' comes from the perception that there may not be a single player to take over and run the show if things take a dire turn and they need leadership out of the trenches. This isn't a bad thing – and doesn't fit with Middlebury's style or approach to play – but the uppermost ceiling on Middlebury may be just a notch below other teams at the top tier of the division.
Depth
Colorado College: B
We just talked about the star power of Colorado College and how there could be more stars waiting in the wings. That said, Wasabi has a few players shouldering a lot of the burden for this team. Three players on Wasabi (Grench, Kraft, van Linder) accounted for 14 of their 15 assists in the semifinal. Blocks and goals were slightly more distributed, but the stars of the team were the reason for most of the points. There's only one game tomorrow so Wasabi won't have to save their legs for another game. But, the fatigue of the three-day tournament could start to take hold, especially if points become long.
Middlebury: A+
While Middlebury might not be rocking as many household names (yet) as other teams, their collective depth more than makes up for it. The stat sheet makes it clear: this weekend a whopping 18 different players have scored – no double digit blowups amongst them – with 15 different players throwing assists. In tough moments, the Pranksters didn't do more than tweak the makeup of their lines; there was no overhauling of DNA the way some teams will when backed into a corner and needing to fire up a star player. The trust in one another is apparent across the roster to get the job done when the season is on the line.
Offense
Colorado College: A
Wasabi got hit with a handful of different defensive looks this weekend. Their coaches talked about how they had the offensive adaptability to both recognize and adapt to these different sets. In their semifinal against Richmond, they did just that. Richmond threw some 3-3-1 zone, poach sets off of the side and ho stack, and tight person defense. Wasabi was able to adjust to these defenses on the fly, and break through the Richmond sets for holds. They also had a lot of success hitting break throws, both on inside lanes and around the mark. It was brutal for Richmond and will likely be a problem for Middlebury tomorrow.
Middlebury: A-
For a team without coaches, Middlebury has no problem playing within structures and flows. The Pranksters generally execute at a high level and with a patience that is difficult for teams to fluster as they demonstrated throughout their pool play domination. Even when knocked off their rhythm, their patience allows the team to build back to their natural tempo, such as after a few subpar points against St Olaf in the semifinal matchup. If they keep the completion rate high in the backfield and around resets, their windows of opportunity will open wide.
Defense
Colorado College: A-
Oliver Kraft was a defensive machine for Wasabi against Richmond. On the weekend, he has an astounding 10 blocks, and that total should only go up tomorrow in the final. Other key defensive players include Ben Carpenter, who opened the semifinal with a layout block, and Elliot Kirkham, who is a long mark that can frustrate smaller handlers. The one reason for the minus is that they were a pretty one-dimensional team with success on defense. While they had a zone look, Richmond was able to get through it with not too much trouble outside of some unforced errors. All and all they're the tournament's top seed in part because of their defense, but they might have to find a way to vary their defensive looks if Middlebury beats their matchup defense.
Middlebury: B
Look, a squad can't get to the final at the College Championships without a defensive line that can generate blocks and capitalize on them. Malachi Raymond, Peter Mans, Louis Douville Beaudoin, and Jorre Dahl have all put pressure on opponents this weekend, lighting up with blocks and winning battles in the air. The Pranksters aren't near-guaranteed wins in the air – Raymond notably was bested a handful of times by St. Olaf's Will Brandt in their semifinal matchup – and will need to select smart matchups for Colorado College stars to not be left behind by the time the dust has settled on the final match.
Sideline Impact
Colorado College: A
Wasabi is an energetic and fun team. They've got great haircuts and outfits. They've got the energy during timeouts and halftime. And, like Middlebury, they'll have their womens' team with them on the sideline (or likely the stands) for the final tomorrow. This brings a new layer of energy to a team that's going to be a big factor when the game gets tight tomorrow. They're goofy – not Middlebury goofy, but goofy all the same.
Middlebury: A+
When D-III thinks of energetic sidelines, the bright pink jerseys and less-than-stream-appropriate cheers of the Pranksters is top of mind. When their women's division team isn't playing and able to merge (as will be the case for the Men's final happening after the Women's) something truly magical is created. The creativity and positivity will serve as a buoy that can help lift this team when the gas tank starts to run on empty. It can also pour gasoline on the defensive fire to carry Middlebury to the top.
Final Thoughts
Colorado College Wasabi leaves the first segment of the bracket with few challenges. While this is good for legs, it might be bad for the ego, in the sense that iron can sharpen iron. Colorado College had a few moments in the game against Richmond where they looked on the heels, but never trailed. They have taken half in every game this weekend and have not won a game by fewer than four points. Middlebury on the other hand had a tough quarterfinal against Missouri S&T Miner Threat, and trailed at half to St. Olaf Berzerkers 8-7. They've had to come back to win a game this weekend, and enter the final hot off of that victory. Domination versus determination – one will eke out a win in what is likely to be a high-energy and intense Men's final to close out the 2023 D-III college season.