UNC Darkside completed their historic three-peat, taking down a formidable UMass Zoodisc team in the final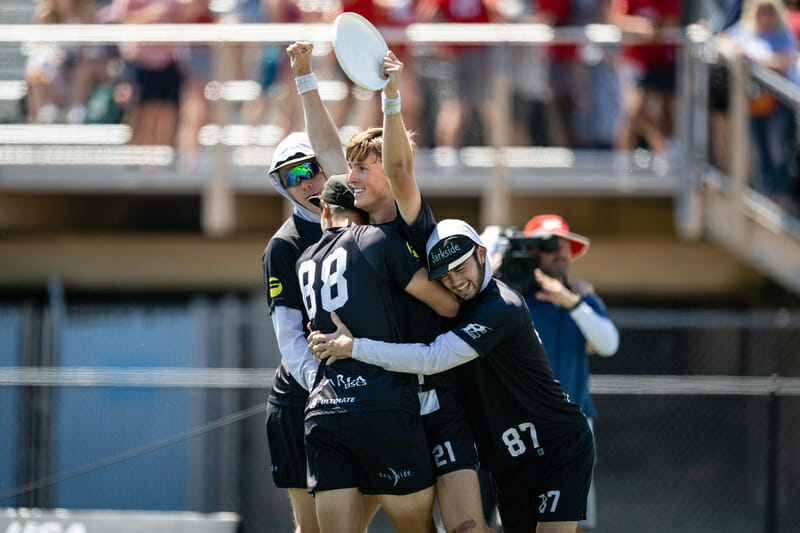 Ultiworld's coverage of the 2023 college ultimate season is presented by Spin Ultimate; all opinions are those of the author(s). Find out how Spin can get you, and your team, looking your best this season.
For the first time since 1998, a D-I men's team has won three consecutive championships, as North Carolina Darkside defeated Massachusetts Zoodisc 15-12 in the national final to cap off a historic season.
While Darkside were certainly the favorite coming in to the game, UMass had enough talent and experience to make their win far from a guarantee. Massachusetts was the only team to defeat Darkside during the regular season, taking home a 15-12 win of their own in the final of the Smoky Mountain Invite. The depth of their top-end talent gave them the canvas to challenge the consensus top team, and their strong coaching, dedication, commitment, and trust painted a picture of a title contender.
"They were a really hard puzzle to solve," Darkside captain Kevin Pignone said. "Especially after Smoky, that was a, you know, a really good loss for us. And so after that, I think we finally knew who our enemy was, knew who we had to take on."
Playing in their fifth consecutive final, UNC was no stranger to the stadium atmosphere and ESPN spotlight. They entered the season with this game in their sights, tailoring every practice, tournament, film session, and workout to be able to play at their peak in this moment. UMass, on the other hand, had an excellent season but hadn't been to the College Championships since 2018. The last time they were in the championship game was 1986, when the parents of this year's Zoodisc team were likely in school. Despite their immense talent, they couldn't be sure that playing this weekend – let alone making this game – was guaranteed.
"Coming into the season, I didn't have any expectations in terms of results," UMass captain Isaac Kaplan said. "So it was just about how good we could get and how hard we could push each other, and how far we could come and like, doesn't get better than this, honestly."
Though UMass made sure to note they typically practice in a similar stadium on campus and felt at home, it was UNC who looked to have home field advantage from the first throw. With a loud cheering section behind him, Jack McCleary came into the lane from the weak side handler defender position and stepped in front of an early pass to open the game with a statement block, his first of a game-leading three. Though UNC didn't punch in that break opportunity, they made it very clear to Zoodisc that nothing would come easy.
On their own opening defensive opportunity, Zoodisc earned a turn too. Dameron thought he could toss an unmarked reset but threw the disc straight into Kaplan defending John McDonnell in the backfield. Defending a short field, Darkside clamped down on Zoodisc's handler movement, took away anything easy, and forced a blade to the back of the end zone that Sam Green got his hands on but couldn't reel in.
Darkside took the lead for good early on when Will Christian dropped a routine pass. Over the past several years, Darkside repeatedly punished teams who make simple execution errors. This year with Pignone, Andrew Li, and Matt McKnight taking the reins on the counterattack, Darkside's run-the-ball offense generated breaks as well as any unit in the country. Pignone wasted no time and launched a flick downfield to Bodhi Harmony to set up an easy flip-in score.
Though there was still plenty of game to play, a quiet confidence permeated the UNC sideline even with just the tiniest advantage of a 2-1 lead. UMass was not panicking, but knew they needed to step up their game to pull out an unlikely win. Unfortunately, the way they sped up their play begat further execution errors rather than quick holds. On back-to-back points, Luca Harwood sent a flick too far for Noel Sierra, and Wyatt Kellman pushed a backhand huck to the defense after Gavin Abrahamsson cut off his deep move. The Darkside counterattack was ruthless both times, with Dylan Hawkins lifting a well placed away shot to Thomas Harley and Pignone finding Luke Duan for a 5-2 lead that would represent the winning margin in the game.
"I don't think they really did anything that was unstoppable or anything," Sierra said, reflecting on his team's challenges against the Darkside defense. "I think it was all on us. And that game could have gone our way if a couple of different things happened."
There were plenty of highlights for UMass. As they fought to get back in the game, Jonah Stang-Osborne had a sequence where he entered the lane from an inactive position to save a disc that soared past its intended target, launched a pinpoint huck to the goal line, and followed up his own throw to catch the goal. Abrahamsson had an impressive sky on a throw that hung long enough for Darkside's defender to catch up and make the play a challenge. Kellman bent a backhand huck up the sideline and around Josh Singleton to secure a break as the first half came to a close.
Kellman ➡️ Green for Zoodisc!#USAUCollegeChamps | #USAUltimate pic.twitter.com/AlGgdBixFF

— USA Ultimate (@USAUltimate) May 29, 2023
Darkside finished the first half with a textbook zone offense possession. UMass mostly came down in soft junk looks early in the first half, aiming to disrupt pull plays.
"They have seven great guys on their own line. And we have a great seven guys on our D-line," Kaplan said. "So first of all, it was just getting matchups. But then we knew they want to huck from flow. So we did some more junky looks stop those hucks, which largely we did."
Looking to tie the game at seven, Zoodisc came with a more traditional zone. UNC took nearly 50 throws to work through it, but never attempted anything less than a 100% look. The calm and patience handlers Rutledge Smith, Matt McKnight, Pignone, and John McDonnell showed was emblematic of a team that felt like it was in complete control. UNC took half 8-6.
To put the game out of reach, UNC stacked a D-line early in the second half. Smith and Hawkins crossed over to help secure a break, and Zoodisc gave them the chance via a Harwood drop moments before Smith dropped a hammer to McCleary that nailed the door shut on any hopes of a Zoodisc comeback.
Massachusetts had one more chance to make the game interesting. Smith misfired the centering pass after stopping the pull and Zoodisc punched in a one-throw break. For the next two points, they switched their defense to strict matchups and brought a load of pressure on the Darkside handlers.
"Rusty [Ingold-Smith] and I spent hours watching film thinking about this stuff," Kaplan said after the game. "He has a crazy depth of experience as a D-line guy. And I feel like I have a good sense of, on-field, the feelings that are going on and what defensive sets will produce certain outcomes." The outcome here was that UNC had to work harder than they had all season to move the disc into the end zone.
"They're one of the few teams in the country that we play against that genuinely challenges the around," McKnight said. "Most teams challenged the around purely from the mark and tried to make you mess up the throw, but they actually will shade to the around. Sometimes it makes you throw some longer uplines, and so that's something that we had to adjust to. We had to be content to, you know, just throw upline after upline on the same side of the field, when we're used to trying to swing the disc constantly. I think that just took a little bit of mental adjusting."
Coming close on a few blocks, there was a palpable sense of excitement from the UMass sideline, just willing one of their defenders to make a game changing take-away. Once UNC reached a 13-10 lead, UMass seemed to sense the end was near. Their defenders were using every ounce of energy to produce the unlikely turnovers needed for a comeback. Feeding off their own energy as the imminent title became more and more a tangible reality, UNC played two more championship-worthy points, capping off their title with one last Smith completion to Singleton.
.@UNC_Darkside are national champions 🏆🏆🏆 pic.twitter.com/JLAx0Huxnd

— Ultiworld (@Ultiworld) May 29, 2023
Darkside's title caps off the first back-to-back-to-back titles in the men's division since UC Santa Barbara put together three straight from 1996-1998, before the UNC players who won this one were born, and back when games were played to 21.
"The amount of work that we've put in throughout the year with this team is just so special," Smith said. "We put in so much practice, so much, so much hard work, so much time spent out together, hanging out developing friendships, working hard for each other, working hard with each other. It means a lot. I love these guys with all my heart."
Darkside succeeded not just because of their on-field talent and execution, but also because of the attention to detail and commitment to success from everyone involved in the team. While other teams were huddling in the hot sun on the scorching torch, Darkside players had shade tents available on the sidelines and tables filled with food and water. While every team has supporters, the Darkside apparatus has group chats of parents debating which food and hydration supplements will be best for their athletes. UNC has built such a collective buy-in to success on the field that players who typically get less playing time in games spend the time between points roaming the sidelines carrying water bottles and cold towels ready to offer either to the seven players who come off a point. Darkside have enough coaches that during a TV timeout in an ESPN game, the offense and defense are each getting separate pointers from a separate coach while another monitors the time to make sure the team gets back on the field before the time is up. The players deserve all of the credit for their fantastic play, but the entire operation that is North Carolina ultimate chipped in to this win as well.
Both teams are aiming to be back in the title game next season. UNC returns major offensive contributors like Smith and Singleton, as well as top defenders Eli Fried and Grayson Trowbridge. "I don't believe in any other group more than this team," Pignone said. "So the team next year, we'll see. We always want it…you can bet we're gonna be putting in that work too."
UMass returns nearly every major contributor. McSweeney, Kellman, Carter Hawkins, and Stang-Osborne are just sophomores. Harwood and Sierra are juniors, and O-line starter Gavin Abrahamsson is a rookie. In short, this team is going to be good for the foreseeable future. "We're gonna continue to strive to be the best team that we can be," Kaplan said. "Nobody thought we could do it. But we'll be back. No doubt," added McSweeney.
After a run of Brown-UNC matchups at the top of the division, Darkside may have a new New England foe to challenge their bid to become the first college team to win four consecutive championships.