The top five candidates in each division!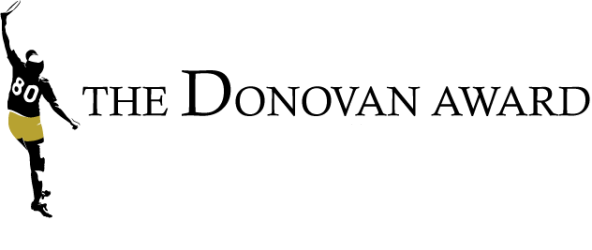 Ultiworld is excited to present the finalists for the seventh annual Donovan Award. The Donovan Award is a peer-voted award for the Division III player that best demonstrates an exceptional level of skill and athleticism on the field; upholds the principles of Spirit of the Game, equity, and fairness in their own actions, as well as holding teammates accountable to do the same; and is a leader off the field, both on their team and in the greater ultimate community.
Here are the five finalists in each division, listed alphabetically, with their bios from their nominations attached (some have been edited for clarity).
The 2022 Donovan Award winners will be announced Thursday, June 15th, in a live presentation on Ultiworld's YouTube channel, beginning at 8 PM Eastern.
Men's Division

Max Benedetti (Navy)
On universe point in the game-to-go at Atlantic Coast Regionals this year, Max struck upline, caught the pass, and put a beautiful huck into the back corner of the endzone for the score. It sent the team to its second consecutive National Championship, a feat that before his arrival would have felt like a pipe dream to the team and its players. His steadfast presence on the line and his icy coolness under pressure make him by far the team's most valuable player.
From his first day as a freshman on the team, Max demonstrated himself to be one of the sport's premier players and leaders on and off the field. Max has to balance the demands of midshipmen life at USNA, including mandatory morning PT, six hours of class, military briefs at night, and weekly drill practices, all while being captain of a rowdy frisbee team. Accomplishing this daunting feat has proved his love for his team, his teammates, the sport, and the future success of the program. Max's participation in the program as a teacher, mentor, and leader over the last four years have led the program to unprecedented success.
Navy Poseidon is not a team overflowing with frisbee experience or natural talent. It's a hard nosed team that brings in completely inexperienced raw players and transforms them into competent cutters, handlers, and defenders. It's a team with a steep learning curve as new players have to be constantly incorporated into existing lines in a matter of months, a daunting prospect for a team with Nationals aspirations. Nonetheless, Max Benedetti's ability over the last four years to teach each and every new player the skills required to compete at a high level has been the lifeblood of the program during its most successful years.
Max has left an indelible mark on the program and all those who have played with him. It is safe to say that none of Navy Ultimate's greatest moments over the last four years would be possible without Max's monstrous hucks and gravity-defying skies. Three consecutive nationals bids, one regional championship, and a 4-0 record over team rival and long-time boogeyman Richmond are a testament to his impact on the team.

Luke Bleers (St. Olaf)
Luke Bleers has been a quintessential member of the Zerks Ultimate community. A three-year captain of the team, Luke embodies the spirit of the sport with his passion, leadership, and sportsmanship. He has been an instrumental part of the Zerk's success over the past few years, helping to build a strong team culture and a winning mentality. Luke began playing ultimate at a young age and has won both the Illinois Middle School and High School State Championships. He has competed at multiple Youth Club Championships and began his time on the Zerks already playing at an extremely high level. More recently, Luke has played at the elite club and pro level, earning meaningful defensive minutes on Minneapolis Sub Zero and Minnesota Wind Chill.
Luke is an incredible defender, using his innate athleticism and on-field sense to lock up his matchup. On the turn, Luke excels at breaking the mark and dialing in deep looks to capitalize on break opportunities. (watch the video) Unfortunately, an ACL injury has prematurely ended Luke's college career. However, his presence, voice, and support are crucial to the Zerks' culture and success. His leadership as a captain always steers the Zerks in the right direction, both on and off the field. Luke's four years on the Zerks have been special, and we could not be prouder to nominate him for the 2023 Donovan Award. #Luke4Donovan

Jacob Cowan (Grinnell)
There is no greater honor than to nominate such an amazing person and player for this award. Jacob Cowan began his ultimate career as a freshman at Beacon High School in New York City, growing (literally — he was 5'4" freshman year!) into a top player on the New York youth ultimate scene. After graduation, Jacob decided to take his talents to rural Iowa and join the Grinnellephants of Grinnell College.
The team, when he joined, had gone several years without even qualifying for Regionals. Now, four years later, Jacob's Grinnellephants went to a second consecutive D-III Nationals, after a bid-earning season that had the team finish fifth in USA Ultimate's national D3 rankings.
Jacob is an absolute menace on the field. Playing as a top Division-3 player requires that "do-it-all" quality that few elite players in the country have. Jacob can take over the game defensively, whether that's blowing up a handler set with his quick feet and gigantic mark or completely eliminating other teams' deep game; offensively, it's no surprise for him to be on either the throwing or receiving end of a one-throw pull-play score. Nobody should be surprised that he was selected to represent the US this summer at the World Championships on the U-24 Mixed team.
But what makes Jacob truly special is not how hard he works, or how excellent of a player he is. Jacob, rather, is distinguished by the effort he has made to build the Grinnell frisbee program into a loving, healthy, and engaged community. In the Fall of 2019, it was often challenging to get 14 people to practice. Now, after years of organizing, teaching and energy, Grinnell has two open teams, and regularly has over 40 practice attendees. The team has gone from zero to two phenomenal coaches (which, in rural Iowa, is a small miracle) in large part due to Jacob's relentless recruiting. While his incredible skill will be remembered in the region for years to come, Jacob's Division 3 legacy will be the regional powerhouse that Grinnell has become. For all these reasons, the Grinnellephants proudly nominate Jacob Cowan for the 2023 Donovan Award. Keep your eyes peeled for a sick Donovan video.

Max Hanscom (Middlebury)
The Middlebury Pranksters were pleased to have Max Hanscom become an addition to the team in the Fall of 2019. Max was fresh off is high school career where he dominated the fields of Seattle, playing for Garfield's Purple Haze and was ready to bring his talent to the Pranksters. Though Max was extremely skilled, what the Pranksters felt first was his bright energy, bubbly personality, and consistent desire to uplift everyone around him, earning him the nickname Sunshine. Unfortunately, right as Max began to feel integrated into the team, COVID struck and left him without a first-year or sophomore season. However, this didn't slow him down in the slightest and once he was able to return to campus, Sunshine hit the ground running, ready to be the warm presence everyone needed on the sidelines and an ice cold cutter on the field.
Sunshine became an unstoppable force on O-line, constantly stretching the field and setting up perfectly timed break side cuts all while being ready to play some small ball in the handler space when needed. His tall stature not only allowed him to reel any disc in on offense but also assisted him in becoming a menace on defense, stifling any handler movement and making the deep space a dangerous space to attempt to throw.
He quickly began racking up the personal accolades, being recognized on the Ultiworld All-American Second Team for both 2021 and 2022, 2021 Breakout Player of the Year 1st Runner Up, and even made Mike Ball's personal Dlll Universe Line picks. These were backed up by some of the most impressive performances in all of D-III, including an unbelievable seven point game in the 2021 National Finals.
Going into 2023 season, it was an easy choice to have Sunshine captain the Pranksters as his love and dedication for the team was unmatched. Not having a coach, Sunshine spends countless hours each week on everything from practice planning to tournament logistics, individual player meetings, and so much more. His impact to the team and entire Middlebury Pranksters community is unmeasurable and though the team is sad to see him leave, we know we will have a lasting impact on whatever community he joins next.

Oliver Kraft (Colorado College)
Oliver Kraft came to Colorado College as a transfer student in 2021 with an incredible work ethic and an infectious personality; we quickly found that he was much more than curly-haired and giggly. He was an absolute force on the flat-ball gridiron. No doubt owing to several standout high school seasons, the better part of two years of high-level D-I College development with Cal Poly SLOCORE, and a lifetime of rugged New England winters, Oliver brought the talent, the confidence, and the diligence to play with anybody on any level.
Hailing from the Paris of North America (Cape Elizabeth, Maine), Ollie had an immediate impact on Wasabi, stealing both our hearts and our ankles in a matter of days. From his first practice with us in the fall of 2021, Ollie was easily the best defender on the field. Explosive and calculated, positionally-perfect and sneakily cunning, Ollie closed gaps on our very best players with seeming ease. Game-after-game, tourney-after-tourney, D-after-chest-high-D, Ollie would get up, pick up the disc, and proceed to run the calmest and cleanest handler set you could dream of.
But Ollie was never satisfied. As if a perennial flower, he continued to grow and grow, constantly evolving and pushing himself as a player. After only one year with us, Ollie's leadership ability was crystal-clear and he was elected captain for the 2022-2023 season. This season, Ollie led the Wasabi D-Line to a tournament victory at Snow Melt, a Silver Medal at Midwest Throwdown, an undefeated tournament victory at Rocky Mountain Conferences (+37 point differential), and an undefeated tournament victory at South Central regionals—all in a lovely little powder-blue skirt. Oliver plays and leads with a humble and contagious stoicism unparalleled by anyone else on the team.
In all Wasabi contexts, Oliver holds himself and his peers to an extremely high standard of humility, fair-play, kindness, hard-work, and perseverance. While he is an excellent handler, superhuman puller, and lights-out defender, he is a better friend, leader, and role-model. We can see the future of Wasabi Ultimate in those enchanting blue-eyes and the way he holds himself in every scenario… My, Oh, My, would Oliver Kraft be a great father. Without a sliver of doubt, Oliver Kraft is most deserving of the 2023 Donovan Award. Speaking now for all of us on Wasabi, every one of his friends and his family members, and any other person lucky enough to know him: we could not be prouder of this young man!
Women's Division

Tess Dolan (Wellesley)
The most incredible thing about Tess "Roo" Dolan isn't her insane, feels-like-6-feet vertical, jaw-dropping, how-did-she-get-that miracle catches, impossibly slippery fakes and cuts, perfectly crisp throws, ability to find the disc in 13-player traffic, or energy to play point after point while averaging what must be about 7 in cuts and 8 deep looks for each one — and still being silly on the sideline. It's not even her status as a 2022 Ultiworld First Team All-American, a lock on Wellesley's Whips (A squad) roster since her first year, or a co-captain who led the Whiptails to their first-ever consecutive Nationals qualification, after having picked up ultimate in her junior year of high school. The most incredible thing about Tess is that even without any of this, she would still be one of the best people, let alone players, any of us have ever met.
The joy and love that she brings to her play, and by extension our team, are impossible to overstate. To play with or against Tess is to witness a living testament to the spirit of the game — the epitome of "work hard, play hard," she pushes our game to the highest level all with a smile and respect for everyone around her. Famous on the team for her compassion and generosity (often in snack or hug form), she's the first to check in on individual players' wellbeing, and a committed and thoughtful advocate for equity and inclusion on the team, so that we can bring our best selves to every practice and game. It's not just that Tess cares about ultimate, but she cares about us, and that has made us all better on and off the field. It is incredible having a teammate and captain who is as talented at the game as she is passionate about the team. But it's even better when that person is Roo.

Gigi Downey (Mount Holyoke)
Gigi started her ultimate career playing at Newton North High school and continued their ultimate career playing for Mount Holyoke College's Team, Daisy Chain, where they became captain in their Junior and Senior Year. Gigi also has many years of club under her belt, playing both Youth and Women's club with BUDA, as well as 2 seasons with the club mixed team Slow. Gigi will also be representing team USA at the U24 World Championships on the Women's team this upcoming summer!
To say Gigi Downey is a stellar ultimate frisbee player, teammate, and person is an understatement. They are one of the most dedicated, passionate, and goofiest person I know! They continually inspire all of their teammates to keep going to reach their full potential and continuously leaves it all out on the field. They have truly been an inspiring leader to all those around them, and the definition of what a hardworking and dedicated player looks like. Gigi is truly the epitome of what the Donovan Award represents and I know no other person who is more deserving than them!

Lindsey Hua (Haverford / Bryn Mawr)
The Bryn Mawr/Haverford Sneetches are honored to nominate Lindsey Hua for the Donovan Award. Lindsey began playing ultimate in high school, where she developed her skills to the extent that she was able to play for China at the World Junior Ultimate Championships in 2018. She has continued to play club ultimate during the summers, keeping her skills sharp all year round.
Lindsey has brought so much to the Sneetches from the moment she stepped foot on campus, and was elected captain as a rising sophomore. Due to the fact that Lindsey played frisbee throughout high school, she came to the team with a wealth of knowledge about the sport of ultimate frisbee. Unfortunately, COVID wreaked havoc upon both her freshman and sophomore seasons, and Lindsey ended up taking classes remotely from China during the fall of her sophomore year, but her commitment to the Sneetches never wavered. Lindsey held "Frisbee 101" zoom sessions to introduce new players to the sport, and spent hours explaining the nuances of the game during virtual film sessions. When she was able to return to campus, she was ready to put everything she had been explaining into action, and was an invaluable resource to new players and returners alike. This year, as captain for the third year in a row, Lindsey has once again led the team to qualify for Nationals and she is looking to improve upon the Sneetches' 7th place finish last year.
As a player and a teammate, Lindsey is a shining star. Lindsey is the definition of a truly hybrid player — she is equally and exceptionally comfortable playing as a handler and as a cutter, and can play shut-down defense in any position in a zone, whether she is in the cup, midline, or deep-deep. The few points per game that Lindsey is not on the field, she is the definition of an active sideline — constantly communicating and serving as the eyes for everyone on the field.
Part way through the spring season, Lindsey broke her right hand, which was devastating for both her and the team. Nonetheless, Lindsey did not let the injury slow her down, and she continued to do strength and conditioning training, plyometrics, and began to work on her left handed throws to the point that she is extremely competent with her non-dominant hand. Her time off the field only served to make her all the more deadly when she returned to play at the Ohio Valley Regionals tournament, where she came back with a vengeance from being forced to take so much time off from the sport she loves.
Lindsey is an incredible athlete and teammate; she will always be the first to hype you up when you make a clutch grab or put up a great throw, and is full of wisdom and advice for anyone and everyone on the team. The Sneetches will feel the loss of Lindsey next year, both the space she leaves vacant on the field and the deficit of her steady leadership presence, but before she leaves us we are honored to nominate her for the Donovan Award.

Makaley Krueger (Portland)
Since her freshman year at the University of Portland, Makaley Krueger has played an irreplaceable role on UPRoar. On the field, her length, speed, and stellar grabs leave us all in awe. Her first season playing ultimate was in 2019, but with her work ethic and competitiveness, she has been dominating since day 1. She is a jack-of-all-trades and has been recognized by Ultiworld for her successes many times, "Expect to see […] Makaley Krueger (who had the team's highest plus/minus and was second in goals, assists, and blocks) take on larger roles shoring up Portland on both sides of the disc this coming spring."
Makaley has also won the most spirit awards (probably, if we kept track) in her four years of playing because of her ability to be kind and respectful while roasting people in the deep space. She is a teacher and leader to new players, always willing to share her wealth of knowledge with patience and humor. Off the field, she is a friend to everyone, and her endless spirit and positivity are contagious.
Makaley Krueger is a team player and has been a building block for creating a family culture for UPRoar. A foundational player in multiple nationals runs, Makaley has never lost her passion for her teammates or ultimate. The first to run sprints after practice, or get a few more reps in, her encouragement during the grind will be missed. We are all lucky to experience life and ultimate with Makaley Krueger and want to nominate her for the Donovan Award.

Lauren Lynch (Williams)
Williams Nova is honored to nominate our two-year captain Lauren Lynch, #27, for the Donovan award. Lauren is known by everyone at Williams for her incredibly infectious love for this sport. Though she'd never played ultimate before coming to Nova, she immediately dedicated herself to learning how to play, and developed her perfectly-placed full-field hucks by throwing outside of practice every single day, rain or shine, for her sophomore fall season.
When she's on the field, she's guaranteed to have a giant grin as she launches massive huck after massive huck and dominates defensively in the deep space. She was our team's very first Diversity, Equity, and Inclusion Coordinator, pioneering the role in addition to writing the first edition of our constitution, demonstrating her commitment to building a safe and inclusive team environment for everyone. Lauren played on the Portland, Oregon club mixed team Hive in summer 2022 and has brought back invaluable experience and knowledge to our team.
Through two years of COVID and a months-long concussion that risked her senior season, Lauren has remained incredibly committed to this team. She can be counted on to show up to practice blasting hype music and ready to bring 110% every day, whether that's on the field or on the sidelines as a concussed captain-coach with the coolest sunglasses. She is always the first to offer the perfect piece of feedback or explain a new play with complete clarity. Nova truly will not be the same without Lauren's constant positivity, unwavering dedication, and unstoppable determination. We are so lucky and grateful to have her as our captain and our friend.
The 2022 Donovan Award winners will be announced Thursday, June 15th, in a live presentation on Ultiworld's YouTube channel, beginning at 8 PM Eastern.