Recognizing the next set of top performers of the 2023 season.
Each year, Ultiworld presents our annual College Awards. Our staff evaluates the individual performances of players from throughout the season, talking to folks around college ultimate, watching film, and look at statistics, voting upon the awards to decide those to be honored. The regular season and the college Series are both considered, with extra emphasis for performances in the competitive and high-stakes environment at Nationals.
Our All-American teams recognize the top performers across the division. While previously we have closed our Awards with our First Team and Second Team, displaying the top seven and next seven players who had the best seasons, they have been moved up in the schedule. As our voting process is ordered, the top two vote-getters for All-American honors, excluding the Player of the Year, will be recognized as our Player of the Year runner-ups. As such, those three players are listed in order, with the runners-up identified; the other four players are listed in alphabetical order.
---
D-I Men's All-American Second Team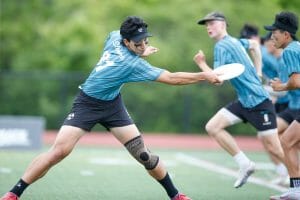 Calvin Brown (Cal Poly SLO)
Take a second to just think about how we got here. It's 2019 and Calvin Brown is the high-flying freshman that has helped push Cal Poly SLO into their first semifinal, falling valiantly to UNC Darkside. What a first season. It's 2019 and it looks like things are only going to get better for Calvin Brown at College Nationals.
It is now 2023 and the world looks a whole lot different than it did in 2019. But something that stayed the same was Calvin Brown and Cal Poly SLO getting back, finally, to semifinals. After a pandemic and devastating knee injuries, Brown was able to return to that stage he graced in his freshman season. A stage that, frankly, we all took for granted he would be returning to a whole lot sooner.
He did it as Cal Poly's #1 option in the role of "player most likely to do something that makes you feel like a hole has been blown in the game." A flick huck that blasted through two poaches, a 40 yard backhand blade that spun a zone around like a top, or a powerful sky over a defender who thought they were supposed to be guarding a handler.
Brown's reintroduction to the team after injury was a little wonky in the beginning of the season, adjusting to playing in the D-line and calibrating his risk threshold. But by Nationals it was clear he was SLO's most important piece.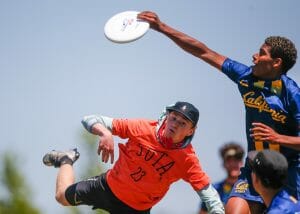 Dexter Clyburn (California)
Which of these players do you think is more valuable?
Player 1: Prototypical center handler. Makes his money on reliable break throws and footwork that has him receiving the disc in advantageous positions. Not a top end chucker, but reliably hits hucks out of motion, and can put nice shape on a 30 yard blade. You know what this guy looks like.
Player 2: Automatic deep deep in the zone, doesn't even need to listen to the positional call on the line. A lynchpin of the entire defensive operation, using vision, communication , and quickness to seal off the deep space from the other team, and having the length and hops to back it up if the offense ever tries to call his bluff. Simply put, the whole defensive system falls apart without this guy.
So again, who are you taking?
If you're Cal, the answer is both. Because you've got Dexter Clyburn, and having Dexter Clyburn is real nice.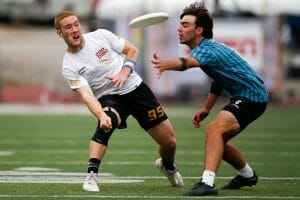 Luca Harwood (UMass)
Want to save your O-line's legs for a long tournament? You have two options: 1.) Break 14 times a game – good luck with that; 2.) End points quickly. Option (2) is where Luca Harwood comes in. No one in 2023 was better at taking the open under in isolation and turning it into a screaming, you-sunk-my-battleship perfect huck to end points in just three throws. A lot of the time, watching the Zoodisc offense run pull plays through Harwood was like witnessing a three-move checkmate on a chess newbie… over and over again.
UNC finally took that game plan away in the final by capping the field with a super-deep last back, sending help defenders, and committing to the flattest of flat marks on Harwood's unders – but by that time he had already left a mark on the division you could see from space. His 17 assists at Nationals included a scorching five-assist line in semis, where he repeatedly proved to Cal Poly SLO that his power was far more than their baiting deep defenders could contend with. He wasn't a one-note star either, making some of the hugest highlight-reel catches the division saw all year.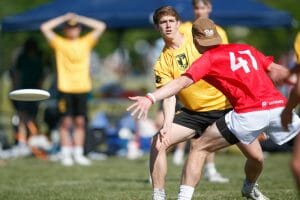 Danny Landesman (Colorado)
Landesman has been one of the most polished players in college since he arrived on the scene in 2020, steadily racking up offensive numbers and minimizing mistakes while shouldering a huge amount of the Mamabird workload. Given that history, it won't come as a surprise to anyone to see him on the All-American list for a second consecutive season. It's plain as day that he is a great player.
What has come as more of a surprise, though, is how he expanded his game. We have grown used to Landesman's seemingly effortless reset work, plus-plus speed cutting under, and clockwork timing as a distributor. He added a dominant deep cutting dimension in 2023 that was just as smooth as the rest of his game. Every time he made a break for the end zone it looked like he was skating on a freshly Zamboni'd ice rink while his defenders were trudging through mud and chickenwire – and then finished by making all the right reads and all the right attacks. Rumor has it Landesman will be returning for a fifth season in 2024, making him a strong candidate then for three AA selections in a row.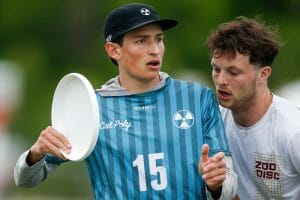 Anton Orme (Cal Poly SLO)
Perhaps the most unsung of all our 2023 All-American selections is Cal Poly SLO's Anton Orme. he had a breakout season acting as the primary initiating cutter and focal point of a SLO offense that pushed all the way to semis at Nationals. Although at times he blends in due to the balanced nature of the team's attack, a quick glance at the stat sheet gives the lie to that appearance: Orme's 10 goals and 23 assists on high efficiency tell the story of his dominance.
Now that he is already on this list, the question becomes, what is Orme's ceiling? He had a strong rookie campaign in 2022 and developed into a unit by season's end. In club last summer he started as a practice player for Revolver, played his way into an official roster spot, and finished the year by working in as a major contributor on their O-line at Nationals. This college season he has shown even more growth, putting the division on notice that he can be "that guy" on an elite-tier team. With Orme at the helm returning for his junior year in 2023, the SLOcore offense will remain among the most potent in the nation.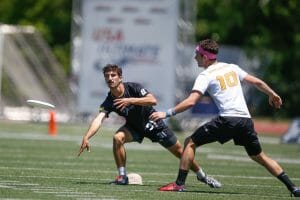 Kevin Pignone (North Carolina)
Many people would call the position Kevin Pignone plays "D-line quarterback." It makes sense. Once there's a turnover, he picks up the disc and manages the offense, often going every-other up the field. But that's the thing – he's more of a running back. UNC's sideline often shouts, "run the ball," to help the on-field players recognize that they can churn resets over and over and over again and tire out opposing O-lines much like a bruising running back tires out the other team's defensive line.
A tireless worker himself, Pignone runs circles around the hapless defenders who try to guard him on the counterattack. With precise possession-keeping throws, Pignone is trusted to cross over to offense when games get tight and often takes on other team's toughest assignments on the defensive side of the disc. And when he sees a shot he likes, Pignone can rip hucks with the best of them.
A trusted veteran, Pignone might be the most believed-in teammate in the division. When Darkside needs something positive to happen, they can count on Pignone to have an answer and execute on the field.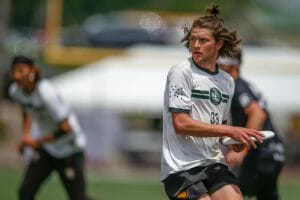 Johnny Sickles (Vermont)
Vermont's final game of the season started with Turner Allen on the sideline, out due to an injury. Midway through the first half Declan Kervick joined him and later Casey Thornton needed to leave the game as well. Left standing was senior Johnny Sickles, Vermont's quarterback/point guard/closer who led the team with 19 assists at the D-I College Championships. Sickles wasn't merely available, but exceptional. With the skill and daring confidence to complete tough breakside and deep throws, and the tenacity to get open against opponents' toughest handler covers, Sickles shined in the biggest moments and at times willed the disc up the field with his throws and his legs. When Vermont found themselves in a sticky situation, Sickles time and time again found a sliver of space for a bail out throw or launched a dime to a receiver nobody else saw open.
Not just Vermont's most impactful offensive player, Sickles plays with a ferocity and intensity befitting an All-American. He led Vermont with eight blocks at Nationals as one of a handful of players trusted to cross over to defense and play the most important points of Vermont's season. Whether with a timely block, clutch upfield throw, or another diving layout to keep a possession moving, Sickles answered every question defenses asked him and propelled Vermont to their best ever placement at the College Championships.