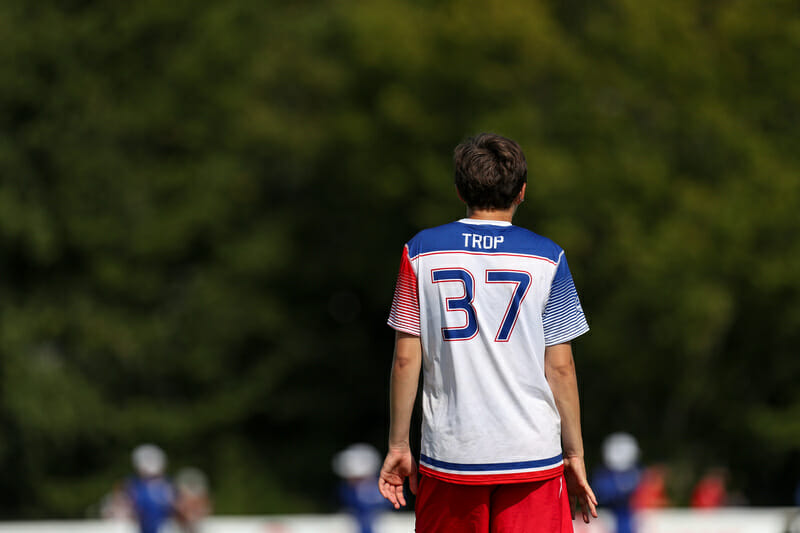 The WFDF Under-24 World Championship is always an intriguing event because it gives a glimpse of where the sport might be in five years. The best players on these teams will be fixtures of national teams for future AUC and WUC events, and we could well be seeing some of them on the World Games stage in three years. You can see all the coverage from Ultiworld and the streaming schedule here.
The favorites in every division will be the United States, but there are eager challengers awaiting, including international powerhouses that are all too familiar with trying to take down USA. Japan and Canada have been the top rivals for the Americans, while Australia and Colombia have shown class at the World Games and World Ultimate Club Championships.
Women's Division
The United States will be favorites in this division, with a squad of college stars we are used to seeing going head to head. This year's group is extremely athletic, with great size and speed. Dawn Culton, Kennedy McCarthy, Stacy Gaskill, and Abby Hecko figure to be challenging to deal with or beat in space. That'll enable more looks for play finishers like Emily Kemp, Elsa Winslow, and Caroline Tornquist. Alyssa Ehrhardt, Steph Phillips, Claire Schmitt, and Emma Williamson are likely to be core handlers, and we'll see where the coaches put players around them.
However, with the four-year gap, this group is a little less seasoned in international competition. 10 of these players competed for the US in the Under-20 cohort, including high-schoolers Chloe Hakimi and Rachel Chang. But given that this is true for other national programs, it'll actually may be the States' advantage, as high level club, college, and semi-pro competition had let them stay on their growth paths.
Don't expect pure O- or D-lines; the team is going to play a lot more defensive points than offensive points, and head coach Nancy Sun's Fury team doesn't operate in this manner. But look for groupings of familiar players, with connected college and club teammates taking the field together: Culton, Yu, & Birdsong (North Carolina), Gaskill, Williamson, and Clil Phillips (Colorado), and Hecko and Steph Phillips (Washington). In addition, former U20 teammates might also get reps together.
Canada has given the US challenges in the past, and is a threat to do so again. Folks who just followed the college season will be very familiar with All-Americans Madison Ong and Mika Kurahashi, both of whom played for TC at this tourney in 2019. Sarah Jacobsohn will be one of the most veteran players on the roster and lead the Toronto 6ixers contingent. Their potential path to the gold medal match is ideal: a test game against the US in pool play and then they likely get the opposite side of the bracket.
Japan has finished either first or second in every U24 championships they've attended. You read that right — first. They are the only team to get the better of the US, doing so in 2015, in…England. Swampybarg's Suzuno Uesada and HUCK's Karin Someya bring much needed international experience from WUCC 2022. While we know precious little about the individuals that make up their roster, their rich history of international excellence is too strong to ignore.
After finishing in 11th place in 2019, this year's Australia squad is hoping for a bounceback. They return Reyer Carpenter and Julie Chong (Ellipsis) from that squad, the latter of whom led Victoria to the 2022 U22 Australia title in the women's division, as well as six additional players selected for the 2021 team. Expect Asaka Itoyo and Thea Osmond (Wollongong Krank) to also play key roles.
Colombia may have lost their generational superstars, the Cardenas sisters, but don't close the book on them quite yet. They have an experienced group of returners, with at least three players from their 2019 cycle back. Those include core handler Gabriela Gomez and Valentina Heberle, who figured to be prominent offensive presences. Laura Arango, Andrea Bustamente, and Laura Zambrano, all with WUCC experience, will provide quality downfield targets. The X-factor could be how their recent-U20 competitors perform in the older age group. María Vásquez could emerge as a new potential Colombian star.
New Zealand and China round out Pool A, while Philippines and Singapore form the bottom two seeds in Pool B. It'll be the first go round for China in this division, while the Philippines and Singapore have only recently sent women's teams and are still finding their footing. New Zealand enters the tournament as back-to-back Spirit winners.
Mixed Division
The only division with power pools, the mixed division's four-pool setup should be forgiving and generate some variety in how teams approach each match.
The top seeded United States mixed team has been dominant in U24 play, facing little resistance except in their back-to-back gold medal matches against Japan. Expectations for this team may be the highest of any of the US teams, and dealing with that pressure could be a challenge all its own. But this group is perhaps a little less star-packed than the women's or open teams, or even compared to past US mixed lineups.
However, what they do have is a lot of mixed experience. At least half of the team has played in the mixed division at Club Nationals, which should really accelerate their ability to develop for and during the tournament. Their athletic downfield targets — Abbi Shilts, Paul Krenik, Olivia Goss, Jack Brown, Maddie Simko, AJ Merriman — should be very tempting for their group of potential deep throwers like Ava Hanna and Clara Stewart.
Rival Japan will be expected to remain their top challenger. 2019 returners Toshiki Ishi and Aoba Yamada are likely to be focal points. Yamada proved her mettle at WUCC's with HUCK, where Kento Araki also competed with Nomadic Tribe. Matchups against Colombia and Great Britain will let them cut their teeth before getting into the throes of power pool play.
Canada comes into the tournament as the fourth seed, although this feels like their least experienced group at the tournament. Alicia Zhang, Amelie Marshall, and Dax Miller were each leaders for the Canadian U20 teams last year; it is unclear how big a role they'll be handed on this club. Avery Lee-Pii and Filip Kragl are both coming off of a strong college seasons with UBC in the women's and men's divisions, respectively. Emily Cho (Fusion) and Emily Kavanagh (Stella) both got some more high level cross-country reps at WUCC, too.
Australia's mixed team doesn't have the same level of international acclaim as their other groupings, but are rumored to have an excitable and talented team. They played UK club team Deep Space1 very close in a recent warm-up and have been acclimatizing for about a week. Jess Lowry, Curtis Ly, athletic defender Eric Deng and company will be eager to show their stuff, knowing a strong start could win them Pool C.
Finally, Singapore mixed has to be respected after a third-place showing in 2019 and a fifth-place finish in 2018. While they've gone through a full roster turnover, we did see some of the players in mixed play at WUCC with Otters. Shi Hui and Denise Beh combined for 17 goals, while Gregory Phua knocked in 12 assists and Shia Bing Shirly Ng added 11 points, too. That chemistry could pay off in keeping their run going.
Both New Zealand and Hong Kong, China are sending teams that will face off in Pool A. China, which has seen a soaring rise in popularity in the sport, is the lowest seed in Pool B. Chinese Taipei also is sending a squad, the bottom seed in Pool D.
Open Division
No United States team has more connectivity within itself than the open national team. That, of course, starts with the five North Carolina Darkside members on the roster. But college teammates from Brown, Cal Poly SLO, Vermont, Colorado, and Pittsburgh are also on the roster. Add onto that Felix Moren (Oregon State) and Itay Chang (Oregon) have played club together on Rhino, similarly to Frankie Fernandez and Adam Miller on Chain Lightning, and you get a roster where nearly everyone has extensive background playing with someone else. It'll be a fun gig for the coaches to figure out which wires to plug into which ports to get this machine operating a peak efficiency.
Still, this team should be a fascinatingly versatile offensive group. They have size (Orion Cable), speed (Leo Gordon), and tremendous deep throwers (Jacques Nissen, Calvin Brown) to be lethal with the long game. But it is hard to imagine, with UNC coach David Allison as an assistant and so much Darkside on the roster, that we won't see them attack with a lot of the small ball that has led that program to so many US collegiate titles.
Looking to knock off their southern neighbors, the Canadian team enters as the no.2 seed. Jakob Brisette and Alexandre Bedard will be central, both returners from the 2019 team (though Bedard, and Eliott Heloir, played on the mixed team). Koji Suzuki and Oscar Stonehouse starred for the 2022 U20 Boys team that finished in fourth place. They've long been USA's top challenger, though they first have to contend with a challenging Pool B.
That Pool B includes powers Japan and Australia, as well as the intriguing team from Belgium.
Japan's medaled twice in open (Silver in 2010, Bronze in 2015) and finished fourth in 2019, and have to be considered a threat to reach the podium again. Buzz Bullets' Joji Shimizu should be expected to take on a large offensive workload, but how will they deploy Rascals' endzone invader Kenta Kurachi, who piled up 12 goals at last WUCCs? No one will be overlooking them and their famed unique playstyle.
That, and the hype for the Belgian team, perhaps makes the Australians a sleeper pick in this pool. They topped the aforementioned Mooncatchers in prep for this tournament. Sunders' Lucien Noël — coming off a US stint with North Carolina Darkside in the college division — and Edmund Feng will be key. Ellipsis' Jono Keyes is the lone returner from their 2019 squad, but they have other WUCC talent from Juggernaut and Pie Wagon.
The team that finishes fourth in Pool B earns a likely quarterfinal matchup with USA. Meanwhile, Austria, Singapore, New Zealand, and China are each sending squads, although all three have finished near the bottom of the standings in the last two cycles.
The Colombians are hoping to break up the top seeded Pool A pairing of USA and Italy, but they bring a pretty young team to this year's tournament. Five of their players are coming up from the 2022 U20 side, including the high-scoring pairing of thrower Jacobo García and catcher Dante Carvajalino. They captured fifth place at that tournament, higher than they have in their last three tries at U24s, though they have improved each cycle since 2013. Perhaps Rivaldo Briceño, who has played with URO Monster and Comunidad El Oso, can help add some experienced seasoning to help them find success.
---
Which qualified for the European championships last year and made the semi-finals of the Elite Invite in Switzerland a few weeks ago. ↩