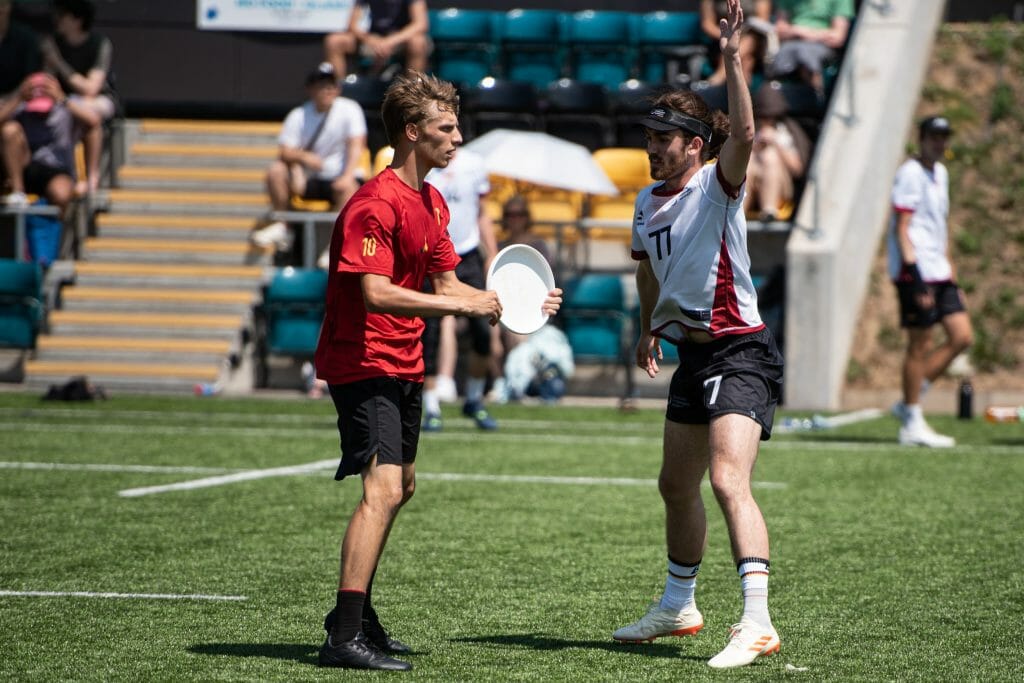 The WFDF Under-24 World Championship is always an intriguing event because it gives a glimpse of where the sport might be in five years. The best players on these teams will be fixtures of national teams for future EUC and WUC events, and we could well be seeing some of them on the World Games stage in three years. You can see all the coverage from Ultiworld and the streaming schedule here.
The favorites in every division will be the United States, with European teams traditionally struggling to make an impact given the elite development of youth players in North America and the strength of the college system, not to mention the ongoing excellence of Japanese and Australian programs. There are some teams that could well be contenders this year, though, with some of those challenges coming from what might be unexpected places. Here's a primer on what to expect from Europe once play starts in Nottingham.
Germany
From a stellar World Games performance in the mixed division to a London Invite victory in the open division and a Windmill win in the women's division, Germany have had a recent good run of national team performances. Germany will join hosts GB in being the only European nations to bring three teams to the Under-24 World Championships.
Their best hopes may lie in the women's division where captain Ava Muller, a talented player possessing over a decade of elite ultimate experience with roots in Australia, recently secured a bronze medal with Lunch Box Mixed from Brisbane in the 2022 World Ultimate Club Championships (WUCC). That's just the start of Muller's accomplishments; she won a bronze medal at this competition five years ago with the Aussie Stingrays all the way back in 2018, and was the winner of the Windmill pull competition a few weeks ago. The Germans will be looking for strong contributions from fellow captains Charlotte Schall (jinX) and Lisa Schütz (Zamperl) as well as Joint Juniors Ultimate Championship1 (JJUC) standout Frida Rücker (Pizza Volante Leipzig). They've already taken an emphatic 15-6 victory over GB U24 at Tom's Tourney and a tournament victory at Disc Days Cologne – but they will have to test their mettle playing Australia and the US on the first full day of play. A win in either game there will propel them towards the quarterfinals.
The German open team also won at Disc Days Cologne with Jonathan Meyer-Bothling and Tobias Maierhofer both looking impressive. The Germans are a strong and athletic person D unit that threaten the deep space early and often. Many of these developing German players have experienced elite European ultimate with young team Heidees and others representing Bad Skid, Wall City, and Disconnection. The mark against the Germans is their two losses to the Belgium U24s at Belgium Invite but they did take a pair of win off GB at the same event.
The German mixed team is younger than the other squads, and their youngest player Felix Becht (Disconnection) is one of the few who has gained elite experience playing at WUCC, going on to help Disconnection earn an early qualification spot at EUCF this year by winning the Spring Invite. Given the lesser elite experience and having to play the USA in pool play, making the quarterfinals will be a great achievement for this side.
Great Britain
The hosts GB will have the home crowd behind them, willing them to solid results in all three divisions, but their position at the top of the European ultimate hierarchy has never been more in doubt.
The women's team has had a tricky lead up to the World Championships, losing to Germany at Tom's Tourney and Australia at London Invite. Anchored by UK Ultimate royalty Emily Hill (Smog), supported by twins Connie and Roisin Lynch (SYC and Spice) with Katie Trim (Scram) acting as a towering target, the Brits will be looking to find form on the home soil of the windy fields of Nottingham.
The open team has had a mixed season, with a fantastic victory at Windfarm in Nottingham earlier this year2 but struggling earlier in their preparations. They lost twice to the Germans and emerged with a 1-1 record against the Belgians at the Belgium Invite. Leader Andrew Sweetnam (Chevron) has two tournament victories in Nottingham this year already3 and will be bringing his dynamic handling and high grabs to Nottingham once again. Chevy teammate Ethan Morrell is the only player on this U24 side to also be representing GB senior open in Limerick, with years of elite ultimate experience far beyond his age. The Brits will be looking to outrun and out throw opponents in their challenging pool.
The mixed team is where Britain's best hopes for a medal lie – most players opted to play for the mixed team should they be selected at trials and this has created something of a super team. Jet Hilborne (Smog) was the GB U20 team's stat leader at JJUC 2022 and is known for his monster pulls, Madeleine Leong (Iceni) is the next big thing representing this team and the GB senior women's team in Limerick, Josh East (Clapham) has been the hottest male matching talent in UK ultimate for years4, Rosie Coward (Lemmings) narrowly lost out on EUCF gold playing with Reading last season and led Birmingham university to a national championship alongside teammate Rosie Bailey (Lemmings), and Smash'D captain and fiery defender Jack Halkyard got his first national team CAP with the open indoor team in December. If everything falls into place – like it did in friendly victories against Deep Space and Reading – this team is capable of medalling. The concerns are a loss on the record to the Swiss Under-24s on Swiss turf at Talampaya, despite both teams finishing higher than the Swiss senior mixed team, and the unfortunate loss of Ben Mattin unable to play due to deployment with the Royal Marines.
France
You might next expect us to preview the French teams competing, coming off of a pair of silver medals in the open and girls' divisions at JJUC. You would think they should be poised to challenge for medals or even take down the US this time around. However, the French Flying Disc Federacion opted to not enter any teams into the event – instead focussing all attention on EUC, meaning we will have to wait a few more weeks to see breakout star Amane Babikiane, World Games sisters Lison and Eva Bornot, and the electric Matthéo Brochot. The decision was met with surprise and disappointment by many young French players.
Other notable absences include Poland, Czechia, Hungary, and Latvia in this smaller Under-24 World Championships field than four years ago in Heidelberg.
Ireland
Ireland will be representing in the open and women's divisions, trying to break through into the quarterfinals, emulating the success of the senior women's team, Gravity, and Ranelagh and Rebel in recent years.
The open team came ninth at Windfarm losing just one game5. They are spearheaded by unofficial Callahan nominee and captain Ben Martin, a man adept at getting horizontal and getting vertical, having won all the mixed and open university competitions with UL, and by D-line captain Cian Hypolite. The Irish are known for their tenacious defense and swashbuckling offense which they will need to use to take a win in a very tough pool B against Canada, Japan, Australia, or Belgium.
The Irish women's team also made the trip to Nottingham, finishing 10th. Hannah Wilson (Pelt) captains the side alongside rising star Emma Pichot (Gravity), whose younger sister Gabbt Pichot (Gravity) is also on the team despite only having one year of ultimate experience. Clare Gilheany (Gravity) who also features on the Irish senior mixed team, will be surely getting many touches on this less experienced team. Like the open team, the Irish women's team have a tricky pool and the prospect of beating one of the US, Canada, Australia, or Germany seems like a tall order.
Italy
Italy has been perhaps the most successful European nation at the U24 World Championships in recent times, with their women's side finishing as the top European team in 2019 and the open side bringing home a silver and bronze medal in 2018 and 20196.
Italy women will want to go at least one better than in 2019, making it to the semifinals. Top Italian women's team BFD Shout had an impressive 2022; they won EUCF and had a good outing at WUCC, but only two Shout players will be representing Italy in Nottingham – Erica Marchesini and Giulia Cristofolini. Maria Aidonis was a prolific goal scorer for Italy's U20 team at JJUC in 2022 and is making the jump to the U24 to act as a scoring threat. Italy will want to do as well as they possibly can in the pool play stage to try and avoid the Canadians and Americans in quarterfinals.
The open team will be looking to complete the medal collection by finally claiming a gold in Nottingham. As you'd expect, there is a healthy serving of Bolognese talent, with established elite players like Stefano Pavan, Lorenzo Simonazzi, and David Barzazi. Sebastian Rossi (BFD La Fotta) is a dynamic handler who perfectly suits the fast flowing Italian offense and can carve up defenses with his deep toolbag of throws. All in all there are seven players from the La Fotta open side that finished fifth at WUCC representing Italy. Up-and-comer Edoardo Fabbri will be graduating from the Italian U20 side that took bronze at JJUC 2022, where he was the assist leader in the division. It's been a while since an Italian open team has won a big international tournament7 but this team has the talent and experience to buck that trend – especially after they managed to defeat the GB senior open team at the Belgium Invite.
Belgium
Belgium are only sending one team to the tournament, but that definitely doesn't mean you can count them out.
The Belgium open team are a special group of players, with connections crafted from years of playing together in the U20 and U17 divisions as well as gaining elite experience at WUCC with Mooncatchers and Gentle. The roster oozes with star power, starting with the WUCC 2022 top goal scorer Tobe Decrane. Tobe is one of the best deep receivers in the world, he's made some of the best grabs ever caught on camera and is well known for working hard off the field to level up his already superhuman athleticism. Jonkers is a name made famous by Mooncatchers' run at WUCC and younger brother Ben Jonkers will be representing Belgium in Nottingham. Ben is a high-impact player in whichever role he plays and so far in warm-up tournaments he's mostly played as a center handler, but his height means if he ventures downfield as we get to the business end of the tournament he can still be a problem. He was one of the catalysts of the OG Mooncatchers style of slightly sketchy hammers that work a surprising amount of the time – so far this season we've seen all of the elite Belgian open teams try to take more conservative options, but the hammers and scoobers are most certainly still in the arsenal.
Finally, Daan De Marrée is undoubtedly having the best season of any player in Europe so far this year. Due to a quirk in the EUCS eligibility rules he has already helped two teams qualify for EUCF, carrying hometown club JetSet at Spring Invite and crushing Clapham 15-3 with Mooncatchers at Elite Invite. De Marrée is a true hybrid, master of all trades player, and what's unique about him is his knack of using his wide range of skills all at the same time. He made his name as a key D-line handler but in big games he will barely leave the field; at Windmill he helped Moon clinch the win over the French senior open team with a ridiculous stat line – four assists, two goals, four blocks, and no turns – playing most of the offensive and defensive points. Watching De Marrée's rise is reminiscent of a young Dylan Freechild, a decade later on.
The concern for this team is that their depth simply will not stack up against the North American teams, evidenced by their loss to the GB U24s at Belgium Invite when playing without their senior national team players. Another concern is the amount of ultimate that the Belgians have played this year. At Windmill, Sofiene Bontemps (Mooncatchers) picked up an injury which he may still be struggling with in Nottingham, athletic defender Louis Bétrancourt (Mooncatchers) also picked up a knock, and Ben Jonkers has struggled with injuries in the past. Many of the players on this team have already played at Belgium Invite, Spring Invite, Elite Invite, Windmill, London Invite, and more – they will surely be fatigued come the end of the week. But if the Belgians can get good performances from their key players, there's a chance they can go all the way and upset the Americans. Only time will tell.
Switzerland
Switzerland are consolidating their talent by just sending one team this year, in mixed. They won Talampaya in Geneva defeating the GB U24 mixed team in the rematch in the final – both teams finishing above the Swiss senior mixed team. Building from a strong base of youth participation in Bern, and with coaching staff from Flying Angels Bern, the Swiss are led by Aurèle Lesslauer (Freespeed) and Hanna Lenggnhager (Panthers) and will be hoping to translate competitive results early in the season to book their place into prequarters by jumping up to second place in Pool D.
Finland
Finland will be sending a team to the U24s for the first time since 2010. With no representation at JJUC, it's hard to know what to make of this Finnish side. Finland's lone export on the world stage as of late is PUTI, who finished fourth at WUCC. The lone PUTI representative on this side is Maria Noponen, who alongside EUIC bronze medal winners Tinka Gylling and Okko Winqvist will have to lead the charge in pool play where Singapore and Australia look like very difficult games. South Africa should be an opportunity for the Finns to pick up a win.
Sweden
Sweden will also be sending just one team in the mixed division. In spite of a lack of high level club teams emerging from Sweden8, it has done well as a nation in the developmental divisions finishing in the top half in the mixed division in Heidelberg and securing a bronze medal in the mixed U20 division at JJUC in 2022. The Swedes will be hoping for calm weather in the notoriously windy Nottingham with eight of their players grabbing medals at EUIC 2022 playing with either the Swedish open or women's team.
Austria
Austria will be representing in both the open and women's divisions. In the open division the Austrians are bringing a young side, with nine players graduating from the U20 open team that played at the JJUC last year including top goal scorer Paul Ressl. The Austrians will have to fight through a very tricky pool A and cause some upsets along the way to make it into the top eight.
In the women's division Austria only graduates three of their U20 athletes, but do bring in Maja Ortner (Catchup), Romina Seiler (Box Vienna), and Mira Petz (Box Vienna), who all gained elite experience at WUCC in Cincinnati. The Austrians will be thrown in the deep end immediately facing number one seed in the pool Japan in their first game.
Netherlands
The Netherlands are sending just one team, representing in the open division. The Dutch could be a dark horse in the competition with serious elite talent, much of which has competed at the very top in Europe. Ben Oort will be flying back to Europe, interrupting his stint playing with the DC Breeze and Truck Stop, to play in Nottingham. Oort is most famous for being a key handler on GRUT, who have won the last two mixed division championships at EUCF. Oort will be joined on the team by GRUT teammates Wiebe Van Der Brink, Aaron Morsen, athletic defender Filip Molnar, dynamic handler Tom Blasman, and Morris Witkam – who has a busy summer ahead representing the Netherlands on the U20, U24, and senior teams. Despite the aforementioned talent, perhaps the most interesting story is GRUT stalwart Anne Minaard, perhaps the only female matching player playing in the open division9. She is a steady handler and will bring a calming presence to some of the riskier throws of her GRUT teammates. The Dutch have the throwers, the tall receivers, the talent and the elite experience to beat higher seeded teams at Worlds – they're one to watch.
---