Recognizing the top performer of the 2023 season.
Each year, Ultiworld presents our annual College Awards. Our staff evaluates the individual performances of players from throughout the season, talking to folks around college ultimate, watching film, and look at statistics, voting upon the awards to decide those to be honored. The regular season and the college Series are both considered, with extra emphasis for performances in the competitive and high-stakes environment at Nationals.
We begin our awards presentation with Player of the Year, our most prestigious award. Our Player of the Year winner is the best performer of the 2023 college season, and the highest vote-getter for All-American honors. The winner is not eligible for consideration in any of our other individual awards. The runner-ups up will be identified as the second and third vote-getters when the All-American Teams are revealed.
Player of the Year
Coaches of the Year Award
---
D-III Women's 2023 Player Of The Year
Keziah Wilde (Middlebury)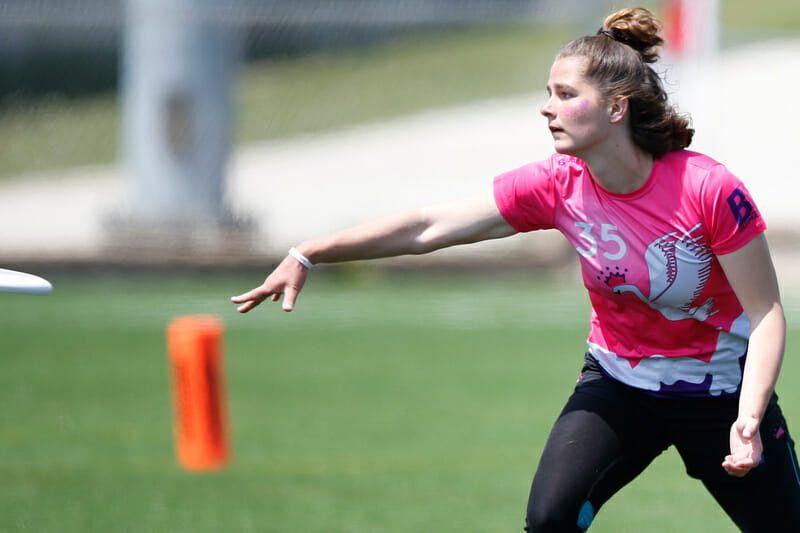 Middlebury won their third national title in a row, and their success would not have been possible without Keziah Wilde. Her personal trophy cabinet is already stocked with All American honors from previous national titles, and in 2023 Wilde's central presence on the Middlebury line has earned her Player of the Year honors. Throwing 19 assists and scoring two goals of her own over the course of the three day Nationals tournament, Wilde was an offensive force that piloted each line to a score and then stayed on the field to play a defensive point with the goal of converting a break.
Middlebury was hardly challenged in Saturday pool play, only allowing 16 points over the course of their three games. The Pranksters seemed to run loose lines from pool play through quarterfinals, which speaks to the depth the team built. Wilde has certainly been central to that depth, as her leadership was clear on and off the field1 and evidenced when Middlebury tightened up lines in the final against Carleton and Wilde was calling plays en route to her team's 15-12 win.
Of note: Middlebury never lost a game in their 2023 season. We were on the edges of our seats when Carleton went up two breaks in the first half, but the Pranksters just wanted to get our hearts racing a little bit.
Wilde's main contributions won't show up on USAU stat sheets: most of her value comes from her consistency with the disc. She's a field commander for undoubtedly the best D-III team in the US. She knows exactly where to place her teammates, often leading them to open spaces with her throws. She knows the limits of her own game and those of her teammates and pushed not just herself, but every Prankster to the edge of their abilities. For her tenacity, steadiness, and orchestration of play, Keziah Wilde is the 2023 D-III Women's Player of the Year.
---
Her self-submitted player info for Nationals lists her role as "knows the rules" ↩