Celebrating the best off-field leaders of the season.
Each year, Ultiworld presents our annual College Awards. Our staff evaluates the individual performances of players from throughout the season, talking to folks around college ultimate, watching film, and look at statistics, voting upon the awards to decide those to be honored. The regular season and the college Series are both considered, with extra emphasis for performances in the competitive and high-stakes environment at Nationals.
Our final D-I award podium is for the Coaches of the Year. As so many teams have added more and more sideline-savvy consultants to their roster with less asked of a single head coach, this has essentially morphed into "Coaching Staff of the Year." Coaches can impact the game in so many ways — tactics, motivation, communication, personnel management, program development, skill-building, etc. — and it can be hard to divine what exactly each has contributed to their team. But good coaching is something that we feel that 'we know it when we see it.'
---
D-III Women's 2023 Coaches Of The Year
Cameron Barton and Emma Nicosia (Carleton)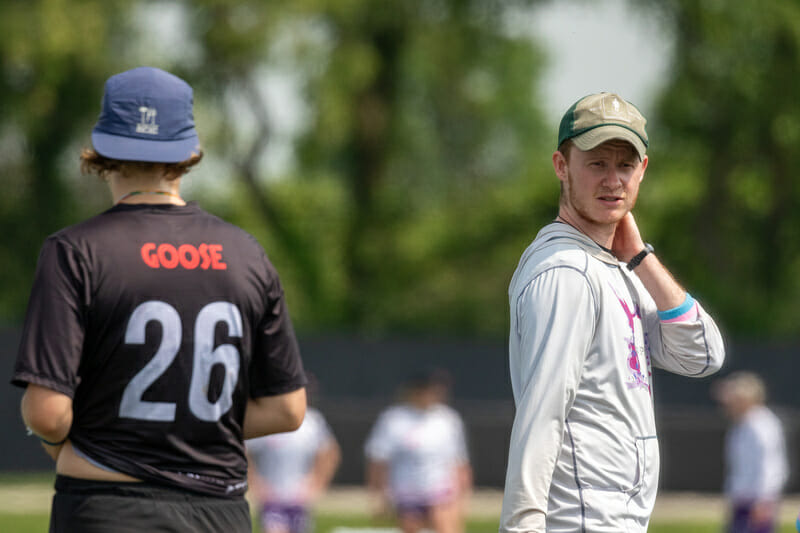 Every year, Carleton College Eclipse's end goal is a national championship. After a couple seasons of upsets, Eclipse found themselves finally back on the Nationals final stage to battle it out against Middlebury. This achievement certainly wouldn't have been possible without the athletic talents of their deep roster but in a system – these athletes are almost unstoppable. But the system can be attributed to the guidance of head coaches Cameron Barton and Emma Nicosia.
In every conversation about Eclipse, Barton and Nicosia maintain their team doesn't have one star player – it's the entire team that is their star talent. They've managed to build a team that is not ego driven and works together seamlessly. Watching Maya Kalmus put an OI flick over the stack directly into the hands of her receiver over and over really shows the amount of practice that has gone into their offensive line. Alex Rowell's defensive grabs, quick conversions and hucks to Rowan Dong show the team's deep knowledge of their roster. Eclipse's coaches aren't just strategy leaders, but drivers of the team culture as well; prior to the first pull of the final, Nicosia remarked that it was a player's 21st birthday, so winning a national championship would be the best birthday present ever for their player.
Cameron Barton and Emma Nicosia are as much a part of this team as their players, but this year the connection really shone. On the sideline of their upcoming opponents' games, the Eclipses' coaches behind-the-scenes strategy work allowed the captains to focus on team leadership and morale. For connecting the team as a whole, Cameron Barton and Emma Nicosia receive Coach of the Year 2023 honors.
First Runner-Up
Elise Hollowell, Rebecca Perston, and Daniel Young (Portland)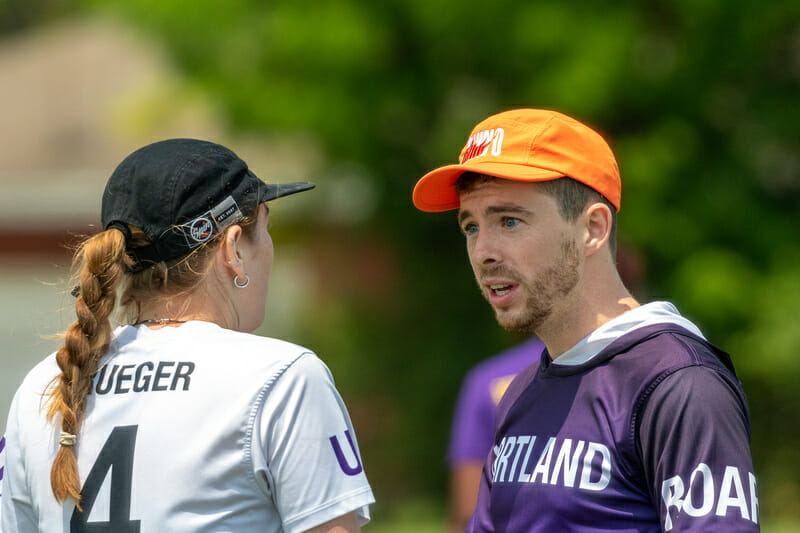 Portland UPRoar have been a dominating force at D-III Nationals each year since the return to play. With a roster headlined by a few names, one was left questioning how UPRoar would rebuild. But rebuild they did. The number of impressive players who dominated Portland's run through semifinals is staggering, especially considering the growth these players achieved in the offseason.
After spending several Nationals tournaments on the sideline with Hollowell, Perston, and Young, it has been inspiring to watch the way the three coaches have become an essential part of the team. They take the time after each game to have one-on-one conversations with players and religiously seek out film to do research on upcoming opponents. It is easy to assume we will see Portland UPRoar have another impressive run in 2024, regardless of how many seniors graduate, because the team culture that Elise Hollowell, Rebecca Perston and Dan Young have fostered is one of upward growth and dedication.
Second Runner-Up
Kate Powers, Paige Howell, and Justin Baumann (Mount Holyoke)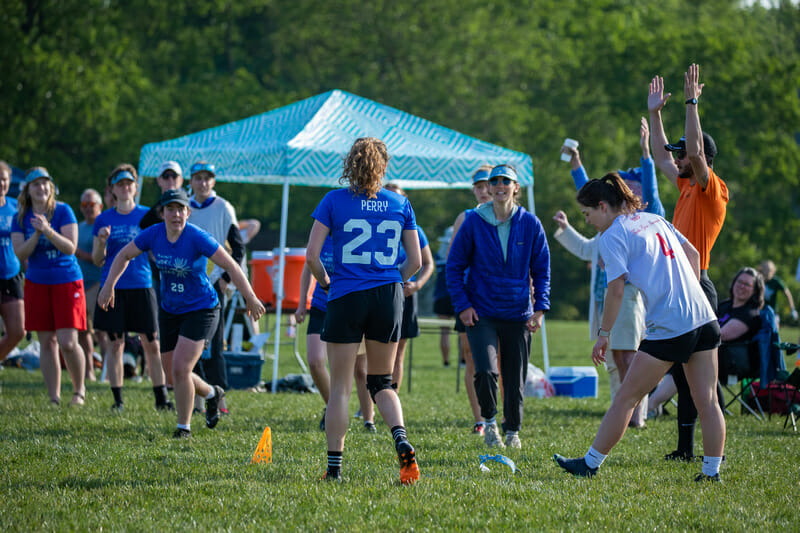 In a deeply competitive New England region home to three-time national championship title winners and 2022's runner up, Mount Holyoke Daisy Chain had enough of a challenge winning their bid to get to Ohio. Once at Obetz, Daisy Chain were ready to prove themselves. When speaking to Justin Baumann on the sideline, he didn't just emphasize the talent of U24 player Gigi Downey, but the depth of their roster that the team had been able to foster. This talent was clear with Gabi Perry and ROTY second runner-up Charlotte Moynihan dominating their roles in the quarterfinal game.
From the sideline of Daisy Chain's pre-quarterfinal against Catholic, Kate Powers and Paige Howell could be seen initiating each huddle, walking through strategy to stop the deep looks Nun Betta relied on and maintaining momentum going into Daisy Chain's semifinal against Carleton College Eclipse. The involvement and selflessness of the Mount Holyoke coaches to support their team and promote their players' voices in the ultimate community is commendable.