WUGC is back in 2024, along with WJUC and the first Masters Worlds, WMUC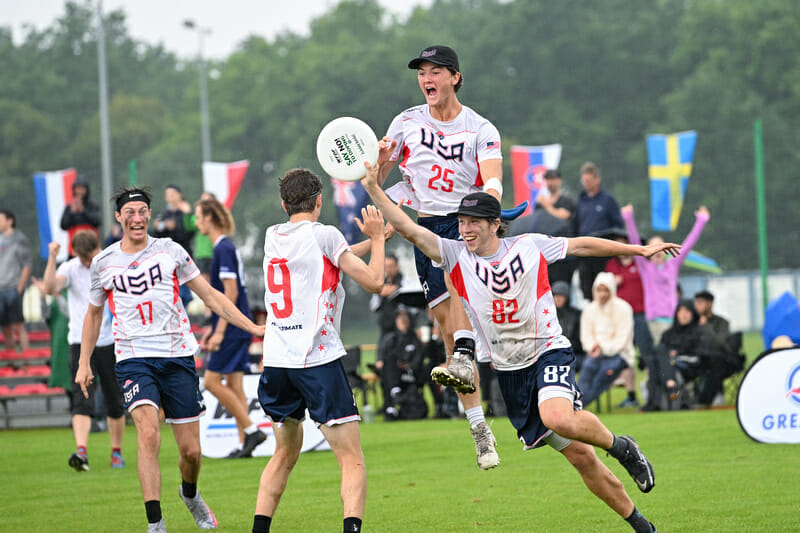 World competition for all ages is slated for 2024. After a packed international calendar in 2022 featuring the World Games and the World Ultimate Club Championships, 2023 belonged to the youths, with U24 World Championships taking place in Nottingham, United Kingdom.
Here is the full 2024 schedule, announced by WFDF on August 14:
| Tournament | Dates | Location |
| --- | --- | --- |
| World Junior Ultimate Championships | July 20-27, 2024 | Birmingham, UK |
| World Ultimate Championships | August 31-September 7, 2024 | Gold Coast, Australia |
| World Masters Ultimate Championships | November 9-16, 2024 | Irvine, California |
| Asia Oceanic Beach Ultimate Championships | June 12-16, 2024 | Wakayama Province, Japan |
The World Ultimate and Guts Championships returns in 2024 for the first time since 2016, after the 2020 iteration of the event was cancelled due to the Coronavirus.1 Joining WUGC and the Worlds Junior Ultimate Championships on the WFDF world championship slate are the World Masters Ultimate Championships. Formerly part of WUGC, the decision was made to hold WMUC as a standalone tournament due to the size and scope of WUGC 2016.
2024 also marks the beginning of beach continental events being held in even years in an attempt to alleviate stress for players who attend both grass and beach continental events. However, just the Asian Oceanic Beach Ultimate Championship is currently scheduled for 2024, as the PanAm continental association deemed it premature to invite teams for a PanAmerican Beach Ultimate Championships, and WFDF is working to find a new location for the European Beach Ultimate Championships after issues with the former France-based venue.
"WFDF is working hard to return to pre-pandemic lead times for planning and announcing dates and hosts for our flying disc championships. Attendance has started to return to pre-2020levels and with player levels at our national federations resuming their growth trajectories we expect our 2024 events to be well attended," said WFDF President Robert "Nob" Rauch in a statement. "WFDF is currently calling for bids for 2025 events which will extend our lead times, giving NF's and athletes more time to prepare. We are excited to return to experienced Local Organizing Committees for many of the events on next year's calendar."
---
Many bids have already been allocated, but countries that did not pre-register but are still interested in participating will have a chance to obtain bids by joining the waitlist. ↩