Four teams converge on the Twin Cities to determine a champion.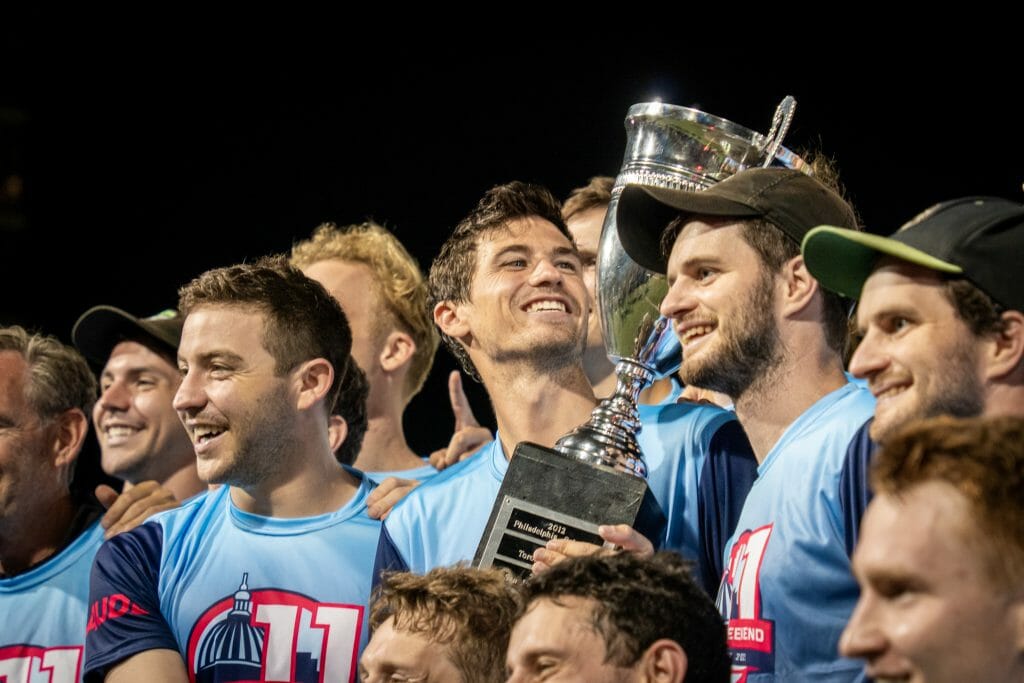 Another exciting AUDL season concludes this weekend as three new challengers — the Salt Lake Shred, Minnesota Wind Chill, and Austin Sol — gather together in Minnesota to attempt to knock off the New York Empire, the defending champions who have not lost a game in nearly two years and will tie the record for longest winning streak in league history if they repeat this weekend.
For those who cannot make it to TCO Stadium in Minneapolis, the two semifinal games will be broadcast live on AUDL.tv. The 2023 AUDL Championship Game will air live on Fox Sports 2 (it will not be available on AUDL.tv).
Let's break down each of the four contenders this weekend!
New York Empire (13-0)
Key Players: Ryan Osgar, Ben Jagt, Jack Williams, Jeff Babbitt
How They Got Here: The Empire rolled through the regular season with their closest game coming during a mid-May tilt in DC (New York won by one). They have been the favorite in every game they've played, and the team has delivered time and time again, including comfortable wins on a treacherous road trip to Colorado and Salt Lake. Their closest threat was always DC and since that one-goal win in May, New York owns three and five goal wins over what might be the second best team in the league.
Why They'll Win it All: Search…2022 AUDL Championship Weekend Preview…Copy/Paste:
This is hands down the most talented team in the league and has a case – if they ultimately win the title – to be considered the best in league history. With the luxury of crossing over the league's two-time reigning MVP Ben Jagt to defense and the emergence of ultra-athlete Jeff Babbitt as the toughest cover in the league on offense, the Empire do not have an obvious weak point to attack. Ryan Osgar was the thrower with MVP numbers this year and led the offense that scored the most points in the league this season. Meanwhile, Jack Williams is still the most clutch performer in the sport at the moment and is only like the third focal point of the offense. The Empire addressed the depth concerns that plagued the team last season in 2021 and seem ready to regain the crown for the second time in three seasons.
The only addition I'd make in 2023 is that the Empire have proven that they can win without Babbitt. Though he was an integral member of their offense during the regular season, Babbitt was unable to play in the divisional championship against DC due to lingering concussion symptoms, and the Empire responded by putting together the best offensive performance in league history (committing a measly, record-setting 4 turnovers). Note that Babbitt and John Lithio, who also missed the divisional championship, have been cleared to play this weekend and have been upgraded from questionable to active. It will take a truly special performance to knock off the Empire.
X-Factor: Experience.
New York has been at every Championship Weekend since 2018 and won two titles in that span. Collectively, the other three teams have four total players with Championship Weekend experience. There's some truth to the concept that teams need to lose in the big moments before they're able to win. Salt Lake, Minnesota, and Austin all lost their division championship in 2022 before claiming it in 2023. But none of them have faced the raised stakes of Championship Weekend. Perhaps they simply don't have the experience necessary to take down the Evil Empire.
Salt Lake Shred (12-1)
Key Players: Jordan Kerr, Jace Dunnenbeil, Sean Connole, Joel Clutton
How They Got Here: Closer-than-expected games against Portland and Oakland in weeks two and three had fans wondering if the Shred could hold up over an entire season, but Salt Lake turned on the jets over the second half and ultimately qualified for Championship Weekend with relative ease.
Breakout performances from Jace Duennebeil, Sean Connole, and McKay Yorgason, as well as the addition of World Games athlete Grant Lindsley, gave Salt Lake a higher ceiling than their inaugural 2022 roster, and back-to-back one-point wins over the Colorado Summit, long considered the favorite to win the West, put Salt Lake in the divisional driver's seat. A four point loss to New York closed out the regular season on a down note, but the Shred rebounded with a convincing win over Los Angeles to clinch their spot at Championship Weekend.
Why They'll Win it All: The only team at Championship Weekend to have the benefit of playing New York already this season, Salt Lake will have a great sense of how to attack and defend the Empire should they both advance to the championship game. They'll at least already know how their first instinct game plan works in live action. The Shred boast the league's most potent offense and have to like their chances against New York if they can make the game a pure shootout. With Joel Clutton, Devon Terry, and Johnny Hoffman, the Shred have defenders capable of challenging New York in the deep space and limiting the offensive options for the Empire's dynamic stars. Meanwhile, Jordan Kerr has the Shred offense humming to the tune of 23.5 goals per game. The Empire only score 20.1.
X-Factor: Breakout Players.
Salt Lake has a number of its players playing their best ultimate at the right time. Connole, Dunnenbeil, Hoffman, and Lindsley are playing some of the best ultimate we've seen from them in recent years. Jordan Kerr once again put up MVP numbers and is passing the eye test as a true star. With the roster seemingly all trending up at once, the Shred are a team built through organic growth that is peaking together, and that collective growth can be a superpower.
Minnesota Wind Chill (11-2)
Key Players: Brian Vohnoutka, Will Brandt, Brandon Matis, Abe Coffin
How They Got Here: With their eyes set on appearing at Championship Weekend in their backyard, the Wind Chill entered this season ready to compete. Though they've had strong teams the past few seasons, Chicago had proved to be just a bit stronger. With Pawel Janas and Joe White playing elsewhere this season, Minnesota was poised to make the leap and make this year their time to push past their previous ceiling and finally make Championship Weekend for the first time. The Wind Chill were treading water as a contender until mid-June, when they put a five point beatdown on the Radicals in Madison. Before that, they played a one-point game with the Rads and lost to Chicago on the road. Since then, all of their wins have been by multiple goals, including last week's division championship game against a feisty Indianapolis team, and their only loss was an out-of-division matchup on the road in Colorado (where they got blown out).
Why They'll Win it All: The Wind Chill know how to win ugly. With what should be a loud and engaged home crowd, Minnesota will be playing smash-mouth, grind-it-out Central Division ultimate. Will Brandt is hitting his stride as a professional. League stalwarts like Brian Vohnoutka, Dylan DeClerck, Josh Klane, and Brandon Matis are finally getting their chance to showcase their skills on a national stage. Minnesota has enough pride and enough institutional know-how that the Wind Chill won't waste their chance.
X-Factor: Home Field Advantage.
Though the AUDL's seeding indicates that Minnesota is technically the road team in their semifinal, they'll be playing in front of a loud home crowd. While Shred fans are known to travel well, local supporters should outnumber every other team's fans combined.1 The Wind Chill are looking to join the 2014 Toronto Rush, 2015 San Jose Spiders, and 2018 Madison Radicals as teams to win a Championship Weekend game in their home city, and their fan support could go a long way to get them there.
Austin Sol (11-3)
Key Players: Kyle Henke, Evan Swiatek, Duncan Fitzgerald, Joey Wylie
How They Got Here: The Sol had an interesting season. They comfortably won all of their games played against division bottom-feeders Dallas and Houston, and they scored a win over San Diego in cross divisional play. But they dropped both games of a Carolina-Atlanta road trip and lost again to Carolina in Austin, their only loss in the state of Texas this season. The Sol got revenge on both the Flyers and the Hustle (as well as the haters who thought they couldn't beat a team with a winning record) by knocking them off in consecutive games to win an unlikely South Division title. But they always expected to be competing for the title this year.
Why They'll Win it All: This team believes like no other AUDL team in the field. After back to back upsets over Carolina and Atlanta, the Sol simply aren't scared of anyone, even the best team in league history. Kyle Henke is playing the best ultimate of his career and always seems to play his best on the biggest stages. Evan Swiatek, Joey Wylie, Mark Henke, and Zach Slayton are also in the midst of career-best performances. The Sol don't do anything particularly special from a tactical perspective, but their unique approach to team-building and attention to culture might be enough to carry them through their first Championship Weekend appearance.
X-Factor: The Sol have nothing to lose.
Though the team believed in itself, most AUDL pundits and fans gave Carolina and Atlanta better chances to make Championship Weekend. If you scroll down below, you'll see that every single Ultiworld contributor who made predictions for this event thinks that the Sol will lose. They're playing against a team that hasn't lost since September 2021. If there was ever a time to play without pressure, this is it. The Sol have enough talent and loose energy to put a scare in New York; if they truly play their best, they might just have enough moxie to win.
Semifinal Previews
New York/Austin (Friday Aug 25, 6 PM ET)
The team that's been at the top for the past three seasons plays the team that started 18th out of 19 teams in 2021 and earned their way to the final four by 2023. This game has a bit of a David vs Goliath feel, but David won that biblical battle, and the Sol have a chance to win this game. Against Carolina and Atlanta, Austin's defense was able to force enough timely turnovers to win. With their D-line converting at an 81% clip in the playoffs, Austin can be trusted to take advantage of any turnovers they force.
With Joey Wylie, Mark Henke, and Oliver Fay all capable of marking tough matchups, the Sol have to like their chances of at least forcing more turnovers than the four DC managed two weeks ago in the East Division final. If they can make a dent in New York's end-of-quarter dominance, the Sol have to believe they have a chance.
For the Empire, their path to victory runs through their historically efficient offense and their opportunistic defense. With a deep roster of playmakers, the Empire can rely on career blocks leaders Mike and Ryan Drost as well as poachy savant Ben Katz to earn a turnover, then look at Jack Williams and Ben Jagt to convert the score.
The Sol have a lot of talented players, but nobody with as much career success as any of those names on New York's roster. With the offense clicking at a historic pace and the best defense the Empire have ever had, New York simply needs to play its A game: the win will follow.
Salt Lake/Minnesota (Friday Aug 25, 8:30 PM ET)
By most metrics, the Shred will be favored to win this game. They have a top two offense in the league centered around two of the most talented players who will be at Championship Weekend in Grant Lindsley and Jordan Kerr. Their defense has improved significantly since their debut season in 2022 as has their mettle, as proven through back-to-back wins against Colorado.
More than any other team, the Shred have been the recipients of a number of breakout performances this season. Jace Duennebeil and Sean Connole provided significant step ups from their 2022 output. Will Selfridge (returning from an ACL tear), Lindsley (who hasn't played in the AUDL since 2019), and McKay Yorgason (a true rookie) add to the depth of offensive talent that helped the Shred to be the league's highest scoring team. Though players like Connole and Dunnenbeil are untested, they'll be matched up against similarly new-to-the-moment defenders. Besides, experience doesn't score goals–talent does.
Despite Salt Lake's accolades and the Central Division's overall lack of Championship Weekend success, Minnesota has to like their chances in this game. The Wind Chill play a physical, tough brand of defense that the Shred haven't seen yet this season, and their D-line should be able to disrupt Salt Lake's rhythm. The Wind Chill offense has settled into a nice groove over the past few games, with Will Brandt stepping into a primary distributor role. An inconsistent contributor over the course of the season, Abe Coffin has a chance to step up for the Wind Chill as the team's most talented player and the only member of the team with Championship Weekend experience.
With their offense finally looking right and a stingy defense ready to ball out in front of their home fans, the Wind Chill won't be folding just because the Shred are coming in as clear favorites. Over 2,000 fans are expected at TCO Stadium to root for the Wind Chill, and Minnesota will be motivated to give them something exciting to cheer about.
Ultiworld Staff Picks
| Name | NY v. AUS Pick | SLC v. MIN Pick | Champion Pick |
| --- | --- | --- | --- |
| Alex Rubin | NY | SLC | NY |
| Jenna Weiner | NY | SLC | NY |
| Theo Wan | NY | SLC | NY |
| Theresa Diffendal | NY | SLC | NY |
| Keith Raynor | NY | SLC | NY |
| Sascha Vogel | NY | SLC | SLC |
| Charlie Eisenhood | NY | SLC | NY |
---
unless they're all there to cheer for Minnesota alums on New York like Ben Jagt and Ryan Osgar ↩