The Austin Sol won their first division championship last week, completing a three-year process building the team from among the league's worst to the final four.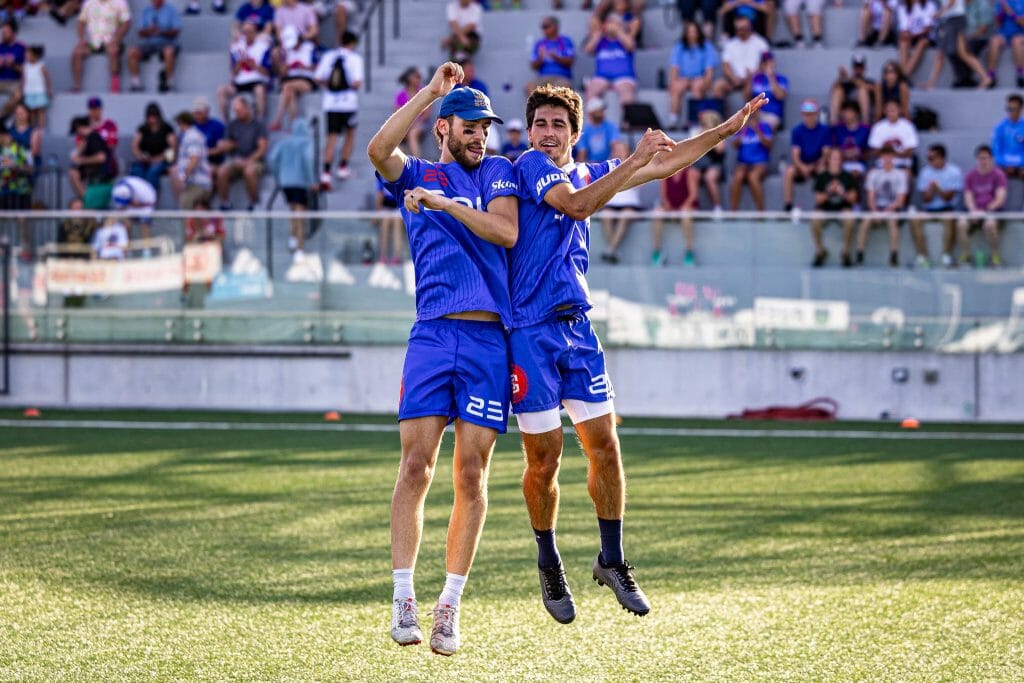 When Steven Naji was hired to be the Austin Sol head coach ahead of the 2020 AUDL season, he shared a vision with Sol owner Patrick Christmas that the team could compete for a championship within three years. At that time, the highlights from the Sol's existence in the AUDL were star Kyle Henke's 2018 greatest, perhaps ultimate's #1 social media moment ever, and the team's first-ever win against the juggernaut Dallas Roughnecks a year later.
Three seasons after Naji's proposal, the Sol have earned a spot at their first ever Championship Weekend. Years after first taking down then-"Big Brother" Dallas, the Sol will have the unenviable task of taking down the league's current dominant team, the New York Empire, in their upcoming semifinal matchup. They won't be the betting favorites, but the Sol have overcome the odds for the past three seasons and simply aren't daunted by such challenges anymore.
A Brief History
In the four seasons between their inception in 2016 and the 2019 season, the Sol had four different head coaches. They were the clear second fiddle to the enterprising super-team up I-35 and to their local club team Austin Doublewide, who were still riding the positive feelings from their 2012 title and who would compete in the 2017 national final. Naji played for the Sol during that time and quickly sensed that the team had a greater potential than their results indicated.
"I moved to Austin and we weren't winning games," he said. "And I knew we had the personnel to do so. At least in Texas, Dallas had championship level teams. Some of those guys lived in Austin, I knew we were capable. We had the personnel. We had the assets, we have the community. But we weren't headed in the right direction, for many different reasons."
Year One
Ahead of the 2021 season, Naji shared his vision for the team's future and expressed more confidence than most coaches coming off of a 3-9 season and a season-cancelling pandemic probably would. When Naji was hired as the Sol's coach ahead of the to-be-cancelled 2020 season, he set about changing the team's culture with an eye towards bringing in players who would buy in to the program and work not just harder than other teams but would work together. With a roster full of unfamiliar names and just the hopes and dreams of a first year coach to go off of, Ultiworld's official rankings had the Sol ranked second to last in the league.
To take a trip down memory lane, the Sol were afterthoughts back then. Despite Naji's optimism in his pre-season press availability, Ultiworld's season preview gave the team little chance: "This is a rebuilding year for Austin, who has watched a lot of top players escape to Dallas and is in the midst of a cultural reboot with the hiring of new coach Steven Naji and the addition of veteran Joe Sefton. However, it is hard to overlook the void left by Kyle Henke and Chase Cunningham. While the Sol might steal a few wins from teams weary from playing Dallas in a back-to-back, don't expect Austin to be in the playoff picture this season."
With the express aim to win a Championship in 2021, the Roughnecks had poached Henke and fellow Sol alum Chase Cunningham — and gone as far as hiring a private jet to transport them to games. "I always kind of thought that my best opportunity was that 2021 season with Dallas because we were projected to win the whole thing," Sol star Kyle Henke said.
In Week 2, the Sol upset Dallas (then known as the Roughnecks and the top team in the league) 24-23. "The only team we were ranked higher than was Detroit," Naji said, "and Dallas was the number one. But there was no doubt in my mind. We could do it. But I think it took executing and actually getting a result for the player mindset to shift."
Armed with a bit of proof in their coach's belief, the Sol embarked on a franchise-defining season that saw them break into the tier of competitive teams in the AUDL. Before 2021, the Sol had a reputation as the team of "other" players in Texas, those who weren't on the Roughnecks. During that season, the narrative changed to recognize that the Sol were talented and tough for even the best teams in the league to consistently beat. As the team finished with strong results in each game, Naji still kept the attention on his plan to one day compete for Championship Weekend. Simply being better wasn't good enough: the Sol wanted to be #1.
"Yeah, first, that three year plan aspect is something that he's been talking about for three years," team captain Evan Swiatek said. "And as you can imagine, early on, a lot of us just kind of humored him about it. We're like, 'Yeah, right.' But he really never lost that belief throughout the entire time. And in a lot of ways, it was like the heart that kept beating."
By the end of the season, Dallas wasn't as strong as they appeared (San Diego knocked them out of the playoffs before Championship Weekend), but Austin left their mark on the league as well. After losing a heartbreaker to Dallas in a late season win-or-go-home game, I wrote, "Austin will be disappointed not to clinch its spot in the playoffs after leading the season series entering this game, but after preseason prognostications left the team last in the West, the Sol have to be proud of their season and of even having a chance to control their playoff fate."
One of the successes from 2021 was building confidence by taking down Dallas. Another was unearthing players who would go on to become among the most productive in the league. Before the 2021 season, Naji could not stop raving about Swiatek, who was named a captain before he even played an AUDL game.
Naji and Swiatek had crossed paths as players in the Midwest1 and Naji respected him as a player and a leader. As he went about shifting the culture in Austin, he relied on Swiatek for on- and off-field leadership.
"We said that our culture is not going to be the little brother anymore. We're gonna put all the time and energy and passion into this," Swiatek said. "We made sure that that first year we were just going to have as much fun together as physically possible. We were going to make it a place where people wanted to come back to year after year after year, because the other issue is that we had a couple of guys play for us — and then they would go to Dallas. They would go to the Roughnecks the next year…Old Sol teams had a really difficult time maintaining a roster from year to year. So Naji and I and the other leaders said the first step is just make this a place that people want to come back to. And so we just had a ton of fun."
Though their losses to the San Diego Growlers (both games in which they had a late lead) and a late season one-point loss to Dallas prevented the Sol from making the playoffs, they announced their place as a contender. Per Naji's three year plan, year one was about going .500 or better and knocking off "Big Brother" Dallas. By those metrics, mission accomplished.
Year Two
By 2022, the Sol were clearly among the AUDL contenders. They brought back the bulk of their roster and added back Kyle Henke, who was developing into one of the league's best players, but a switch back to the South Division introduced new roadblocks in the then-defending champion Carolina Flyers and a resurgent Atlanta Hustle, who experienced their own Sol-like step forward in 2021. The Sol jumped ahead of the Hustle in the standings and made their first playoff appearance that season. After they lost by two on the road in Carolina in the south division championship game, I wrote:
"Though they came up short in this game, the Sol exceeded expectations this season by making the playoffs and giving Carolina a competitive game. After a near miss last season, breaking through to a meaningful postseason game represents a step up for a team that had regularly been a south division punching bag just a few short years ago. Kyle Henke is a bonafide star and put together a five assist, two goal, three block, and zero turnover day. Team captain Evan Swiatek led the game with seven goals and also punched in two assists without a turnover. Most importantly, the cultural shift that started in 2020 has clearly been effective and should continue to propel Austin forward." (emphasis added)
One big change in 2022 was the Sol's ability to import and retain star players. Unlike Dallas, whose owners paid above market value for stars like Beau Kittredge, Cassidy Rasmussen, Jimmy Mickle, and Dylan Freechild, Austin could not rely on money, cushy jobs, or free housing to attract players. The Sol had to make the team a compelling place to play. The Sol recruits new talent because they want to play for and in Austin specifically, and the team retains their talent because of the positive environment created in Texas's capital city.
"Even during that [2021] Dallas year, I could see the shift that Naji had made, trying to get more homegrown talent as opposed to guys who are either aging out or that were out of town," Henke said. "And sometimes I thought it was silly but the way that Dallas was trending in terms of having the bad year and having all this super power and the way that [the Sol] are trending and that they were growing from the roots. It just flipped to be so much more sustainable and so it wasn't too hard to want to come back, seeing the roots being dug deeper [in Austin] than they were in Dallas."
One of Naji's strengths is building a team culture that can take in new talent and help new players acclimate quickly. In 2022, Mark Evans and Jake Radack saw their first minutes with the team. In 2023, Duncan Fitzgerald joined after playing two seasons with the DC Breeze. Those three, along with Henke and Swiatek, now form the offensive core of a Championship Weekend team despite coming from five different ultimate upbringings.
"It's been one of the most welcoming environments I've stepped into within the frisbee community," Fitzgerald said. "They've been amazing." Fitzgerald had been eyeing a change from the DC scene that he had played in before and after graduating college, and he was drawn to move to Austin in part to play with the Sol and his childhood friend Radack.
When he isn't coaching an ultimate team with championship aspirations, Naji is a realtor and spends a lot of time convincing young people to move to Austin. "One of my main virtues as a coach is finding humans that want to buy in to something greater than they are individually, and do that as a whole," Naji said. "We're not recruiting people with money. I recruit people by showing them that we live in the coolest city in the country. Once people visit Austin, Texas, they love it."
"[Naji] is a salesman first and foremost, for sure," Fitzgerald said. "He puts in a lot of work in player outreach. He's not wrong. Austin is awesome. Austin is like the best place. It's hot as hell. But it's an amazing city. And it's an amazing city to play frisbee, especially. He puts in a lot of work trying to get players to come and it works."
By the end of the 2022 season, that quote wasn't just something that a Sol player would say, but something that players around the country started to believe. Naji also put in a lot of work with Doublewide and local college team Texas Tuff to have a mutually beneficial relationship with regards to their shared players.
"The idea of a pipeline is super real," Henke, who played his college ultimate at Texas Tech, said. "And so I think Naji certainly helped build some of those relationships with Tuff and Doublewide to where we've got a healthy thing going."
Before Naji and the current captains stepped in to leadership roles, players might skip a Sol game for a Doublewide commitment. With both sets of leadership working together, the Sol have reached new levels of success, and Naji was been brought on to Doublewide in 2022 as an assistant coach. Additionally, the top talent from the University of Texas has been working with the Sol to manage the overlap between the college and pro seasons. Zach Slayton has only played a handful of games for the Sol over the past two seasons as he navigated responsibilities as Tuff's on-field leader, but he will take the field next week as a key member of the Austin offense.
With talented players not just joining the team but sticking around, Sol closed the 2022 season with positive momentum. Their loss to Carolina in the South Division final was disappointing, but their late game comeback once again built some belief internally that they could compete with the league's best teams in the playoffs.
Year Three
"We talked about it at the very beginning of the season and again during the last month," Naji recalled. "Our season is not going to end at the first round of playoffs, second round of playoffs. Our goal is to be competing in the final weekend of the year. And you know, it's easier said than done, but we're in a position we were expecting to be and hoping to be so, I'm truly so proud of everything it took to get to this moment."
Ahead of the 2023 season, it was again clear that the Sol were in the top tier of AUDL contenders, but there were again caveats to their potential success. This year's preview read: "After a slow build during the 2021 season, the Sol broke through in 2022 to make the playoffs for the first time in franchise history and nearly took down the Carolina Flyers on the road. Bringing back the bulk of the team who accomplished all of that, the Sol are hungry for more success and enter the season as motivated as ever. With a cupcake schedule featuring eight games against Houston and Dallas, the Sol have a path to winning the division. It's not crazy to think that Austin could upset Carolina at home…right? Kyle Henke, Evan Swiatek, Mark Evans, and company are in for a fun season!"
After watching the team upset the Hustle on the road last week, it seems insulting to have suggested that they could only pull off an upset at home, though their win against Carolina was aided by strong community support.
"We didn't get the one seed but we wanted to play in front of our home fans, knowing we're very strong in front of our fans, sleeping in our own beds," Naji said. "And then most of all the heat. It's really challenging for people that don't live here to battle for 48 minutes in the heat, and Carolina came to our house for the 2/3 game this season. And they played pretty damn well. I think there was something not said enough, but they were missing personnel. If they're at full strength, I think that game has a different storyline. I'm thankful for Ben Snell having his wedding."
As they have all season given, the schedule-based excuses persist, but the Sol can only win the games in front of them. It might be four games apiece against two-win Dallas and Houston, or it might be a home win against a short-handed Carolina, but the Sol take advantage of the opportunities presented. "It was so cool to get to play in front of our home crowd against Carolina," Henke said. That was just so much fun. I think our fan base has grown so much and there's just such genuine interest there. And so to get to host a playoff game was just so, so cool."
The upset over Carolina earned the Sol their first playoff win, but the team wasn't finished yet. After making it to .500 and beating Dallas in year one and making the playoffs in year two, the team needed to win one more game to make Championship Weekend in year three and accomplish the final step of Naji's 2019 plan.
"Back in, I don't know, 2020, [Naji] was talking about this three year plan. You know, in three years, we're gonna be at Championship Weekend," Henke said. "Even if not everyone believed in him, he believed in us. And so, you know, for the last three years, that dude has been putting in so much work to build this team."
It took a series of absurd events and as much belief and heart as the Sol could muster to beat Atlanta on the road, but they did it. Last week's Sol/Hustle game has already been called one of the most entertaining games in league history. Through dropped game-winners and two defensive stands in double overtime, the Sol prevailed and advanced to the first Championship Weekend in franchise history.
"In every message I send, I typically send something about mental strength," Naji said. "And I don't think we could show any better mental resilience than this past Atlanta game. I've watched it a number of times, and I get the same feeling each time. And it's just pure happiness. It's not because of the result, it's because of the process it took to get to this point."
In addition to the mental strength required to overcome the long odds and beat Atlanta, the Sol had another trait in their corner: friendship. "For us, that's what's made a huge difference," Fitzgerald said. "In these games, we're down. And when the going gets tough, and our big players make mistakes, we're all really good friends, and we're gonna stay positive, because we all want each other to succeed. And so in those tough moments, it's really easy for us to go grab somebody's shoulder and be like, 'you got this,' and it's not this sort of manufactured help. It comes from a place where I really do care about you out within the sport and outside of the sport, and I'm here for you. And I think that positivity carried us through many games this season."
For those feelings to come through a first-year player speaks to the quality of the bonds and the depth of the culture formed in Austin over the past few years. While other collections of players view their AUDL commitments as a way to get extra high-level reps or to play the sport in a financially beneficial way, the Sol are one of the handful of teams to get authentic buy-in from the entire roster. Rather than a collection of players from the same city, the Sol are truly a team.
Championship Weekend
With New York next on the schedule, it'll be up to the Sol to put forth their third consecutive best game of the season if they're going to advance to the final. While some teams would focus on the work they will put in during the weeks leading up to Championship Weekend in scouting their opponents and formulating their game plans, the Sol are relying on the work they've put in over the past few seasons.
"Of course, we're gonna game plan very specifically, but that's not why we're gonna win," Fitzgerald said. "It's because we're just unbelievably excited to be here. And we don't have any expectations other than playing our asses off. So I think that is our advantage."
Though the Empire roster the past three MVPs and the most All-Stars in the league, Austin's players aren't too scared and might even argue that the Empire's dynasty is as much due to talent as their geographic circumstances. With the top-heavy glut of championship contenders and long travel in the South Division, Austin feels challenged in a way that New York hasn't been year-in and year-out.
"I think if they were in the South Division that they would not be undefeated in any season," Henke quipped. New York won games in DC, Colorado, and Salt Lake this season, but the Sol still expect to provide a challenge that the Empire haven't yet faced.
Of course, the Empire have been on their own growth trajectory since 2019, importing stars like Jack Williams, Ryan Osgar, Jeff Babbitt, Antoine Davis, and Ben Jagt. New York relied on offering higher salaries and benefits like housing to build its championship level team of players with previous AUDL experience. Even Empire players who aren't at the All-Star level are experienced players within the league. In the past few seasons, New York added Ethan Fortin, Charles Weinberg, John Randolph, Bretton Tan, and Elliott Chartock, all of whom had prior AUDL experience. The Sol, meanwhile, are making stars out of Swiatek and local talents like Joey Wylie, Slayton, Oliver Fay, and Gavin Babbitt. With their two different approaches to team building, the Sol will provide a stark contrast to New York.
Once they announced their roster, New York was the favorite to repeat as champions. When the Sol released theirs, they were given a chance to make the playoffs. From the outside, this game seems like a mismatch, but for the Sol players competing, this game is a culmination of everything they've been building towards since 2019.
"I was a crazy man [in 2021] telling the guys we're going to beat Dallas," Naji said, "and then we get that first result. And then we get that second result. And you start to see the belief, the cohesiveness, the camaraderie. You see them starting to build that confidence. And year over year we've grown and it's turned into something special. We get a chance to play the greatest team in our league history coming off the greatest performance in our league history."
---
Naji played in the Indianapolis area while Swiatek played in Chicago and Milwaukee ↩