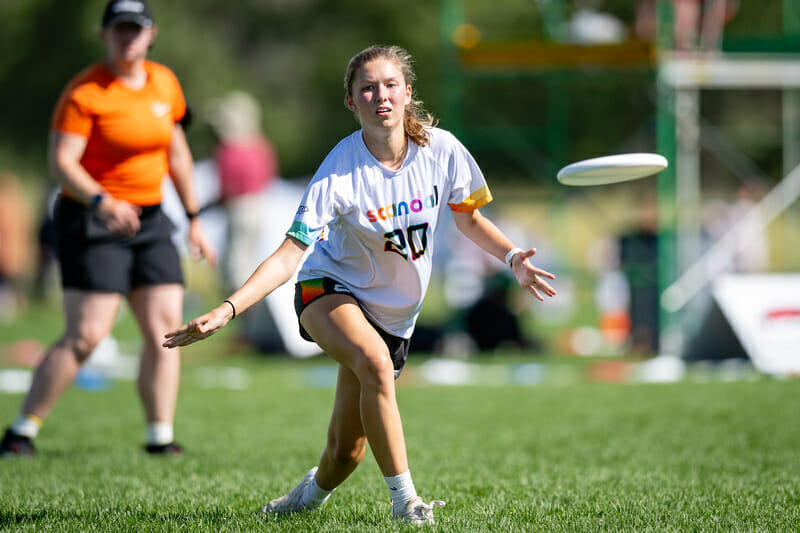 Ultiworld's coverage of the 2023 club ultimate season is presented by Spin Ultimate; all opinions are those of the author(s). Find out how Spin can get you, and your team, looking your best this season.
At the top of the morning, with one round of pool play left, seven squads were still in contention for the Pro Champs title. Now those two have one more contest to decide the winner. #6 Raleigh Phoenix will face #1 Washington DC Scandal to decide the second Triple Crown Tournament of the season.
There were many tight continuous games throughout pool play on Saturday.  In contrast, the final round of pools were blowouts. Scandal had no issues with #14 Pittsburgh Parcha, #3 Boston Brute Squad dismantled Traffic, #2 San Francisco Fury continued their dominance walking past #15 Washington D.C. Grit. The only contentious game was Molly Brown against #8 Toronto 6ixers. Britt Dos Santos kicked things off with a backhand dime to Molly Wedge. The teams traded holds until the game was tied at 7-7  when Molly finally secured a break to take half 8-7. From there Molly held the lead, holding out of half and never letting go. With the wind blowing as hard as it was today, upwards of 20+ mph gusts, it was always difficult to score in one direction. 
Pre-semis were less exciting. Both games were decided early on with Scandal winning 15-6 over 6ixers and Molly Brown finishing 15-12 over Brute Squad. Brute Squad tried to mount a comeback towards the end, with Cate Boezi really stepping up taking matters into her own hands. Brute were down 14-9 and scored three in a row to stave off elimination, but it was too little too late and Molly Brown were able to close the door. 
Big Break Runs Buoy Phoenix
Semis, however, were a different story. Phoenix matched up against defending national champions and Pro Champs winners Molly Brown. Denver had been streaky all weekend, going on runs of points followed by slumps of giving up breaks. They started their match decisively, going up 2-0 with a hold and a break. But the fatigue of already having two games on the day under their belts – especially in comparison to Phoenix's zero1 – quickly became evident. 
Phoenix embarked on a seven-point run as they continued to generate blocks and capitalize on their break chances. Caitlin Gross and Tyler Smith were instrumental for them, and Dawn Culton could not be contained. Molly managed to stop the onslaught right before Phoenix were able to take half, but still entered the intermission facing an 8-3 deficit.
Out of half the teams traded holds, and it looked like Phoenix could afford to press the cruise control button on the steering column. But then, Ronnie Eder made a spectacular sliding grab to finish off a break for Molly. It was the start of an avalanche: Molly would tack on three more breaks to climb back within a point.
Phoenix were just too strong, however, and once they'd collected themselves, went on their own break run, taking the game to 13-9. Molly Brown had a final gasp to push it to 14-12, but Smith, who'd already had a great game, finished it out with a dart to Erica Birdsong, who kept her toes just inside the line to take the game 15-12.
Dueling Second Half Comebacks: A Tale of Fury and Scandal
The other side of the bracket had what may be the most exciting game of the weekend – across all divisions. The news ahead of the match was that Scandal's star player Claire Trop would not play due to an injury sustained earlier in the day. To make matters worse, Amanda Murphy went out in the first couple of points with an injury of her own. If Scandal were going to make it four in a row2 against the division's most legendary team, they would have to do it short-handed.
Fury kicked things off with a hold and a break. For a brief moment it looked like the version of Scandal without Claire Trop wasn't going to be enough to match up with a Fury powerhouse, but then Scandal were able to get things back on serve with a hold and a break of their own. The teams traded holds to take things to 3-3, but Scandal found a break with a great block from Ashleigh Buch, followed by a Kami Groom to Allie Wallace connection, taking their first lead of the game. Scandal extended that lead with another break to make it 5-3, a lead they would hold all the way through half at 8-6.
The second half of this game was one of the most compelling halves of sport I've ever seen. Fury opened with a break and Scandal held with an incredible grab from Kami Groom against two pouncing defenders. Scandal then broke to extend their lead to three, the largest of the game. Fury found a break. On the next point there was a controversial foul call on what appeared to be a clean Scandal block, but the observers upheld the call and Fury found the end zone. The next point also featured a questionable call that fell Fury's way and ended in the same manner: a Fury break.
As if the Fury team could feel the controversy mounting, they put all doubts to rest. They extended their three-point run into a seven-point run, abracadabra-ing their 7-10 deficit to a 14-10 lead. Fury were on the doorstep of the final. Ian Toner, in his color commentary for the broadcast, had all but put the game on ice, and rightly so, as it appeared the shortened Scandal lineup had finally run the tanks dry. We were drafting their eulogy for the tournament.
Scandal, however, had other ideas. After a relatively ho-hum hold the fireworks started when Kira Flores boosted an upwind shot to Kami Groom (who continued to Theresa Hackett) for break #1. Fury made a very uncharacteristic unforced error on their own goal line, and Scandal cleaned things up to break again – #2.
The next point was absolute magic. Groom got a block, made a regrettable throw upwind, but was bailed out by Buch who somehow came down with it after the tip despite the wind and Fury's best efforts. Buch sent the disc deep to a streaking Blaise Sevier who had already been playing her way into a feature role in Trop's absence. Sevier blazed to the endzone for a huge bid and secured the equalizer, forcing the game to universe point. The final point seemed to last nearly as long as the entire rest of the half as everyone sat on seats' edge with bated breath. Both teams seemed to be feeling the pressure as there were 13 turns and two timeouts on the final point alone. Scandal finally, mercifully, pulled it out with a routine series of passes. Awash with relief Scandal players fell to their knees or fully collapsed onto the ground. Fury just seemed stunned.
---
Phoenix played all four pool play games on Saturday and had already earned a pre-semis bye ↩

Scandal beat Fury twice at the US Open in August, as well as at that tournament in 2019 – the last three times the two teams met ↩