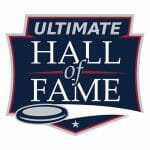 Ultimate's Hall of Fame will be getting quite the boost this year. 12 new members have been selected for induction into the Hall — the group will comprise the 15th class.
The Women's Division inductees are Dominique Fontenette, Angela Lin, and Tina McDowell, along with women's Look Back Inductees Michele Pezzoli and Joanie Merrill. The Men's/Open Division inductees are Bob DeMan, Greg Husak, Allan "Al Bob" Nichols, Brian "Biscuit" Morris, and Look Back Inductees Paul Brenner and Ian Hue (formerly Hutchinson). Long-time Paideia high school Director of Ultimate Programs Michael Baccarini has been selected as a contributor.
The group will be inducted during this year's National Championships in San Diego as a part of the festivities surrounding the sport's 50 year anniversary. Read more about each of the new members of the Hall on USA Ultimate's website.