Cap off the summer with more ultimate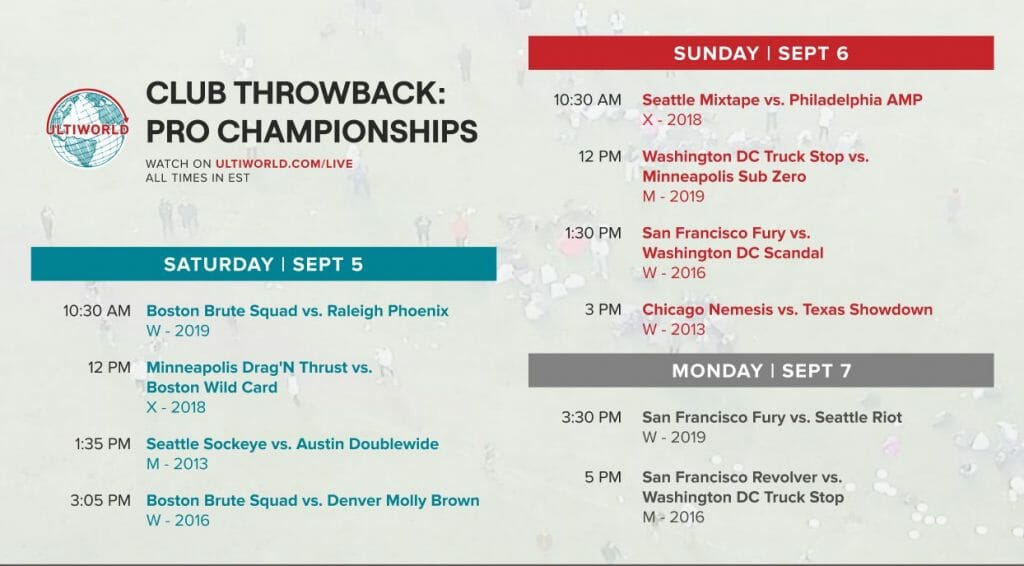 Labor Day weekend has, for the past few years, been one of the conclusive weekends of the club regular season. The Pro Championships wrapped up the elite club circuit's sanctioned play, setting the table for the Club Series to commence. Relive some of the excitement with great games from all three divisions!
And stay tuned for more! We're hoping to schedule another mixed division game for a Pro Championships Send it Back next week.
While we don't have live games, we will be streaming some of our best club games this Sunday. Watch along on our Live page or on our YouTube channel, where you can join the conversation! If you enjoy our coverage and want to see more, please consider becoming a subscriber! We need your help as much as ever before.
All times Eastern.
Saturday, September 5
10:30 AM Boston Brute Squad vs. Raleigh Phoenix [2019] (W) Subscriber select!
12:00 PM Minneapolis Drag'N Thrust vs. Boston Wild Card [2018] (X)
1:30 PM Seattle Sockeye vs. Austin Doublewide [2013] (M) Subscriber select!
3:00 PM Boston Brute Squad vs. Denver Molly Brown [2016] (W)
Sunday, September 6
10:30 AM Seattle Mixtape vs. Philadelphia AMP [2018] (X)
12:00 PM Washington DC Truck Stop vs. Minneapolis Sub Zero [2019] (M)
1:30 PM San Francisco Fury vs. Washington DC Scandal [2016] (W)
3:00 PM Chicago Nemesis vs. Texas Showdown [2013] (W)
Monday, September 7
3:30 PM San Francisco Fury vs. Seattle Riot [2019] (W)
5:00 PM San Francisco Revolver vs. Washington DC Truck Stop 2016 (M)