Ultimate from Friday to Monday!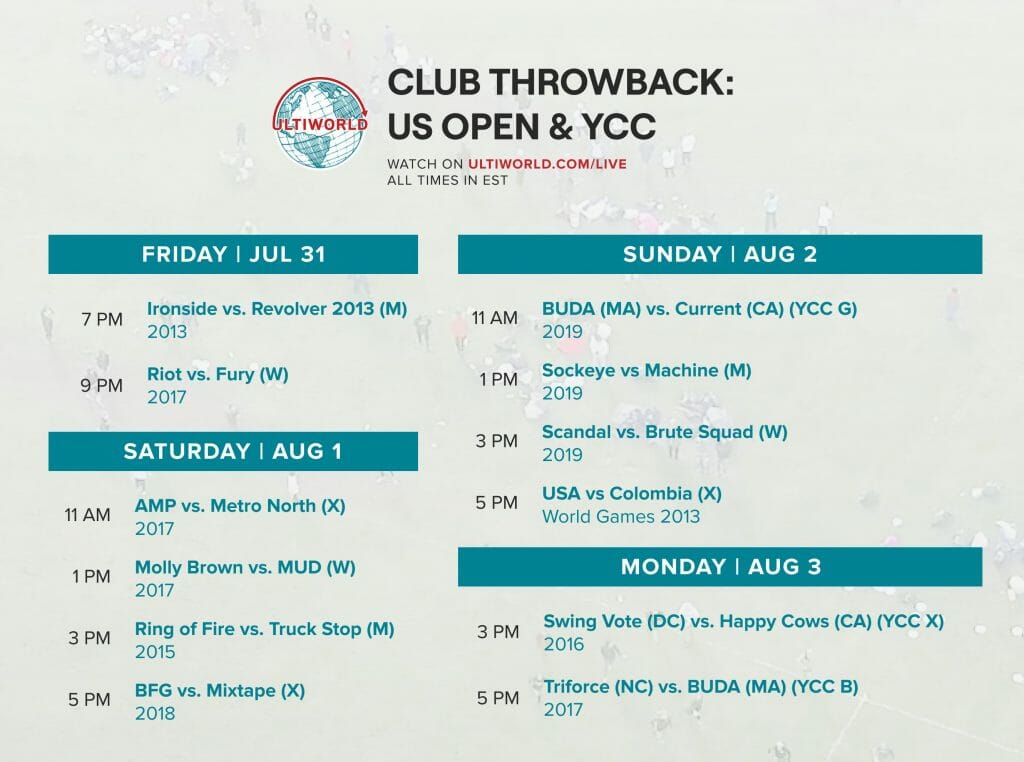 Usually, in the hot summer sun, we'd be out watching some of the club season's best battle it out at the US Open. And getting treated to some the top youth players in the country at YCCs! While we don't have a major club season tournament to prepare for this weekend, we'll be hosting another Throwback weekend and watch some of the classics of tournaments past.
While we don't have live games, we will be streaming some of our best club games this Sunday. Watch along on our Live page or on our YouTube channel, where you can join the conversation! If you enjoy our coverage and want to see more, please consider becoming a subscriber! We need your help as much as ever before.
All times Eastern.
Friday, July 31
7:00 PM Ironside vs. Revolver [2013] (M)
9:00 PM Riot vs. Fury [2017] (W)
Saturday, August 1
11:00 AM AMP vs. Metro North [2017] (X)
1:00 PM Molly Brown vs. MUD [2017] (W)
3:00 PM Ring of Fire vs. Truck Stop [2015] (M)
5:00 PM BFG vs. Mixtape [2018] (X)
Sunday, August 2
11:00 AM BUDA (MA) vs. Current (CA) [2019] (YCC G)
1:00 PM Sockeye vs. Machine [2019] (M)
3:00 PM Scandal vs. Brute Squad [2019] (W)
5:00 PM World Games USA vs. Colombia [2013] (X)
Monday, August 3
3:00 PM Swing Vote (DC) vs. Happy Cows (CA) [2016] (YCC X)
5:00 PM Triforce (NC) vs. BUDA (MA) [2017] (YCC B)