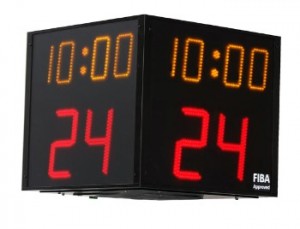 ESPN's Zach Lowe has a story out today about a radical new idea for eliminating the tedious intentional fouling down the stretch of NBA basketball games: adopting a 'soft cap' rule like the one that exists in ultimate.
Here's Lowe:
[Nick] Elam has tracked thousands of NBA, college, and international games over the last four years and found basketball's classic comeback tactic — intentional fouling — almost never results in successful comebacks. Elam found at least one deliberate crunch-time foul from trailing teams in 397 of 877 nationally televised NBA games from 2014 through the middle of this season, according to a PowerPoint presentation he has sent across the basketball world. The trailing team won zero of those games, according to Elam's data.
That undersells the effectiveness of the strategy, of course. Elam's sample doesn't include most NBA games. There were a lot of instances in which fouling teams came from behind to tie games, but lost later.

Still: The process was ugly, and it rarely upended outcomes. It didn't seem worth it to Elam. "Comebacks are just so startlingly rare," Elam said. "And the method teams used to get there was so artificial and unsightly." He would devise a better way.

He knew about the most common solutions: harsher penalties for intentional fouls, or allowing hacked teams to take the ball out of bounds instead of shooting free throws. (Others have suggested letting teams pick their foul shooter as a way of dissuading opponents from grabbing Dwight Howard types.) None of them presented trailing teams with a better alternative to fouling.

Elam landed on something more radical: eliminate the game clock from crunch time. Under Elam's proposal, the clock would vanish after the first stoppage under the three-minute mark in the NBA and the four-minute mark in NCAA games. Officials would establish a target score by taking the score of the leading team and adding seven points — then restart the game without a clock. The team that reaches that target score first wins.
Read on to hear about how the method will be experimented with and why the NBA is so interested to see if it works.