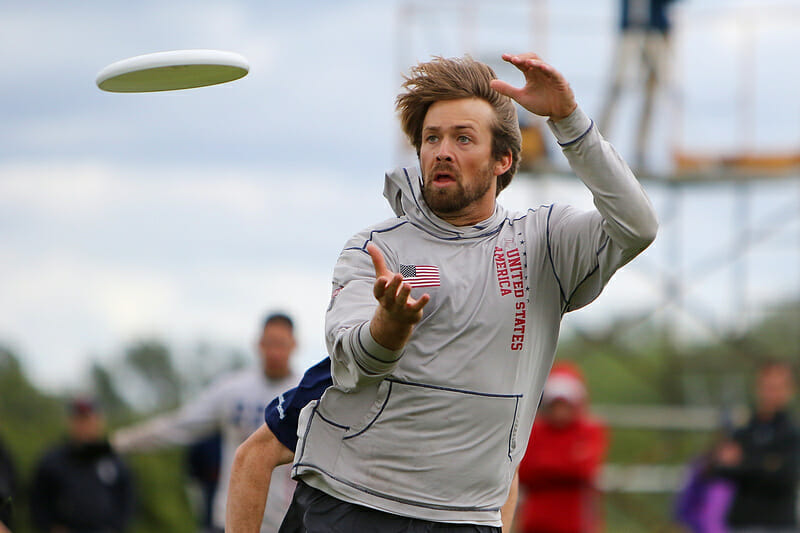 Nicky Spiva will replace Kurt Gibson on the Team USA roster for the 2017 World Games, USA Ultimate announced today.
Gibson suffered a torn pectoral muscle before the World Games tryouts and played through pain at tryouts. A medical follow-up came back positive for a complete tear; Gibson said he will be back to 100% in 16 weeks.
Unfortunately, that time frame would preclude him from practicing with the World Games team at any point before final cuts would be made, so the coaching staff opted to invite Spiva, who made the 20-person roster for the World Games team in 2013 but missed the final cut, to join the team in his place.
"It is obviously a shame to lose a player of Kurt's talent and experience, but, luckily, we have such great depth in the U.S. that we can bring on someone as good as Nicky Spiva," said Team USA head coach Alex Ghesquiere in a statement. "We are all excited to welcome him to the World Games team."
Spiva said it was a tough decision to join the team, as he had "doubled-down" on leading the Mixed team for this summer's Beach Worlds after missing the initial cut for the World Games team. He helped select the Mixed roster as a team manager and was excited for the event. But he said the chance to compete with the World Games team was also a dream.
"I am thrilled about the opportunity and the people on the World Games team," he told Ultiworld. "I'm excited to play with Surge [Sarah Griffith] and Sandy [Jorgensen] and Maddog [Anna Nazarov] and George [Stubbs] again."
"It was a win-win situation for me either way," he added. "Either I'm playing World Games or the Beach team. How much of a luckier guy could I be."
Team USA will have its first practice weekend in three weeks in Colorado Springs.