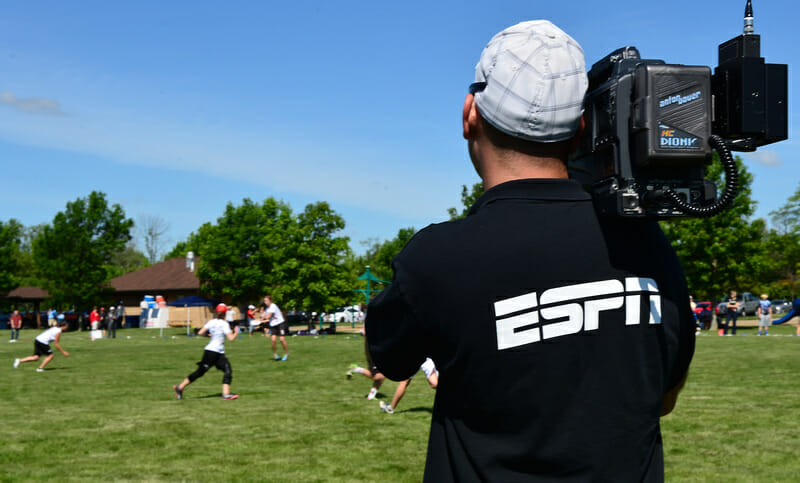 Last week, USA Ultimate announced the top 10 most-watched ultimate games on ESPN3 by division (Men's, Mixed, Women's) over the course of the four year deal that started in 2013.
Although actual viewership numbers were not released, there is still some very interesting data to consider.
What jumped off the page to me was that the top rated games in the Men's and Women's Divisions were from the College Championships within the last two years. While college players are the biggest segment of the USA Ultimate membership base, I was still surprised by that result. USA club ultimate is the highest level of the game in the world, and, in general, Ultiworld's internal livestreaming data shows that interest peaks for bracket games at the Club National Championships.
But perhaps I shouldn't be surprised. College ultimate has long had the advantage of better storylines and a built-in mechanism for fandom: the natural connection to certain universities, whether they are an alma mater or just a local school.
The branding is baked in for college ultimate, and other smaller sports, like lacrosse, have strong success broadcasting the college game (476,000 people watched UNC defeat Maryland in the 2016 NCAA Lacrosse Championship) while struggling to draw ratings for the pro game.
Plenty has been written about USA Ultimate moving more marketing focus onto the college game and this limited data about the most watched games of the last four years only serves to underscore the potential for pushing college to the forefront of any push for expanded visibility.
With the Triple Crown Tour proving ineffective at making the club regular season really feel like it matters (although, to their credit, USAU has listened to players and significantly adjusted the season schedule for 2017 which could certainly help), why fight a losing battle? Make college the centerpiece of the calendar with more focus on marketing the stories of the season to lead into an always-dramatic College Championships.
Hear more on this topic on this week's episode of the Deep Look podcast.