[youtube xJWyPn_680g 600 377]
This coming weekend, Club Jr., Japan's biggest Ultimate apparel and events company, will host the 15th annual Dream Cup, a mega tournament comprised of over 140 teams and more than 2,000 players, in Fuji, Japan.
The tournament began in 1999, and has been dominated by Japan's strongest Open team, the Buzz Bullets, who have won 12 out of 13 (they lost in '99 to Pon and the tournament was cancelled in 2011 due to the earthquake).
The Japanese women's club team UNO and mixed team IKU! have had recent success as well, each winning their divisions in 2009 and 2010. In '08 and '12, the Mixed and Women's National teams took the title as they warmed up for their Worlds appearances.
This year, in honor of the 15th anniversary, the organizers will fly an all-star Men's team from the United States — all expenses (except food) paid — to play in the tournament, which has proven to be a big draw. The team is indeed packed with stars. They were selected, explained Satoru Ishii, a Club Jr. organizer and ex-Buzz Bullets player (also formerly of Vancouver's Furious George), based on a number of criteria, including "skill, speed, height, age, and team."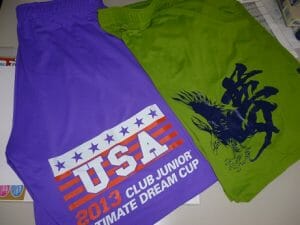 They watched game tape from the 2012 Club Championships on NexGen and Ultiworld to help make their decisions.
The full roster (available here) includes four 2012 National Champions — Will Driscoll, Dalton Smith, Brodie Smith, and Max Cook — along with a host of other top players like Dylan Freechild, George Stubbs, and Bart Watson.
Driscoll (Texas) and D. Smith (Texas A&M) will both miss Centex, an important college tournament for their teams looking to earn bids for the South Central region, to participate.
"A lot of Japanese players are very excited to see the USA All-Star team," said Ishii. "It definitely make the event more attractive to them since most of them haven't seen the top USA players playing in person."
This is not the first time the Dream Cup has hosted a North American team. In 2003, Furious George, fresh off their '02 Club Championship, were invited to the 5th anniversary event. They won the tournament. Then in 2008, both Seattle Sockeye (Open) and San Francisco Fury (Women's) headed across the Pacific for the 10th anniversary event. They both placed second. Here's an old blog post from Gwen Ambler about the experience.
Although the tournament mostly brings in Japanese teams, other regional competition often travels to Fuji to participate.
Here's the photo montage of the USA All-Star team:

Photos courtesy of UltiPhotos.com.