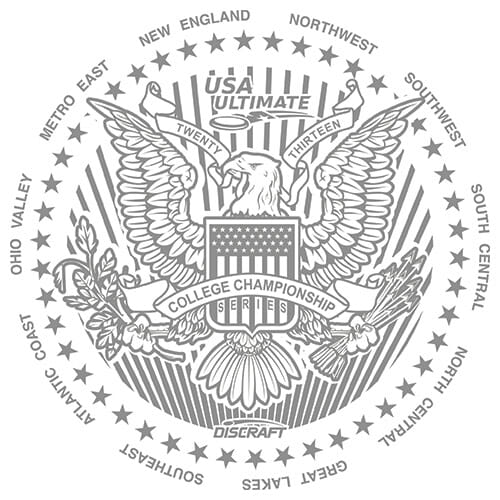 With the full slate of Conferences now in the book, we are set to turn our attention to Regionals. Teams are doing the final preparation for the tournament that, for many, is the culmination of their season. Let's take a look at who qualified for the final spots at D-I Regionals.
Looking for last week's results? They are available here. Full Regional Previews are coming this week and next on Ultiworld.
OPEN
METRO EAST
Hudson Valley
1. Connecticut
2. Yale
3. SUNY-Albany
UConn had no trouble taking the top spot out of the Hudson Valley, capping the weekend with a 15-5 finals blowout over Yale. They have likely locked up the two seed at Regionals as they look to finally break through to Nationals out of the Metro East.
Western NY
1. Cornell
2. SUNY-Buffalo
3. Queens Kingston
4. Syracuse
5. RIT
Cornell is still the best team in the Metro East. They retook their title as Conference Champion after a surprise loss to SUNY-Buffalo last year. Queens Kingston is a school that not many have been paying attention to in the Metro East, but with wins over NYU and SUNY-Buffalo this season and a finals loss to Cornell at Conferences, they have to be considered a contender.
NEW ENGLAND
Dartmouth took the top spot at the DIII North New England Conferences easily, and they head to DI Regionals to challenge Tufts and Harvard for a ticket to Madison.
NORTH CENTRAL
Due to six inches of snow on the ground, the Northwoods Conferences are pushed back to next weekend.
NORTHWEST
Cascadia
1. #2 Oregon
2. #22 Washington
3. British Columbia
4. Victoria
5. Western Washington
Looking at the qualifying teams above, it might appear that the tournament basically went to seed: Oregon easily took the first spot, Washington rebounded from some poor regular season performances to take second, and quality programs rounded out the list. But who's missing? #24 Oregon State, who had a strong regular season and had the two seed heading into Conferences, went 2-7 on the weekend, failing to even make it to Regionals.
Oregon State won the Chicago Invite, with quality wins over Carnegie-Mellon, Northern Iowa, and Michigan State, but got off to a brutal start at Conferences with one- and two-point losses to British Columbia and Victoria, respectively. They never recovered, eventually falling to Western Washington 11-8 in the game-to-go, a big disappointment for a team that seemed poise to make some noise at Regionals.
OHIO VALLEY
East Penn
1. Penn
2. St. Joseph's
3. Millersville
4. West Chester
SOUTHWEST
SoCal
1. San Diego State
2. UC San Diego
3. UCLA
4. UC Santa Barbara
5. Azusa Pacific
6. Pomona
7. UC Irvine
8. Long Beach
Despite not having any of the teams favored to take a bid to Nationals out of the Southwest, the SoCal Conference gets a full half of the bids to Regionals. San Diego State, however, has really begun to make a name for themselves with an undefeated run through Conferences that comes on the heels of a strong performance at the New England Open where they nearly upset #13 Dartmouth. The Southwest Region looks increasingly interesting as teams not considered contenders (e.g. Arizona State, SDSU) have vaulted themselves into the bid conversation with steadily improving play throughout the season and big Conference upsets.
WOMEN'S
ATLANTIC COAST
Carolinas
1. #20 UNC-Wilmington
2. #15 North Carolina
3. South Carolina
4. Duke
5. Clemson
6. Appalachian State
UNC-Wilmington continued their steady improvement this season with an important victory over rival North Carolina, 15-13, in the finals and their first meeting of the season. With the Atlantic Coast robbed by earning just a single bid to Nationals, UNC-W will likely see North Carolina again in the semifinals of Regionals as #10 Virginia waits in the wings.
METRO EAST
Western NY
1. Ottawa
2. Rochester
3. Cornell
4. SUNY-Buffalo
5. Syracuse
6. Cornell-B
Ottawa rolled past the competition this weekend to lock up the one seed heading into Regionals. While they are the favorite again this year in the Metro East, NYU is looking dangerous and Regionals should be very competitive.
NEW ENGLAND
Greater New England
1. Dartmouth
2. Vermont
3. Middlebury
4. New Hampshire
5. Brown
6. Massachusetts
7. Rhode Island
8. Maine
NORTHWEST
Big Sky
1. Montana
Pacific Coast
1. #1 Oregon
2. #2 British Columbia
3. #4 Washington
4. #24 Victoria
5. Western Washington
Check out Ultiworld's full recap of this weekend's Pacific Coast Conference, the most competitive one in the country.
SOUTH CENTRAL
Rocky Mountain
1. #14 Colorado
2. Colorado State
3. #25 Colorado College
SOUTHWEST
Desert
1. Arizona State
Here's a fun fact: Arizona State won each of their conferences in every division (Women's, Open, and Developmental). Very few (if any?) schools can say that!