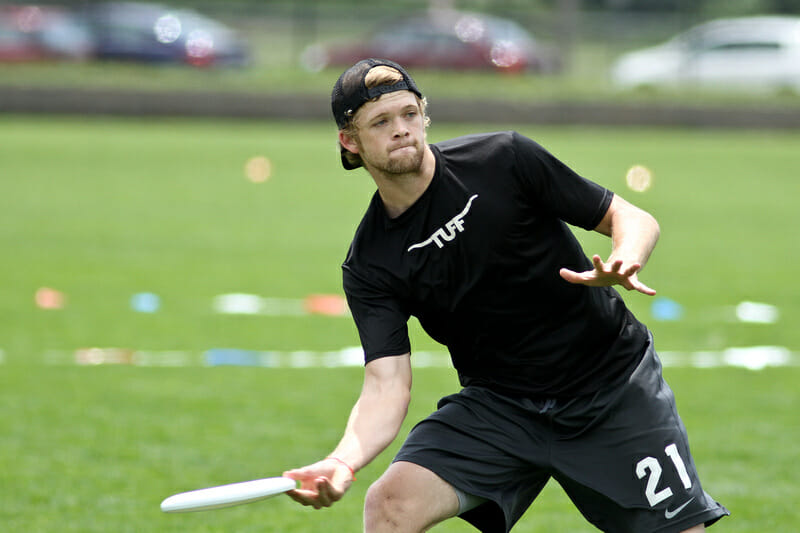 Although it's tough for the teams in the South Central to only have two bids and three deserving teams, it should make it an exciting tournament to watch.
Texas and Colorado are the powerhouses in the region, but Texas A&M has been close on their heels all year and will be looking to put it all together for a shot at Madison. The ever-developing Midwestern teams aren't too far behind.
THE FAVORITES
#10 Texas
It's been a strange, twisting season for Texas TUFF. After opening the year with an outstanding performance at Warm Up, where they lost only to Wisconsin, the early season #1 team, they traveled out to California ready to test themselves at the Stanford Invite.
They promptly opened the tournament by going 0-3 in pool play. They refocused for Sunday, going 2-1 with a quality win over Central Florida, but it was still an underperformance considering the expectations they had set going into the tournament.
At Warm Up, Texas captain Mitchell Bennett explained, "[They] were pumped up to show who [they] were." They didn't bring that same high energy with them to Stanford, and it resulted in quiet sidelines, lackluster effort, and a losing record.
But they responded. At their hometown tournament, Centex, they went 7-0, including a 13-10 finals win over Harvard, all without their captain and star player Will Driscoll, who was out of the country playing for the US All Star team at Japan's Dream Cup.
That's a sign of how little the team relies on Driscoll to win them games — he is a cog in their offense, not the engine.
That's not to say he doesn't have an impact — he does. He and Bennett are crucial to good field spacing, and they often find each other for goal/assist combos.
But the team has developed quality play down the roster, which is what gives them the edge.
They have yet to face Colorado this season, but they beat Texas A&M 15-12 at Conferences. They know they have to stay focused at Regionals, as it won't be easy, but for a team with aspirations not just to make it but to win Nationals, Regionals is just a step on the path.
Key wins: Texas A&M, Carleton, Central Florida, Harvard
Key losses: Wisconsin, Arizona, North Carolina, Tufts
#7 Colorado
Colorado, one of the most storied college ultimate programs in the country, got a late start this year. Sure, they went to the President's Day Invite to open the season, but a rough showing at the Stanford Invite was a wake-up call for the team.
Coach Jim Schoettler told Ultiworld at Easterns that they have been racing to build their season in a very short time.
But Easterns may have provided that breakthrough. They made some significant line adjustments, putting Callahan candidate and NexGen star Jimmy Mickle on defense and moved their top defender, Tim Morrissy, to offense.
It took some time to click — they lost their first two games of the weekend. But they ended up winning four straight to make semifinals, where they lost to eventual champions Minnesota.
The team, early in the season, was over-reliant on Mickle on offense, often forcing throws to him despite good coverage. Moving him off of the O line may help disc movement and flow, as there is less of a temptation to go for the bailout option.
Although Schoettler is concerned about having just two bids, Mamabird did beat (a very depleted) Texas A&M at the Stanford Invite, 15-12.
If they can build on their success at Easterns, not only will this team earn a bid, they could well win the region.
THE BUBBLE TEAMS
#20 Texas A&M
At the outset of the season, the buzz surrounding Texas A&M was at quite a volume. The team has been developing for the past two years into a legitimate contender, and a lot of people suspected this would be their year to break through to Nationals.
But the difficult realities of elite college ultimate — expensive travel, most notably — made it difficult for Dozen to play its best when they needed it most. Although they brought most of their top talent to the Stanford Invite, they were missing a lot of underclassmen. It was clear they needed the legs.
A subpar performance at Centex left them just outside of the bid window, which means they'll have to grind out another brutal Regionals and find a way to finally take down either Colorado or Texas to get to Madison.
The team is led adeptly by 2012 1st Team All Region player Matt Bennett, the brother of Texas captain Mitchell Bennett. He and Dalton Smith (Doublewide) are partners in crime, touching the disc frequently and making most of the team's big plays.
But the way this team will make it to Nationals is not through those two guys, but the contributions from players down the roster. It takes a team effort to win at Regionals, and that's often what separates the 'elite' teams from the rest of the pack.
Oklahoma
The Apes of Wrath (great name!), led by the outstanding Kevin Christian, will have a shot at making some noise this weekend. They had a strong showing at Centex, going 5-2, with losses coming only to Arizona and Illinois.
They played worse at the Chicago Invite, but rebounded with an undefeated run through their Conference, with quality wins over Kansas and Missouri.
The truly Midwest teams in this Region have had a hard time breaking through onto the National scene, but the level of play has risen quite a bit in the last few years.
North Texas
With a 19-3 record on the season, North Texas has rightfully earned the four seed at Regionals. But they would have to play above and beyond to have a serious chance at Nationals.
But could this team make a splash? Definitely. 1st team All-Region player Zach Riggins returns for North Texas; he is a tough matchup for anyone in the region.
NOTABLES
– A lot of teams, including Missouri and Washington U, think they have a shot at getting into a game-to-go. Missouri is led by Jay Froude, a U23 Team USA player. WashU gets contributions from across the roster; captain Jacob Zax is their skillful handler.
PREDICTIONS
I've been a big fan of Texas A&M all year, but I don't think they've proven they have quite what it takes to take down Texas or Colorado.
I think Texas has distinguished themselves as not only the best team in the region, but one of the best in the country. I do believe that Colorado may have a higher ceiling, but they've had trouble putting the pieces together. I expect them to go 1 – 2 and again represent the South Central at Nationals.
Can A&M beat these teams on any given day? Absolutely, but I'm just not convinced they've developed the depth they'll need to dominate throughout the course of a game.