Southwest Regionals is always a grueling experience. While the Region is home to a number of storied programs, in the past few years no one team has dominated the region. Parity has turned the Southwest into a dogfight.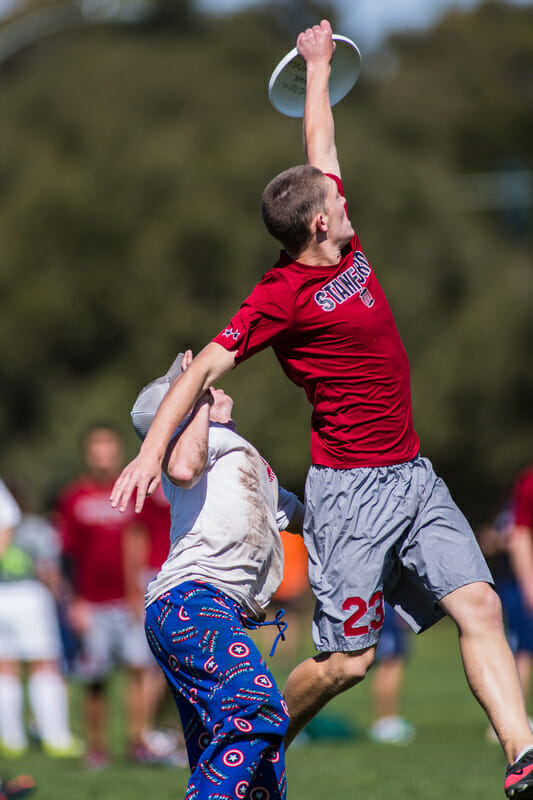 A prelude: In this week leading up to Southwest Regionals, the tournament seeding has come under heavy criticism for a number of different reasons: the criminal under-seeding of a conference winner SDSU, the placement of two same-section teams in a single pool, the equality of games in January compared to games in April.
Most of these seeding dilemmas do not have fair answers. The discussion has been played out for the Southwest Region, and nothing is likely to change. I would just like to provide my final thoughts on the issue. The worst grievance of the whole ordeal has to be the lack of communication from the regional director to the teams (just about 24 hours from when the initial seeding was posted to the deadline for teams to raise issues), and the tardiness of the seedings altogether. But, enough of that… Let the games begin!
Southwest Regionals is always a grueling experience. While the Region is home to a number of storied programs, in the past few years no one team has dominated the region. Since 2010, there has not been a Southwest team that has made a trip to Nationals multiple times. In 2010 (before the regions were redrawn), Colorado, UC Santa Barbara, and UC San Diego all repeated from the year before. The next year UC Santa Cruz and Stanford earned bids, and last year it was California and UC Davis. Parity, in conjunction with the lack of a year-in-year-out powerhouse, has turned the Southwest into a dogfight.
THE FAVORITE(S)
#11 Stanford
Last year, Stanford earned the Southwest a second nationals bid. They found themselves as the number one overall seed when they arrived in Phoenix for Regionals by upsetting California, the top ranked team in the region, at the NorCal Conferences. Bloodthirsty is faced with an almost identical situation this year. With Arizona's loss to ASU in the Desert Conference, Stanford again takes the number one overall seed. However, they will be looking for a different result. Last year, their high seeding did not result in a successful regionals run, a second place finish in their pool and a seventh-place finish at the end of the weekend.
Bloodthirsty's regular season results are not that impressive. With only six wins before the start of the series, they did not finish better than seventh at the three tournaments they attended. They came away undefeated at Conferences, but they had to mount a massive comeback in the semifinals against Davis to snag the one point victory. They do, however, have a lot of quality losses. They hung tough with Oregon at Easterns, and Pitt and Carleton at the Stanford Invite. They have the talent and pedigree to punch a ticket to Madison.
Stanford is led by captains Ben Funk and Kellen Asercion. Funk can match up with anyone in the region and will stretch the field for Bloodthirsty. Asercion is an absurdly quick cutter that needs to be any opponent's top priority if they want to slow down the team. What has traditionally won Stanford games has been their discipline, and if teams do not make them uncomfortable, Bloodthirsty will be come away from this weekend with a much better result than in 2012.
While they have not posted many wins, Stanford has been the most consistent team in the Southwest this season.
Key Wins: UNC-Wilmington, Texas A&M, Dartmouth, UC Davis, Las Positas
Key Losses: UC San Diego, Florida State, Oregon, Pittsburgh, UNC, Ohio
THE BUBBLE TEAMS
#10 Arizona
Sunburn stormed out of the gates this season with two tournament wins at Santa Barbara and Pres Day, but has fallen back to Earth in the second half. The ultimate humbling experience came just three weeks ago when, for the first time in recent memory, Arizona did not win the Desert Conference. Surely, the sky is falling.
If Arizona can return to their early season form, they will make it to a game to go. There are two things that need to be fixed: their slow starts on Saturday and Sunday mornings, and allowing teams back into games. If Sunburn can turn these two things around they will be fine. Very rarely this season has Arizona been forced out of their offensive and defensive sets. When they have failed to take advantage of turnovers and made too many unforced errors, Sunburn has found itself on the losing end of games.
An aspect of this team that needs to be highlighted is the connection between captains Brice Dixon and Sean Ham. It has been absolutely deadly this season. Dixon has all the throws and Ham is one of the best at using his body to create space. When their huck game is working, the defensive line is dominant.
Key Wins: Florida State, Colorado, Minnesota, Texas, Texas A&M, Las Positas, UC Davis
Key Losses: Arizona State, UW Milwaukee, Harvard, Oregon, UNC
Las Positas
Coming into the season LPC was the Southwest dark horse candidate. They turned heads last year at Regionals by fighting their way through the backdoor bracket before falling to UC Santa Barbara to take fourth. This season, they are coming into regionals as a definite threat to the rest of the region.
Las Positas finished ranked 24th in the USAU rankings and, if they had beaten UC Santa Cruz at the Stanford Open, thus earning a bid to the Stanford Invite, they likely would have earned the Southwest a third bid. When they are fresh they can compete with every Southwest team. They have compiled an 11-2 record against the region before the season, with the only losses coming against Arizona and California.
The key to their success this weekend will be playing efficiently. Their core group of 5 or 6 veteran players has a lot of experience and if they are able to put away lesser teams while giving their stars rest, they should be able to hold up their 2 seed. Simon Higgins (Polar Bears), Kevin Cocks (Polar Bears), and Sonny Zaccaro (Mischief) will need their rest.
Key Wins: Whitman, SDSU, UC Davis, California, UC Santa Cruz, UC San Diego
Key Losses: California, Arizona, UC Santa Cruz, Stanford, Minnesota
UC Davis
Davis had five game-points against Stanford in the semifinals at NorCal Conference, but couldn't seal the deal (think of the possibilities for seeding, then!). The Dogs have had a difficult season to decipher. At Pres Day, they played extremely well, only losing to Minnesota and Colorado. At their next tournament, Stanford Invite, they lost all of their games, and none of them were close. Against the region they have played very well, except when you look at the two games against Arizona where they got outscored a combined 26-12.
Davis clearly showed at Conferences that they can ball against Stanford, but do they not match up well against Arizona? The nice thing for them is if seedings hold they will not have to meet either team until the finals. Last year at regionals the Dogs were able to ride their depth and endurance into the finals and eventually earn the second bid. The depth is not as pronounced as it was last year and Davis will have to rely on Elijah Kerns and Nathan White to run the show.
Key Wins: Arizona State, UC Santa Barbara, California, UC Santa Cruz, Washington
Key Losses: UC Santa Barbara, UC Santa Cruz, Stanford, Las Positas, Minnesota, Colorado
Arizona State
ASU Prime came away with the biggest victory in program history by beating Arizona for the first time in a sanctioned game, and by winning the Desert Conference for the first time. This season ASU has had trouble with consistency. They have had difficulty putting away teams and bouncing back from close losses. They have played close with Georgia, Texas, and Florida, showing that they can match up with some of the best teams in the country, but to make a mark this weekend, they will need to start out strong and put away teams early.
At Conference against Arizona, Prime was the most fluid they have been all season. But they opened conference play against Northern Arizona and struggled to dictate the game. They pulled away late and were able to open the next game energized. If they play at that level throughout the weekend they will find themselves in a game-to-go.
To perform at their highest level, Prime will need Travis Dunn, their best handler, to be on point. They rely on athleticism to separate from their opponents and when their huck game is not clicking, they can sputter. If they are able to generate Ds, they can keep their energy up, and Prime is at its best when they are wreaking havoc on defense.
Key Wins: Arizona, California, Virginia, UC San Diego
Key Losses: UC Davis, Arizona, SDSU, Texas, Texas A&M, Oklahoma
San Diego State
SDSU had a slow start to the season, but they have been building steam consistently since day one. They may be the team hurt the most from being left out of the Santa Barbara Invite (UCLA, Santa Cruz, and Cal Poly SLO were also dropped because of weather). They started their season at Pres Day, where they, disappointingly, finished in the bottom 4 teams. The Feds couldn't quite get over the hump early at Stanford, losing to Whitman and UCLA in tight games, and then lost into their first bracket game to Oregon State 7-8.
Since then SDSU has been on the up and up. They used Trouble in Vegas as a chance to gain valuable experience for their entire roster, while also picking up a win against ASU. They made a cross-country trek to the New England Open to close out their regular season, and were a few points away from having a huge tournament. The Feds lost by one to the eventual NEO champion Dartmouth in the quarterfinals, played tight with Cornell, and came away with a one-point victory against Penn State.
SDSU put it all together at SoCal Conferences where they rolled through all of the competition, with only one game, against UC Santa Barbara, closer than three points. Along with Stanford, they are the hottest team coming into SW Regionals (which makes the seeding, which places both teams in the same pool, hurt just a little more).
The Feds play with a lot of confidence and they will not fall apart if they have to fight their way through the backdoor bracket.
Key Wins: Penn State, UC San Diego, UC Santa Barbara, ASU
Key Losses: Washington, Cornell, Arizona, Las Positas, UCLA, Flordia, Dartmouth
Notables
– California UGMO has had a down year while they have been going through huge roster turnover. They have only six wins before the series, but they were able to upset UC Santa Cruz at NorCal CC, and because they are in pool C they only have to deal with teams that they know well in Davis and Las Positas or Santa Cruz to reach the finals.
– UC Santa Cruz is in a very similar situation as California. These four NorCal teams are going to play hotly contested games with no surprises. The Slugs season was not counted by USAU, so their seeding above SDSU is the most questionable.
– UC Santa Barbara is the host team and Black Tide always brings their A-game when playing on their home turf. Their best results of the season came all the way back at the Santa Barbara Invite, and they may be getting healthy just in the nick of time.
PREDICTIONS
First of all, the whole region is on the bubble (at least the top 8 seeds or so). I was even considering not putting a "Favorites" section in the preview. Before the series began, picking the bid winners would not have been easy, but Stanford and Arizona would be the obvious answers. In the spirit of the region's volatility, I am going to choose a new regional champion. Arizona is going to return to their early season form and win the region. (Bias be damned, and it makes trying to figure out one of the bid winners much easier)
The fight for the second bid is going to be brutal. Maybe the most important aspect of the seeding debate is the situation that the tournament sets up for Stanford, San Diego State, Arizona, and Arizona State, four of the top six teams of the region. These four teams are the one and two seeds of pool A and pool D. Two of these teams will be relegated to the back door bracket, and if those two losing teams win their first game in that bracket then they face each other in an elimination game in the pre-quarters of the backdoor.
I think any of these four teams can figure out a way to maneuver through the backdoor bracket, but if Las Positas makes it through Saturday unscathed I think they have a really good shot at winning in the backdoor finals. Las Positas is my pick for the second bid out of the Southwest region, largely due to the way the seeding shook out. Stanford, ASU, Davis and SDSU are all legitimate threats to both bids though, and it should be no surprise if any combination of those six teams comes out on top this Sunday.