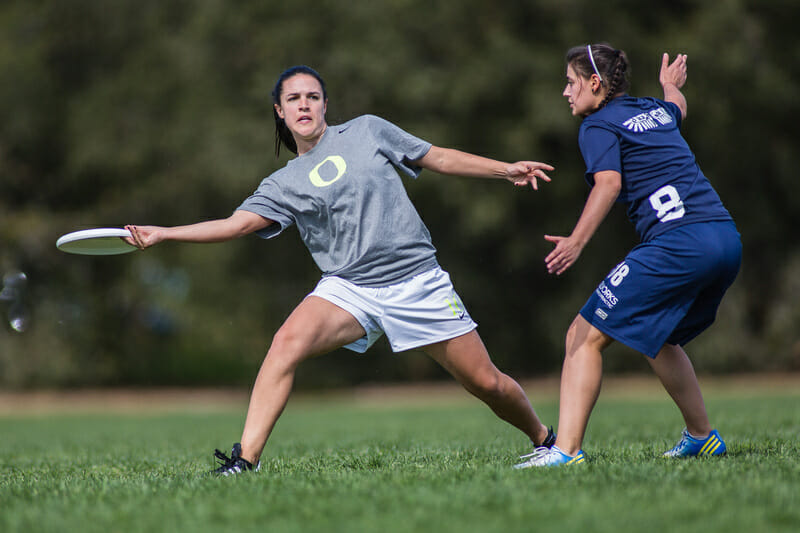 This looks familiar, doesn't it? Don't worry, it isn't deja vu. Pool A again features #1 overall seed Oregon at the top and Wisconsin in second. Just as they did in Boulder last year, these two teams will slug it out in the women's tournament's first 1-2 battle. After that, we have a bit of the old and a bit of the new. The most traditional old blood of the women's division, Stanford, slots in at #3, a stark contrast to the up and coming Minnesota at #4. At the #5 seed, Northeastern will be looking to score some upsets and prove their naysayers wrong.
Oregon looks a solid step above each of these teams, but their execution errors could still have them in surprisingly tough spots. A talented Minnesota team is a dangerous #4 seed likely to outperform expectations.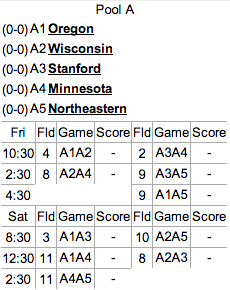 #1 Overall Fugue Looking To Take On All Comers
Stars to Watch: Bethany Kaylor, Sophie Darch, Kimber Coles, Bailey Zahniser

X-Factor: Ashley Young
Oregon Fugue isn't scared of the pressure of being #1, but perhaps that's because they are so familiar with it. Three of the past four seasons, they've sat atop Pool A as the tournament's #1 overall seed (and the one they weren't, they were #2 overall). However, in each of the past two years, they've suffered an upset loss — both times to the 4th seed — on Sunday in pool play. Fugue went home the undefeated champ in 2010, the last time they visited Madison. Yet, in 2009, they lost once in pool play…to Wisconsin.
A dominant season has left Fugue with only one loss and a well earned #1 seed. Accordingly, they've won all five tournaments they attended this spring, including their Conference and Regional Championships. That includes a 13-1 record versus the field at the College Championships, with victories over Carleton, British Columbia, and Wisconsin. Taking a closer look at their scores, however, reveals a dominant record hasn't come in dominant fashion. Against top tier competition, their games have almost always been tightly contested affairs. Whether that speaks to national parity, a team with its eyes on the prize, or a team that can't finish opponents off is up for debate.
Fugue has a deep roster, but as is expected of the title favorite, their top end talent matches anyone in the country. On their offensive line, junior Sophie Darch provides consistent firepower from the handler position, as she can roll up her sleeves and deliver every throw an offense needs. She has an array of athletic targets, highlighted by Bethany Kaylor and Kimber Coles, ideal downfield threats with the disc skills to make continuation throws. Their defensive line benefits from the presence of senior Bailey Zahniser, the team's Callahan nominee, a high flying defender and electrifying thrower.
The line also features Jesse Shofner, another threat after the turn to advance the disc downfield quickly, and a bevy of speed and athleticism. They play fast, they play hard, and they play very aggressively; their play style mirrors that of Coach Lou Burrus. Ashley Young, a rangy defender and offensive handler, could wind up being an important factor in keeping their team's turnovers – a side effect of their full tilt style of play – from putting them behind the 8-ball against quality oppnents. Expect to a lot of horizontal stack and deep shots on offense and a lot of junk looks on defense.
Wisconsin Bella Donna Putting Struggles Behind Them To Peak

Stars to Watch: Biz Cook, Sara Scott, Rebecca Enders
X-Factor: Rebecca Enders, Coach Alex Snyder
Coming in as the #8 seed overall, Wisconsin Bella Donna are the hometown favorite. With one of the most supportive Ultimate communities in the country behind them, there's plenty of motivation — and pressure — for Bella to discover the consistency they've been missing this entire season. The past two years didn't go as planned, missing out on 2011's Championships and, despite being Oregon's #2 in Pool A in 2012, finishing a disappointing 15th (with the tournament's lowest spirit score), including a 4th place finish in pool play. Perhaps leaving Boulder to return home will also allow a return to success; last time they were the home team, they made a run to the Semifinals.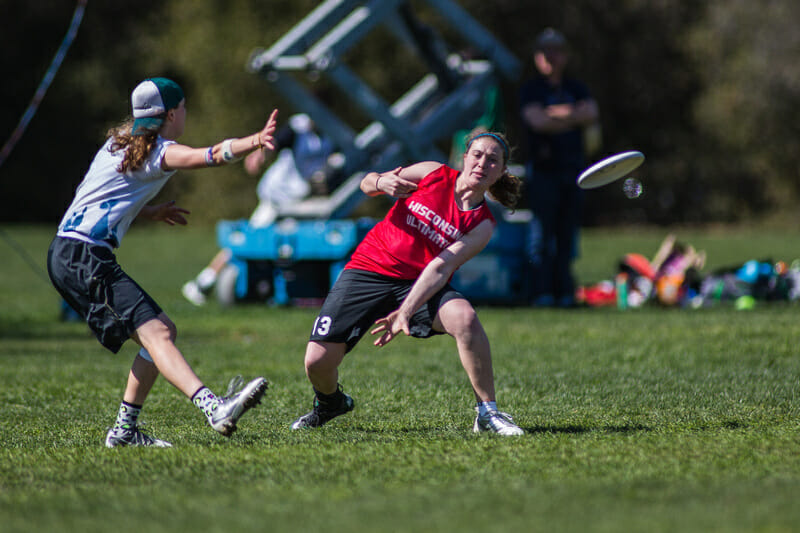 The story of this year's Bella Donna is one of great heights and disappointing falls. For every blowout loss to Minnesota, there's a win over British Columbia; for every stumble versus Kansas, there's a triumph over Washington. At Stanford Invite, they ran the table until meeting Oregon in the final, and even had them worried until a late Fugue run won the game, 17-15.
Some have attributed their West Coast success to the missing studs of some of the other squads for U-23 tryouts. Their critics may have a point: they went 3-4 at Women's Centex and dropped three games at their (incredibly challenging) Regional Championship. Everyone wants to know which Wisconsin team will show up to the fields.
This team has a pretty athletic downfield group, but Bella will be following the lead of senior Captain Rebecca Enders. As Bella's primary handler, Enders is able to use her length to break marks and move the disc, and strong footwork makes her a threat going up the line. Seniors Biz Cook, Sarah Scott, and Amelia Cuarenta give them the horses to match up opposing cutters, and be aggressive after the turn. Senior Anna Shanedling and junior Al Ellis give them handler depth, as both are capable break throwers and huckers. Alex Snyder will patrol their sidelines, one of the country's most knowledgeable coaches. They space the field well in their horizontal stack and their handlers are not afraid to get aggressive after the throw. Defensively, they are not afraid to get physical.
Stanford Superfly Hoping To Put It All Together When It Counts

Stars to Watch: Michela Meister, Allison Fink

X-Factor: Michela Meister, Ellen Rim

Stanford Superfly may be just the 12th seed overall at this year's Championship, but their program is the most dominant in college women's Ultimate. Their seven championships are unmatched. However, the recent iterations of Superfly have not lived up to that legacy. After a run of three straight titles from 2005 to 2007, they failed to qualify for the 'Ship in 2008. Since that time, they've bounced back and forth from 3rd to 13th, where they finished last season. The pattern would indicate a 3rd place finish this year, but their results this season don't back that up.
It has been a challenging regular season for Pool A 3 seed Stanford Superfly. A 7-12 record featured just two wins over College Championships qualifiers, although one was over Wisconsin (they are 1-1 against each other this season). However, they have turned it on, going undefeated in the series so far, including notching a 12-11 win in the Southwest Regionals Final against UC-Santa Barbara. Make no mistake about their potential to beat top teams, but their results leave questions about extended success. Their entrenched coaching staff, headed by Robin Davis and Jamie Nuwer, have more than enough know-how to build on their Regionals performance, however.
Superfly's Callahan candidate is junior Captain and U-23 Women's team member Michela Meister. A physical specimen, Meister operates from every position for the team, with great around throws, solid hucks, strong cutting, and is an elite defender. Grad student Ellen Rim is another strong thrower, while freshman Monisha White, junior Jennifer Thompson, and junior Stephanie Lim do a lot of the initial handling. Hillary Vance and Allison Fink are two of their strongest cutters, with Fink coming off a good showing at Southwest Regionals. Meister will need to be at her best and they'll need a player – like the playmaking Rim – to step up if they want to take Superfly back to the Semifinals.
Minnesota Aiming To Cap Off Breakthrough Season

Stars to Watch: Sarah Meckstroth, Natalie DePalma
X-Factor: Emily Regan, Greta Regan
There's no team that can claim to have broken out quite like Minnesota can. Within the North Central, teams had an eye on the Ninjas to be a team on the rise. Last year, they barely challenged their region's top end and didn't score any notable wins. This is their second time qualifying for the Championships (Assistant Coach Pat Niles discovered they did attend in 1999 after another team declined a bid; they earned their way in in 2000). "The work has already been put in, so the Championships are like a bonus tournament," said Niles, indicating this season has already been a big win. "We get to see just how much noise we can make."
There were previews of what was to come early in the season, namely a one point loss to Iowa at an indoor tournament that opened their spring. Midwest Throwdown was their coming out party, scoring wins over Wisconsin, Iowa State, and Iowa on their way to a 2nd place finish. Women's Centex showed they were no fluke, beating three teams that would qualify for the dance and playing tight with high seeds Carleton and Tufts. They weren't able to finish as strong in the high powered North Central, but there's every reason to believe this team can do damage. "We've proven we can run with four of the top five seeded teams at the tournament," said Niles, before pointing out that they still may be slept on by the nation at large. "We're also still relatively unknown outside of our region, so we tend to catch some teams unaware."
Niles calls the Ninjas a "deep, cohesive team" and that is reflected in their top end. A variety of contributors give them nearly a full line of equally strong players. The one that may have separated herself this season is Sarah Meckstroth, a USA U-23 Mixed team selection. She plays big, is very athletic, and is a dominant deep threat.
After that, they return two senior Captains in Andrea Crumrine and Natalie DePalma, that were 2012 2nd Team All-Region picks. Fellow senior Captain Emily Regan is also a skilled Ninja. Amusingly, two of the Captains have sisters making impacts: Emily DePalma and freshman Greta Regan are both playing well this season. Sophomore Mindi DiPaola is coming off a 2012 Freshman of the Year award and is a scoring threat downfield. Also returning is Coach Christie Dosch, the region's choice for Coach of the Year last season, a consistent presence for a team that has grown a lot over the course of the past two seasons.
Underdog Northeastern Valkyries Fighting To Show They Belong
Stars to Watch: Rebecca Ginsburg
X-Factor: Shelby Parton
Northeastern was one of the more dramatic stories of the #bidwatch series this season. When the final rankings came out, it was Northeastern who had earned the final strength bid, topping out UNC-Wilmington, North Carolina, and Florida State, teams many considered stronger than the Valkyries. "Obviously we were overwhelmed with excitement that all of our hard work leading up to the Series had paid off," junior Captain Kristin Moore told Ultiworld. "In our minds, with two bids available we truly had no excuse to not make it to Nationals. We had earned that bid; it was OUR bid." The program hasn't made an appearance at the big show since the '08 and '09 seasons, despite being one of New England's strongest teams. There's an underdog mentality and a chip on the shoulder attitude that may serve them well as the #17 overall seed.
The field at the College Championships will be demanding game in and game out for the Valkyries. They are just 1-6 against the field, with their lone win over fellow bottom four seeded Northwestern 12-11. The closest they came was a 6-9 loss to Carleton at Queen City Tune Up. However, appearances at QCTU and Women's Centex have exposed them to top competition, and they did score wins over some good teams such as Florida State, Western Washington, and Texas A&M. "Aggression has been a main focus all season, but over the past couple weeks since we've known we would be going to Madison we have turned our focus onto awareness," explained Moore, admitting that, "At Nationals we will be facing a whole new caliber of teams and expect to see a lot of new strategies and variety of play." Still, the team is prepared to make the most of an amazing opportunity to prove to everyone what they are about. As Moore put it, "We haven't set a quantitative goal. Our goals are all about quality."
This Valkyrie squad is a team built around depth, something Moore and the other Captains are extremely proud of. Moore told me every person on their 23 person roster played in every single game at Regionals. They don't just preach depth; they execute it. With so many different contributors, it can be hard to pinpoint standouts, but senior Captain Rebecca Ginsburg, the team's primary handler, is a critical part of their success. Athletic sophomore Shelby Parton's speed makes her a weapon downfield that defenses will need to account for.