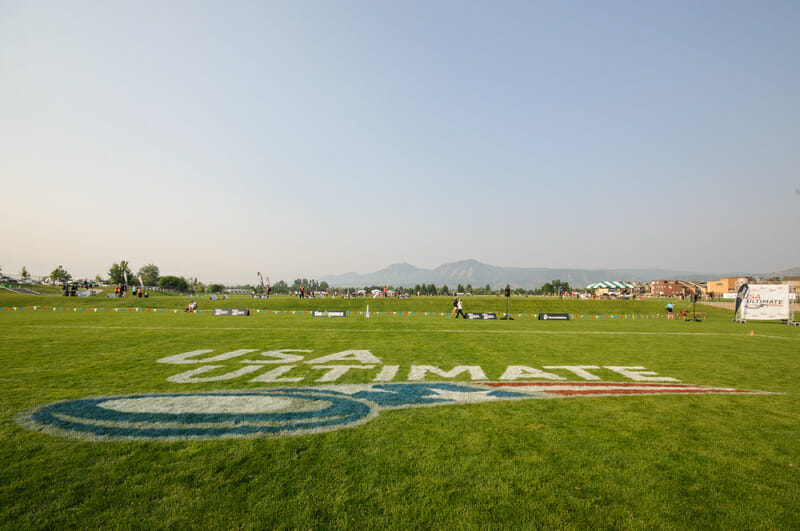 It's one of the most difficult years in recent memory to pick winners at the College Championships. The parity this year is going to make for a wild tournament. But, after a season of traversing the country and reporting on these teams, here are our predictions for how the pools will shake out.
POOL A
Oregon and Colorado are heads and shoulders above the rest of this pool. We doubt that any of the bottom three teams in this pool have the horses to take down either of the the top two. That means that the first round in this pool is going to be incredibly important. Not only do Oregon and Colorado begin the day with the 1 v. 2 matchup but Georgia and Dartmouth square off in the 3 v. 4 game. Much of the direction of this pool will already be decided by 2:00 p.m. on Friday.
That direction is going to be with Oregon clearly taking the one seed out of this pool, with Colorado closely behind. A fresh Georgia (plus a healthy Elliot Erickson, we hear) has the potential to take down Dartmouth, but Pain Train will be riding their top players heavily in an effort to make prequarters. This will be a close game, but we see Dartmouth coming out on top. That means that, with Washington having such a weak regular season, we're going with the bold call of Pool A going directly to seed.
POOL B
At the top end of this pool we-don't-want-but-can't-help-but talk about Wisconsin and Carleton in the 1v2 matchup. At this point, it doesn't seem likely that Wisconsin beats Carleton three times in a row this season. This will be a heated matchup but Carleton will be able to make the adjustments from Regionals to take this win in pool play. We doubt that either of these teams will lose another game during pool play, so the question that remains is: Who makes prequarters?
Florida State had a tough weekend at Regionals and has lost almost every close game they've played against Nationals competition. However, we're confident that FSU has managed to get the monkey off their back and are ready to step into the Nationals spotlight. DUF pulls off the upset of Harvard and plays its way into prequarters. Sorry Metro East fans, but Cornell doesn't have what it takes this year and again finishes pool play without a win.
POOL C
North Carolina, on paper, is one of the best teams at this tournament. Darkside's results are phenomenal. However, something that doesn't go on paper and get shown in results is raw athleticism and UCF has that in spades. The Dogs of War continue their rise into the elite of the sport with an upset of UNC.
UNC, after losing to UCF, won't lose another game in this pool. As a matter of fact, none of them will be close. Ohio, though we like them to play close against UCF, will finish 3rd in the pool. Meanwhile, Luther's results are non-existent that we can't, in good faith, pick them to win a game in the pool; Davis will take them down. Aside from an upset at the top, this pool finishes to seed.
Pool D
Good news everyone, this is finally the time for you to see the Pitt team that you expected to see all year long. Alex Thorne has had time to rest his hamstring and En Sabah Nur will be at full strength. Pitt will run the table in this "Pool of Death."
Our confidence in Pitt largely stems from the volatility of the remainder of the pool. Texas has the most consistency of any of these teams with an experienced core and a tested system. TUFF will have some close calls but has the legs to pull out the remainder of its games aside from a loss to Pitt. Meanwhile, Arizona had UNC-W right where they wanted them and let them off the hook at the Stanford Invite, giving up a huge run late to fall on double game point. This is Sunburn's chance for redemption — we think they'll take it and earn themselves a shot at prequarters. Illinois, like Luther, is too much of an unknown for us to make a prediction that a win is in the cards. UNC-W will come out hot in their first round and send Illinois home without a pool play win to its name.