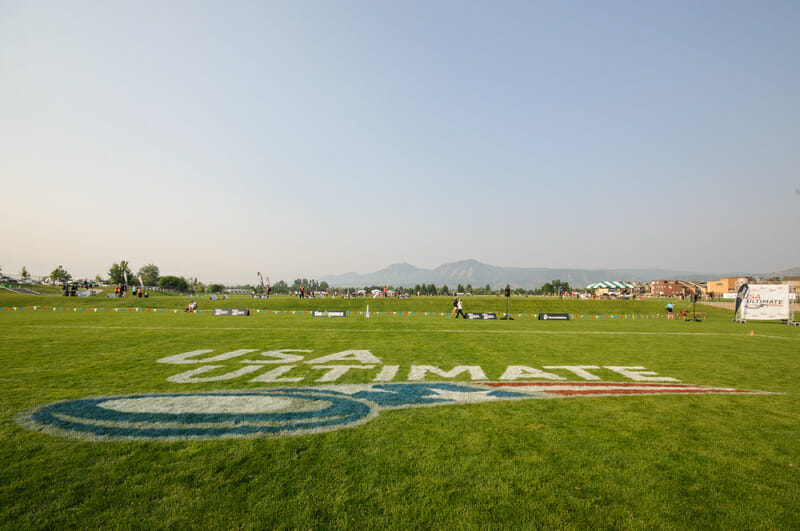 2013 College Championships Friday is in the books. Hopefully we've kept you more or less up to speed with how things have gone so far, but it can be easy to lose sight of the big picture at a tournament of this magnitude. Here is a brief idea of what to expect from each pool and the tournament as a whole for Saturday.
Pool A
With a win over Colorado, Oregon pretty much has things wrapped up here. They can't afford to sleep on Dartmouth who, by all accounts, was playing well to their strengths on Friday. That being said, the Ducks looked impressive in their win over Washington and showed flashes of greatness by controlling the Colorado game.
That means that Colorado is more or less in the same situation. They need to beat Dartmouth in order to avoid a very difficult prequarters matchup from whoever comes out of Pool D which, at this point, could be either Texas or UNC-Wilmington. If they manage to hold on to the two seed, they will see whichever of those two teams that finds its way into the three spot in Pool D.
Dartmouth — and all the other three seeds — has a long day on Saturday. Dartmouth opens with Oregon and follows that game directly with Colorado. These games will present the question of what to do with legs: work hard for a win here and potentially jeopardize your chances in prequarters? Or, put all your eggs in the basket of prequarters where Dartmouth will see the winner of Texas vs. UNC-W?
At this point, it's doubtful that Georgia or Washington will win the games necessary and see the teams lose that need to lose in order to qualify for Championship bracket play.
Pool B
Carleton and Wisconsin are in similar positions to Oregon and Colorado (and all the other one and two seeds for that matter). At this point, I'm willing to say that the biggest possible upset that could happen at this tournament would be if either Cornell or Harvard can manage a win over Carleton. CUT looked extremely good and is my favorite to take this pool by a longshot.
Harvard has shown the most life out of any 3 seed thus far and that means that if Wisconsin comes out sloppy like it has in its first two games, this could be the spot that we see an upset of a 1 or 2 seed. Wisconsin, if they hold on to the 2 seed, will be matched up with the 3 seed from Pool C, one of the biggest unknowns right now (it could be either UC-Davis/Luther/Ohio depending on what Luther can do tomorrow).
Whichever team takes the third spot from this pool will find themselves taking the field against the 2 seed from Pool C which, barring a dramatic upset, will be North Carolina.
This leaves Florida State and Cornell, both of which looked well below their competition today, on the outside looking in once bracket play begins.
Pool C
Central Florida wasn't happy with its own results today but it is probably the only undefeated team that would say so. UCF has too much firepower for any of the teams that are left on its schedule (Ohio and California-Davis) to take it down based on what those other teams have shown. The Dogs of War most likely earned themselves a bye to quarters with their win over UNC Darkside on Friday.
Speaking of Darkside, they have some kinks to work out between the end of play on Friday and when they take the field on Saturday. They will be facing Ohio which, though its results are weak this weekend, has shown during the regular season that it has the firepower to play with good teams. If UNC's offense falls asleep again like it did against Luther, Ohio, especially as patient as it is on offense, could pose a serious threat to Darkside taking the two spot. That is to say nothing of Cal-Davis team that potentially ruined Ohio's weekend with an upset on Friday. If UNC holds on to the two spot, then it will see the 3 seed from Pool B, which we expect to be Harvard.
Whichever team out of Cal-Davis, Luther, and Ohio takes the three seed out of this pool and, at the moment, it truly is a wide open race based on what all three teams have put on the field this weekend, will most likely take the field opposite of Wisconsin.
Whichever two teams do not qualify for that third spot will be out of contention for the National title.
Pool D
Given the ease with which Pittsburgh's offense moved the disc today, it's difficult to see either of its two opponents on Saturday (UNC-Wilmington and Arizona) forcing many turns, to say nothing of earning many breaks. Pittsburgh should cruise to a pool win and that means it cruises to a quarterfinals berth.
Meanwhile, Texas and UNC-W make this pool very interesting. The Seamen have the mental edge in this game, something that they thrive on, because they beat Texas earlier this season. However, many who watched that game saw a Texas team collapse and give up a game that they had a shot at. I say all that to say this: One of these teams will finish second in its pool and the other will finish third. Wilmington and TUFF have played both up and down to competition around it both in this tournament and throughout the season so nothing surprises when those two put seven on the line.
The two seed from this pool with find themselves face to face with the three seed from Pool A, which we expect to be Dartmouth. The three seed from this pool will have a much taller task as we imagine they will be taking on Colorado in prequarters play.
That means that, after tomorrow, there is a solid chance that Arizona's exciting season, for all intents and purposes, is probably over. With them goes Illinois who, though they took the bottom seed to the tournament, showed plenty of fight in their Friday games.
Check out photos of all of the action at the 2013 USA Ultimate D-I College Championships on UltiPhotos.