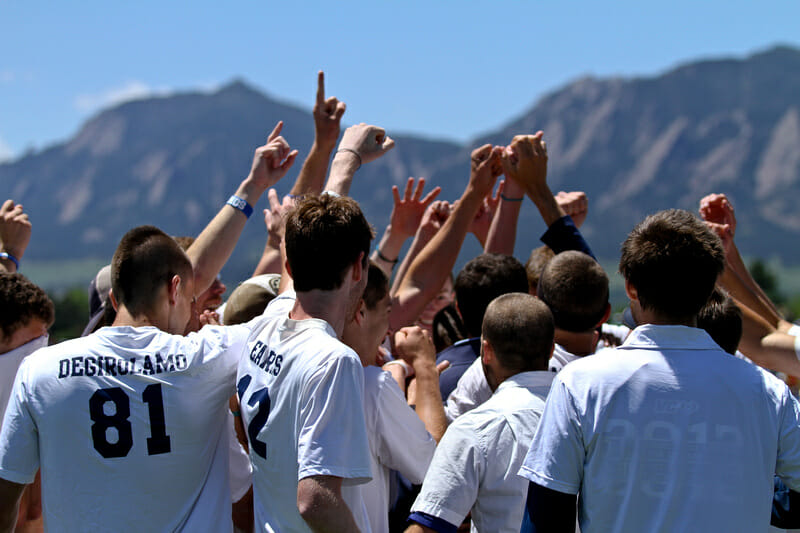 MADISON — Sometimes, you have to come to terms with who you are, where you belong, and where you're going. This could not have been more true for both Pittsburgh and North Carolina as they came out of their quarterfinal game, which the more experienced Pittsburgh won 15-9.
When North Carolina lost to UCF in the third round on Friday, it meant that someone from Pool D was going to have a very tough quarterfinals matchup. The only other one seed that was upset in pool play was Wisconsin, but Cal-Davis eliminated Wisconsin in prequarterfinals. That meant that Pitt and UNC — the overall three and four seeds at the tournament — had to face off during quarterfinals.
Pitt was going to have bring its best game in order to assert itself as the championship team that so many expected to see coming into this season. En Sabah Nur did that just and did it early. In the very first point, Pittsburgh forced three UNC offensive line turnovers. Though Pitt couldn't earn the break, it established that this game was going to be played on a different level.
Only five points later, Pitt had established what already felt like an insurmountable 5-1 lead. Throughout the tournament, it seemed like this Pitt team was waiting to come out. Though shades of this talented team were shown during the first half of its matchup with Texas and the second half of its matchup with UNC-Wilmington, Pittsburgh had yet to put together a complete game.
By the end of the game, Pitt had only extended its lead to 15-9.
However, just as much as Pittsburgh learned something about itself and its place, so too did UNC. Darkside coach Mike Denardis knew that this game was representative of UNC's place a long time ago.
"I told this senior class the year they were freshmen that they should shoot for quarters their senior year," Denardis said.
But he also thought he knew where this team belonged —  and that wasn't the quarterfinals.
"I didn't think that I would be disappointed with quarters their senior year but I am disappointed by a good margin," Denardis said. "I think it's an experience thing and once you get enough you start performing well."
Pittsburgh, as the defending National Champions, know well what it takes to win on Sunday at the College Championships. The UNC players had not been here before.
However, thought disappointment was the word of the day for Denardis and the entire UNC team, Denardis did not lose sight of where his team is going. That direction is undeniably upwards as Darkside graduates just three players from a roster of 23.
"I think we're in a really good spot," Denardis said. "It's going to be one of those things that, because we're performing well now, we're getting people to want to come and play for us. Now it's a wealth that you have to decide who fits in."
So, for North Carolina, according to Denardis, they belong in semifinals. Despite falling in quarters, they are going nowhere but up.
For Pittsburgh, they belong in semifinals, and know they have more work to do.