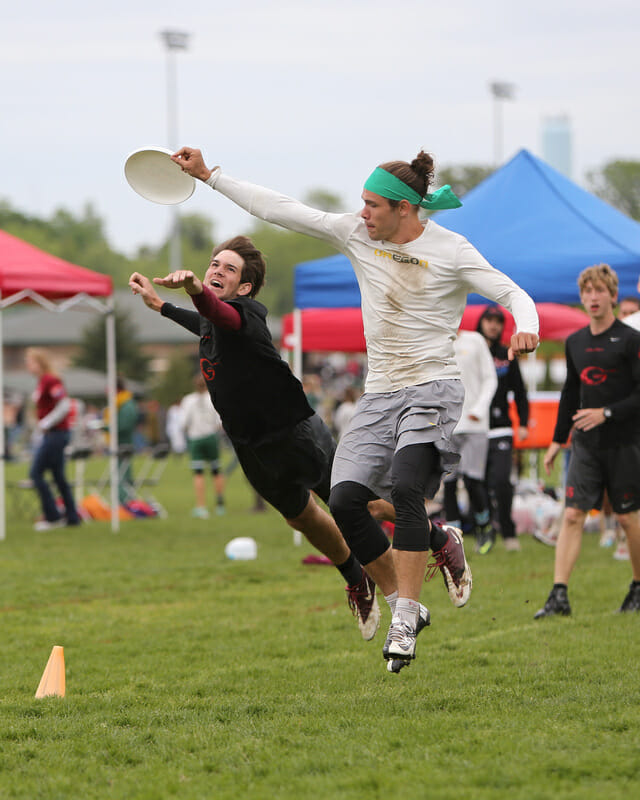 Here is Ultiworld's coverage of Round 8 of Pool Play at the 2013 USA Ultimate D-I College Championships.
OPEN
Saturday's third round contained the fewest close matchups of any round in pool play. Though this year at the College Championships has been marked by parity in the Open Division, this round featured all blowout victories except for a more or less meaningless game between Florida State and Cornell.
In Pool A, Oregon blew out Georgia 15-6 while Colorado took care of business against Dartmouth winning 15-8.
Dartmouth Pain Train has been successful all tournament by sticking to what it knows and doing that well. However, in the game against Colorado, Dartmouth got away from its game plan and Colorado was quick to take advantage.
"We were unfocused and made a lot of mistakes," Dartmouth coach Brook Martin said. "We talked afterwards about how we weren't playing our best and getting wrapped up in weird things."
In Pool D, Pittsburgh, who had already won its pool, threw a game against Arizona in favor of resting its starters. Arizona earned its first victory at the College Championships this year by a count of 15-5.
In the one of the only two close games of the round, Texas and UNC-Wilmington fought for positioning in prequarterfinals in the 2 vs. 3 matchup in Pool D.
Texas, which has played steady Ultimate all weekend long, continued that trend against Wilmington by coming out and taking an early 3-1 lead, capped off by senior Will Driscoll sending a perfect flick huck to the endzone.
The Seamen did all they could to climb back into the game but Texas' patient and calm style kept the game out of reach for UNC-W.
"If you can play what you're good at then you can do very well," Texas coach Calvin Lin said. "I feel like we've done that for the most part."
By the time it was all said and done, Texas had extended its lead to 15-10 and earned itself a favorable matchup in prequarters.
The final game of the round was between Florida State and Cornell in Pool B. Florida State still had a shot to make prequarters with a win over Cornell and a big win over Wisconsin.
Plenty of credit goes to Cornell who, with nothing to play for other than pride, pushed Florida State to the edge and forced a double game point finish. Though Florida State came out on top, 12-11, Cornell heads into the consolation bracket with their heads held high.
WOMEN'S
Oregon and Minnesota drew one another in the third round on Saturday, and the game was hotly contested at the start. Surprisingly, Minnesota would get the first break on Oregon, and they followed that up with another for a 3-1 lead. Natalie DePalma and Sarah Meckstroth, the duo that had been the main force behind the Ninja offense all weekend, were able to find the endzone despite athletic Fugue defenders trying to stop them.
Down 3-5, Oregon would find some fire (perhaps too much: they had three TMFs in the first half) and connect on their high risk shots to go up 7-5 before taking half 8-7. In the second half, after collecting a 4th TMF and going to the reverse brick (three for swearing and one for spiking), a focused and fired up Fugue team would prove how talented they can be. Sophie Darch claimed the game as her own, throwing massive hucks and catching a tipped pass with an insane layout for an emphatic score. They'd roll to a 15-8 victory once their momentum picked up, locking up first in Pool A. It was the first challenge Fugue faced all weekend; they needed to — and did — rise to it.
In other Pool A action, Wisconsin and Stanford faced off. The theme with Wisconsin has been ugly Ultimate. Their games start sloppy, but their defense is strong enough to force other teams into the same style of play. Monisha White and Ellen Rim helped power Stanford to a 5-5 tie. Bella, however, would get some great play by Anna Shanedling and Biz Cook to take half 8-6. The game slowed down a lot from there, with zone and perhaps fatigue forcing long points. With the game tied at 8-8, Stanford's offense would see a few too many miscues, and even though Al Ellis and Wisconsin were generous in giving the disc back, would find themselves giving up a pair of scores. Bella Donna would win 10-8 and advance to Prequarters.
UC-Santa Barbara and Northwestern played effectively an elimination game, with the loser missing out on Prequarters and the winner advancing.  The beginning of the game belonged to Gung Ho, going up 5-2 and forcing the Skirts to take a timeout. After some adjustments to slow down Northwestern, including trying some more poachy looks to clog the lanes – something that was effective for UBC the round prior – UCSB was able to get back into it. The Pitcaithley vs. Hoffman matchup was as incredible as expected, but Carol Li was playing a major role in Northwestern's scoring.  Gusts of wind increased the effectiveness of zone play, altering the pace of the game.
After UCSB took half 8-7, Northwestern would regain the upper hand late, but play was mostly even. Down 9-11, Pitcaithley and company found a way to get two more to tie at 11-11 and send the game to double game point. Gung Ho exhibited masterful patience as they worked the field, with none other than Lien Hoffman nabbing the score that earned them  a spot in the Prequarters.
Pool D had a pair of games that were mostly irrelevant, the pool standings already having been set. Iowa played against Texas, and with the top spot already sewn up, rested legs, with Melee winning 15-5. Tufts took on Washington on the showcase field, but some of Element's top talent didn't even cleat up. Both teams would advance to Prequarters. Tufts' rotation was wide open while they won 15-8.