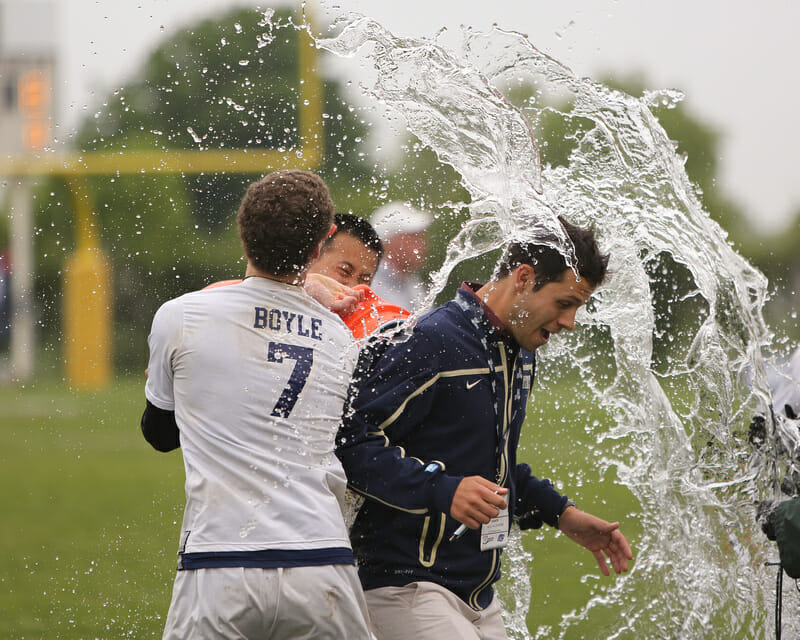 "This is Pitt 2013. We are not defending champions. The defending champion is Pitt 2012. This is Pitt 2013."" – Pittsburgh coach Nick Kaczmarek, at the Stanford Invite, Mar. 11, 2013
At the beginning of this season, expectations for Pittsburgh were higher than ever. Fresh off of a National Championship and returning most of their talent, they were the consensus preseason favorite. Earning back-to-back titles, however, is no easy task. Entering this year, since the start of the College Championships in 1984, only three teams had ever won consecutive championships: UC Santa Barbara ('88-'90, '96-'98), East Carolina University ('94-'95), and Wisconsin ('07-'08).
There was immense pressure on this Pittsburgh team that knew they had the parts they needed to succeed. Figuring out how to arrange them would prove to be the hard part.
"Most of the regular season was us figuring out how to put all of our pieces together," said Pitt coach Nick Kaczmarek. "Come Nationals, we have to put all the pieces together and become a machine."
Last year, that machine was well-oiled from the start, as Pitt dominated the regular season and didn't have to do much tweaking to roll through Boulder for their first-ever National title. This year was different. It had to be built.
Pitt began the road to Madison with the early season Florida Warm Up, a tournament they had dominated in 2012. There, they showed an uncharacteristic struggle, dropping their first game of the tournament against a rebuilding Florida and losing twice to Wisconsin. Questions immediately began to crop up: where is the Pitt from last year? Had they lost a step? Why was their vaunted offense – led by Alex Thorne and Tyler Degirolamo — stagnating and sputtering against the top teams?
For one, Thorne, their 2012 Callahan nominee, battled injuries all year, as Pitt lost again in the semifinals at the Stanford Invite without him and fell to North Carolina in the quarterfinals of Easterns. This wasn't the way it was supposed to happen.
"We put a lot of work in to this season," said Kaczmarek after the game on Monday. "There were certainly ups and downs to it. I think we stayed focus on why we were playing. Why we were playing wasn't to win. We were trying to do something nobody had ever done before."
Despite having the goal in mind, the team was still searching for an identity in the middle of the season. They looked disinterested in Stanford, almost lazy as they ran throw the motions on offense. Because they have such talent, they still won a lot of games, but they didn't have the killer instinct from the season earlier.
"We knew we had to be humble," said Kaczmarek. "[New York Giants coach] Tom Coughlin once said, 'You have to have the humility to prepare and the confidence to perform' and we say that a lot. This team certainly had their confidence broken a couple of times this year, and they were willing to battle back and deal with those situations."
Pitt showed signs of life at points throughout the season. Degirolamo took over their Warm Up game against Dartmouth to bring them back from the brink of defeat with an astonishing performance down the stretch. The team battled against North Carolina at Stanford and pulled out a hard-fought win. And, at Regionals, they rallied back against Ohio in the finals to lock up a one seed at Nationals.
"It was 'grit,' it was 'tenacity,' sticking to everything we've worked on and making it all work together," said Kaczmarek. "I think there's been moments of that. And I would say over the last month of practice, it came to a head."
Grit has been the word of Pitt's season. They have had to fight and scrap for every improvement, every win against teams hungry to take down the champs. But when did it finally all come together?
Kaczmarek, pointing to the turf at Memorial High Stadium where his team had just clinched their second National Championship, said, "On that field right there."
There is often discussion of how difficult it can be to peak at just the right moment. Looking back across the landscape of the season, it's easy to identify teams that failed in that challenge: Minnesota, playing incredible ultimate at Easterns before failing to qualify for Nationals; Iowa, who ended Minnesota's season but had nothing left in the tank against Luther; and, most notably, Central Florida, who played nearly flawless offense to dominate Carleton in the semifinals in one of the outstanding individual game performances of the 2013 college season.
But UCF would run into a Pitt team in the finals that — through experience, coaching, and the proper mental approach – played their season's greatest game at the most important moment in front of a national television audience.
"We knew we were a good team and it all came together at the end of the season," said Degirolamo. "I think we defined peaking at the right time. The way we played the last games of this tournament was unreal. This team is something special."
The win vaults Pittsburgh into the elite company of back-to-back winners. It's even more impressive given the adversity they had to face over the course of the year.
"That's what I love about Pitt," said Kaczmarek. "It's 25 or 26 or however many guys who are willing to work at something that most people in the world don't get to do. Most people in the world just operate at a mediocre level. We get to operate and all go after something at a high level, just like all the other teams that were here. And that feels really good to accomplish it. Hopefully these guys take those lessons with them for the rest of their lives."