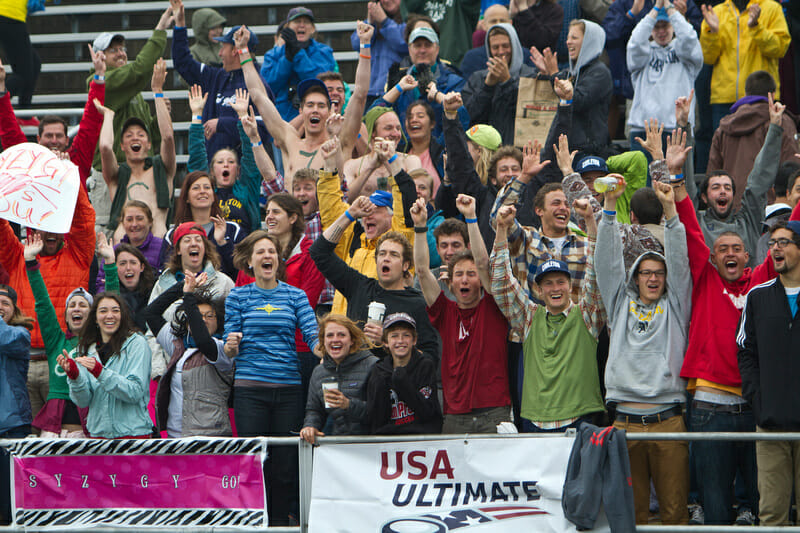 It was a great weekend in Madison for women's Ultimate. We've reported and analyzed much of the game play, but here are some thoughts that required the big picture or fell through the cracks.
Oregon's Defense Totally Unmatched
I cannot give enough credit to coach Lou Burruss and the Oregon defense for their work this weekend. Constantly, they executed what they wanted, regardless of opponent or circumstance. Their defensive depth and intensity consistently ground down the top offensive threats. Their close first halves against Minnesota, Iowa, and Carleton gave way to second halves where the opposition's stars could not have the same impact.
There's no better example than the finals, where Carleton's Anna Reed, Julia Snyder, and Flannery McArdle were overwhelmed by Oregon's Jesse Shofner, Alex Ode, Bailey Zahniser, Anna Almy, and Morgan Zajonc. Shofner's performance against Reed has to be particularly lauded. It wasn't Shofner's best offensive performance, but on defense, she virtually erased Reed from the game (which is funny, because Carleton did the same thing to Paige Soper in their semifinal against Ohio State).
If you haven't read Robyn Fennig's musings of the fundamental physical strengths of Oregon's defenders, do yourself a favor and do so right now.
The other thing Oregon's defense does better than anyone else is take teams out of their game, which leads us too…
Carleton's Second Half Still Leaves Me Puzzled
In spite of Oregon's defense, I was shocked by how far from their strengths Syzygy got in their attempt to get back into the game. Carleton's handler skill is tops in the division and their downfield height is a weapon that's tough to gameplan for. When bogged down offensively, their handlers are trained to put the disc high – Taylor Want is an expert at tossing good jump balls – and to let their deeps make plays. They rode this strategy through the toughest parts of their Ohio State semifinal and Washington quarterfinal.
In the second half, however, Carleton went to that part of their game, but in curious ways. With Reed unable to get open on Shofner, along with Want, Kirstie Barton, and Snyder struggling to get resets, Snyder was sent downfield and Reed began initiating points with the disc in her hands. Reed launched static hucks to a less-than-fresh Snyder downfield. Carleton's junior Captain is quite adept at holding deep position, but Zahniser is an athletic and explosive defender, and made life difficult for her.
It could have been because of injuries to Marlena Hartman-Filson and Flannery McArdle. Perhaps there wasn't trust in Brianna Rick, or there wasn't confidence that Snyder or Reed could get open downfield to put hucks from power positions. Whatever it was, anybody who had seen Carleton play prior to this game could tell they were way out of their game.
Northwest vs. North Central: Best Regions Stay On Top
It took until after the Final to realize that it was Northwest vs. North Central. The Northwest had four teams coming into the tournament and the North Central had a tournament-leading five squads. All but one of those nine teams – 19th seeded Whitman – made Prequarters. Three NW teams and two NC teams made Quarters.
Disappointing Weekend for Georgia
Having done a lot of Southeast coverage this season, a common question I was asked over the past few days has been "What happened to Georgia?" Expectations were fairly high for a senior heavy Georgia Dawgma team that won the Southeast without much difficulty. They were the only team to go without a win.
Southeast teams had been intimidated by UGA's physical defense, but teams at the College Championships had a much higher comfort level with it. Their offense struggled maintaining possession and had trouble containing elite cutters.
I honestly did not see a lot of them, but it sounds like they had to rely on their stars instead of their depth, a strength for them this year. Emily Lloyd was still incredibly effective (20 goals, 4th in the Division), her experience against top club defenders probably helping her. Lane Siedor still struggled with injuries, limiting some of their ability to go to takeover players. Usually, they can rely on their rotation to be effective at working other teams' legs, but maybe that wasn't the case in Madison.
Minnesota and Northwestern Outperform Seed
Minnesota came in the 13th seed overall and fourth in a deep Pool A. They finished tied for 9th. That does not reflect the strength of their weekend. It was a weekend of almosts for the Ninjas. They almost took half on Oregon and were one of the only teams to even give them a difficult half. They were only a point away from beating the reigning Champs to make Quarterfinals. Natalie DePalma (how was she not All Region?) and Sarah Meckstroth were two of the top players I saw in Madison. As a side note, I really thought they were going to win the spirit award too.
Meanwhile, Northwestern did break seed, going from 18th seed overall to a finish tied for 9th place. We've sang the praise of Lien Hoffman all weekend. She was a monster (17G, 12A, 19D) in the field, her presence sometimes single-handedly getting Gung Ho wins. Jessica Mueller, Angel Li, and Alex Chudler also played well. For a team that many expected to not even make it to the tournament (not me, though, I predicted them to win the GL), a 9th place finish is pretty impressive. They very nearly made Quarters.


Surprising Struggles For Iowa State
Woman Scorned came into the weekend the #3 seed overall and considered a contender. In that context, falling in Prequarters – which they needed a double game point victory to advance into – is well below what we originally expected. There's no shame in losing to Ohio State and British Columbia, or nearly being defeated by Central Florida.
Two issues stood out for ISU. Firstly, despite spending the season looking to build up depth, they had trouble matching up their last three on the line, particularly defensively. Their freshmen are impressive for where they started, but it is tough to ask them to keep up with much more experienced matchups. Secondly, aside from Rebecca Miller, their man defense left something to be desired. Too often, a commitment cut deep would open up a lot of under space, perhaps with Iowa State's top four forced to save legs to generate scores.
Depth of Top Teams & Depth of Division Proven
A popular theme on the weekend was close first halves and blowout second halves. Both Semifinals provide examples of this, but it was happening over all four days. Over and over, the deeper teams would prevail. Games at this level are intense and tax the legs of players asked to go through point after point. Teams that could rest a top end player's legs – even just two or three times per game – were at a notable advantage over teams that couldn't.
In addition, the Women's Division just gets better and better. Yes, Oregon was clearly in a different league, but there were a lot of good games this weekend, and almost every team won at least a game. Only one five seed finished at the bottom of their pool. Only one pool went to seed and three of the four pools went into the final round of play with Quarters or Prequarters spots up for grabs. The quality of play, across the division, was higher that we have seen before. It will only get better.
A Look Forward to 2014
On Twitter, I took on the dangerous game of calling next year's Finals: Oregon over Tufts. I did that off instinct and with no research. There's reason to believe. Oregon returns Sophie Darch, Bethany Kaylor, Jesse Shofner, and Alex Ode. That's probably the two best players on this year's Championship team, and most of their top line. Yikes.
Tufts may seem like a wild choice, considering the loss of the Alm-Tajima combo. They have a lot of junior talent and freshmen talent, and Qxhna Titcomb. They were not dependent on Alm and Tajima this weekend, with junior Michaela Fallon and freshmen Jojo Emerson (NE FOTY) and Laura Fradin touching the disc a lot. Junior Emily Shields was not even playing, but she's a big playmaker. Considering how strong their recent classes have been, more impact freshmen would not be surprise.
In a bit of breaking news, Washington Element tossed their name into the hat of contenders for next season by announcing their top three players will return for their fifth years next season. Alysia Letourneau, Amanda Kostic, and Lucy Williams will join with rising seniors Barbara Hoover (the Women's Division's leading goal scorer at the Championships*) & Shira Stern, plus burgeoning star sophomore Sarah Edwards. This year's freshman class has been developing nicely, and there's no telling who Washington will acquire from the Seattle youth scene. The Northwest will be as competitive and dangerous as ever.
Other teams to watch may be Carleton, Santa Barbara, and British Columbia. Carleton returns Julia Snyder, Kirstie Barton, Brianna Rick, Emily Buckner, and Lucia Childs-Walker. Santa Barbara brings back the force of nature that is Lisa Pitcaithley, Noelle Neason, and Kaila Pollart; they're only losing two seniors from their Madison squad. British Columbia is losing a ton in Catherine Hui, Rena Kawabata, and Crystal Koo, among others. However, Laurel Jay, Amira Maddison, and Terynn Chan return, but most of all, a healthy Mira Donaldson will be a huge weapon. UBC is the riskiest choice of these, because they are losing a lot of their top end, but those returners are talented.
When it comes to the Callahan, here's a list of things that could stop Lisa Pitcaithley from winning it: 1) Deciding to kick spike a lot or 2) Sophie Darch being Sophie Darch. That's probably it. Alika Johnston of Virginia will be next year's Lien Hoffman.
We don't know who will come back for a fifth year. We don't know what freshmen will go where. We don't know how will get hurt, take a year off, or attend various graduate programs. It is fair to say that this is all a crapshoot. But it is fun and it is possible.
*All stats are through Semifinals, as posted by USAU