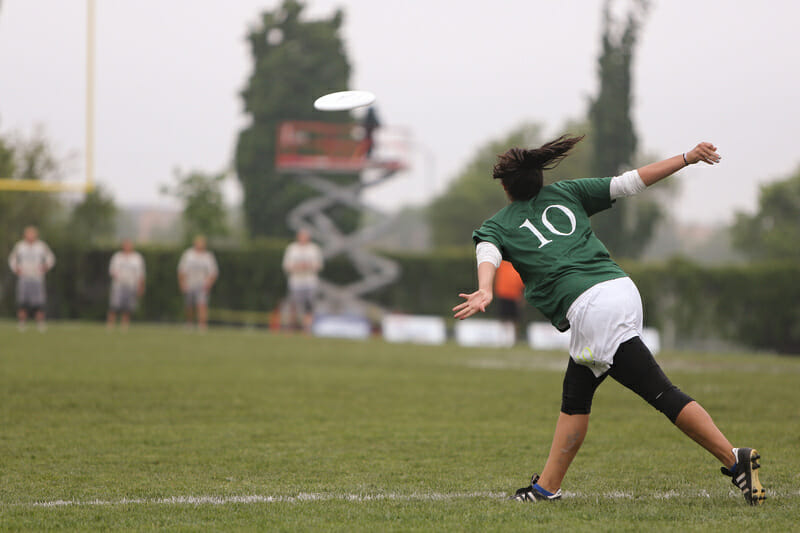 We are now two weeks past the College Championships, where we spent thousands of words extolling the incredible team performances over the course of the weekend. Now, we wanted to take a look back at some of the impressive individual play, both in the raw numbers and a more holistic evaluation. We'll start with the numbers.
STATS
Check out the full statistical tables at the bottom of the article.
The College Championships are the only college tournament where a fairly accurate set of statistics are recorded by a third party for every team. They give us a rare chance to look at statistics in Ultimate. However, due to the nature of a tournament format, the statistics are skewed by the number of games each player played. With that in mind, Ultiworld took the raw data and added in the number of games played, generating some per game averages that give us a better sense of a player's average impact on a given game. In addition, we've cribbed a stat from the NBA, creating an Assist-To-Turnover per game ratio, rather than a typical +/-.
The effects are interesting. In the Assists category, by totals, UCF's Sunny Harris sits atop Carleton's Julia Snyder by a margin of 3, scored 32-29. However, Snyder played two more games than Harris. Harris's APG (assist per game) is an astounding 6.4, out of her team's average 12.4 goals per game. Snyder, however, was more efficient, coming in with a 1.32 A/T (Assist to Turnover Per Game Ratio) to Harris' 0.89.
The statistics don't account for styles of play. Oregon handlers Sophie Darch, Bailey Zahniser, and Jesse Shofner all have low A/Ts to go with Harris', but both Fugue and Central Florida have aggressive offenses, designed to take high risk shots. The numbers don't account for position, either; the top A/T players are all usually cutters, such as Texas's Kayla Ramirez (2.8), Ohio State's Cassie Swafford (1.84), and Iowa State's Cami Nelson (1.79). Among players who primarily handled, Tufts's Laura Fradin (1.64), Carleton's Snyder (1.42), and Ohio State's Paige Soper (1.2) rank tops in the category.
Moving to a per-game statistics set helps demonstrate the dominance of players whose teams did not get them more games. Stanford's Ellen Rim registered 16 goals, tying her for 9th, but her 3.2 GPG ties her for 6th. We can also account for known injuries: Carleton's Flannery McArdle and Central Florida's Mariel Hammond both played only four games on the weekend, totaling 20 and 16 goals, respectively. Their respective 5.0 GPG and 4.0 GPG slide them to #1 and #4.
We're a long way from having statistics in Ultimate that really guide us to a player's impact. Most major sports are only scratching the surface of advanced statistics; Ultimate barely keeps basic ones. In the future, sets of touches, possessions, and yardage being more commonly kept statistics will allow us to more accurately measure and analyze performance.
STARS
An unforgettable weekend in Madison was filled with highlight reel plays and special performances. All of that was only possible because of the talented players that stepped onto the line. To stand out in such a group is remarkable, and these exceptional women showed themselves to be some of college Ultimate's finest with their play at the College Championships, both through the raw statistics and their unquantifiable impact on the game.
FIRST LINE
Lisa Pitcaithley (UC-Santa Barbara) was, one on one, the most difficult matchup I saw this weekend. Her size, initial burst, and explosive layouts created physical discrepancies between her and her defender. That's before talking about her throwing skillset, which made Pitcaithley her team's primary handler when they started the weekend. That sort of throwing threat forces teams to respect her anywhere on the field. Her 13G, 23A, 6D, 21T line makes her 1 of 11 players with double digit goals and assists.
Lien Hoffman (Northwestern) was the only player to take over games in the way Pitcaithley did. It was clear she was too athletic for most of the Division's elite athletes, consistently winning battles in the air and finding space on the open side against top defenders, netting her 17 goals. In addition, she made plays with the disc in her hands (13 assists) and on defense (19 Ds, 2nd overall). Northwestern broke seed by 9 spots in large part because Hoffman delivered on the big stage.
Sophie Darch (Oregon) turned in the best performance for the best team. Her 23 assists ties her for 6th in the division. My common refrain throughout the weekend was how easy Darch makes Ultimate look. It didn't matter about her defender, the weather, or the pressure; she delivered perfect throws to undefendable spaces over and over. Rarely do receivers make plays on Darch's puts because she's done the work for them. She also demonstrated some versatility, scoring 7 goals and adding 8 Ds, some of those in her monstrous Semifinal performance.
Julia Snyder (Carleton) can be defined by one word: textbook. Her vast Ultimate experience is on full display on the field. She's a coach's player, doing all of the little things with such strong fundamentals that it leaves virtually no room for criticism. Whether it is the range she steps out on her IO flick breaks, her terrific ability to hold position downfield, or her intelligent disc movement, it would be tough to design a better execution of what Ultimate should look like. A stat line of 7G, 29A (2nd overall), 9D, and 22T and silver medal are her rewards.
Sunny Harris (Central Florida) continues our run on handlers, and you have to start with her 32 assists, tops in the Division (Snyder's 29 is 2nd with three more games). Her 15 Ds tied for 3rd in the Division, many of those made in close plays on hucks while Harris patrolled the deep lane in UCF's zone. She probably took less than 10 points off this weekend and threw some picture perfect hucks. Let's not forget about jaw-dropping 40 yard hammer she pulled out against Iowa State.
Alika Johnston (Virginia) is not talked about enough. She may very well be the toughest five feet and two inches in the women's division. Johnston's a bite size wrecking ball, throwing her body around to get Ds (her 10D ties her for 9th) and come up with critical late game plays for Hydra. Very few star players play in the cup, but Johnston does so excitedly. I watched her grit her way to 8 goals and 22 assists, playing through pain, fatigue, and pressure. I'm already pegging her as a dark horse Callahan candidate next season.
Sarah Meckstroth (Minnesota) is 2013's biggest breakout. Her stat line is a crazy 22G (2nd overall), 14A, and 20D (1st overall); per game, she was averaging 7.2 points (goals + assists) and 4 Ds, which is downright crazy. I watched teams try a variety of defenses to quiet her down, but somehow, the disc would always find its way to her hands, often in the endzone or near it. Few players in Madison can match the impact of the woman her teammates call "Sloth", and even fewer defenses could contain her.
SECOND LINE
In a weekend jam packed with action, seven spots is just not enough to properly recognize the rising tide of talent in college women's Ultimate. Here's a second set of seven that demonstrated they are the best of the best.
Rebecca Miller (Iowa State) showed herself to be the impressive two way impact that netted her a spot as a Callahan finalist. The 7 Ds she racked up do not reflect how often she controlled her matchup. Offensively, her 17 goals tie her for 6th overall, a product of her athleticism, but also activity. Miller's a tireless cutter who seems willing to do whatever it takes for her team to succeed.
Flannery McArdle (Carleton) kicked down the doors and forced her way onto this list, particularly with her semifinal performance. Her 8 goals in that game against Ohio State were not all just big grabs in the air, but often the result of excellent timing and anticipation; not only was McArdle showing great guts with her physical performance, but her mental game in the face of injury and pain was also impressive. She averaged 5 goals, 1 assist, and 1 D in her four games.
Liza Minor (Iowa) was probably overlooked this season, in favor of a higher profile teammate. Anyone who watched Saucy Nancy in Madison can attest to Minor's influence. The best word to describe her is "facilitator" because of the way she continually creates forward motion for her offense. A quick and efficient decision maker, Minor's discipline and intelligence make her more than just a speedy downfield weapon.
Chelsea Twohig (Iowa) had her story of grittiness and toughness overshadowed by McArdle's, but showed more than skill and experience in her seminfinal against Oregon. There's no doubt that the Iowa primary handler, who put up 25 assists (tied for 4th) and 9 Ds at the tournament, was one of the top talents in Madison. A mark-erasing IO flick and ability to be dependable in the face of great pressure provide further evidence of Twohig's elite status.
Amanda Kostic (Washington) brings a unique flare and atmosphere for the field. Kostic's intensity, focus, and attitude are worn on her sleeve, combining with her considerable skill to make her one of the nation's most fun playmakers to watch. She's a dynamite thrower, fearlessly throwing arounds, blades, and her notorious hammer. Such an arsenal gives the Washington access to parts of the field that most teams get trapped in. Kostic finished 3rd in Assists with 26.
Emily Lloyd (Georgia) may not have led Georgia to a great weekend, but her matchups rarely looked like they were winning. Lloyd's explosiveness served her well on both sides of the disc, constructing separation from defenders out of nothingness and denying the disc to her assignment. Her 20 goals were nearly half of her Dawgma's 44 total, her physical strength as a cutter able to bear the burden of an offense asking more of her than it had in the past.
Bethany Kaylor (Oregon) is merely a sophomore, meaning teams will have multiple more years to be frustrated by her dazzling skillset. Kaylor's capable of doing more or less anything on the field: shutdown defense on a team's best athlete, pressuring primary handlers, getting open unders at will, smoking opponents deep, or dropping in dime hucks to space. Her 10G, 20A, 5D stat line only scratches the surface of her versatility; Fugue coach Lou Burruss trotted her out often on O and D on their way to a Championship.
HONORABLE MENTIONS
That's two lines of the best players from around the division. Let's take a moment to recognize a final set of difference makers.
Natalie DePalma (Minnesota) is about as lefty as lefty handlers can be, and she uses it to unleash a barrage of break throws and deep shots, flat marks be damned.
Cami Nelson (Iowa State) turned in a hell of an offensive performance, putting up 13G and 25A, forcing teams to give her unders and boosting great shots from power positions.
Shira Stern (Washington) has a business-like way of being awesome. Huge layouts, precise cutting, and disc-discipline made her one of Element's best in Madison.
Cassie Swafford (Ohio State) showed everyone how she earned her reputation as one of the most rock solid players in the game. She does a lot of bit of everything, with 13G, 20A, and tons of touches.
Noelle Neason (UC-Santa Barbara) strikes like lightning in the cutting lanes. There seemed to be nobody who could contain her downfield.
Barb Hoover (Washington) scored an incredible 27 goals to lead the tournament. She's an opportunistic scorer, able to capitalize on the first sign of weakness a defender shows.
Mariel Hammond (Central Florida) is another high volume goal scorer, averaging 4 goals a game at the tournament, despite playing on a bum leg.
Kayla Ramirez (Texas) epitomizes two things: Melee's gritty and unyielding play style and speed. She gets involved in plays she has no business getting to.
Nina Finley (Ohio State) has the honor of being the only freshman mentioned. When Fever needed a big play, it was the 19 year old they turned to – see her 2nd half in the semifinal.
Rena Kawabata (British Columbia) had to step up with Catherine Hui playing through injury. She's a courageous thrower and cutter, capable of taking over a game in quick order.
Statistical Tables 
GOAL LEADERS

ASSIST LEADERS

BLOCK LEADERS

ASSIST TO TURNS RATIO