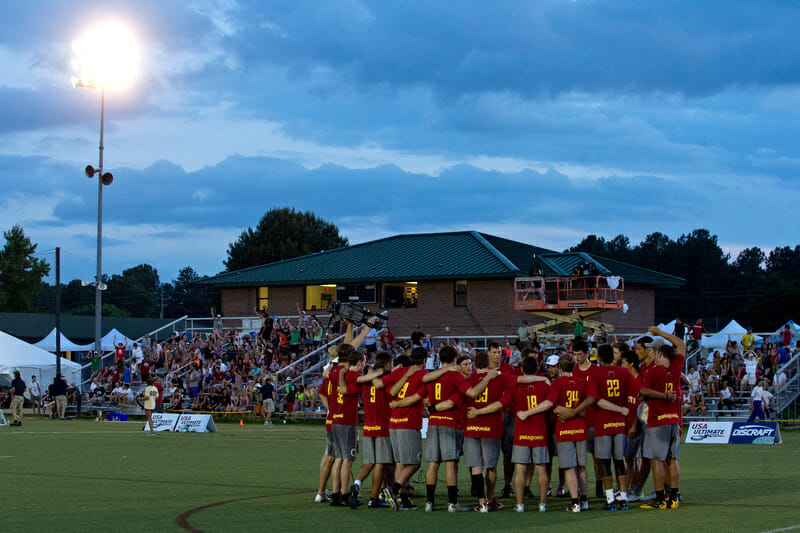 While it didn't have the urgency and excitement of a late season tournament, the US Open still offered some excellent high-level competition early in the year. Here's a look at some of the stories coming out of the long weekend.
***
Pro Ultimate Having An Impact
It's not particularly surprising to see San Francisco's Revolver and Boston's Ironside in the finals of a tournament. But it wasn't just that they were more talented than the other teams at the tournament, it's that they were crisper, more polished, and playing at a higher level.
That's because for the past two months, many of the teams' top players have been playing in Major League Ultimate, earning their way into the Championship matchup in Philadelphia.
Both teams clearly had more chemistry and made fewer mistakes than the other competitors at the US Open.
In many ways, it doesn't matter very much right now.  But this year, more than ever before, we will get a chance to see the effect of a long preseason on teams.
Last year, Philadelphia's Southpaw missed the Club Championships after having a subpar regular season performance and failing to earn a bid for the Atlantic Coast region. A number of players thought the long AUDL season affected their ability to play their best during the USA Ultimate season.
With a large number of elite teams having a sizable percentage of their roster on their local professional team, we can start to watch for the effects of pro ultimate on the USAU game on a bigger scale.
Teams have their focus on October: will all the professional-crossover teams be able to stay healthy and focused all the way to that point?
Retired Players Don't Hurt Revolver
With all of the caveats of above, it's pretty clear that Revolver isn't going to have a down year. They arrived at the US Open without a number of Championship-caliber players from years past, including Robbie Cahill, Bart Watson, and Martin Cochran.
They won the US Open, losing just once along the way — to runner-up Ironside on double game point.
Revolver star Beau Kittredge even suggested that it was time for the retired players to go, that they had grown complacent with the success of the past few years.
"I'm actually really excited by the new players," said Kittredge. "Last year, I was extremely frustrated with the attitude of the team, which might have been a little bit of, 'We've been good for so long.' [The retiring players] were kind of burnt out, maybe. They were all good players that were playing last year, but there wasn't really that grr, that bite. These young players really have that."
Revolver ground out wins all weekend, including a 15-7 revenge win over Austin's Doublewide, who beat them in finals last year at the Club Championships.
Ironside Very Sharp, But Come Up Short
The pool play game between Ironside and Revolver was an instant classic: a battle of the titans, huge plays, a late comeback, and a double game point finish. (The game is available for purchase here.)
Their finals matchup (available on ESPN3) was remarkably similar, except for the outcome. But what we saw was two very evenly matched teams battling with outstanding offenses and developing defenses.
Ironside coach Josh McCarthy was clear that their struggles came on the defensive side of the disc. They were unable to generate much pressure on Revolver's offense until late in the second half. They came up just short.
"I think we were halfway between playing a poachy zone and man defense," said McCarthy. "And were not committing to either one. And even when we committed to the man, we were still sagging way too much."
The issues defensively were team ones, not individual. A number of players made some huge individual blocks, but their overall strategy wasn't as effective as it needed to be. That's to be expected, perhaps, at this point in the season. They have been focusing less on team chemistry so far this season and more on individual skill development.
Ironside's offense, on the other hand, looked very strong. Josh Markette was outstanding (as he was playing for the Boston Whitecaps in Major League Ultimate) and the flow was very good. Remember that the first break they gave up was on a blown observer call as Peter Prial brought down a disc, toeing the line and getting knocked out of bounds.
You can't point to one play as causing the loss for Ironside (their defense had chances!) but the complexion of the first half would have been a lot different.
The fundamentals are still the same for Boston: they have all the pieces they need to make a title run, but is their mentality strong enough to get them there? The Chesapeake Invite should tell us more about where this team stands.
Ring Right There
For much of the weekend, Raleigh Ring of Fire looked out of sorts. Their offense was giving the disc away on miscommunications and poor decisions far too often for their strong defensive line to keep them in games.
However, when they reached the semifinals against Ironside and tightened up their lines, they were a different team. They were neck and neck with Ironside for nearly the entire game, showing off an impressive and dynamic offense that was not having difficulty scoring. The game came down to one block late in the game that put Ironside up and gave them — finally — some momentum.
Opposing coaches all talked about Ring as being a very good team, one that was much better than their pool play results suggested.
Brett Matzuka and Paul Weeks handled with poise on the offensive line and carved up the Boston defense.
Ring struggled with consistency, but when they're at their best, they are very dangerous. Don't be surprised to see them making another deep run this year.
New Look Doublewide Worked, Mostly
How do you replace the losses of Tim Gehret, Brodie Smith, and almost every other Florida player from your National Championship team? Well, you go find two of the greatest graduating college players and get them signed. Then you hand them the keys to the offense.
Alex Thorne and Tyler Degirolamo met the Austin crew for the first time at the US Open, and were immediately asked to star on center stage. Thorne was, throughout the weekend, the main offensive line handler for Doublewide while Degirolamo was frequently the primary target out of the stack.
The two connected often and showed no signs of having trouble adjusting to the elite club game. Despite playing with a skeleton crew (they were missing Will Driscoll and Kurt Gibson, among others) and giving lots of playing time to the rookies, Doublewide only lost to Ironside and Revolver on the weekend.
In an interview, Thorne talked about how well he felt he was integrating into the team, particularly because the Doublewide systems were familiar to him from his time playing at Pitt. Aside from a poor performance against Revolver in the semifinals (where fatigue was a real factor for the Austin team), he played very well on the weekend, piling up assists and looking comfortable on the new stage.
As Doublewide returns to full strength later this season, will the Pitt stars continue to get ample playing time on offense? It's not unusual for teams to give their rookies a lot of playing time at an early season tournament — most teams at the US Open did just that.
Someone commented to me as we were watching Doublewide play that Degirolamo is discovering that every team has a Tyler. He didn't have the same incredible impact that he showed at the College Championships in May, but was still an effective cutter. He will need to tailor his game to adjust to the taller, faster elite defenders.
Max Cook and other veteran Doublewide players were great this weekend as well, but the high heat and humidity clearly beat down the short-handed team. They had little in the tank for their game against Revolver and got rolled 15-7.
International Teams Struggle Against USA's Best
While the international presence at the US Open is an awesome part of the experience, the teams that came to the tournament simply did not have what it took to challenge the top teams from the US.
Bogotá's Euforia had some shining moments and played well throughout the weekend, getting two wins over international competitors Ragnarok (Denmark) and Mephisto (Canada). They too often got away from their game plan against the US teams, though, putting up contested hucks into bad matchups for their generally shorter receivers.
Ragnarok is consistently one of Europe's top teams, and they came to the US Open to sharpen their skills as they look to win a European Club Championship this year. They struggled a lot in the brutal heat of Raleigh; they rarely play in temperatures anywhere near what they faced that weekend.
There's no question that the US Open can become a premier international event, but it will take some time and some buy-in from top world clubs. The Buzz Bullets from Japan opted for a West Coast tournament in August. No UK teams have attended yet.
With time, the international teams will start to make the tournament significantly more challenging for the US Pro Flight teams that earn a spot.