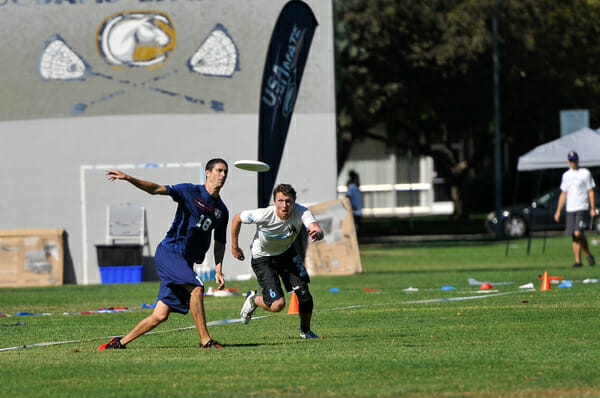 DAVIS — Two intense and high-level rounds of Ultimate were in the books, yet somehow things were back to square one. Each of the eight men's teams were 1-1, in part pleased and in part disappointed, but mostly knowing that everything was still up in the air in round three. The decisive third round provided some clarity, but the same crazy process repeats itself in Davis, California on Sunday morning with every team qualified for the quarterfinals and still alive.
Parity was the theme of the day.  "Any of the teams are capable of putting seven guys out there that can run with the best in the world," said Revolver captain Nick Schlag.  Machine captain Andy Neilsen echoed that sentiment, noting that "every game was very, very close, and it generally came down to who made plays. The defensive conversion rates mattered a lot."
The crazy day of course ended in a crazy fashion, with elite team captains gathering together after the third round and essentially voting to cancel the additionally scheduled crossover play. The conditions were hot, some teams were playing with fewer than 20 players, the crossover games had no bearing on the outcome of the day — USA Ultimate acquiesced.
Consistent Revolver Team Is Most Feared But Far From Unbeatable
The shock of the day was Toronto GOAT's well-earned first round victory over Revolver. The two-year long aura of invincibility that once surrounded Revolver is passed; Doublewide defeated them in the finals last year, Ironside played them evenly at the US Open, and GOAT stunned them in the first round of pool play before Ring of Fire took them to double game point in round two.
So what's going on? Actually, Revolver still looks really good. They hustle into and set up their cuts with an attention to detail that exceeds that of every other team. Talking with those other teams at the Finale made it clear that Revolver is still seen as the team to beat and the team most likely to be in the finals tomorrow — and in Frisco at Nationals.
But Revolver does look human. A dropped pull against Ring, a few turnovers in their own half against GOAT (that gave GOAT a short field), and very average end zone play contributed to their early Saturday struggles. Their red zone offense was marred by multiple Revolver players cutting towards the same small space at the front cone. 
Revolver captain Schlag downplayed their GOAT lost, emphasizing instead the quality of their opponent and noting that GOAT played a very good game.  Another experienced men's player in Pool A told me, off record, that GOAT played the best ultimate of the day and looked "very, very scary."
Coming off their win against Revolver, GOAT took half 8-4 against Chain Lightning. Canadian Ultimate, which seemed so down just a month ago at the World Games, was now utilizing a unique and interesting Toronto style against some of America's best. GOAT employed lots of break throws and deep shots; comparatively, there were very few open-side underneath looks.
Anatoly Vasilyev and Derek Alexander were especially important offensively, taking the lion's share of the usage, running constant handler weave movement and bearing much of the risk of throwing to the break side. It was all epitomized well in the final round after GOAT scored their fourth point against Ring, with the Ring defensive sideline yelling out a frustration: It was the third time Alexander had thrown the exact same outside break for a score.
All of this was before an ankle injury to GOAT's most important and best player, Mark Lloyd. Lloyd is a downfield offensive option with elite size and speed and is also aggressive enough to take lots of short unders when they're offered. The injury to Lloyd (on a difficult deep huck rundown that he almost got to) coincided with a massive change in GOAT's fortunes, who blew their big lead on Chain, lost on universe point, and fell to Ring in the final round.
GOAT was already short on players and a few GOAT players fought nagging injures, deepening the legs problem. Notably, Aaron Neal, a defensive specialist for NexGen 2013, was brought onto the offensive line. It was a chain of events that seemed oddly appropriate for the madness which was day one of the Pro Flight Finale: GOAT, the men's team that played the best points of Ultimate on the day, finished last in their pool.
Lloyd is unlikely to play on Sunday, but his injury is not severe.
Ironside Takes Pool B While Machine Also Impresses
Finishing 2-1, Revolver won Pool A, but three other teams in the mens division also finished 2-1. Ironside took Pool B with wins over Machine and Sockeye (they lost their first game to Doublewide), while Ring (wins against Chain and GOAT) and Machine (wins against Doublewide and Sockeye) took second place in each pool after factoring in head-to-head losses. 
Our preview was a bit quiet on Machine coming into the finale; they didn't quite have that single signature win coming in despite a tournament victory at Chicago Heavyweights. But they certainly got one against Doublewide in the last round of Saturday. The game was tied at 11s, but Machine kept grinding and put lots of pressure on the Doublewide offense, taking the game 15-11. Machine captain Neilsen said that their defensive strategy was no nonsense and simple, with guys trying to stay as close as possible and playing tight man to man. It worked on Doublewide, who seemed intent on throwing to their talented receivers in tight and narrow windows. That risky strategy didn't pay off.
The fallout places Ironside on the opposite side of the bracket of Revolver. Ironside starts with Chain Lightning, but Ring is probably the most dangerous team in the way of a classic Boston-San Francisco finals matchup. Like other teams here, Ironside is also a bit short handed – they were missing Danny Clark today, Josh Markette, Russell Wallack, and a few others are entirely absent.
But Ironside still has the pieces to win when they play smart. Ironside's defense seems to rely more on intelligent play, tight coverage, and residual pressure building – especially when compared to the risk-loving, bid-happy style that Ring employs. But team defense can just as effective as huge layouts, and Ironside's challenge going into Sunday will probably be to play more smart and disciplined than they did in their early loss to Doublewide.
Potentially the best Sunday story line and matchup will happen first thing. By virtue of the head-to-head pool madness, Doublewide finished last in pool B. That means their quarterfinals game is against pool A winner Revolver, setting up a rematch of the 2012 National Championship.
Only one win separated all of the teams on day one. At this point, nothing — including an early Doublewide win that knocks Revolver out entirely – would come as a shock.