Eight of the country's best teams converge on Davis, California, for the Pro Flight Finale and the final leg of the Triple Crown Tour. With title contenders packed into two four-team pools, this weekend offers the best competition this side of the Series.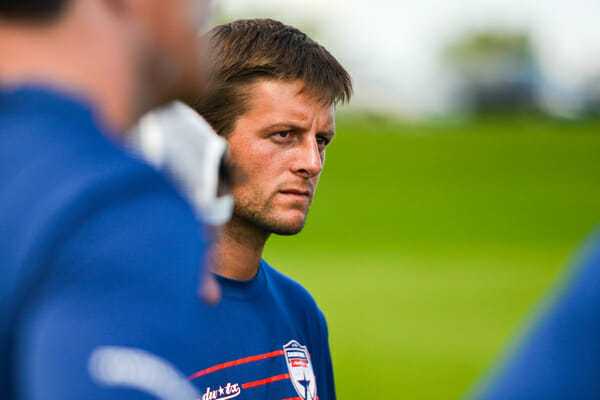 Watch live coverage of the Pro Flight Finale right here on Ultiworld! A 7 game livestream package is available for just $12.
A few storylines dominate the men's conversation heading into the Pro Flight Finale, the most elite and anticipated tournament of the USA Ultimate Triple Crown Tour regular season. At this point in the year, despite losing key talent, Revolver is still smart money to advance into the semifinals at the Club Championships.  But picking favorites amongst the other seven teams in the field is still extraordinarily difficult; ruthless competition at the Pro Flight Finale, especially in Pool B, should give us a clearer picture.
Doublewide Nearing Full Strength with Dangerous Weapons
Last year's National champions Austin Doublewide come in as the fourth seed in one of the most competitive tournament pools in recent memory. That seeding reflects more of their lackluster performance at the US Open, but, with a depleted roster, it was obvious to elite teams and spectators alike that Doubewide's real title defense would begin later in the season. That effort began at Colorado Cup, where Doublewide took the title after two double game point wins in the semis and finals.
Top-heavy teams have the advantage in tight games that come down to a final point. The expected return of Team USA's Mike Natenberg and next-level athlete Jake Anderson combined with the early-season recruitment of Alex Thorne and Tyler Degirolamo sets Doublewide as one of the three most talented teams in the division. Our statistics tracking at the US Open showed instant implementation and effectiveness from Thorne – and especially – Degirolamo.
Degirolamo fell off a bit in the semifinal matchup against Revolver, but if he keeps adding to his game at the elite club level, Doublewide will take first or second in the pool.  Both players racked up tons of yardage for Doublewide's offense – Thorne led Doublewide in Usage – and together they ranked first and second in Expected Contribution. They were doing a lot and doing it quite efficiently.
| Name | PPG | G+A/OPoss. | Yards/OPoss. | Usage | Compl. % | Def. EC | Off. EC | UW D Score | Total EC |
| --- | --- | --- | --- | --- | --- | --- | --- | --- | --- |
| Degirolamo | 12.25 | 0.32 | 20.61 | 14.3 | 94.44 | 2 | 6.84 | 0.84 | 9.72 |
| Thorne | 11 | 0.2 | 18.52 | 18 | 92.37 | -1.8 | 5.97 | 0.3 | 6.78 |
Doublewide has played with limited rosters to this point in the season, but will be back to nearly full strength this weekend. Their only absence: Kevin Richardson. And Jerrod Wolfe and Kurt Gibson will be playing limited minutes as they return from knee surgery.
But even a limited minutes Kurt Gibson is going to be a big addition back to the lineup for Doublewide, as the team looks to show the country's best teams that they are still very much a contender.
Ironside Struggling To Be Consistent
We left the US Open thinking Boston's Ironside would be a favorite to return to the finals. In pool play, they beat Revolver on double game point before falling on DGP in the finals.  But the Chesapeake Invite was less convincing: two losses to Sub Zero and narrow wins over Clapham and High Five. 
A top three finish at the Finale would put them back in the conversation.  Absences and injures haven't helped; quietly we still haven't seen a 100% George Stubbs this season. After not playing a single point at Chesapeake, his status this weekend is still undetermined.
But this 2013 Ironside team is deep. At the US Open, we saw great play handler play from Josh Markette, Brandon Malecek, and captain Matt Rebholz, along with a strong performance from Alex Kapinos. They'll be missing Markette this weekend, but we'll keep an eye on the handlers to see if they can take smart shots and limit short field turnovers – something that hurt them at Chesapeake.
| Name | PPG | G+A/OPoss. | Yards/OPoss. | Usage | Compl. % | Def. EC | Off. EC | UW D Score | Total EC |
| --- | --- | --- | --- | --- | --- | --- | --- | --- | --- |
| Rebholz | 8 | 0.16 | 14.41 | 15.3 | 98.21 | 1.63 | 6.65 | 1.6 | 8.85 |
| Kapinos | 7.33 | 0.32 | 18.59 | 11.8 | 93.33 | 3.34 | 6.37 | 1.16 | 8.6 |
| Markette | 7 | 0.23 | 19.59 | 14.9 | 94.12 | 0.57 | 6.23 | 0.51 | 5.15 |
Ironside's struggles have largely come on the defensive end, where they have been unable to generate consistent pressure against the steadily improving offenses around the elite game. Although their offense may only get broken once or twice in a game, their defense hasn't been able to pick up that slack.
We'll see if their new flexibility shines through this weekend with some new defensive looks. With Russell Wallack and Teddy Browar-Jarus out this weekend, some younger role players will need to step up.
Sockeye and Machine A Bit Quieter But Still Tough: 
The top seeded team in Pool B, Seattle Sockeye is the second team (along with Ironside) to have defeated Revolver this season and remain in the semifinals conversation. A top three finish could also put Sockeye in the drivers seat for one a valuable top four seed at the Club Championships. Of course, Sockeye may also be hoping that a strong performance at the finale will give them momentum heading into a bid-thirsty Northwestern Regionals, where Sockeye, Rhino, Furious George, and Voodoo will battle it out for just two bids to the Championships.
Like Doublewide, Sockeye has been missing players all season, making their West Coast Cup success that much more impressive. Ex-Rhino Mario O'Brien returns this weekend, on limited minutes. Sockeye's depth gives them a big advantage over the course of a weekend, but they'll have to come out swinging right away in Pool B.
Chicago Machine, ranked #2 in USAU's rankings and recent winners of Chicago Heavyweights, faces an uphill battle to try and win the pool. Their #2 ranking is a bit surprising, considering that they simply haven't beaten a team that you would consider a top contender. Their losses have come to just those teams: Chain Lightning, Sockeye, and Johnny Bravo. They have beaten a streaky Sub Zero team twice.
Bob Liu has been a rock solid handler all season for their offensive line, and their hard-nosed defense is always going to get some breaks. Against the best competition, though, their offense tends to break down. They'll need to bring an efficient attack to California this weekend to challenge the heavyweights in their pool.
Some Pool A Teams Want to Force Their Way Back into the Conversation 
Revolver comes into the finale as a heavy favorite to win their pool; they're #1 in both USAU's ranking and in the Ultiworld power rankings. Key departures may even have refocused this team back towards its core values. Based on all of our US Open and Nexgen 2013 data, we've found that lots of Revolver players (like Joel Schlachet) consistently rate very highly on unsung defensive metrics.
| Name | PPG | G+A/OPoss. | Yards/OPoss. | Usage | Compl. % | Def. EC | Off. EC | UW D Score | Total EC |
| --- | --- | --- | --- | --- | --- | --- | --- | --- | --- |
| Schlag | 8.62 | 0.13 | 17.02 | 13.7 | 98.25 | -0.03 | 7.38 | 0.07 | 9.07 |
| Schlachet | 8.5 | 0.14 | 12.16 | 14 | 95.74 | 2.78 | 4.17 | 2.02 | 7.72 |
| Kittredge | 8.57 | 0.28 | 21.21 | 17.1 | 95.95 | -1.64 | 7.05 | -1.86 | 6.7 |
Revolver has one of the game's most threatening offensive lines, anchored in the backfield by Beau Kittredge. Breaking the team has proven very difficult so far this season. They come into the Pro Flight Finale with just two losses — one to Ironside and one to Sockeye, both on double game point.
The other three teams in the pool will play the role of underdogs, but nonetheless arrive at the Finale in vastly different trajectories: Toronto's GOAT is playing hot with some excellent new roster additions, Raleigh's Ring of Fire is ice cold after a dismal performance at the Chesapeake Invite, and Atlanta's Chain Lightning has been up and down.
GOAT took a strangely quiet 5th place at the Chesapeake Invite despite finishing the tournament with a 6-1 record. A one point win over Sub Zero in pool play was literally one point short of sending them to the semifinals on point differential. Perhaps most impressive about their performance was that they were missing some of their best veteran talent: Anatoly Vasilyev was out, as was Cam Harris, Adrian Yearwood, and Isaiah Masek-Kelly.
If these players return to the herd this weekend, they will be a semifinals contender. GOAT beat both Ring of Fire and Chain Lightning on Sunday at Chesapeake.
Ring, a semifinalist last year at the Club Championships, has dropped to 12th in the Ultiworld Power Rankings after an average US Open and poor Chesapeake Invite. They're seeded last at the finale. An athletic team that plays a bit streaky, their best result of the season was a universe point loss to Ironside in the semifinals when a few athletic defenders, like Justin Allen and Micah Hood, got hot in the first half. Our stats also identified Ring's strong handler core — Team USA's Brett Matzuka, former NexGen 2011's Noah Saul, and Paul Weeks — as some of their stronger performers that weekend. But Ring will need all of those elements to show up this at the finale if they want to make noise and put themselves back into the truly elite conversation.
| Name | PPG | G+A/OPoss. | Yards/OPoss. | Usage | Compl. % | Def. EC | Off. EC | UW D Score | Total EC |
| --- | --- | --- | --- | --- | --- | --- | --- | --- | --- |
| Weeks | 7.5 | 0.04 | 17.98 | 17.9 | 97.09 | -0.15 | 8.13 | 1.17 | 9.62 |
| Matzuka | 9.5 | 0.11 | 9.2 | 16.3 | 97.69 | 1.3 | 3.97 | 1.14 | 6 |
| Saul | 10.25 | 0.19 | 18.37 | 23 | 92.64 | -0.51 | 5.23 | -0.01 | 5.22 |
| Allen | 7 | 0.12 | 9.3 | 10.6 | 94.59 | 0.75 | 3.62 | 1.05 | 5.04 |
After watching game tape from Chesapeake, two things were immediately apparent about Ring: they were unfocused in the second half and didn't do the little things right. Lots of drops and throwaways were compounded by sluggish starts in the second half. After taking half on Clapham with two straight breaks, they let off a 4-0 run and couldn't recover.
The team is much more talented than those results indicate — Boston Ironside coach Josh McCarthy called them the "real deal" after their semifinal matchup at the US Open.
Chain Lightning, the only team in the pool outside over Revolver with a Club Championship title, has four losses this season. All have come by either one or two points. After dominating the competition at their hometown tournament Terminus, they ran into a red hot PoNY team and lost in the finals. PoNY beat them again at Chesapeake and then Clapham swooped their semifinals berth with a double game point win in the last round of pool play.
A team known for big athletes and big hucks, they were a bit too fixated on the deep game in their losses. A slightly more balanced offensive attack will do great things for this talented team — the deep space gets a lot more open when they're willing to work underneath.
They are always a dangerous team and, given their play style, might be the team most likely to pull an upset on Revolver in pool play.
Predictions
Pool Winners: Revolver and Doublewide (Childers) \\ Revolver and Sockeye (Eisenhood)
Semis: Revolver, Ironside, GOAT, Doublewide (Childers) \\ Revolver, Doublewide, GOAT, Sockeye (Eisenhood)