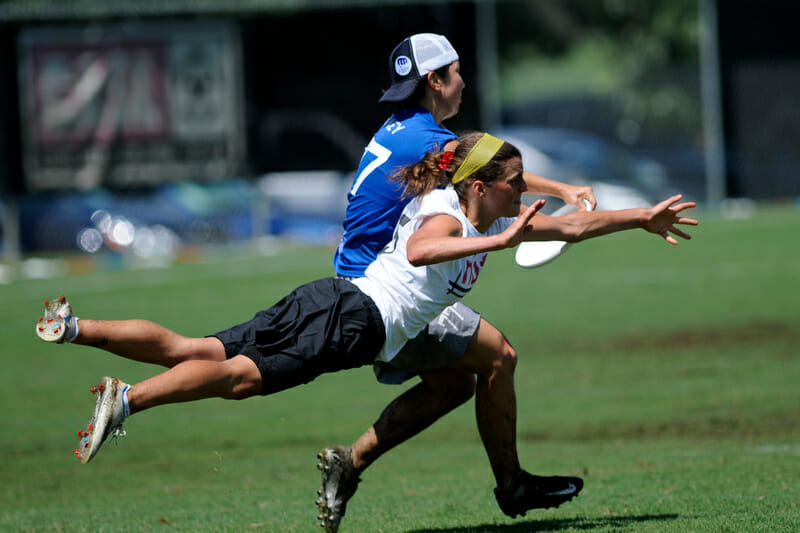 All the invites have been distributed; we now know who will make the field at the 2013 Club Championships. Of course, the major changes in format to the tournament may alter how teams approach the weekend. An incredibly large margin for error on Thursday — you can't be eliminated — is followed by a "win or go home" approach from there on out. Not only is every game from Friday onwards do or die, but the tiered Flight system of the Triple Crown Tour places added importance on final placement.
So much more rides on Club Championships performance than the year before, meaning that teams will be looking for any edge over any team in the field. Seedings could play a major role in giving someone a leg up or handicapping their chances of setting themselves up for next year.
Let's take a look at how this season's results should place the attendees.
The #1's: Riot, Fury, Scandal, Nemesis
The consensus top four look like locks to be the top four seeds. These four teams are the top four in both Ultiworld's Power Rankings and USAU's ranking metrics; the only difference is Riot is #1 in our rankings, while Fury is #1 in USAU's rankings.
Fury won the US Open, the four-team Emerald City Classic, and finished 3rd at the Pro Flight Finale. Meanwhile, Riot won the Pro Flight Finale, finished tied for 3rd at the US Open. Fury has the head to head edge, 3-2, and the overall #1 ranking, which should be enough to push them ahead.
Scandal and Nemesis look to be the lower pairing. Scandal finished second at the US Open and Pro Flight Finale, while winning the Chesapeake Invite. While they are 1-3 against Riot and 0-2 against Fury, they have the head to head advantage over Nemesis. The Chicago women have put together a strong resume, winning Club Terminus, Heavyweights, and finishing fourth at the Pro Flight Finale, which should be enough to keep them above the pack.
Predicted seeding: Fury, Riot, Scandal, Nemesis
The 5 and 6: Brute Squad and Traffic
Two elite flight teams in Boston Brute Squad and Vancouver Traffic stand to slide into these next two spots. They are 5th and 6th, respectively, in both Ultiworld's Power Rankings and the USAU regular season rankings.
Boston won Colorado Cup and the four-bid Northeast Regionals, which should help them take the 5th spot. However, they also have a head to head loss to Traffic and finished lower than Vancouver at the one tournament they both attended, as they took 5th at Club Terminus (with a meager roster). They also lack for marquee wins, with their best victories coming over Heist and Molly Brown.
What Traffic lacks in tournament performance — 3rd at Club Terminus, 1-5 at ECC, and 2nd at Northwest Regionals — they make up for with some big wins. The previously mentioned head-to-head over Brute Squad was accomplished when both teams were missing players, but their Regionals victory over Riot could be enough to push them over the top.
Predicted seeding: Traffic, Brute Squad
Rounding Out the Top 10: Heist, Showdown, Capitals, Molly Brown
Disregarding Atlanta Ozone (who lost twice at Regionals to Raleigh Phoenix), the next four teams in both rankings look like they'll be primed for the next spots.
Austin Showdown is very likely to take the 7th spot, having beaten Molly Brown twice to win South Central Regionals, including a dominating 11-4 score in the 1st place game. Their inability to finish games cost them a lot of opportunities for big wins, so they do come in with head to head losses to both Capitals and Heist. However, they have the biggest win of the four, having bested Riot at the Pro Flight Finale. They are 8th in the USAU rankings and 9th in Ultiworld's Power Rankings.
Toronto Capitals surprisingly comes in with a case for the 8th seed. Despite going 5-7 in the regular season, they occupied the 10th spot in USAU's rankings and 11th in Ultiworld's. Since then, they beat New York Bent twice on their way to finishing second at Northeast Regionals. They have two head to head wins over Showdown, but they also have head to head losses to Heist (Club Terminus) and Molly Brown (Pro Flight Finale).
Madison Heist is another elite flight team that had limited access to elite competition. Club Terminus wins over Capitals and Nightlock may not carry a ton of weight, so they'll need Colorado Cup victories over Showdown and Phoenix to buoy their standing. Their 14-5 record also helps, netting them 11th in the USAU rankings and 8th in our Power Rankings.
Denver Molly Brown is probably in line to take the 10th spot from this group. Their two losses to Showdown at Regionals really hurt them, outweighing victories over Ozone and Phoenix, plus a head to head over Capitals. They haven't given a tight game to any of the top seeds, either.
Predicted Seeding: Showdown, Capitals, Heist, Molly Brown
Busting Bracket: Phoenix and Ozone
The lone result to really shake up the Women's division was Phoenix beating Ozone twice to capture the Southeast Regional title. Atlanta looked poised to take a top 8 seed at the Club Championships while Phoenix had been angling for a bottom four spot, but two games have changed their fates.
Prior to Southeast Regionals, Raleigh had just two wins over the field and both were over bottom seed teams (Schwa and Nova). Against elite competition, their results were sometimes downright ugly. It left them ranked 15th in the eyes of both Ultiworld and the USAU ranking algorithm. Their 13-11 and 16-15 wins over Ozone, however, shoot them up the ladder and yank Ozone down.
Accordingly, Ozone should be expected to be right next to Phoenix. Atlanta earned 2nd place finishes at Club Terminus and Chesapeake Invite, getting wins over Scandal, Brute Squad, Traffic, and Molly Brown along the way. Unfortunately, while Phoenix looks to be peaking, Ozone is skidding into the Club Championships, going 2-4 against the Championships field in their last two tournament appearances.
Predicted Seeding: Phoenix, Ozone
The Last Four: Bent, Schwa, Nightlock, Nova
New York Bent, the 3rd place team from the Northeast Region, has a (very early season) victory over Brute Squad to their name, but more focus will be on wins against Molly Brown and Schwa. Nightlock, for their part, has beaten Phoenix and Bent. However, Nightlock carries losses to Schwa and Philadelphia Green Means Go.
Portland Schwa does have a 12-11 result against Nightlock and also beat Phoenix at Club Terminus, but not much else to hang their hats on. Nova is almost sure to the be the last seed, having taken the 4th spot from the Northeast Region and their only win over a Championships team coming in June against Bent.
Predicted Seeding: Bent, Nightlock, Schwa, Nova
Final Predicted Seeding and Pools
| POOL A | POOL B | POOL C | POOL D |
| --- | --- | --- | --- |
| San Francisco Fury (1) | Seattle Riot (2) | DC Scandal (3) | Chicago Nemesis (4) |
| Toronto Capitals (8) | Austin Showdown (7) | Boston Brute Squad (6) | Vancouver Traffic (5) |
| Atlanta Ozone (12) | Raleigh Phoenix (11) | Denver Molly Brown (10) | Madison Heist (9) |
| New York Bent (13) | Bay Area Nightlock (14) | Portland Schwa (15) | Quebéc Nova (16) |