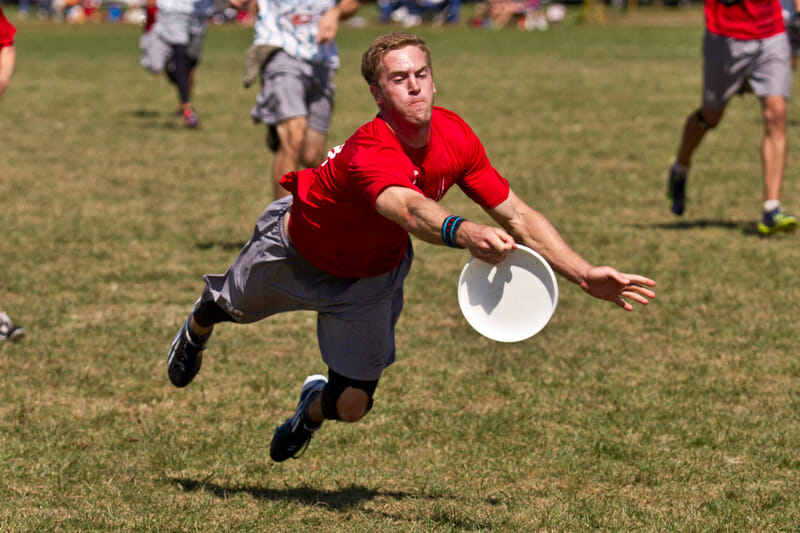 For all the speculation about Chicago Machine's #2 USA Ultimate ranking being inflated, make no mistake: this is the best Machine team in years, and a stack of strong wins over Frisco-bound teams has them in the conversation for semifinals. Had they managed to pull out the rain-delayed double game point victory over Johnny Bravo at Terminus, they would find find themselves with a one seed this week.
For all of the ups and downs teams have had this year amidst the most competitive balance the Men's Division has seen in years, Machine has been very consistent. Discounting the early season Terminus, where Machine opened their 2013 campaign and was still beginning to gel, they simply haven't had a bad loss. In fact, they've hardly lost at all.
They fell to Austin Doublewide in the semifinals of the Pro Flight Finale and lost a pool play game to Boston Ironside, a team that has historically been a very tough matchup.
While many of their wins have been against weaker Regional competition, Machine comes into the Club Championships with a high seed and high expectations. Can they pull everything together and crack through into the semifinals?
Machine in a Nutshell
Overall Indicators:
Overall #5 seed at Club Championships
2012 Nationals Performance: Fifth place
#5 in Ultiworld Power Rankings
#7 in Skyd Power Rankings
#2 in USAU Club Rankings
Positives:
Has become one of the most consistent team in the division.  Team seems more focused, united and together at tournaments than rivals
Offensively balanced. Not as reliant on the deep ball as some other teams but will look long for receivers like Jonathan "Goose" Helton and A.J. Nelson
On a steady upward trajectory. Built on last year's 5th place finish with a strong AUDL season and impressive USAU regular season. Only eyesore loss was by 5 to Doublewide
Consistently punishes elite teams that play sloppy against them. Near-perfect record against lesser teams makes them favored to retain "Pro Flight" status
Question Marks:
Hasn't played past the quarterfinals at Nationals recently
Certainly big and tall in important positions, but may not be as fast as the some of the younger teams that have NexGen or elite college talent
Doesn't appear to have the big upside or to present the matchup difficulties that some less consistent teams (like Ironside, Sockeye, or Ring) do. Matchups could matter more in a 2013 field with good balance
Probably the only elite men's team between the Atlantic Coast and Doublewide. Some of Machine's regular season and regional victories look qualitatively soft
Season Recap:
Machine has been very consistent this season and, unlike many teams, tends towards the big win or the big loss: they've had just one game all year with a score differential of two points or fewer (a 12-11 loss to Johnny Bravo at Terminus). That has meant some strong wins over good teams, which was looked upon very favorably by USA Ultimate's ranking algorithm, landing them at #2 at the end of the regular season.
They began the year at Terminus in mid-July, while many players on the team were still focused more on the conclusion of the AUDL season, playing as the Windy City Wildfire. That much of the team had other priorities was evident in their results: finishing 3-3. it was their worst tournament performance of the season. They got just one win against a Nationals-bound team — Minneapolis Sub Zero — and got soundly beaten by Sockeye and Chain Lightning.
It was clear at the time that they were still dealing with some chemistry issues as the AUDL set was reintegrating with the rest of the Machine roster.
At their hometown Heavyweights in late August, many of those issues had been resolved. They easily dispatched mostly regional competition, and won the tournament 15-7 over Madison Club. Again, their only win over a top 16 team was against Sub Zero.
It was around this time that their ranking reached new highs (largely thanks to a distribution of ranking points from Sub Zero who had wrecked at the Chesapeake Invite the week before). Skepticism about their #2 placement was rampant, and all season long Machine has fought against doubters.
They silenced many of them with a great showing at the Pro Flight Finale in early September. One of just three two-loss teams (no team had fewer than two losses), they took home third place with a 4-2 record with big wins over Sockeye, Doublewide, and Chain Lightning.
Their losses came against Ironside (a tough matchup for them) and, on Sunday, in a rematch against a fired-up Doublewide. That may have been their worst loss of the season
Regionals, as expected, was a bit of a cake walk for them. One of the knocks on Machine this year is that they have had a lot of games against weaker, local competition. Frankly, though, they proved themselves as a top contender at the Pro Flight Finale and should not be overlooked at the Club Championships.
Playing Style:
The lack of big names and big wins may suggest that Machine prefers a more boring Ultimate playing style.  But that's not an entirely accurate characterization. Machine is one of the few teams at the elite level that truly play both vertical and horizontal stack offense, though they are probably playing more horizontal than is in vogue now.
Other parts of their offensive style is equally adaptable. Machine will initiate offense from the pull by centering to a variety of offensive handlers — often Bob Liu, but certainly not always. They employ a balance of throw-and-go handler work (and have been for years), as well as more traditional dump-swing/reset-focused handler work. At times they do indeed play possession and work methodically. But having enough guys who can throw flat deep passes is one reason their level of play has increased in the last few years.
More on the deep shots: Playing against Chain at Club Terminus (a game Machine lost), it was tough to tell which team had the stereotype of only playing it deep: Both teams threw about 10 hucks and completed a bit over half of them. Machine definitely has deep receivers and guys who can send it. Perhaps people aren't surprised by this, but Machine might be edging closer to the group of huck-happy teams like Ring, Chain, and Doublewide.
Another thing to keep an eye on is conditions. They did well at very windy Sarasota last year, so if Frisco ends up getting windy they shouldn't be too out of place; there aren't many significant roster changes from last year's squad. Defensively, Machine tends to stick with man coverage but does well adjusting subtle strategies like force and prioritization mid game; there's not really one defensive habit they will overly stick to.
The real challenge for Machine will be to combine all the strengths of having a varied, flexible, and adaptable playing style without suffering from any of the common weaknesses, like lacking a team identity.  So far this season, they've traversed that exceptionally well. But they now have to combine all their diverse metrics at the biggest stage.  This is a squad with some short handlers and tall cutters, some name-brand players and no-name role players, some recent experience at Nationals and inexperience in elimination games, some wins against top teams and losses against top teams, some AUDL players and some Machine mainstays.
Maybe the biggest juxtaposition of all will be combining their normal tournament attitude, one of a relaxed yet steady underdog, with their high seed and the new target on their back at the Club Championships.
Likely Ceiling: 
Semifinals. Pool D is tough, but Machine can play with all of those teams and should escape either first or second. Either way, they will have a manageable prequarters path, crossing into a team from Pool A that may be Florida United or Truck Stop. Starting in the quarterfinals, however, it will be at most 50-50 for Machine to go forward; it's hard to see them winning three of those types of games in a row.  As one elite player told us, this is a good team but not one that is a nightmare match-up challenge for the other contenders at the Club Championships.
Likely Floor: 
Prequarters exit but backdoor qualification into the Pro Flight.  A hot PoNY or Truck Stop could play Machine tight and win a nail biter. But, having played a season in the Pro Flight tier, Machine will know how valuable staying there in 2014 will be. A team that doesn't lose when it shouldn't, they'd be a nasty out in that backdoor bracket.
Worst Match-Ups: 
Ring of Fire and Ironside. There's a strong chance that Machine will face one of these Pool C heavyweights in the quarterinal round which is not great news for them. Their struggles against Ring, sometimes satirically referenced in their Twitter feed, include dropping a game when Machine was ahead at last year's Club Championships. Ironside gave Machine trouble at the Pro Flight Finale even as Machine was able to get wins on Doublewide, Sockeye, and Chain Lightning.
Machine's best matchup seems to be whomever is underestimating them at any given time. But that's going to be a bit tougher at the Club Championships, in large part because of the impressive regular season that the Chicago boys have put together.