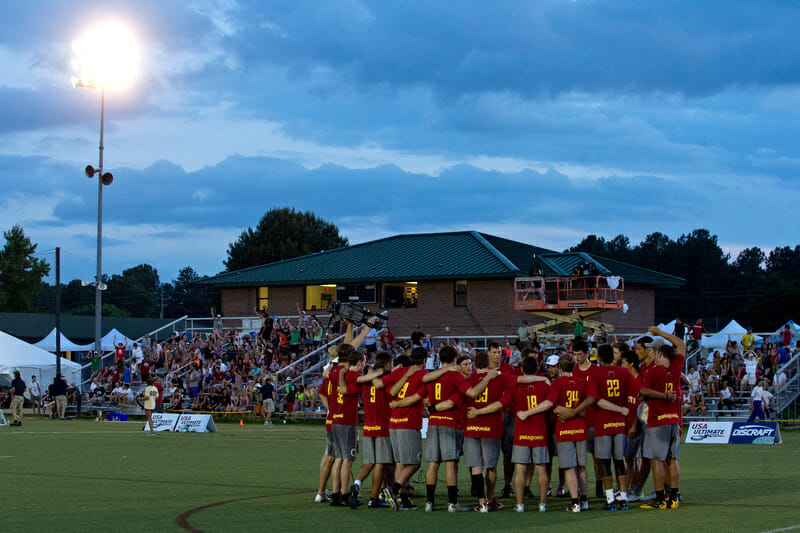 In USA Ultimate's view, San Francisco's Revolver is still the cream of the crop. Despite a relatively down regular season by their lofty standards — they only won one tournament, after all — and some heckling from online commenters about pro Bay-Area-bias at USAU headquarters, Revolver finished the regular season #1 in the USAU rankings and has the top seed at Nationals.
And as it should be. Other rosters have added impressive athletes, but Revolver remains the best team in the Men's division. Their attitude and team ethos is embodied in their motto of intensity, humility, and discipline. It's also embodied by their star, Beau Kittredge. He's the most feared deep threat in all of Ultimate, widely considered to be at the top of the game, yet classy enough to apologize to his teammates if he misses one of their open cuts.
This could be the most interesting Nationals yet for Revolver. Any bulletproof aura that once surrounded them is gone after last year's finals loss to Doublewide and regular season losses to Sockeye, GOAT, and Doublewide this year.  They lost key veteran pieces. Plus there's speculation that the new Nationals format doesn't play to Revolver's strengths as much as the old format — which valued depth and consistency in pool play more than top-heavy rosters in knock-out rounds1.
Revolver in a Nutshell
Overall Indicators:
Overall #1 seed at Club Championships
2012 Nationals Performance: Second place
#2 in Ultiworld Power Rankings
#1 in Skyd Power Rankings
#1 in USAU Club Rankings
Positives:
Fundamentally beautiful and possess excellent trust in each other.  Least likely team in the field to suffer a mental breakdown
Stacked at the top with three players from Team USA: Kittredge, Ashlin Joye, Mac Taylor
The most two-way team in Ultimate.  Every player on the roster plays hard on both sides of the disc; everyone gets involved in the offense
Best in the world at setting up hard cuts and clearing offensive space for each other
Question Marks:
Lost key handlers in the off season, which may have hurt team vision more than pure throwing execution.  Kittredge has moved closer to the disc, for better or for worse
End zone offense struggled at the Pro Flight Finale and, at times, in the West Coast Cup
Not huge. Will give up size to Doublewide and perhaps some of the other more athletic teams
Season Recap:
Revolver has rightly been considered among the favorites to be crowned National Champion every year for the past four seasons. While that hasn't changed this year, there is a sense that they aren't quite the same juggernaut as they have been in years past. The rise of other teams like GOAT and Johnny Bravo along with the increased parity across the Division has relegated Revolver's excellence to a quieter story this season.
Notably, though, the team's resume is almost identical to last year's. In 2013, their regular season losses are:
– 15-14 to Ironside
– 17-16 to Sockeye
– 15-12 to GOAT
– 15-11 to Doublewide
In 2012, their regular season losses were:
– 13-11 to Ironside
– 15-11 to Doublewide
– 16-15 to Sockeye
At least on paper, there's little reason to think this year's team is any weaker than last year's. Their systems are outstanding and, despite some key losses including the likes of Robbie Cahill, Mark Sherwood, and Bart Watson, they still have a handful of the world's best players on their roster, and some excellent pickups.
They began their season at the US Open, while many of their players were still in the midst of the Major League Ultimate season, playing as the San Francisco Dogfish.
Their polish, as compared to some of the non-pro teams, was obvious, and they had little trouble dispatching most of the competition. As expected, though, they were challenged by Boston Ironside (who incidentally they also matched up with in the MLU finals a week later), who beat them on double game point in one of the season's best games during pool play before they avenged that loss in the finals (also on double game point).
The team didn't take the field again until after their World Games players returned from Cali, Colombia, with gold hardware. They faced off against some of the West's best at NexGen's West Coast Cup. They got a solid win over Johnny Bravo, 15-12, and took down Rhino and Japan's Buzz Bullets, but fell to Sockeye in another nail biter, 16-17.
At the Pro Flight Finale, we saw perhaps the biggest glimpse of Revolver's weaknesses. They fell to GOAT in the first round of pool play, a game that vaulted GOAT into the conversation for the top seed at Nationals and one that clearly marked this year's unpredictability. Revolver only managed wins against two teams (twice each) in Davis: Ring of Fire and Chain Lightning, both of which had lackluster regular seasons and are headed into Nationals in the bottom half of the field.
The San Francisco crew only had one chance against a non-Southeast team. It was a rematch of last year's National Championship final against Austin Doublewide. They were simply outmuscled and outworked, falling 15-11.
Revolver showed signs of red zone inefficiency, having trouble getting the disc into the endzone while trying to work through Kittredge to take advantage of his height and athleticism. They looked like a team that was still figuring some things out.
But we've seen Revolver evolve enough times in the past five years to know that they will arrive prepared at the Club Championships. They are still perhaps the team with the highest likelihood of a semifinals berth. Regular season losses are par for the course for Revolver — expect another excellent showing at Nationals.
Playing Style:
Revolver is a unique team: They have three Team USA stars, including the most feared athlete in the game (Kittredge), but truly seem to embrace a team-first attitude.  And that's not just an eye test.  We tracked statistics on last year's semifinalists at the US Open, including Revolver.  One arguable weakness in our current analytical system is that some of our metrics, such as the Ultiworld D Rating, usage rates, and Expected Contribution, in part rank players based on whether they outperform their teammates.  We quickly found that Revolver players tend to play more similar roles and have more similar stat lines than other elite teams like Ring of FIre or Doublewide. And lesser-known players like Nick Schlag and Joel Schlachet ranked equally important to the Revolver effort as their bigger named stars.2
What does that mean practically? On offense, no one on Revolver gets fewer than 5% of the touches while they are on the field, and only a few are under 10%. On the flip-side, only Joye and Taylor get more than 20% of those touches3. Revolver's scorers and assisters are also varied; there's ten rather than two guys that other teams need to lock-in on in Revolver's endzone offense.  And there's no one Revolver defender who generates most of Revolver's blocks, though Kittredge and Andrew Hagen did that well at the US Open.
The shared approach generally helps the team's playing style. Revolver has played with both horizontal and side stack movements this season but often begins offense initiating from the side. Sometimes Kittredge cuts first but other times it will be another offensive player who clears out space and starts the motions. Overall the offense does an excellent job of starting their cuts early, both in time and in space, beginning a cut motion and getting defender on their heels before they are fully isolated in space. When it's clicking, the offense is excellent at maintaining spacing and spatial discipline.
Kittredge is, of course, someone to watch; he's found himself in handler positions at times this season. Lou Burruss has mused extensively about the advantages of featuring big and fast receivers in the endzone set, and his touches in that zone appear to be increasing.
But Revolver struggled at the Pro Flight Finale to execute in the red zone. GOAT had some success by clogging up those "vision" lanes, and Revolver wasn't quite able to find the open man at the right time. The other offensive sticking point appears to be deep shots. After losing a ton of handler talent in the offseason, Revolver has sometimes been a half-second late noticing the deep cut. That can result in either a holstered opportunity to score deep, or, if the throw goes up anyways, a hanging disc that wastes the precious initial speed advantage Revolver usually has on their opponents. Both Ring and GOAT were able to chase down floaty hucks on Kittredge in Davis. 
Revolver gets great defensive buy-in across the roster, primarily by playing tough man defense. Our US Open stats were particularly impressed with Schlachet, Schlag, Nathan White, and Hagen; a more subjective eye thinks that Hagen is particularly underrated on that end. He's been one of their biggest additions this season.
Mac Taylor's omission from that group probably relates to the fact that he often takes one of the toughest match-ups, and he also bears a ton of the offensive work for the D Line after the turn. As a whole, the defense is a bit short and both GOAT and Doublewide threw deep on Revolver at the Pro Flight Finale. Don't be surprised if other teams look to go after that weakness at the Club Championships, but it also wouldn't be surprising to see Revolver play against long shots better.
Likely Ceiling: National Champion. Revolver has the talent and pedigree to win another title. It would be their third in four years.
Likely Floor: Semifinals exit. Given that they should have a light Thursday, Revolver's chances of getting to the finals for the fifth straight year seem good. It's hard to imagine they won't make at least the semis. Their biggest danger? A potential matchup with Sockeye in the quarterfinals. But, when it counts, Revolver always seems to come away with the victory over their former Regional rival.
Worst Match-Up: Doublewide. The Austin squad has beaten Revolver in three straight "meaningful" games (we're throwing out the pair of wins at this year's US Open, where Doublewide had a skeleton roster). Doublewide always seems to bring their highest energy and best game against San Francisco, and their athleticism tends to neutralize the effectiveness of Revolver's big deep weapons like Kittredge and Taylor. If anything, Doublewide will think they have an advantage in the deep game and would look to exploit it as much as possible.
---
There was even talk as late as last year that Revolver's team-first approach was misguided and that they should play their stars more. It's not clear how accurate that criticism is; Revolver played their studs as much or more than Doublewide did in last year's finals. http://ultiworld.com/2012/10/28/doublewide-disarms-revolver-to-win-first-title/ ↩

You can check out the comment thread in that link to read more criticism of our statistical methods as it applies to Revolver. ↩

This is what we term "usage rate"; the number of touches you use when you are on the field, out of the potential number of touches ↩