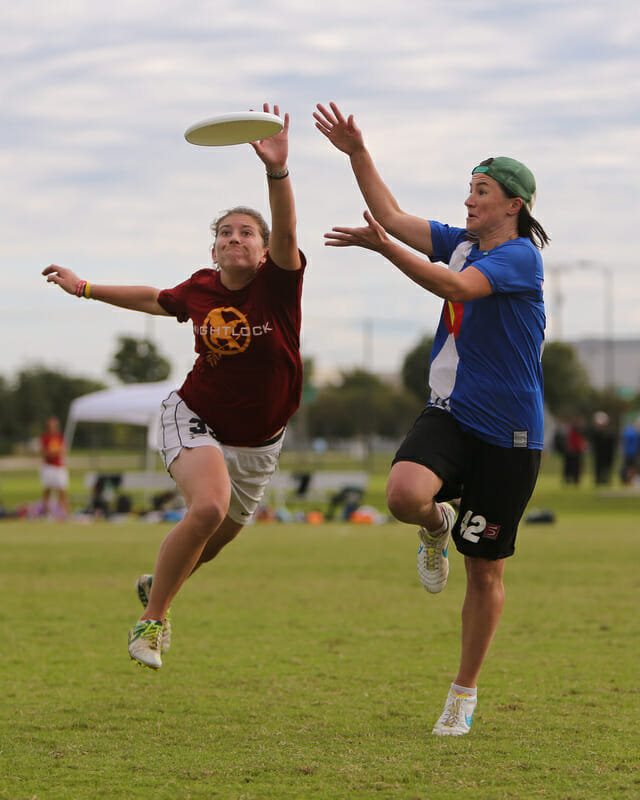 Friday's prequarters round brought a new level to excitement to the second day of the Club Championships. Seasons and Pro Flight dreams hung in the balance as teams ratcheted up the intensity in the chilly, overcast conditions of the Texas morning. Thursday's surprises and disappoints may have set up the bracket, but they no longer mattered once the games started. It was all about what a team could do now.
Molly Brown vs. Nightlock
As two energetic and young teams looking to make their mark on the Championships, Molly Brown and Nightlock had an opportunity to make a statement in their prequarters matchup. The Bay Area team took an early lead with a couple of breaks, but the game stayed close throughout the first half. After a Molly Brown layout score to make it 5-6, Nightlock responded with a bladey flick from Alina Kagan to Grace Laidlaw to push the lead back to 7-5. Dena Slattery, one of Molly's top performers, put up a flick huck that Lindsey Cross would swallow up over a pack of defenders to make it 7-6. Nightlock would capture the first half with a smooth O point, however, 8-6.
At half time, Molly Brown coach Catt Wilson emphasized handler activity and the intense defense they're making their trademark. The game felt up for grabs in both huddles and on the sidelines.
The second half started in favor of Nightlock, with them scoring a pair of points to take a 10-6 lead. Both points were frenetic and full of bids and tight plays. That energy was drained on the following point, when a lengthy point ensued; it was so lengthy that during two separate injury timeouts, players were begging to be subbed out because they were exhausted. Nightlock would win that one, too.
With the other teams having wrapped up their games, the sideline swelled into a sizable crowd. The intensity level was palpable. Molly Brown pushed back with wild points featuring still more bids, difficult plays, and wind-affected throws. Nightlock had a chance to win at 13-10 (the soft cap was on), and Molly Brown made a goal line stand after a Bay Area timeout, forcing a turn. Denver immediately got up great deep look to a diving receiver to make it 13-11 and keep their hopes alive. A lengthy back & forth point ensued, with Molly coming close, but the hard cap made their comeback attempt merely that. Nightlock would cap it off for 14-11 in a game much closer than the score indicates.
Traffic vs. Capitals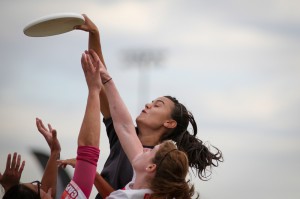 In Ultiworld's streamed game, Vancouver Traffic took on Canadian cross country rival, Toronto Capitals. Traffic's second place finish in Pool D came after a double game point loss to Showdown and double game point win over Nemesis; Caps had lost a double game point to Ozone in pool play as well.
Caps began the game with back to back breaks to go up 2-0, with a number of Traffic's turns coming from former Capital Danielle Fortin. That lead was given back in short order, due to poorly executed offensive sets, and found Toronto down 2-3. Traffic, relying on strong cutting from Mira Donaldson, Candace Chan, and Jen Kwok, and Capitals, turning to scrappy play from Sarah Bobak and Sarah Kidd, traded points. Traffic seemed in control, making fewer gross errors. Traffic capped off the first half with another break, 8-6.
The second half opened similarly to the first, with Caps getting two scores in a row. The low energy that had permeated the sidelines for the duration of the game began to subside, with a sense of what was at stake creeping into the game.
At 11-11, the teams would compete in a marathon point, complete with multiple timeouts, a variety of injuries and corresponding substitutions, and of course, turnovers. When Traffic finally won that point, a 12-11 lead looked very scary with the cap situation pressing in. That sense of doom grew stronger when Anne-Marie Carey got a piece of a handblock and Kira Frew intercepted the ensuing throw on the Caps' goal line, before flipping in a score for 13-11.
Capitals showed no quit, despite tired stars. Malissa Lundgren's second half was markedly better than her first and Hadiya Roderique began making her presence felt on defense. In the end, Caps would get back to back breaks, a deep shot finding its mark and giving Caps a short field to score on to win, 14-13 and upset the higher seeded Vancouver.
Ozone vs. Nemesis
After experiencing a very difficult first day filled with miscues, Nemesis was looking to return to form. The wind hurt Ozone from the get go, overthrowing shots to the endzone while Nemesis had little trouble moving the disc. Lindsey Hack was an important thrower for Chicago, as was Kelly Johnson, who needed to have a more impactful day.
Nemesis took a big lead early, go up 5-2, taking advantage of a flat and out of sorts Ozone. A layout score from Nemesis gave them an 8-2 half time lead. It would never be close, and Chicago won 15-7 to move on to quarterfinals.
Showdown vs. Bent
An extremely messy game, featuring maybe the most turns of any game of the tournament so far, took place between Showdown and Bent. Neither team gained a ton of traction and Bent's scrappiness allowed them to stay with a more talented Texas squad. Showdown would win the capped game, 11-8.
All the Rest
Many of the other games were not so close.
Top seeds Fury and Riot dismantled Nova and Schwa, respectively, by the score 15-3. Scandal consistently outplayed Phoenix on the way to their 15-10 win. Brute Squad rebounded from a very weak Thursday to easily dispatch Heist and send Madison packing.