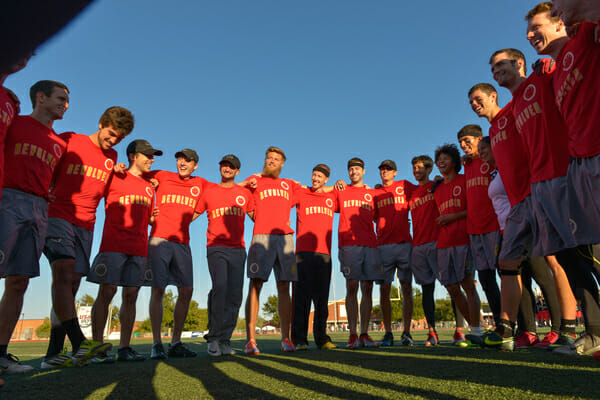 FRISCO — When USA Ultimate announced the new National Championships format on September 5th, analysis — much of it critical — followed swiftly. One of the foremost complaints was that the new structure – which eliminated power pools and sent all teams into the prequarters on Friday – would reduce the need for depth, since teams would no longer need to grind through five to six games just to reach the quarterfinals, and therefore be less likely to crown the truly best team.
That was proven plainly false this weekend in Frisco.
San Francisco Revolver claimed their third title in four years not because of how many points Beau Kittredge and Ashlin Joye played in the finals but because of how few they played before them.
"I had to play very little," said Kittredge. "I played, but I didn't have to play very hard for the first two days. If you take five games and only have your best player play 20 percent of the tournament up until semis, that's a great thing. Some of the other teams like [Johnny] Bravo and Doublewide have to play their stars. They have to fight to win against whatever seeds they were playing against, just to get out of that pool in a good spot. Our offense — which has a lot of the good athletes on it — only played maybe 20% of the first five games, which makes it easier to come out fresher."
While Revolver enjoyed the benefits of being the one seed and having less difficult games on Thursday, many teams would still have needed a lot from the top end of their roster to win against PoNY and Truck Stop. Revolver was able to cycle in many of their bench players and still win comfortably because they make a conscious effort to build depth in the regular season.
Reducing the number of games during the tournament doesn't make the games easier, it just means everyone has more to give. Look at the path of Revolver: three games on Thursday, two on Friday, one on Saturday, and one on Sunday. The long recovery times make for more explosive play.
"I think that as you make the chunks of ultimate smaller, even down to single games a day, the intensity goes up," said Revolver coach Mike Payne. "Beau played a lot more in the last two games than he did earlier in the tournament. And if he had had to play that much in the earlier games, he would have been burnt because the level of athleticism in these games is so high."
It's no surprise that the semifinalists – Revolver, Sockeye, Ironside, and Johnny Bravo – are exactly what you might have expected from the same tournament played under the old format. These are established programs that have built rosters 27 deep. Teams that really leaned on a handful of players to come up big for them during the year – GOAT, Sub Zero, and Doublewide (to some extent) – saw early exits.
Johnny Bravo captain Ryan Farrell called this year's Revolver team the weakest it's ever been. The San Francisco team had to deal with the retirement of some of the very best players in the world in the same year that Bravo and Doublewide made splashy offseason roster moves to increase their top-end skill. And yet it is once again Revolver with gold around their necks.
"Losing Robbie [Cahill], [Mark] Sherwood, and Bart [Watson] was a big deal," said Payne. "But basically we have eight new guys on this team. And a lot of them were really young. And we got to mold them any way we wanted. We don't have anyone that can replace [the retiring players]. But we have five guys put together that can match that."
With new, raw talent also comes a fresher, hungrier team. Over the course of a season, that matters. Kittredge told me at the US Open about how some of the newly-departed players had lost the drive to win, which he felt cost them at last year's Club Championships when they fell to Doublewide in the finals. He had high praise for the work ethic of the rookies.
"When you see the guys out at the track with you, at the gym, doing the hill workouts, you're like, 'this is a team that really wants it, this is a team that wants to play,'" said Kittredge. "Last year, you'd see some of the veterans come out to one workout. And you're like 'these guys don't want it.'
"Now you have people committed the whole season to get better and better. We show up to these big time tournaments and its like, 'OK, everyone has put in all the work that's needed,' which is a cool feeling to have."
That work paid off. It afforded them the opportunity to rest their starters until the semifinals and, there, to simply outwork and outlast Johnny Bravo in an ugly, turnover-filled game.
It's easy to look at the finals featuring the two top programs of the past decade and argue that the parity we thought we saw earlier this season was a sham, a mirage created by the Triple Crown Tour's rigid format. But there really was parity – at the top. It was at the bottom of the rosters, in the trenches of a four day tournament, that decided another victory for Revolver.
"We saw that it was pretty much a wide open game [at the Pro Flight Finale]," said Kittredge. "Anyone could have won this tournament. It was going to be the team that put in the work after that tournament, to be able to take the bodies out to keep fighting and fighting. That's exactly what this turned into. We wanted to keep on punching for as long as we could stand."
They punched their way to gold in Frisco.