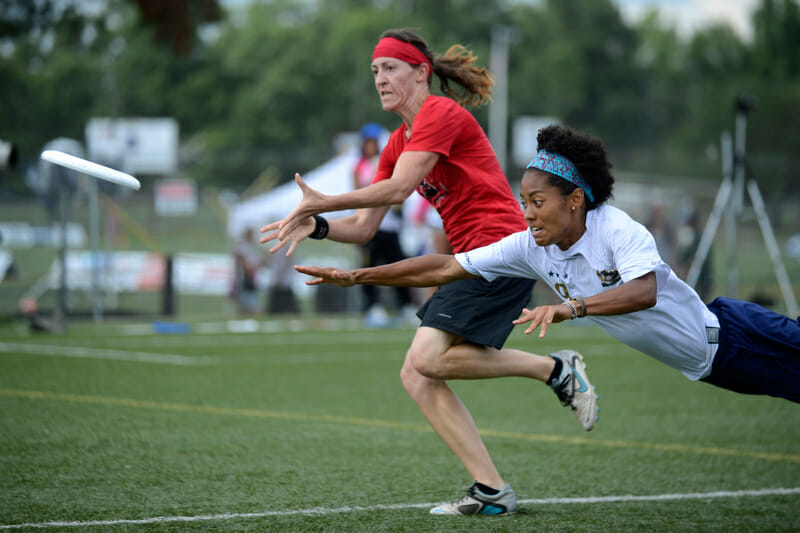 For over a year, we've been working on improving statistical evaluation of Ultimate teams and players. One of the most exciting parts of that project is the tracking of elite club teams at the US Open and Club Nationals. Thanks to wonderful volunteer coders, the Ultiapps statistical tracking system, and the support of VC Ultimate, we were able to track every pass from many of the top teams at these high profile tournaments.  If you would like access to the numbers generated, you can subscribe to the Ultiworld stat packages.
Of course, numbers alone will never be able to tell the story of the top players.  We picked our first and second All-Club team using both subjective analysis and the advanced statistics, along with USAU's statistics when advanced stats were not available. We know that our tracking system isn't perfect: We only tracked five women's teams all season (some with more games than others), we don't get every pass perfectly, our yardage figures are just estimates, amongst other issues.  But having an idea of the faults helps us incorporate the valuable statistical information even better.
All-Club 2nd Team
Catherine Hui (Traffic)
Hui's role on Traffic is very similar to the one Lien Hoffmann fills for Nemesis: the do-it-all cutter who demands a defensive answer. It isn't uncommon for a Vancouver possession to begin with them sending "Chewy" deep from their horizontal stack to just out-sprint her matchup. Because she's not afraid to put up a huck either, she puts her defender in a lose-lose proposition.
Her scoring efforts were significant at Nationals, with 15 goals (T-2nd) to her credit. She added 6 assists to that stat line, and despite being highly involved in Traffic's offense – and being one of the few players to play defensive points as well – had just 7 turnovers.
Vancouver was able to crack into the Pro Flight for next season in large part due to how effective Hui was at the Club Championships.
Katey Forth (Showdown)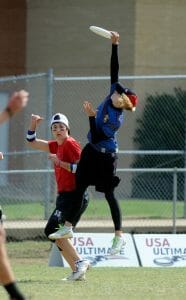 Showdown's rise from the third seed in Pool D to the semifinals was in large part because the players around star Cara Crouch raised their game. Chief among them was Katey Forth, along with Sarah Blyth, who displayed solid all-around abilities at the Club Championships. Forth provided a versatile threat that offered a great complement to Crouch for the Showdown offense.
Forth's ability to threaten defenses with multiple angles of attack is one of her strongest attributes. She tallied 7 goals and 16 assists (T-4th) at nationals. Forth's 16.85 Yards Per Offensive Possession were 2nd among all players tracked, higher than Crouch's despite a lower usage rate. She also had a higher Offensive EC than her acclaimed teammate, and posted a top-10 rating in our Ultiworld D metric.
In addition, she was also able to bring some big playmaking to the table. At 5'6″ and 38 years of age, it was very impressive to see Forth in the air, winning battles against some of the best athletes in the division; at least twice this year, she's gone up against Lien Hoffmann and won.
Robyn Wiseman (Heist)
Wiseman has been something of a known quantity in the women's division, but despite opponents knowing she posed problems that required effective solutions, many had trouble keeping her from dump cutting and throwing her way to the endzone. A hard working and physical defender on the turn, Wiseman was clearly the centerpiece of Heist's offense and their emotional figurehead.
The numbers for Wiseman impress. Her 20 assists tied for the lead at nationals. It would be irresponsible to ignore her humongous turnover statistic, as she racked up 39 at the tournament. While that is 20 more than any other player, it is prudent to look at the context. Like Lundgren, Wiseman was burdened with a dominant percentage of her team's playmaking throws, and the offense wasn't afraid to play for field position.
That could be because they have confidence their offense – particularly Wiseman – can get the disc back. With 9 Ds, Wiseman tied for 3rd at the Club Championships. While perhaps inefficient, Wiseman and Heist's brute force approach often yielded results. Wiseman's physicality and willingness to sacrifice her body also lead to some spectacular layouts and grabs.
Katy "Butters" Craley (Riot)
It is fair to refer to Craley as one of this season's breakout players. From the beginning of the year to the end, she was one of the most productive elements on a Seattle team that was clearly one of the best in the field. She's lining herself up to be a force inthe scene for years to come.
As one of the top downfield players on the Riot defensive line, Butters used her athleticism, size, and grit to produce one of the most solid defensive stat lines in the division. Impressive rating in both our defensive metrics and USAU's stat keeping (which only tracks Ds) speak to her defensive abilities.
With Calise Cardenas and Sarah Griffith on the offensive line, Butters was given a large role with the Seattle defensive unit. She was able to deliver on that responsibility and complimented her defensive performances with strong offensive play as well. Craley is rising up the ranks and is one her way to becoming be one of the top players in the women's division.
Anne Mercier (Scandal)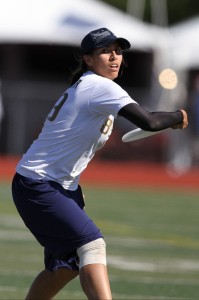 The more the world sees of Anne Mercier, the more divided opinion on her may become.  One thing that both the stats and the eye test agree on, though, is that Mercier is one of the most impactful players in the world.
The case against her selection here could be two-fold: She only joined Scandal midseason, which limits her aggregate impact on the team, and she posted a below-average completion percentage of 85%.
At least for us, the flip side carried more weight and led to her selection.  Despite the midseason arrival, Mercier immediately stepped into the center offensive handler role for Scandal at the Pro Flight Finale.  That speaks to the level of trust and respect that her teammates and coaches have in her.
The more important consideration is the may be no other player in the womens division that had Mercier's level of offensive impact. For the players we tracked, she was #1 in both usage rate and involvement yards per offensive possession played.  The scary part is that it wasn't even very close.  Mercier is excellent at spacing and setting up her reset cuts; that helps with her usage.  Her ability to throw deep helps with her yardage, but so does her ability to get upline cuts for positive yardage.  One added bonus is that her defensive metrics rate well; Scandal would sometimes cross Mercier over to D Lines.
Lakshmi Narayan (Fury)
Choosing a player from Fury to go into our stat-heavy All-Club teams is a nearly impossible task.  Almost everyone rates well, but no one on Fury plays enough minutes to compete with the big names on other teams in terms of numbers.  Even on a point or possession-adjusted basis, Fury spreads the disc around more evenly than other teams, meaning that no single player's usage rate or yardage numbers look amazing.
Snyder is unquestionably their most impactful offensive player, but struggled a bit with injuries down the stretch and didn't have her finest performance in the Finals.  Liz Penny and Anna Nazarov also rated strongly and you could form convincing arguments for their inclusion.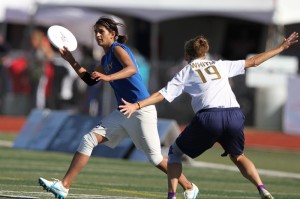 Though Narayan is a lesser known name in that group, her strong performance at the US Open pushed her season long stats to the top of the Fury team.  When you watch her play, you see tell-tale signs of experience in her excellent spacing, timing, and decision making.  The stats seem to back that up, suggesting Narayan was in the top third of all of our favorite statistical categories even if she didn't dominate any single one; she rated especially high defensively. In this respect, her selection is almost a stand-in for what the typical Fury player looks like: efficient and intelligent, especially in utilizing field space, and willing to play hard on both sides of the disc.
Opi Payne (Scandal)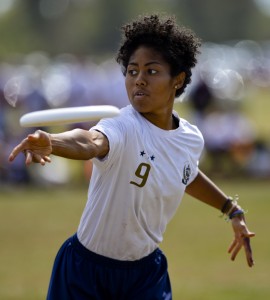 Octavia "Opi" Payne brings something to the field that cannot be duplicated.  Our stats aren't in love with her performances at Nationals and the US Open. But anyone who watched Scandal this year can speak to the immeasurable benefits of Opi's presence, and we knew we had to reach beyond the numbers.
There are times when Payne's sheer talent seems to be beyond her control. Her throwing range allows her to take late and challenging shots to her highly athletic receiving group on Scandal's D line. The ability to take to the air for breathtaking layouts results in her leaving her feet for plays few others would dare. Opi's performances are high wire acts that leave the crowd gasping at every turn.
Her team relies on her to do what others can't or won't. She became the main offensive player on Scandal's D Line, generating the most touches of the players in that unit. The scoring (goals and assist per offensive possession) and yardage metrics are most favorable to her, which makes sense: Watch Opi and you'll quickly notice her explosive upline cutting, long bombs, and momentum-snatching playmaking, Payne was able to reshape entire games by taking over in critical moments. Capitals and Molly Brown can both attest to that.
With Payne, it is so much more than goals, assists, and blocks.
| Name | PPG | G+A/OPoss. | Yards/OPoss. | Usage | Compl. % | Def. EC | Off. EC | UW D Score | Total EC |
| --- | --- | --- | --- | --- | --- | --- | --- | --- | --- |
| K. Forth | 11 | 0.19 | 16.85 | 16.7 | 88.24 | -0.15 | 2.79 | 1.86 | 4 |
| Mercier | 8 | 0.23 | 19.55 | 26.2 | 85.42 | 3.55 | 0.07 | 4.25 | 3.66 |
| Narayan | 6.8 | 0.19 | 11.78 | 14.8 | 95.45 | 0.3 | 4.66 | 0.6 | 6.77 |
| "Butters" Craley | 7.43 | 0.13 | 10.12 | 9.8 | 87.04 | 0.03 | 3.81 | 0.35 | 5.4 |
| "Opi" Payne | 8.92 | 0.17 | 12.8 | 18.8 | 84.56 | -0.85 | 0.96 | -0.03 | -0.16 |