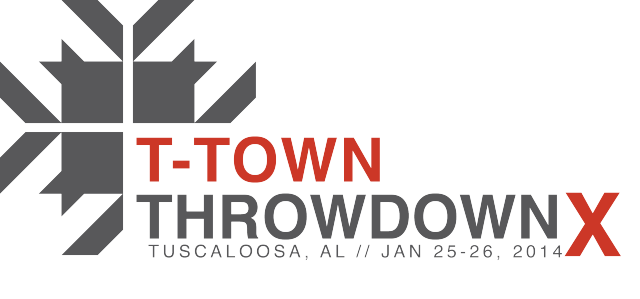 This year marks the 10th edition of the T-Town Throwdown tournament held annually on The University of Alabama campus in Tuscaloosa. What started as mainly an early spring tournament for Gulf Coast section teams has blossomed into an attraction for teams from all over the country. The furthest traveling team in this edition is University of Arkansas, with a drive of 547 miles. Their not the only teams to make such a long trip, as Xavier and Indiana are embarking Friday on trips over 500 miles as well. With two power pools in place, the competition will be top-notch in Tuscaloosa this weekend.
Power Pool A
1. Central Florida – Central Florida returns to T-Town Throwdown looking to be the first team to ever three-peat in Tuscaloosa. Just as in the last two seasons, they come in as the obvious favorite. But with the recent developments involving Mischa Freystaetter, this will be the first look at the Dogs of War minus their 6'7'' deep threat. That being said, don't expect Coach Andrew Roca to let this be much of a setback for UCF. The Dogs of War have arguably the best top 4 in the Southeast and maybe even the country. Captains Alex Bullock, Jeremy Langdon, Mike Ogren, and John Best are sure to keep the disc moving all weekend. With their immense versatility, and always physical defense, UCF would be a tough team to bet against as they go for a three-peat this weekend.
2. Kennesaw State – KSU comes in seeded high because of wins over both Alabama and Tennessee at Classic City Classic in November. The offense is led by Will Blythe, who might be the fastest big man in the Southeast region. Kennesaw State packs quite a punch with a cutting line that might even be able to counter the defense of a Central Florida. On the defensive side, Kennesaw's Sun Choi should be able to neutralize any main handler he sees this weekend. His speed and coverage ability will only matter if the cutters can work for him and his big throws after a turnover. Lastly, captain Steven Hedges is a 5th year transfer from UGA that will be vital in KSU's chances for success this weekend.
3 – 4. Indiana showed some promise in the 2013 season that included a universe point loss to Nationals qualifier Illinois at regionals. But 2014 is a new season, and after a disappointing consolation bracket finish at Steel City Showdown this past fall, it will be interesting to see how Indiana can handle the out of region competition. LSU had a very up and down weekend at Classic City Classic. But they were without playmakers Garrett Yetman and Tim Lala. And with Tom Echols suffering a gruesome elbow injury, Classic City Classic was rough for LSU. Yetman and Lala will both be in Tuscaloosa this weekend and while they have one of the youngest teams in the Gulf Coast, a two point loss to UCF in November might be indicative of a possible upset this weekend.
Power Pool B
1. Auburn – Auburn had an impressive showing at CCC, and is looking to challenge Central Florida for the title this year. Led by TJ Martin and Ryan Landry, Auburn's strength comes from their focus on fundamentals. Martin and Landry lead a rookie class of five Birmingham YCC players who will look to keep the mistakes minimized. With so few turnovers at CCC, Auburn was able to hang with some powerhouses this fall. Evan Boecking and Garris Bugg will need to make big defensive plays this weekend for Auburn to have a shot at the title come Sunday.
2. Arkansas – Arkansas started their fall by winning their pool on saturday at Missouri Loves Company in November. After a tough draw that began their sunday against Wisconsin, Arkansas went winless to finish the weekend. Still, that earned them the 3rd overall seed in Tuscaloosa. Such a high seed this weekend is a good chance for Arkansas to rebound after a turbulent 2013 season. A season that ended with a winless weekend at the Ozarks sectionals, Arkansas will have to play to the fact that many Southeast teams don't see them, thus giving them a chance to surprise this weekend.
3 – 4. Tennessee came out of CCC with mixed results, but they were able to grab an important win over in-region rival Alabama. 5th year player Matt Ractliffe will need to make plays for Tennessee to have a shot at breaking seed. Ratcliffe is one of many Tennessee players that has at least one summer of club experience, and with a strong Junior class including Captains Mitchell Shope and Paul Lally, no one knows what to expect from Agent Orange this year. Alabama enters the 2014 season with a strong freshman class that will help replace a large group of core players from 2013. Alabama returns Brian Moore and speedster Austin "Draco" Taylor, both of whom lead Yellow Hammer this year as captains. As Alabama attempts to stack its defense with athletes, their wins will have to come from an offensive consistency that limits turnovers.
Pool C
Xavier is the top seed of the lower pools due to their impressive wins at the Steel City Showdown this past fall (Carnegie-Mellon & William and Mary). They also made it to 25th in the Ultiworld D-III power rankings this year, proving that in the talks for D-III nationals, Xavier should not go unnoticed. They'll be challenged by Southern Mississippi and Mississipi State, which is a tale of two programs. Southern Miss has been consistently on the rise in the Gulf Coast and with some new playmakers like cutter Gary Lee, they could put together an upset or two this weekend. Mississippi State is seemingly on the decline, but with the addition of coach Cody Smith and the emergence of handler JT Williams, Mississippi State might not have much of a setback after all. Harding is always competitive in D-III, and travels to the gulf coast frequently. Their knowledge of some of the teams down south may give them a slight edge early. Vanderbilt, on the other hand, is in a rebuilding mode after losing deep threat Joe Wagner. Wagner was a dominant force in the Gulf Coast section in 2013 and will be hard to replace on both sides of the disc.
Pool D
Davidson will look to meet up with D-III competitor Xavier, but first they'll have to get through a deceivingly difficult lower pool. Georgia State is led by Brett Nelson, who always finds a way to convert strong athletes into solid Ultimate players. But this early in the spring, GSU might still be in the development stage. Ole Miss will be without their captain Sam Wilson for the spring semester, but will look to Matthew Riddle to take his place as a dominant force on the field. The top three of this pool could very likely be mixed in terms of final standings on saturday. UAB is in its inagural year as a program, but with an ultimate scene as thriving as Birmingham's, don't expect the Blazers to come out very slow. If UAB can utilize the club presence of Ironmen (Birmingham, AL), they have a chance at a good year. Wrapping up the pool, the Alabama and Auburn B teams will fight for the state title of ultimate programs.
Games to Watch
The "Bama Secs" blog will be live streaming some of the games from the weekend, including some of Ultiworld's games to watch for T-Town Throwdown.
Central Florida vs. Kennesaw State – This will be the matchup that tests how bad the loss of Mischa Freystaetter really hurts the Dogs of War. Kennesaw comes in with some of the tallest cutters in the region, which could cause Central Florida to match-up younger players on experienced cutters to prevent the bad match-ups. If any team will take down the Dogs of War this weekend, it could very well be Kennesaw State.
Alabama vs. Auburn – Although this is a 1v4 matchup, these two teams have some history that could make this game very interesting. At the Gulf Coast Warmup in the fall, both schools brought split squads, and both schools traded wins all weekend. With full squads in place, the knowledge of the other team compounded by the in-state rivalry could make this game very competitive.
Southern Mississippi vs. Mississippi State – This game will be a solid indicator of where these programs are headed this spring. As mentioned earler, USM will attempt to climb into the top half of the Gulf Coast Section, while Miss. State will try and avoid falling into the bottom half.
Pool Layout
Power Pool A
1. Central Florida
2. Kennesaw State
3. Indiana
4. LSU
Power Pool B
1. Auburn
2. Arkansas
3. Tennessee
4. Alabama
Pool C
1. Xavier
2. Southern Mississippi
3. Mississippi State
4. Harding
5. Vanderbilt
Pool D
1. Davidson
2. Georgia State
3. Mississipi
4. UAB
5. Auburn – B
6. Alabama – B