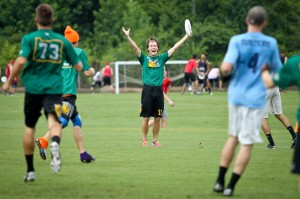 In each of the last two seasons, Oregon has been ousted from the College Championships in the semifinal round, despite coming into the tournament as the #1 overall seed. Wisconsin knocked them out in 2012; eventual champion Pittsburgh did it in 2013.
Coming into 2014 minus several key players, it might seem as if the window of opportunity has passed on returning to the championship game for the first time since the venerable Ben Wiggins led them there in 20031.
Unfortunately for the field, Ego still stands strong. Coach Jay Janin been instrumental in establishing a program that doesn't necessarily have to lean on its stars. Instead, a simple focus on fundamentals and eliminating turnovers has created a deep and talented roster that should still contend for the title in 2014.
Personnel Changes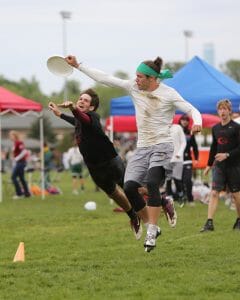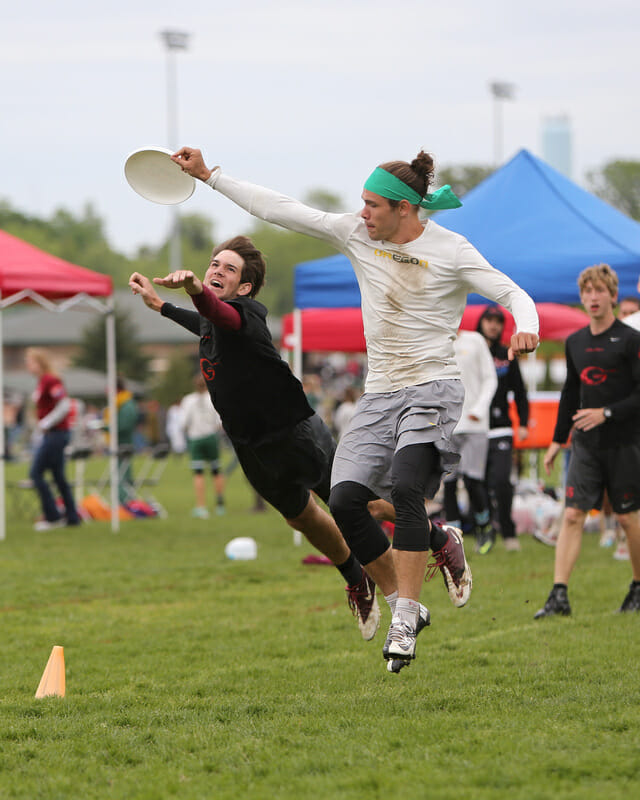 Oregon 2014 loses several players from its 2013 roster that impressively only lost four games. Six-foot-three cutter Aaron Honn, who played with the NexGen squad over the summer, is studying abroad for the year. Two-year Rhino and NexGen veteran Camden Allison-Hall has graduated, along with Ego 2013 captains Topher Davis and Tyler Cable. That's four big losses that Oregon will surely miss.
However, the roster has excellent depth, and players will be expected to step up. Charlie Wilson-Moses, Gabe Fruchter, and Brian Penner, impact players in the past, will be trusted to get even more touches on both sides of the disc this spring.
Wilson-Moses will mostly cut, but has big throws and can contribute to the offense in different ways. While no one person can replace Honn and Allison-Hall, Fruchter will do his best to stretch the field as a deep threat. And Penner, who played with Rhino this summer, is an excellent defensive player who will be called upon to shut down opponents' top offensive threats.
Captain Trevor Smith and Jack Slevin will anchor the offensive cutter set. Smith also points to Chris Strub, Mario Bundy, and Will Watkins as three relatively unknown players who have put in a lot of work and will see increased roles.
And of course, Dylan Freechild returns for his senior season. At this point in his impressive young career, Freechild has already won a Callahan Award, played on all three NexGen teams, led Ego to two semifinals and a quarterfinal at the College Championships, and in 2012 finished 10th at the Club Championships with Rhino.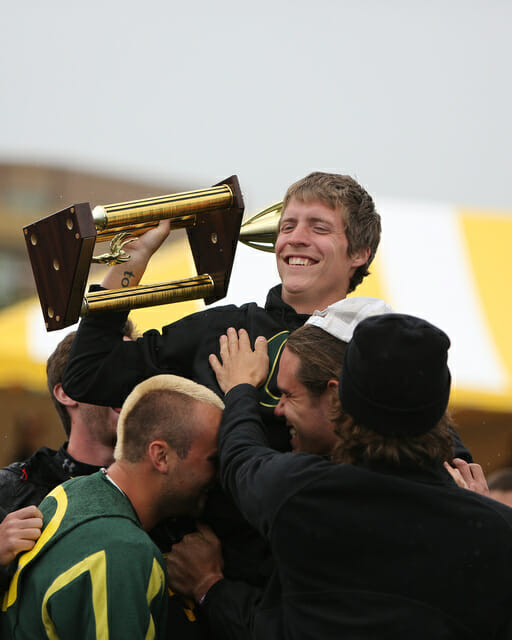 A versatile player with smooth throws, Freechild's biggest weapon is his perhaps unrivaled quickness. As a player, he won't be confined to any one role; rather, he will continue to be deployed to different positions based on present need. The 2013 Callahan Award recipient has the ability to get open from anywhere on the field. And, at any moment, he can also display the array of break throws he has at his disposal.
In 2014, teams should expect more of that. But with another year of playing with Ego, Rhino, and NexGen under his belt, there is nothing to suggest anything but improvement. From playing club with Rhino, Freechild says that he realized the importance of repetition and "eliminating errors by making the easy things second hand."
Playing Style
In 2013, Ego mostly ran a standard horizontal stack. Less standard is that, according to Smith, Janin has introduced a unique downfield cutting scheme to the horizontal stack that has been a huge factor in the program's offensive success.
Ego likes to move the disc quickly when possible, taking advantage of its athleticism. Whenever the cutting breaks down and nobody downfield is able to get open, the handlers are able to swing the disc among themselves, often gaining yards on upline cuts. At the very least, changing the point of attack opens up new passing lanes and forces the defense to adjust, or get burned. Freechild's strengths are maximized in this system as well; his penchant for the give-and-go can give the Oregon offense easy yards, which often leads to relatively easy scores.  
This style can be especially deadly after Ego forces a turnover. Players are completely willing to get the disc moving quickly to take advantage of anyone that is out of position. Even though working fast can sometimes lead to rushed or ill-advised throws, the opportunities gained by going for the fast break outweigh the occasional turnover.
The offense is loose with its assignments. A number of cutters are trusted to seamlessly rotate back behind the disc when such movement is dictated by the flow of the point. This allows for continuous cutting without any tempo lost by players returning to their "proper" position. For a team that moves quickly and tries to take advantage of any fast break opportunity, having this kind of flexibility helps them stay a step ahead of the defense.
On defense, Janin's mantra is a simple one: tight, gutty man-to-man defense. The dump defenders seldom poach. Instead, they prefer to stay close to their man, making the offense work for every completion. This disciplined defense creates opportunities for Ego's defensive playmakers to contest any loose passes, and challenges individuals to win their one-on-one matchup. For a program that is never short on athletes, it's a solid plan.
Coaching and Preparation
Coach Janin has been as big a reason as any for the success of the program over the last few years. According to Smith, Janin's leadership and experience have helped the team, especially in tight games.
Freechild says that Janin helped remove certain distractions from his game, and brought wise points of emphasis to the team, including "gutty defense, big liveside gainers, the elimination of turnovers, and a focus on fundamentals." These focal points and schemes have made Oregon a perennial contender on the college scene.
With a very athletic roster, the well-coached Oregon squad should still be able to make a deep run at the College Championships. Entering the spring season as the #3 ranked team in the Ultiworld power rankings, it's clear that Ego is one of the favorites to do just that.
Although the past two seasons have ended with a bit of a letdown, Smith doesn't see any reason to change the team's strategy or mindset. "We have beaten semifinal caliber teams throughout the regular seasons of both those years, so it's not an issue of play style."
Two losses don't call for any sort of radical change; the primary focus will still be on preparing the team to be the best that it can be. Even down a few very good players, Ego retains many contributors from the program that has only lost six sanctioned games over the past two seasons2.
Schedule and Outlook
The regional competition in the Northwest should be interesting. The University of Washington Sundodgers haven't made much noise at the College Championships recently, but the youth ultimate hotbed that is Seattle will always bring them fresh talent. So expect that the Sundodgers will be solid, despite losing Sockeye's Duncan Linn to the real world. The Whitman Sweets have a strong program as well. British Columbia and Victoria have been tough in recent years.
Oregon's first test of the young season will come on the 1st of February, when rival Oregon State hosts the 2014 edition of Colluvium. Ego will then travel south to face off against other nationals contenders at the President's Day Invite in San Diego, the Stanford Invite, and Centex in Texas. It is a rigorous schedule, but one that has become common among the top teams in the nation. It should prepare the team well for a good run at the College Championships.
Ego 2014 has to replace a few studs, but that is nothing new for any top college program. With an athletic, talented roster, an experienced coach in Jay Janin, and one of best players in the college game, Oregon has the tools in place to once again make a deep run at the College Championships.
Spring Tournaments:
Colluvium, February 1-2
President's Day Invite, February 15-17
Stanford Invite, March 1-2
Centex, March 15-16 
Coach:
Jay Janin 
Captains:
Dylan Freechild
Brian Penner
Trevor Smith
Charlie Wilson-Moses 
---
The 2003 team lost to Wisconsin in the championship game. UO's only 1st-place finish occurred in 1992 ↩

Ego 2013 went 33-4 with losses to Carleton, Minnesota, Central Florida and Pittsburgh. Ego 2012 went 33-2 with losses to Michigan State and Wisconsin. ↩