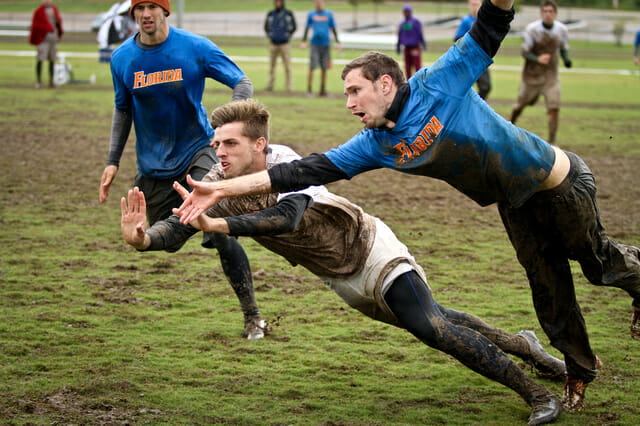 The 2014 edition of Warm Up, like usual, matched up many of the country's elite teams along side a collection of Nationals hopefuls. Unlike last year, though, which largely outlined a clear hierarchy with few surprises, last weekend's tournament was filled with upsets from unlikely sources.
What emerges is a less certain picture about the nature of this season than we have had in recent memory, as a number of stalwart programs struggled through roster issues, injuries, and tough losses. Will it mean anything come the Series? Is this just normal early season bumps?
Here's a look at a wild weekend from Tampa, Florida.
Texas Rolls To Undefeated Weekend
The full Texas recap is available here.
Powerhouses Stumble But Don't Fret
Coming into the weekend, it was clear that Central Florida and Pittsburgh — last year's finalists — were being labeled the "teams to beat." Every opponent brought their max effort in search of a signature win. For Central Florida, seeing every team's best look seemed to be too much over the course of the weekend.
On Friday night, defensive leader Brawley Adams re-aggravated a hip and ankle injury laying out for a Callahan against Pittsburgh. Saturday afternoon against Arizona State, Jeremy Langdon was hurt streaking deep for a huck during UCF's huge comeback win. On top of these two key playmakers, standout freshman Michael Fairley was having struggles playing consecutive points due to nagging leg injuries.
While coach Andrew Roca was far from naming these events as an excuse, it was clear that no one saw Central Florida's best game, except for defending champs Pitt early in the weekend. UCF took losses to Minnesota, Georgia Tech, and, in the quarterfinals, Northwestern.
Pitt had similar problems, with star cutter Max Thorne sidelined for the weekend. And with handler Pat Earles limited by nagging injuries as well, Trent Dillon became the face of the team very quickly. But even with solid performances from new freshman, Pittsburgh lacked the depth to string together multiple wins against quality opponents. They fell to UCF (twice), Texas A&M, and Florida State; wins over Tufts, Wisconsin, and Carleton secured a decent weekend for them.
Pittsburgh wasn't the only team with a difficult personnel change. Carleton has possibly the largest roster turnover in all of college Ultimate. Losing players like Simon Montague and Julian Childs-Walker forces a young roster to fill roles they may not be prepared for. When Ultiworld caught up with Carleton coach Phil Bowen this past weekend, he expressed frustration that "at this time of the season, we aren't conditioned enough to handle this many games." With CUT playing five rookies in large roles this year, they'll have to find a way to transition their roster if they want to rediscover success. Of the traditional powerhouse teams, they fared by far the worst, finishing just 3-6 with no quality wins.
Both Carleton and last year's Warm Up champion Wisconsin have had extremely limited time with outdoor practice this spring. One Wisconsin player noted that they have only had six hours of indoor field space since November. And with players delayed by weather for the Hodags, they were forced to compete with only 12 players for a majority of the weekend. They played without U-23 standout Colin Camp, who, although he was sidelined this weekend by an ACL tear, was in good spirits and assured Ultiworld that he would be back for the Series.
But, like Carleton, UCF, and Pitt, Wisconsin simply was not at full strength this weekend.
Surprise Performances
Some teams did actually appear on top of their game this past weekend in Tampa. Northwestern took the field by storm as they beat every opponent they faced aside from the two finalists, Florida and Texas. Their run included a double game point win in the quarterfinals over a speechless Central Florida. UCF freshman Michael Fairley said that it was just "effort and intensity" that made Northwestern such a difficult team to face.
No doubt that was coach Chris Vandervoort's plan going in to the weekend. It will be interesting to see how Northwestern plays after being thrust into the spotlight — and the Ultiworld top 25 — this week. They did have a light strength of schedule due to their low seeding at the tournament, but wins over Minnesota and Central Florida aren't flukes; they also played well in the fall.
Other surprise teams — at least in terms of the wins they landed — included Florida and Florida State, who had a very familiar meeting in the semifinals this past weekend. In that matchup, the energy was reminiscent of last years game-to-go to Nationals in which Florida State prevailed to take the final Southeast strength bid to Madison.
The game was a battle between the aggressive defense of FSU and the offensive minds of Florida star Bobby Ley and coach Cyle van Auken.
Van Auken used a a variety of offensive sets — standard vertical and horizontal stacks, a transition into what he called a "ho-vert," and later a very capable zone offense. FSU's impatience offensively led to multiple break oppurtunities for Florida late, allowing them to come back and pull the game out from under FSU.
Both Florida schools made strong cases for the Southeast deserving three strength bids come late Spring. Top performances from FSU's Chris LaRocque and Florida's Ley made for a matchup that is certain to play out again before the year is out.
Texas A&M is one of the favorites to be towards the top of the South Central this year, but they couldn't seem to string together wins this weekend. In their game against Florida, they opened with a 6-1 run, taking half 7-2. But Florida came out of halftime with an intensity that caught A&M off guard. After a similar situation occurred against Wisconsin, it became clear that while A&M without question has Nationals potential, they need to be able to play complete games and finish opponents. The problem seems to be with a lack of mental strength, which may be exacerbated by the leadership's inexperience.
An Unfortunate Asterisk
In years past, Warm Up has had observers in most of the games that mattered. But this past weekend, for whatever reason, observers were not on the field. With multiple Nationals contenders in attendance, every game was hard fought, knowing the implications the games could have in strength bid allocation.
Let me put it simply: there was not a single team in attendance this weekend that completely avoided taking advantage of the lack of observers. The standings from this weekend would have been shifted (slightly not dramatically) had every travel not been sent back, every down call impossible to dispute, and every box out in the endzone not called a foul.
As unfortunate as it may be, when college students dedicate a dozen hours a week to their craft, it becomes hard to not do whatever it takes to win. This isn't to say that all of the teams in attendance played "dirty" ultimate. It is just to say that at the highest level of college ultimate, the newly developed physicality of ultimate necessitates a third party ruling that observers provide.
Top Performers
Will Driscoll – Its obvious that the 6'4'' Driscoll is a deep defender's worst nightmare, but where he surprised his opponents this weekend was with his throws. Most teams that played Texas this weekend took the lesser of two evils and forced Driscoll to beat them with his arm. And he didn't disappoint. It should also be noted that in the finals, Driscoll's massive wingspan made him an impenetrable mark against Florida star Bobby Ley.
Bobby Ley – You could argue that Bobby Ley was the MVP of Florida Warm Up. Though he might not have been the best overall player, without Ley, Florida would not have made the finals or even the semifinals. The best way to describe his style is creative and improvisational. Halfway through a point, Ley would point to the back corner then throw a sixty yard backhand floater that hung for eight seconds but hit his cutter in stride. With Florida getting enough publicity, it's possible that Ley could snag a Callahan nomination before the year's over.
Trent Dillon – Trent Dillon is the new face of Pittsburgh's gameplan. This past weekend he ran a "Freechild" style of offense that ran his opposition dead. Dillon's break throws give him an ability to run the inherently efficient Pitt offense, an offense that utilizes all parts of the field. Dillon already has the Nexgen experience that could catapult him to stardom in the very near future.
Dalton Smith – Very similar to Dillon, Smith ran defenses into the ground for Texas A&M. His Doublewide experience makes Smith one of the deadliest cutters in the South Central Region, warranting the multiple endzone isolations that resulted in high percentage A&M scores. If Smith can improve his arsenal of throws to the likes of those listed above, he has a very good season ahead of him.
Honorable Mentions
Mitchell Bennett (Texas)
Pat Earles (Pittsburgh)
Elliot Erickson (UGA)
Karl Staber (Georgia Tech)