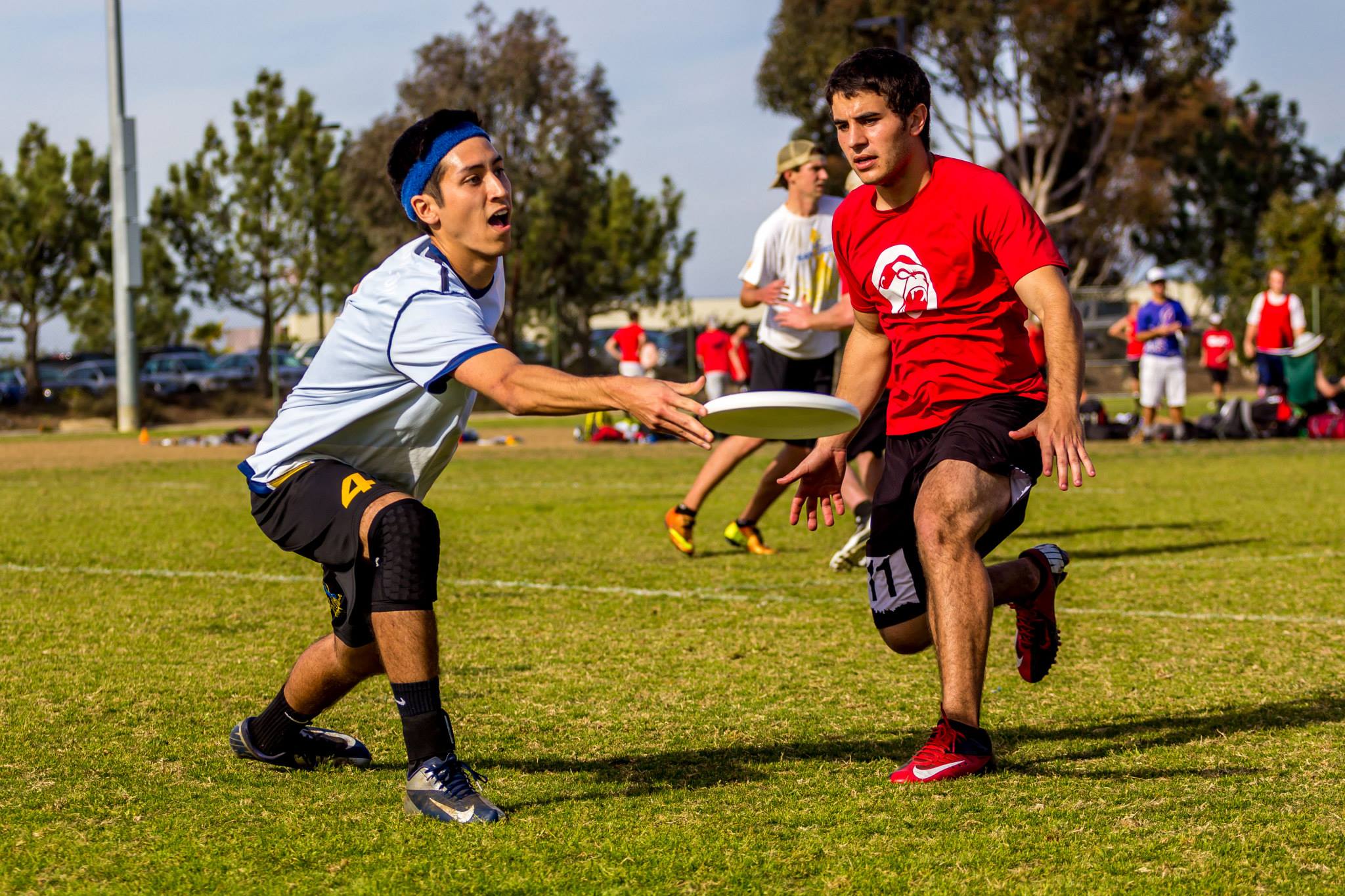 The clashing of Nexgen stars Jimmy Mickle and Dylan Freechild and Colorado's thorough stomping of the competition may have attracted the most attention at the President's Day Invitational in San Diego, but there were plenty of other stories spread among the fields last weekend.
Air Squids Notch First Loss Of Season
Despite dropping to Oregon 15-9 in the semis and taking their first loss of the season, the University of California-San Diego on the whole had an excellent tournament, further cementing themselves as not just the top team in the Southwest, but one of the better teams in the nation. Though the score indicates the Air Squids were thoroughly bested, and this is true, they seemed like a team that could play at Oregon's level.
The UCSD offensive line, comprised mostly of guys who have been playing together for four years, still looked pretty sharp, with plenty of handler movement and upline cuts. Most of their turns came on execution errors and the occasional poor look. Rarely did they look like they were stifled by Oregon's defensive pressure. If anything, the high number of UCSD drops revealed their fallibility in critical situations against elite teams, which is admittedly a significant problem. What the Air Squids did have clear trouble with as well was containing Ego's offensive attack.
Although many of the layout bids were there — UCSD even managed to get a break back at 6-5 after falling into an early 4-1 hole — they failed to really force Oregon out of their comfort zone. Freechild got open almost at will, even with UCSD captain Nick "Alamo" Smith's shadowing defense. Ego's Gabe Fruchter also consistently found ways to get open, especially deep and often just from well-timed continuation away cuts. While Oregon may not be as physically intimidating a team as say Colorado or Texas, they commonly exert the confidence and playing style of such a team, dictating against most defenses.
Despite the wide margin loss, the Air Squids nevertheless proved that they can run, at least offensively, with the best squads in the nation. They may still need work to beat quarterfinals or better teams like Oregon, but considering the chemistry and work ethic — word on the fields was that the captains told everyone to be prepared for a track workout Monday night — of UCSD, it may not be long before that gap between them and the highest echelon of college ultimate shrinks to nothing more than an 'any given Sunday' situation. Expect them to be in strong contention at Stanford Invite next weekend and battling it out with the rising Northwestern NUT in the finals of The Rock in Rockford, IL, on March 22-23.
T-Birds Struggle With Top Teams
Perhaps the most striking thing about University of British Columbia's system is that it almost seems like they don't have one. Sure, the standard elements of horizontal, vertical and side stack are there. But their movements are less mechanical and appear more in the style of jazz rather than, say, the formulism of typical cutting, where the common verse-chorus/cut-clear standards are replaced with a more flexible flow. Which is to say that one gets the impression watching the T-Birds that there's a certain mentality of "if it works, do it."
Now, that's not to say that UBC has no fundamentals or discipline. They're just as capable of taking thirty throws to score as the next team. Just that, when a team has four U-23 Canada players in Kevin Greer, Peter Yu, Fred Lam, and Keane Knapp, along with a solid supporting cast of veterans, the room for improvisation is a bit larger.
This adaptability and experience helped them top their pool of Arizona, University of California-Santa Barbara and Whitman without much trouble. Likewise, though Cal and Las Positas put up good fights against them on Sunday, UBC didn't have much of a struggle until they ran into Colorado.
The game looked close at the start, with teams trading offensive conversions to 4-4. Suddenly it was 15-5. And the final UBC score came as a result of a Colorado drop on a wide open huck.
Of course, that sounds bad. But there are a lot of reasons for the crushing 11-1 run to close the game. Errant throws on good decisions that just missed their mark, small miscommunications, random drops on in cuts, random drops on pulls, UBC layout Ds that got macked to Colorado players, the fog and swirling wind, Colorado's scary efficient offense, and just an all-around failure of execution.
It just seemed like nothing was going right for them. A good portion of credit is due to Mamabird's defense and ability to convert breaks. But, as good as Colorado was, it's unlikely that they're that much better than UBC. A lot of it just came down to an inability to execute.
The brutal trashing, however, did appear to have the positive effect of getting UBC pumped to play their final game of the weekend, an opportunity to avenge their Santa Barbara Invite finals loss to UCSD. Although the Air Squids still managed to pull out a double game point victory, the T-Birds most definitely looked more like the team they can be; if anything, their blowout loss to Mamabird gave them fire to come out that much stronger next time.
And, really, it's tough to call a weekend where the T-Birds went 6-2 overall an actual disappointment, especially when both of those losses were to very good teams.
UGMO Assert Themselves As Contender
Coming into the season with perhaps not much more respect than the minimum their program's history demands of any current incarnation — which is still quite substantial — California has, with each tournament, increased their stock and become an ever growing threat for Nationals contention. After an underwhelming eighth place finish at Santa Barbara Invite, where they went 3-5 but didn't lose any game by more than three points, Cal swept through the competition at Stanford Open before clawing their way to a solid comeback double game point win against LPC in the finals, earning themselves a bid to the Stanford Invite in just over a week.
Perhaps most impressive of all is that UGMO have looked cleaner and hungrier each new time they step on the field. Rising up from the eighth to the fifth seed in a tournament may not seem like much, but Cal's grit at Pres Day was obvious.
Not only did they have the loudest and most active sidelines of any team at the tournament, Cal looked like the most overtly supportive group of guys at San Diego last weekend. Rushing the field with aggressive, booming chants after just about every score, much of UGMO's energy and fire assuredly derived from their constant bolstering of each other's spirits. Sure, there were instances of players yelling at each other. But such occurrences were quickly diffused, and the passion from those arguments generally seemed to translate into players getting that much more pumped to run hard.
After a close one-point win over Victoria to open the tournament, Cal collected themselves and dispatched the rest of their pool — with the exception of Colorado, of course — with relative ease, including an 11-5 pounding of University of California-Davis. Sunday found them eking out a close victory over San Diego State before falling to UBC and then to Oregon in the quarters. Monday's results, however, saw improvement once again with a double game point win over Washington and a 14-11 besting of UCSB for fifth place.
They accomplished this late run with driving triangle cuts and patient handler work. Chuck Cao (Mischief) directs much of the offense, and his supporting handlers commonly show strong discipline and solid break throws to maintain possession flow is stagnant. Cutters display good field awareness and on the whole do an impressive job of staying within their own lanes and clearing hard so that there's often a great deal of space for the active cutters to get open.
If their season's current trajectory is any indication, UGMO just might be surprising some sleeping teams at Stanford next weekend.
Athletic LPC Still In The Mix
Las Positas looked like the team with perhaps the most heart all weekend. Despite playing without Marcelo Sanchez (Revolver) and losing Simon Higgins (U-23, Polar Bears) on Sunday to a shoulder injury, the Hawks nevertheless put up strong fights against some good teams, not losing by more than three points, even to Oregon, until their final game for seventh place against Washington. By then, however, LPC's normally sixteen-man roster had been depleted to a threadbare twelve, wherein those left after the nine-game trudge were exhausted.
Yet, even with their heavy reliance on a few key players, the Hawks still managed to stay in just about every game, due in large part to the stellar handling of Sonny Zaccaro (Polar Bears, Mischief). With a dangerous first step and dirty, quick release backhands and flicks, coupled with smart middle cutting and streaks deep from the handler position when defenders turn their backs, Zaccaro stands as not only one of the most versatile handlers in the Southwest Region, but also one of the most reliable, capable of putting the team on his back and leading the grind during the longer points.
LPC also received strong contributions from lockdown defender and tall deep threat Robert Madden (BW Ultimate) and strong middle cutter Sean Ham (Mischief, Sprawl), as well as their handful of other experienced club players. Though the three-day tournament began to take its toll more and more as time went on, as it seems to have at every tournament the Hawks have brought their compact roster to this year, they never seemed to give up. Moreover, as they have so few players, each tournament and each practice just means that LPC gets to develop that much more chemistry among their close knit group of guys.
Which is to say that come Regionals, one can expect LPC to be a team that really knows how to play together. And when this chemistry is built between a group of very athletic and tenacious players, the Hawks just might find themselves fighting in the game-to-go, and with an impressive set of skills at their disposal.
Washington And UCSB Quietly Have Successful Weekend
Though this reporter unfortunately didn't get to see much of either the Sundodgers or Black Tide play, it was evident from both of the teams' results that they came to play. UCSB, with their sizable roster of athletic veterans and significant crop of Condors players, looks like a squad hungry to regain their status as one of the most feared teams in the Southwest. Quality wins over Arizona, Davis, and LPC will go a long way in that effort.
Washington, however, has had a fairly successful program over the last few years, making it to Nationals in 2012 and 2013, though finishing near the bottom both times. Given their growing momentum, this might change, particularly if Khalif El-Salaam (U-23, Stags) keeps improving at the rate he is. One of the most dominant players all weekend, El-Salaam was almost incapable of being locked down by even the most seasoned of defenders, constantly finding ways to get open and racking up highlight plays like they were no big thing. Considering he's only in his second year of college ultimate, El-Salaam, and by extension Washington, doesn't even have skies as limits. But given his nasty hops, expect them to be the norm.