With the Callahan nomination window now open, Ultiworld takes a closer look at some of the top contenders for the prestigious annual award.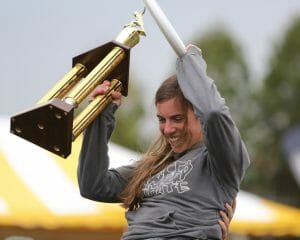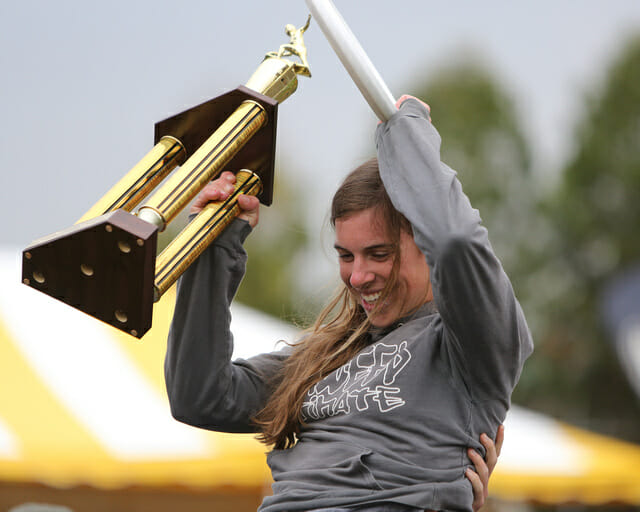 The Callahan Award is the most prestigious annual award in ultimate. Each year, the award is presented, in the words of the award guidelines, "to the [collegiate] man and woman who combine superior athleticism with outstanding sportsmanship, leadership, and dedication to the sport of ultimate. In the eyes of his or her peers, the Callahan winner is the personification of the ideal ultimate player."
With the official Callahan nominations now open, Ultiworld presents the early season Callahan watch list. These players have distinguished themselves through their play this season and, for many, over the course of their college careers.
Ultiworld will have continual updates to this list over the course of the spring season, as we hope to make it possible for players to make as informed a decision as possible about the quality of play from the nominees this season.
MEN'S DIVISION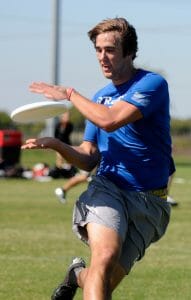 Jimmy Mickle (Colorado)
When you easily earn 1st Team All-Club honors with an unbelievable performance at the Club Championships, there's a high probability you're going to be pretty good in the college game as well.
Jimmy Mickle is the frontrunner for the 2014 Callahan for a very good reason: he makes the game look easy. He is perhaps the most versatile player in the country, able to seamlessly transition from shut-down defense to fast, powerful offense in an instant.
Mickle challenges defenses because he doesn't have any serious weaknesses in his game: his jumping prowess is well-documented, so teams try to force him under. He showed Oregon in the finals of the President's Day Invite exactly what happens when you do that: he burns you with his throws.
Mickle has been among the top 5 players in college for years, and, more than anyone right now, makes the field look small. From pinpoint hucks to highlight reel skies, Mickle is an unstoppable force on one of the best college teams in the country.
Credentials: 2013 South Central Player of the Year, 2013 Ultiworld All-Club First Team, Nexgen Selection ('11,'12,'13), 2012 1st Team All Region, 2011 2nd Team All Region, 2010 Freshman of the Year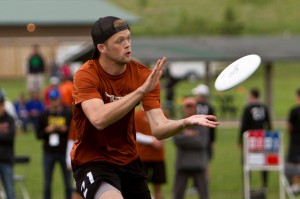 Will Driscoll (Texas)
Driscoll has already laid down a Callahan-worthy performance this spring, dominating all weekend at Florida Warm Up and helping Texas roll to an undefeated title in Tampa.
He maximizes his impressive length in every facet of the game: leaping on offense, roaming the backfield in a zone defense, and challenging the game's best throwers on the mark.
He does it all for Texas without forcing the issue — more than many college superstars, Driscoll plays within the system and maintains a humble attitude towards his success.
An unfortunate injury kept him out for much of the Club Championships and off of Ultiworld's All-Club lists, but he was still voted Austin Doublewide's most valuable player by the team — high honors on a team stacked with talent.
The 6'3″ Driscoll has really developed his throws in the past two years and works hard to improve his game. One of the best raw athletes in all of college ultimate, he could be what Texas needs to make a deep run at Nationals this season.
Credentials: 2013 1st Team All Region, NexGen Selection ('12,'13), 2012 1st Team All Region, 2011 1st Team All Region, 2012 Club Champion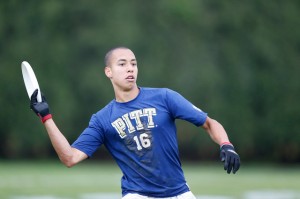 Trent Dillon (Pittsburgh)
With the departure of former Pitt Callahan nominees Tyler Degirolamo and Alex Thorne, Trent Dillon is prepared to step into the spotlight for a young, developing Pitt team.
One of the very best man defenders in the college game, Dillon is becoming the player that will define the 2014 Pitt team.
Offensively, he had to step up at Warm Up with Max Thorne out and Pat Earles missing points with injuries; he showed that he was more than capable. Lightning quick strike cuts and sharp break throws made him difficult to stop in Tampa. He has become a very good two-way player and will be the critical component of any deep run Pitt makes this year.
Credentials: 2013 1st-Team All Region, NexGen Selection ('13), 2012 2nd Team Freshman of the Year, 2012 College Champion, 2013 College Champion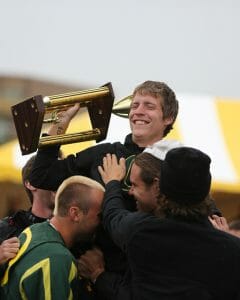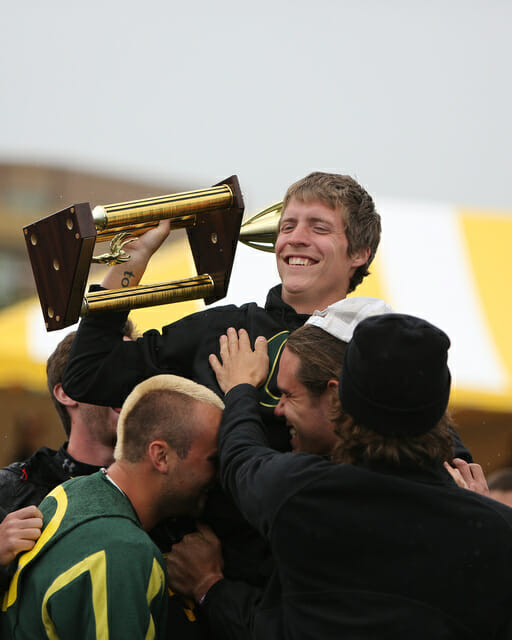 Dylan Freechild (Oregon)
Could Dylan Freechild become the first player to win a second Callahan award? The Oregon senior has only gotten better since last season, and is the on-field and emotional leader of his team.
His skills are well-documented: best-in-class quickness, great field vision, and a knack for the big play. He is easily the best player at his size (5'10") in college and perhaps in the country.
With creative throws and an ability to get a reset at any time, Freechild is one of the game's most dangerous handlers.
Freechild has led Oregon to back-to-back semifinals appearances at the College Championships and is no doubt driven to cement his legacy with a title this season. Without the same outstanding supporting cast he has had in years past, a great regular season performance from Oregon could boost his candidacy.
Credentials: 2013 Callahan winner, 2013 Northwest Player of the Year, NexGen Selection ('11,'12,'13), 2012 1st Team All Region, 2011 1st Team All Region, 2011 Freshman of the Year,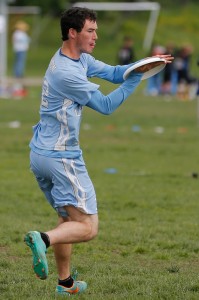 Christian Johnson (North Carolina)
A Ring of Fire standout, Christian Johnson is the best cutter on a North Carolina offensive line that is filled with great ones.
He is a critical part of UNC's spacing, able to streak to the endzone for huge skies or take the under cut and facilitate with mid-range hucks or quick break throws.
By absorbing the opposition's best defender and still making plays, he keeps the UNC offense — perhaps the best in the country — clicking.
Johnson could be challenged in the Callahan race because of the sheer amount of strong players on the team. There is an argument that Jon Nethercutt, the offense's creative center handler and excellent defender, might be the best player on the team. But Johnson is a truly elite deep cutter with an unmatched ability to take over a game.
Credentials: 2013 Atlantic Coast Player of the Year, 2012 2nd Team All Region,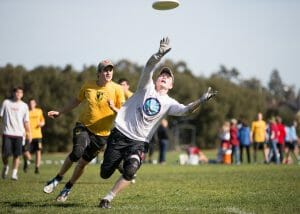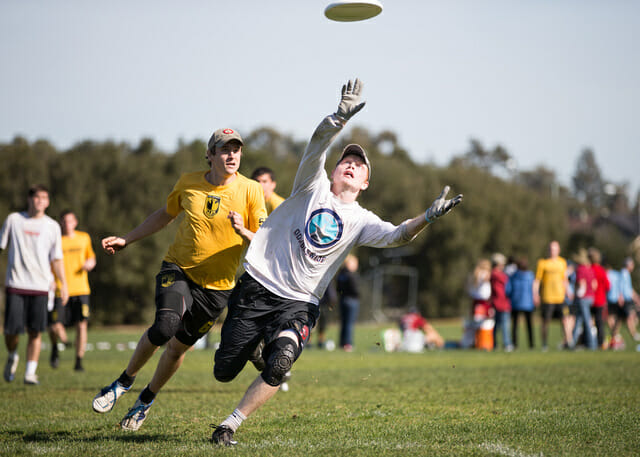 Dalton Smith (Texas A&M)
The heart and soul of Texas A&M, Dalton Smith does it all for Dozen.
After bursting into the national scene with a huge performance for Doublewide after his freshman year with A&M, Smith has developed into more than just an athlete. Playing point after point, he is comfortable beating defenders with short, squirrely cuts near the disc or on streaking deep cuts to the endzone.
Though he doesn't have the same throwing abilities as his partner-in-crime Matt Bennett, Smith is a through-and-through playmaker, finding the big block or sky right when A&M needs it.
In an isolation situation, Smith is an almost impossible cover, finding open space, especially in the endzone.
Credentials: 2013 1st Team All Region, 2012 Freshman of the Year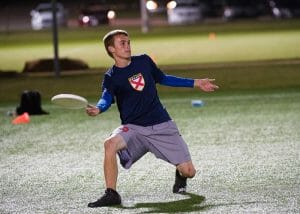 Bobby Ley (Florida)
Florida junior Bobby Ley has already showed us just how important he is for his team, absolutely dominating the field against top-ranked UNC in the fall and carrying them to a finals appearance at Warm Up.
One of the great huckers in the game, Ley can bomb full field backhands and forehands on a dime.
He is a perfect fit for a Florida system that loves to feature its best players on nearly every point and far more than their share of touches. He is one of the biggest difference makers in the Callahan conversation: without him, Florida is merely an average team.
His excellent foot speed makes him tough to stop — it's hard to challenge his throwing lanes while also being prepared for a quick first step on the up line cut.
With another season in front of him, this may not be his year, but a big performance from Florida at the Stanford Invite could really raise his stock.
Credentials: 2013 1st Team All Region, 2012 Freshman of the Year
Callahan Early Season Power Rankings
1. Jimmy Mickle
2. Will Driscoll
3. Christian Johnson
4. Trent Dillon
5. Dylan Freechild
6. Bobby Ley
7. Dalton Smith
Players To Watch
– Eli Kerns (UC Davis)
– Sonny Zaccaro (Las Positas)
– Colin Camp (Wisconsin)
– Josh Klane (Minnesota)
– Jeremy Langdon (Central Florida)
– Jon Nethercutt (North Carolina)
– Mike Ogren (Central Florida)
WOMEN'S DIVISION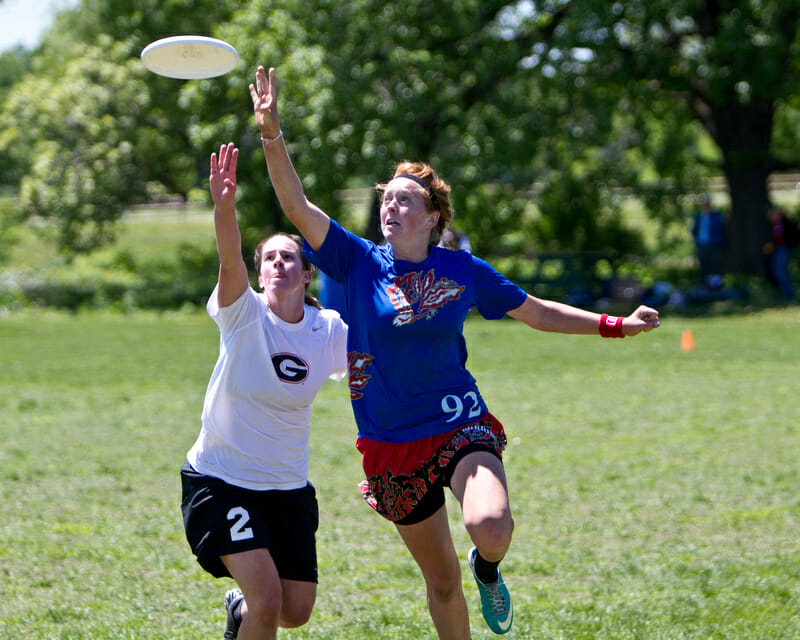 Lisa Pitcaithley (UC-Santa Barbara)
Pitcaithley came into the season already a big name and a shortlister for the Callahan. Her unique combination of size, explosiveness, skill, and aggression makes her probably the single most difficult cover in the women's division. A season with San Francisco Fury has only sharpened her cuts and rounded out her skillset.
Most teams have been forced to switch to zone or junk looks because they lack a single defender who can favorably line up against the 5'10" Pitcaithley.
She's been instrumental in Santa Barbara's biggest wins of the season: a double game point victory over #1 Oregon at Pres Day and a double game point victory over rival #12 Stanford in the Santa Barabra Invite final. It was Pitcaithley who punctuated their game against Fugue by scoring the game winner.
"It is impossible to shut her down, you can only hope to contain her a bit," says Sophie Darch, a senior captain on that Oregon team, as well as Pitcaithley's U-23 Mixed teammate in Toronto last summer. "Even when you put tons of pressure on her she still goes up and makes an incredible play."
In only her second year of college women's – she was already playing elite mixed – this senior is making a huge impact.
Credentials: 1st Team All-Region 2013, Club Championship (Polar Bears – 2012)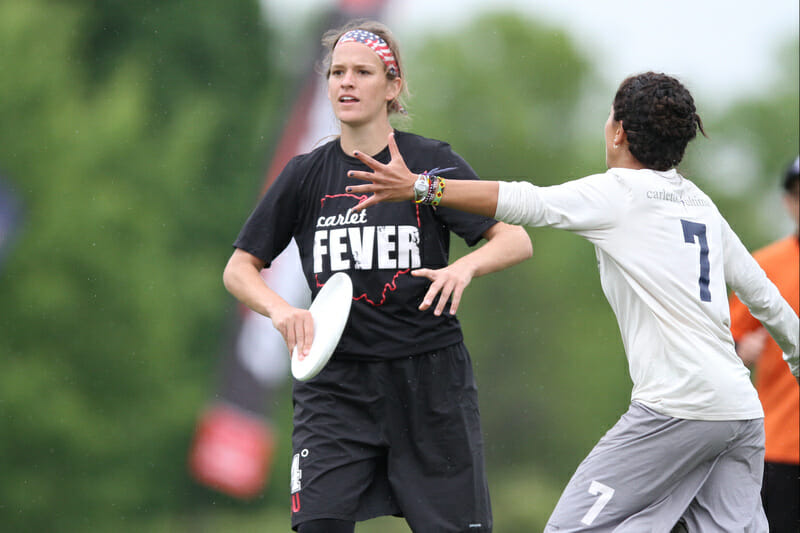 Cassie Swafford (Ohio State)
While Swafford could give Shellie Cohen a run for Most Smiles Per Game by an Elite Player, it is her consistency and versatility that land her on the list. There is no place on the field where she isn't one of the most effective options: using her 5'10" frame in the air on deep cuts, using her footwork to generate under yardage, using her poise to command an offense from the backfield, or even on the sideline, where she's hyper communicative.
In 2013, Swafford's contributions were ever-so-slightly overshadowed by the Callahan nomination of her teammate, Paige Soper. However, her fifth year may be Cassie's year to take on the spotlight.
"She is so versatile in everything," says Soper, Swafford's long time teammate, including with the women's U-23 team in Toronto, "Cutting in general, being a huge aggressive deep threat, [and] being a fantastic handler."
Whether it is the first game of the Conference Championships against a nearby B-team or an elimination game at the College Championship, Swafford delivers. Her game is steady, defensively and offensively, to the point of being relentless.
Credentials: 1st team All Region 2011, 2012, & 2013, Ohio Valley FOTY 2010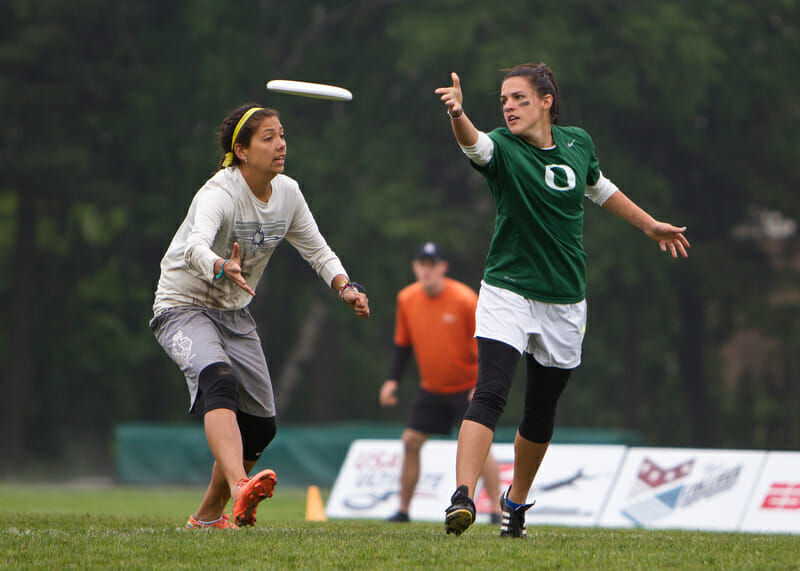 Sophie Darch (Oregon)
An early favorite for the Callahan, Darch's acumen extends past the "best player on the best team" assumptions that may accompany mention of her name. The senior handler is a unique ingredient in Fugue's recipe, the one that ties the bold flavors of their slashing offensive and defensive attacks.
"Sophie is the rock for Oregon that allows everything else to function," says Kyle Weisbrod, coach of regional rival #5 Washington.
What Darch does so exceptionally is make the game easy. Her demeanor is focused and she's a fierce competitor, but all you see when she bombs a forehand that a receiver could catch with their eyes closed is effortlessness. Unrivaled disc control and encompassing field vision make it tough to stop her from granting her offense access to almost every inch of field.
And she delivers that play regardless of the stage, as she did at the 2013 College Championships in her fantastic semifinal performance.
"[Sophie's] poised and precise, and steps up her play when the pressure is on," says Weisbrod. And when you're ranked number one and hold the Championships belt, the pressure is always on.
Credentials: 1st team All Region 2012 & 2013, 2nd Team All Region 2011, Northwest 2nd Team FOTY 2011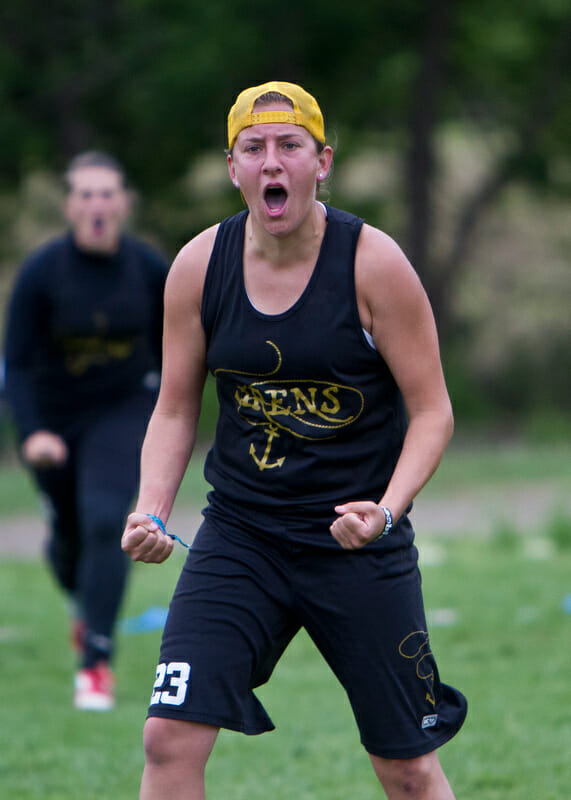 Sunny Harris (Central Florida)
Sonya "Sunny" Harris has an unorthodox approach to the game of Ultimate. Her form doesn't look the same as everyone else's. Her imposing figure doesn't match the typical elite women's player. Her boisterous voice, booming across the field, cuts through the air in a way few other voices can.
Her level of productivity is also unique. In fact, her unusual play style seems to make her even more effective, especially against the mark. Lengthy reach, varying release points, quick snaps, and unreproachable power make her one of the nation's most dangerous college women when she's holding the disc.
"Sunny is an extremely active and quick handler, always looking for the throw and go," says #3 Ohio State captain Cassie Swafford, who has battled Harris's #4 Central Florida team three times this spring already. "Her athleticism, deliberate movement on the field and ability to take over the flow of the offense make her a formidable player and opponent."
Harris is a gunner: aggressive as a handler, happy to take difficult blades, long shots, and over the top looks. On defense, the 5th year veteran is an opportunist; as soon as an onlooker labels her as lazy, she makes a huge sky and immediately takes off for her offense.
Credentials: 2nd team All Region 2012, Southeast POTY 2013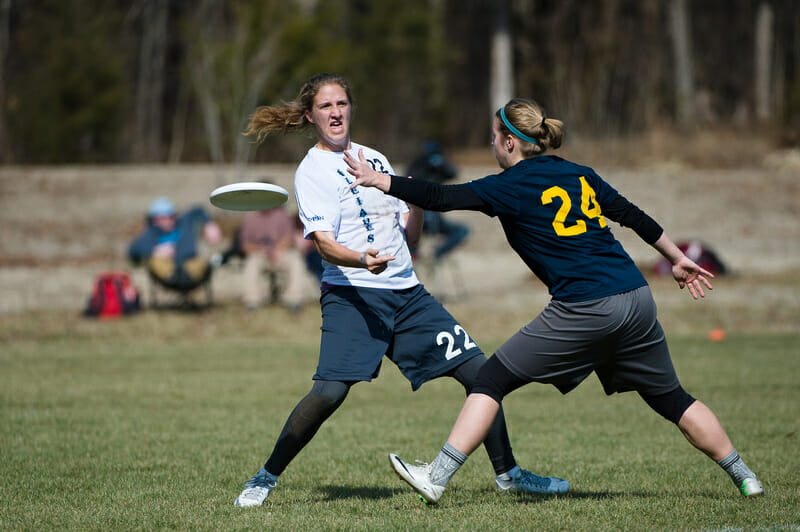 Shellie Cohen (North Carolina)
Pleaides' star handler was in a position to make a run at the award well before her top cutter, Lisa Couper, went down with a ligament injury. Now, Cohen's shouldering an even bigger offensive load, and helping keep UNC in the mix. As the game's premier power thrower, "ShelCo" is finding ways to use her sizable stable of receivers to pick up Couper's slack.
"Shellie has probably the most beautiful forehand huck I've ever seen. [It] can go the full length of the field, and her pulls go even further," says Soper, who competed for Gold at the U-23 Championships this summer. "She is totally committed to her team and knows how to take over the field."
On the other hand, Cohen's also tackling tougher defensive assignments. She patrols the skies for North Carolina on defense.
While power is her calling card, her intuitive ability to know when to ease off the gas is another strength. Whether it is on her throws — it isn't uncommon to see her dropping blades behind defenses — or in her game management, she's that type of ideal player that makes her teammates better by allowing their strengths to shine.
Credentials: All-Region 1st team 2012 & 2013, Atlantic Coast FOTY 2011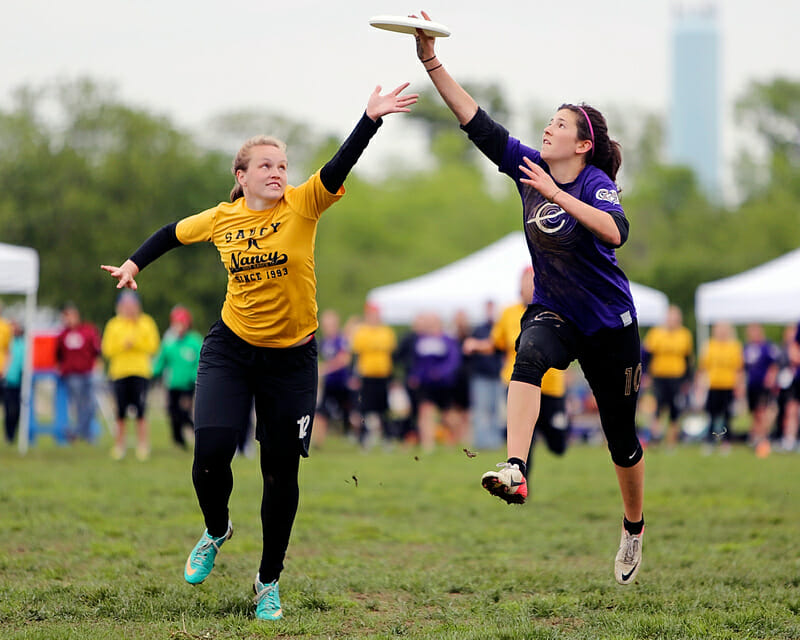 Shira Stern (Washington)
Standing out on a roster loaded with some of the division's best players is a challenge in and of itself. In fact, if some of her teammates made the list or even replaced Stern at some point this year, it would not come as a shock. At this moment, however, it is tough to deny the impact Stern has when she takes the field for Element.
"She's really the full package, throws, cuts, field awareness and defense," says Sophie Darch, whose #1 Oregon team is Washington's biggest rival.
Stern does a little bit of everything for Washington: makes swings, breaks the mark, pops in zones, attacks deep spaces, and defends top handlers and cutters. Her rookie season with Riot has only polished her game. When she isn't doing all of the little things right, she's putting smiles on the faces of UltiPhotos photographers with picturesque layout grabs.
"She's always ready to make the big play when her team needs it," says Darch.
Credentials: Northwest FOTY 2011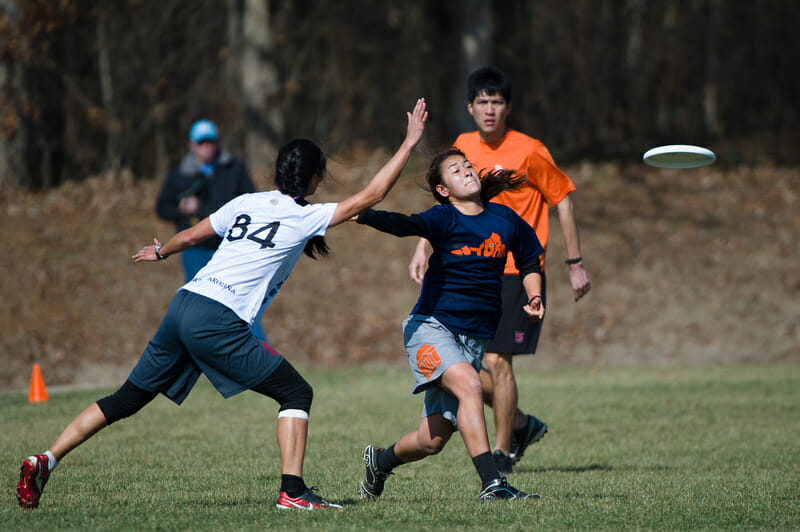 Alika Johnston (Virginia)
Last season, I likened Alika to a "bite-sized wrecking ball", and I think it remains one of my favorite and most accurate descriptors ever. Johnston is the heartbeat of one of the scrappiest teams in the country, a grinding handler and defender with deft touch and camera-flash quickness. She plays a fearless game that seems built upon her being willing to sacrifice for her Hydra teammates.
"She's quick and has a pretty impressive arsenal of breaks," says Shellie Cohen, captain of Atlantic Coast rival #16 North Carolina, "and her athleticism and smart poaching off her man can make running an offense difficult."
Johnston already has a club championship to her name, a significant contributor in her second year with Washington DC Scandal. She's only a junior, having won the Atlantic Coast 2012 FOTY and claimed 1st Team All-Region last year. With her on the field, there's no game Virginia is out of.
Credentials: 1st Team All-Region 2013, Atlantic Coast 2012 FOTY, Club Championship (Scandal – 2013)
Callahan Early Season Power Rankings
Lisa Pitcaithley
Shellie Cohen
Cassie Swafford
Sophie Darch
Sunny Harris
Shira Stern
Alika Johnston
Players To Watch
– Jesse Shofner (Oregon)
– Alysia Letourneau (Washington)
– Liza Minor (Iowa)
– Paige Soper (Ohio State)
– Monisha White (Stanford)
– Kayla Ramirez (Texas)
– Julia Snyder (Carleton)