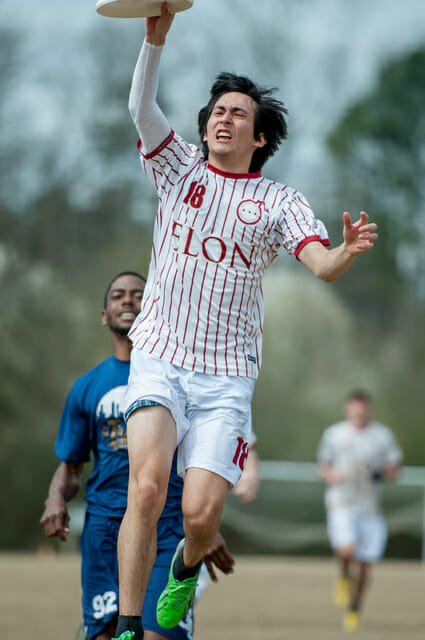 DIII competition continues to heat up around the country as one of the major showdowns — DIII Easterns — is just days away. Here's a look at what happened this weekend.
At Terminus, Indiana Wesleyan couldn't come up with a win. They played fairly close with a tough Georgia Tech squad but suffered a handful of losses otherwise. Elon impressed in their first action at Terminus, taking down IWU as well as pool-winning Alabama. We'll follow up with Elon at DIII Easterns next weekend.
Grinnell looked solid at Woodside Invite, losing just 10-7 to Cornell and finishing pool-play 3-1. They'd fall to William and Mary in quarters but finish with a 5-2 weekend. They still sit on the outside looking in at a competitive North Central region.
Neither Rice nor Trinity made it out of quarters at the eight-team Centex Open. Both teams finished 1-2 in pool-play with Rice winning the head to head matchup 15-13. Trinity earned a decent win against Kansas and played Oklahoma 11-14. Both teams should improve by the series, but a deep region in 2013 continues to look less impressive this spring.
At PLU BBQ, Victoria came away with the tournament title, but it was the NW-III that made things interesting. Pacific Lutheran played UVic as close as anyone and even gave Lewis and Clark a decent game.
In rough conditions, L&C and Puget Sound played a great game with the Postmen coming away with the 10-9 victory. UPS went up 9-6 but held off a late push from Bacchus to make the finals.
High Tide sessions should be taken with a (large) grain of salt, but a number of DIII teams have made their marks on Sessions 1 and 2. Lehigh took down St. John's twice in Session 1 while Stevens Tech, Bentley, Bowdoin, Ohio Wesleyan, and Richmond all played well in Session 2.
DIII Easterns this weekend will provide cross-regional matchups between some of the nation's top teams. Middlebury will look to defend its title but a number of tough competitors will be coming for them. Stay tuned for Ultiworld written and live video coverage.
USA Ultimate's DIII Rankings need to be taken lightly at this point in the season. Top teams like Bentley, Steven's Tech, Middlebury, and Lehigh have yet to play while Pittsburgh-Johnstown sits at 4th in the nation after one average tournament. Expect a great deal of movement in the weekends leading up to conferences.
*Wake Forest's performance at Tally Classic was missed in last week's Power Rankings. Their movement in this week's rankings is reflective of their Tally Classic results. Despite sitting at 2-12 for the season, their strength of schedule is markedly the toughest of any DIII team. When push comes to shove in late April, grinding out losses to Pittsburgh, Virginia, and Tulane may be better than flexing their muscles against lower level competition.