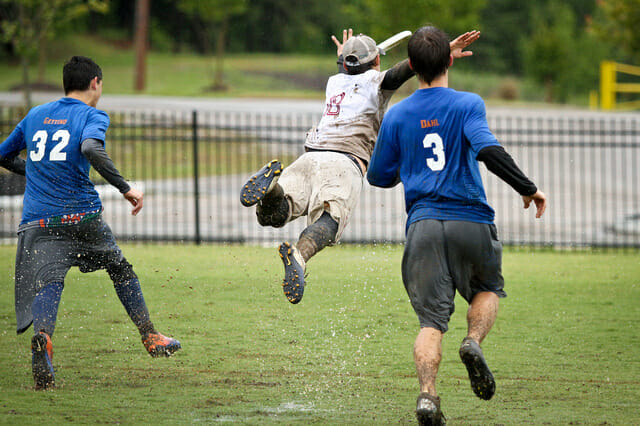 In a year of upsets and parity in the college game, this year's Southeast regional will tell us what the USAU algorithm and online power rankings are really worth. Whether the ranking and bid system is perfect or not, it makes the Southeast men happy; they get yet another year with three spots to the big show. Those bids are up for grabs in Tuscaloosa, Alabama, this weekend.
How'd We Get Here?
It was clear early on that Central Florida was a favorite to get back to the national championships — and maybe even the finals — but a rough start to their season seemed to leave the door wide open for other teams around the country.
"We know we could have been better in many of our games," UCF Captain Mike Ogren told Ultiworld. "Coach [Andrew] Roca was quoted a few times about our expectations, and he always said exactly what we wanted to accomplish. We fell short of those goals."
However, UCF's win in the Florida Conference Championship could be a sign that they are coming back into powerhouse form. That all depends on what you think a double game point win in the finals really means for the Dogs of War. It's this simple: if you let yourself believe that Roca isn't trying to peak his team at the right time, you're probably wrong. Ogren added that the team has a newfound focus. "Finding that sense of urgency in valuing and celebrating every point against every opponent helped us a lot this past tournament," he said.
Don't be surprised to find UCF exactly where they were at the end of last season, winning the Regional championship this coming weekend.
The other two valuable bids for the region came from the usual suspects: Florida State and Florida.
Both teams had very successful early season appearances, with Florida reaching the finals of Warm Up and FSU making it to the semifinals of the Stanford Invite (losing that game on double game point to eventual tournament winner North Carolina). Ultiworld spoke with Florida's Bobby Ley, who has starting to bring attention back to Florida not seen since the Brodie Smith era. But Ley isn't getting too far ahead of himself. "Our eyes are set on locking up that bid to Nationals," he said. "I think this year's team has what it takes to make it."
When asked about what sets them apart, Ley pointed to their "X Factor" Coach Cyle Van Auken. "Cyle knows how to make a weapon out of all the players on our roster and he can quickly figure out what our defense needs to take away," Ley said.
Florida State has looked even more impressive this season than they did last year, showing off outstanding athleticism and some star power of their own in Chris LaRocque. For much of the early part of the season, they looked in control, but have slipped a bit since with a rough showing at Easterns and, ultimately, a third place finish at Florida Conferences.
But that sells them a bit short — they lost by one to Central Florida in the finals after defeating Florida in pool play on double game point. They went on to lose to Florida by four in the second place game.
In crunch time, expect, like last year, a very tight game with either of their Conference rivals at Regionals. All three teams are very good, and the winner is most likely to be the team that better executes the game plan. The talent is balanced. All three programs have spent time ranked in the top 5 of the Ultiworld Power Rankings during the season.
So is this tournament really just a formality for seeding the Florida teams at Nationals? Not exactly. Don't forget the performances of LSU at Centex or Tulane at the Santa Barbara Invite. And with dominant performances from Alabama and Georgia in their respective conferences, plenty of teams are looking to steal a trip to Cincinnati from the three Florida powerhouses.
Will Last Years Mess Make an Appearance?
Going into last years Regionals, the Florida teams had all asserted themselves at the top of the region yet again. But with a pool play loss to LSU, Florida State found themselves on the same side of the Sunday bracket as their sectional counterparts UCF and UF. This meant only two of the three bids could go to the teams that actually earned them. Florida State prevailed, leaving Florida behind.
To try and avoid this, teams in the Southeast are trying to change into a double elimination bracket format. While this might get the lower teams fewer games, it will likely do a better job of figuring out who the best of the region actually is. However with Vanderbilt's late drop, the format is still in question. A late addition to the field could come from Georgia State or Miami, in which case the double elimination bracket could still remain a possibility.
Who's Nipping at the Heels?
The games-to-go might very well come down to "who did this team play before us?" That being said, is there an easy path to be found? Georgia's body of work has earned them the fourth overall seed, and with all their players healthy they are a very dangerous team. Elliot Erickson is one of the best players in the region, and can (and will have to) do just about everything. If he gets his team through the first round of the Bracket, they will likely face Gulf Coast Champions Alabama. With Alabama's younger players gaining confidence, they'll try and ride the momentum into what could be a meaningful Sunday.
LSU might have had the best chance for an upset, had they not drawn a likely matchup of Florida State. Out of the three Florida teams, FSU might be the hardest for a young LSU team to take on. Florida State is arguably the deepest team in the region, with a defensive culture that smothers even the best offenses. Even with all of LSU's young talent, DUF will have an easier time wearing down a thin roster like LSU's. In general, FSU's remarkable conditioning will help them in the long run this weekend, regardless of the format. But you can be sure that FSU won't overlook the very same team that beat them on Day 1 of last years Regionals.
The next three are Auburn, Georgia Tech, and Tulane. These teams are all deadly in their own way, but it remains to be seen if they can hang with the top teams in the region. Auburn's younger players are playing like veterans, and TJ Martin could lead this team to an upset in the right conditions. Likewise, when GA Tech's Karl Staber is healthy, he can be one of the best in the region — if you can't see it, ask them how they beat the Dogs of War back in February.
Tulane made some noise in November last year at Classic City Classic, and has rode that momentum to some good finishes. The trio of Greg Cousins, Evan Walters, and Pat Dougherty can sneak up on any defense. In the Southeast, no game is locked up.
Who To Watch For
The top players in this section haven't failed to bring some attention to such a talented region. Here's the SE region's best, and some players to look for.
The UCF Four: You should know the names by now. The Dogs of War may have the most rounded top half of a roster in the country. Offensively John Best and Mike Ogren are two of the best, and defensively Brawley Adams and Jeremy Langdon can hang with anyone. If all four of the pistons are firing, UCF will put on a clinic in Tuscaloosa and take the region.
Bobby Ley (Florida): The true definition of a player with the "green light", Ley does what he wants, when he wants, and the unconventional throws are starting to work. Bobby Ley does everything for this UF team, and can throw any cutter open. Tip for teams that face the Gators: if a downfield cutter is covered, he's open when Ley touches the disc.
Chris LaRocque (FSU): Chris might be the best defender out of any player above. He embodies the Florida State mentality of bid, bid, bid. And he compounds that with a calm but powerful arm as a thrower. While he is no doubt their best player, FSU might be the deepest team in the region thanks to his leadership.
Garrett Yettman (LSU):  Get used to hearing this name being thrown around quite a bit. As a sophomore captain, Yettman almost has a combination of Ley's throws and LaRocque's athletic ability. If he can keep a cool head and make good decisions, he will draw teams' best defenders and still win some one-on-one battles.
Elliot Erickson (UGA): Elliot has been dealing with injury for as long as most can remember, but when he's healthy, he's an extremely tough matchup. His size doesn't do him any favors, but his team has learned to throw it out in front; as one of the fastest players in the region, he will run it down. Despite his size, Erickson is another defender who can make teams pay. Although he has recently struggled with injury, Erickson says he's "been feeling great lately." 
Others to watch for:
Austin Taylor (Alabama)/li>
TJ Martin (Auburn)
Karl Staber (Georgia Tech)
Greg Cousins (Tulane)
Brian Moore (Alabama)
Stephen Cummings (Mississippi State)
How Will it Play Out?
The games-to-go will be very dependent on the games before. If any of the Florida big three let a team run them to a double game point finish, it could be draining enough to leave them vulnerable for a later upset. There's plenty of talent in the region to merit a high level of intensity in every game for every team. Not to doom these teams with predictions, but UCF and Florida State look very difficult to slow down. On the other hand, the right matchup with Florida, a team that is very dependent on Ley and not outstanding defensively, could give them a real scare. Let's hope one of the nation's most exciting regions will offer yet another enticing end to the season's story.