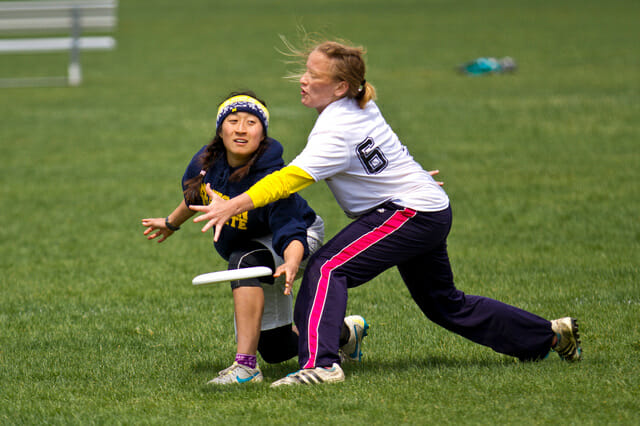 "We have nothing to lose. We weren't even supposed to be here!" 
Screams Purdue Coach Jackie Lai as she leaves the line on the field, pumping up Purdue AMOC in the Regionals Finals where nobody, including Purdue, expected them to be.
In my Great Lakes Regional Preview, I suggested that Purdue may give a few teams a headache, writing simply that "cleating up in the Regionals finals would be huge for a team that stays under the radar and close to home." Indeed Purdue seemed shell-shocked during the first half of the final game, dropping easy passes and executing risky throws that lesser defenders would have let slide. Not Jacqueline Jarik.
On Sunday the wind shifted decisively to sweep across the fields so that throws were unreliable and catches had to be decisive. Some points stretched on as both Flywheel and AMOC desperately threw trash into the endzone, hoping it would stick to their teammate's hands. Flywheel managed to string together enough plays to take half 8-2.
AMOC swallowed their nerves in the second half to connect offensively, and their handlers found success with short passes in the midfield that their cutters could confidently grab. They managed to score 5 points for Flywheel's 6 points in the second half, and they proudly lost 14-7.
Illinois Wins Some Battles But Not the War…
Illinois has some wounds from this weekend, but those battle scars will build a stronger Menace next year. Illinois entered the weekend as the second seed behind Michigan, and they seemed like a coiled snake ready to attack whatever got in their way. Many teams say that "every player is a playmaker on our team," but Illinois, much like Flywheel, indeed has a solid squadron of women who can move the disc up-field.
Beyond the talented handling from Jean Huang, you can find the powerful personality and leadership of Allie Fish; the fast and promising cutting from freshman Joline Chang; the smart movement of Bonnie Lin; and the understated yet effective defense of Sidney Long. Menace was a team that could have won.
Illinois played seven games this past weekend, but it was their only two losses that irrevocably shaped and ultimately ended their season. Both games held moments of glory and periods of failure for Menace, and these games reveal what Menace will become. Next year.
The Upset
When Purdue AMOC lost to Illinois on double game point at Chicago Invite, they decided they had something to prove. So they tightened their laces and their lines for their pool play rematch, and Purdue came out hard. They took two breaks early on to gain a 3-1 lead, and they maintained the break to take half 6-4. Their success against the handler-heavy Illinois stemmed from the simple concept of hard, close man defense. Purdue AMOC applied pressure to Illinois handlers Jean Huang and Allie Fish, matched by step-for-step defense on their cutters. AMOC immobilized the up-line cut that Allie Fish relies on, and they forced Menace out of their rhythm.
When it was their turn, Purdue's offense was defined by their captain Anne Hemmelgarn. Her steady throws and forehand shots allowed the rest of AMOC to work through their sets, and she stood apart from her teammates in her consistency through the weekend. Purdue played a tight rotation against Illinois, with almost entirely veterans stepping on-field, and even then only 8-9 girls in total. This strategy brought them a 10-7 upset over Illinois, and it carried them through the rest of their relatively easy path to the finals.
The Final That Never Was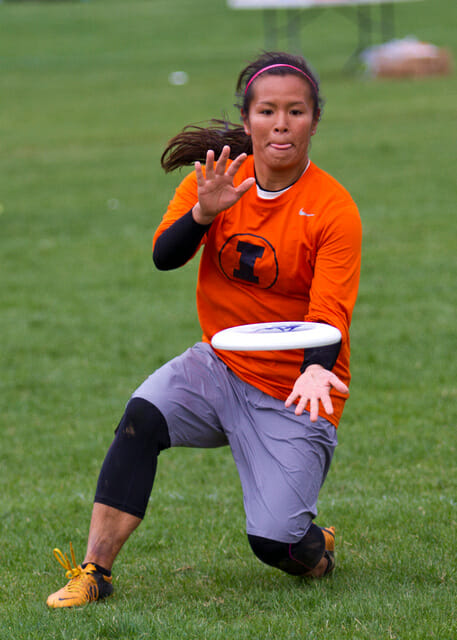 Because of Purdue's upset in pool play, Illinois Menace found themselves on the same side of the bracket as the team they hoped to avoid until the finals: Michigan Flywheel. But Illinois came into the game off a viciously fought and game against Northwestern, a game of zone that forced ugly throws and uglier catches from both teams. Yet this 10-6 victory gave Illinois momentum for the semifinals. Flywheel lacked the same drive after a mind-numbing quarterfinals against Michigan State that filled both teams' stats sheets with turnovers.
Illinois jumped ahead as the Menace women worked aggressively and Michigan adjusted their offensive dials. The Flywheel handlers had more overthrows or lofty 50/50 shots than I've seen from them so far this season, so Menace could capitalize and reach 5-2 before Flywheel locked down.
"We were down like 3 breaks, and we realized we need to step it up. We don't ever want to be in that position again," said Meeri Chang, who remembered that moment well. She responded to their deficit with a low backhand break that would get Michigan to 3-5. They took advantage of an Illinois turn, and they broke to make it 4-5.
These teams were deadlocked in a close battle, a battle that looked suspiciously like the finals match-up that could have been. Menace put their strongest defenders on Flywheel's stars, and they played tight man defense throughout the game. "Going into each point, I would ask the girls, 'Do you have your matchup? Do you believe you can beat your matchup?" Illinois Coach Angelo Ramos said about their defensive strategy. Their strategy was effective, earning them a full break late in the game, but Flywheel pulled ahead with their indomitable offensive flow to grit out a 14-8 win, on a layout grab from Hannah Henkin.
The Champions: Polished but not Perfect
"We knew going into the weekend that nobody was going to give us the bid," said Chang. "We knew we were going to have to take it." Her words, after winning the sole bid to Nationals, put Flywheel's gritty work all weekend into context. They didn't look as pitch-perfect as they did at Centex, but a win doesn't have to be pretty to be a win.
Michigan began their weekend strong, avenging last year's loss to Northwestern. Both teams had groggy beginnings with plenty of drops, but Flywheel still pulled ahead early, scoring upwind and down. Despite the strong wind Chang pulled off at least three lefty high-release backhands in that game alone. After overcoming Northwestern 13-5, Michigan churned through Loyola, University of Chicago, and Eastern Michigan, ending their Saturday with a 50-12 record.
Flywheel has a small roster of about 17 women, but their roster is deep, and low numbers means that their chemistry develops faster as handlers and cutters learn what each other wants. These connections were evident in a no-look backhand huck from Jacqueline "Jj" Jarik to Becky "Tots" Moore in the endzone. Jj didn't check for Tots' position but instead threw to where she knew Tots would be in several moments. This intuitive style of play makes Michigan a pleasure to watch, and it will make them even more formidable in Cincinnati.
University of Michigan finishes school in the next week, which means that the team will have nearly a month to do nothing but "focus on Flywheel."
Fundamentals Grow in the Great Lakes
After spending 4 years in the Great Lakes Regionals, I was impressed by the higher level of play that every team displayed this weekend. In all the Nationals hype it can be easy to discount developing teams like Eastern Michigan or rebuilding teams like Michigan State University, but their play at the bottom of the bracket looked better than some of the semifinals and finals games of the Great Lakes in years past, and I think this step forward deserves recognition. Women's development often becomes a nebulous buzz word in comment threads, but seeing a steady flick and a nuanced offensive set from new teams signals an encouraging new chapter in Great Lakes women's ultimate.