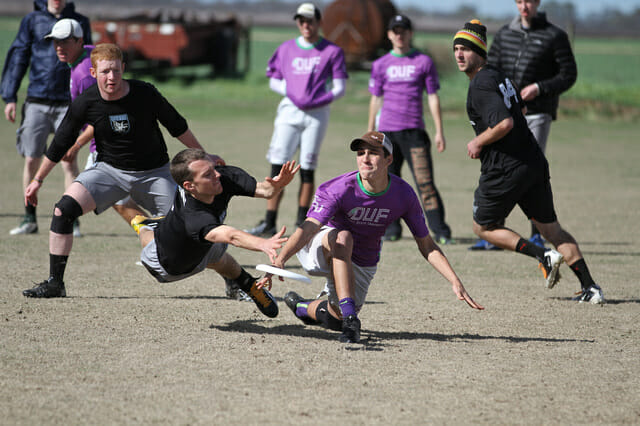 Outside of the top and bottom tier of teams at this year's College Championships, ranking teams becomes quite difficult. Many in the muddled middle have wins against one another and seem to play a bit hot and cold. While there may not be a vast amount of parity this year — teams like Colorado and Pittsburgh are clearly a step above most of the field — there is a lot of balance in the two to four seeds.
Here is a look at the teams we see on the quarters bubble — looking to get into prequarters and challenge for a spot in the Championship bracket. The teams above them — those expecting to reach quarters and perhaps challenge for a semis spot — could just as easily be on this list. But lines have to be drawn.
Here is a look at the five quarters hopefuls.
UC San Diego (28-6 Overall; 1-5 v. Nationals Qualifiers)
Key Wins: Central Florida, Georgia, UC Davis
Key Losses: Oregon, Colorado, Wisconsin, Florida State
UCSD was a three foot throw away from a stunning exit in the semifinals of Southwest Regionals. But even after Nick Smith dropped the pull on the final point of the game, the team came first. There was no yelling, there was no anger. Instead, Smith's teammate Cody Kirkland gave him a high five and patted him on the back. One minute later, that poise shone through in an epic goal line stand that turned into a victory, and, later, a Regional Championship.
That kind of chemistry is the defining feature of this UCSD team. But will that be enough to propel them past a caliber of teams that has generally beaten them this season? UCSD is just 1-5 against the field, the lone win coming in a strong game against Central Florida at the Stanford Invite.
If you're looking for a reason to believe they are perhaps a bit stronger than they appear, note that all but one of their five losses to Nationals bound teams came at the mightily windy Stanford Invite and, in the one round where the wind really held off — prequarters — they dispatched Central Florida. In a relatively calm quarterfinals, they played tight with a red hot Florida State team, losing 15-12.
At Regionals, the team had some problems with maintaining a lead earlier in the weekend, but consistently found a way to win. They were clearly prepared for UC Davis and really took them out of their element in the finals.
The team thrives in good weather conditions with their shifting "spread offense" that looks to attack deep wherever possible, often to the 6'6″ Trevor Purdy. When they stay in disc control mode and take smart shots, they are very dangerous. But they are susceptible to poor turnovers which will not cut it at Nationals.
Their defense will get some breaks, no question. Led by captain Nick Smith (generally considered the team's best all-around player), the defensive line is aggressive and athletic. They made some spectacular plays against Davis with some wild layouts, and they have a smart, poachy junk look that can disrupt opposing offenses.
POOL ANALYSIS
UCSD will play Colorado, Harvard, Wisconsin, and Eastern Michigan in Pool A.
Out of these four teams, UCSD has seen Colorado and Wisconsin — they lost 13-8 to Colorado in pool play and 15-8 to Wisconsin in the consolation bracket at Stanford.
The team has to like its chances to reach prequarters. They have experience preparing for and beating a top-heavy team, which could give them an edge against EMU. UC Davis has two players in Eli Kerns and Nathan White that are just as threatening — if not more so — than Johnny Bansfield and James Highsmith. Both Davis and EMU just don't have the same depth down the roster as UCSD.
Harvard also presents a potentially winnable game for UCSD, which may be able to use its athleticism defensively to challenge Red Line. Expect a close game.
Wisconsin and Harvard are likely to find their way to another win over UCSD. Wisco is like a beefier, much more experienced version of UCSD — defense first, deep, great chemistry. And Colorado is the class of the pool and will be generally winning at least six of the individual matchups on the line.
Carleton (12-13 Overall; 0-9 v. Nationals Qualifiers)
Key Wins: Minnesota
Key Losses: Wisconsin, Michigan, Massachusetts, UNC, Florida, Central Florida
Another regular season of mediocre, even poor results. Another qualification for the College Championships.
The same script seems to play out every year for Carleton, the small Minnesota school packed with frisbee talent. A long winter and a hardened focus on process, not outcome, drives this team to always play their best at the right time: the postseason.
Never has that focus been more important than this year, when a terrible car accident stole the lives of three young players just before the Stanford Invite in late February. With tournaments and practices canceled, the team found ways to grieve, and will surely continue to do so as they continue their season in Cincinnati.
Their return to the field at Easterns was both emotionally and athletically important. Though the team lost nearly all of its games, its players started to rediscover a rhythm. They would lose at Conferences to Minnesota, and then get stomped in the Regional final by Wisconsin, 15-5. But, like it so often happens, the team found another level for their game-to-go against Minnesota and made it back to Nationals.
There are a few things you can be sure of: this team is not as talented as last year's semifinal team. This team is also more talented than their 0-9 record against Nationals qualifiers suggests.
Is this a semis team again this season? It's never smart to completely count Carleton out, but it seems clear that it is a bit of a down year for the program after graduating a senior class packed with stars, including Simon Montague and Nick Stuart.
Sophomore Jesse Bolton is the closest thing to a star the team has this season, but for good reason. He plays outstanding defense and is dangerous downfield after a turnover. Justin Lim has filled the role of Justin Norden quite well — a center handler that simply does not make mistakes.
Prognosticating the finish of this year's Carleton squad seems to be quite a challenge. The three weeks away from the field in early March delayed the progress of the team's on-field performance and they were clearly rough around the edges at Easterns. Beating Minnesota — a team that is in desperate need of some mental game upgrades — just doesn't mean that much.
But Carleton's high skill group from top to bottom plus decades of excellence always seems to give them a push at Nationals.
POOL ANALYSIS
Carleton will play Oregon, UNC Wilmington, Florida, and Rutgers in Pool D.
On pure talent, it seems that Oregon and UNC Wilmington should win this pool. But is there a harder to pool to predict than this one?
Carleton and Florida have a long-standing rivalry and that game should be a good one to watch. The two teams faced off at Warm Up back in early February; Florida won 14-12. The score may well reverse this time around. Carleton has the defenders to slow down Bobby Ley and the Florida offense, as well as the skill players to generate breaks.
Really, every team in this pool is a bit of a mystery. Oregon has been underwhelming but comes in with a four seed and a lot of pedigree. UNC Wilmington has ramped up all season long but has struggled with consistency. Carleton is more of a wildcard than ever. Florida has been very up and down. Rutgers beat Cornell, but basically nobody else.
Carleton just may not have the firepower this year to stop Wilmington and Oregon, but you have to expect they'll find a way into prequarters.
Central Florida (29-12 Overall; 7-5 v. Nationals Qualifiers)
Key Wins: Pittsburgh, Texas, UNC-Wilmington, Harvard
Key Losses: UC San Diego, Tufts, Harvard, Florida, Georgia
A 2013 finalist, Central Florida has not exactly had a smooth road back to the College Championships. Frankly, that's an understatement.
Starting the year with a loss to LSU at T-Town Throwdown set up a wild season of ups and downs that culminated in them taking the third bid out of three from the Southeast Region after nearly losing a strength bid due to an eligibility discrepancy. Talk about adversity.
For all this to come after a season in which the team played perhaps the best game of the year against Carleton in the Championship semifinals to earn a spot in the finals against Pitt is particularly strange. The team did graduate some important talent, but retained many of its stars, including Mike Ogren, Jeremy Langdon, and John Best. But leadership issues permeated the season, and coach Andrew Roca has been tinkering with the situation all season and seems to have only recently figured it out.
It's tempting to give Central Florida the benefit of the doubt — "they'll bring it all together at Nationals!" "Peaking at the right time is the only thing that matters!"
While that could well be true, it's hard to look at losses to Georgia and Florida State two weeks ago as signs of a team poised for a deep run.
While the team can no doubt hang with the country's best teams, they have not shown an ability to win games in big moments. They lost in the prequarters at the Stanford Invite, then again at Easterns. Their stock has pretty consistently lost value over the course of the season.
They have a chance to rewrite the script, of course, but where will it come from? The talent has never been in question, but the on-field results do not point to a team that is ready to shine.
POOL ANAYSIS
Central Florida will face Pittsburgh, Texas A&M, Michigan, and Dartmouth in Pool C.
UCF has to be happy about their pool draw. Pitt is a team they know well and have beaten twice this year (both times at Warm Up back in February). Don't put a lot of weight on those wins, but know that it gives UCF a small mental edge.
Texas A&M will play UCF first thing on Friday morning. Nerves have a way of causing some issues for new qualifiers, and UCF has the big advantage of having been there before. It is an important game for UCF to win, and less so for A&M, who will be looking to get their feet underneath them as they prepare for a long weekend.
Michigan may be a tougher matchup for UCF; both teams have some stellar athletes and the game will likely come down to mid-game adjustments. I think you have to like Roca — the three time SE coach of the year — in that spot.
Dartmouth, a team that challenged UCF in quarters last year, is just not deep enough to beat UCF.
Central Florida, then, has a very good shot at prequarters. But we've seen the wheels come off enough times this season to know that it certainly won't be a cake walk.
Texas A&M (25-8 Overall; 2-7 v. Nationals Qualifiers)
Though Texas A&M comes into the tournament as the seventh overall seed and second in their pool, they still have to feel like an underdog. They have fought tooth and nail just to reach Nationals, barely missing out on an additional strength bid last year and falling short at Regionals before nearly suffering a shock upset to Colorado College in the game-to-go this year (after losing to them earlier in the tournament).
A&M can now breathe a sigh of relief — they've earned a spot and absolutely deserved it. Now what kind of damage can they do?
For the most part, they took care of business this season, but their impressive early results have lost some luster over the course of the season. They finished Regionals with a 2-7 record against qualifiers — their two wins came against Pittsburgh (at Warm Up) and Oregon (at Centex).
While those wins are nothing to scoff at, it's clear that Pittsburgh is a different team now than they were back in February and Oregon's mediocre regular season doesn't add a lot of prestige to that win.
Matt Bennett and Dalton Smith are the key pieces to the A&M attack, and the team will have to hope Smith, who injured his hamstring at Regionals and didn't play in key games down the stretch, will be back at 100% for Nationals. His role was ably filled by the underrated David Na, who was available for under cut after under cut and didn't shy away from the more substantial task asked of him.
A&M is an emotional team that can be susceptible to momentum swings — when they build a lead early, they are usually in good shape. They will look to jump out to early leads and establish themselves at the beginning of contests.
POOL ANALYSIS
Texas A&M will face Pittsburgh, Michigan, Central Florida, and Dartmouth in Pool B.
Yes, A&M has a head-to-head win over Pittsburgh. No, they won't be able to beat Pittsburgh this time around. Pitt has all but transformed since February, when they were focused heavily on development. They are too deep and too skilled to struggle against A&M at Nationals.
A&M's biggest games, then, will come against Michigan and Central Florida. Their game against UCF is their first of the day and, while they will of course look to win it, they may find it more important to settle into Nationals than to try to put up a W. That can set them up for a prequarters spot if they can beat Michigan and Dartmouth.
A&M will have their hands full with Michigan, a team that matches their athleticism and has developed a much more balanced mental game than A&M. The matchups in that game — perhaps Smith on Yonatan Rafael? — should be fun to watch. Expect a lot of two-way play from A&M's best players and a good, hard-fought game. A&M has been forged by some of the best teams in the country in the South Central and know well what it takes to play at a high level.
Florida State (24-11 Overall; 10-10 v. Nationals Qualifiers)
Key Wins: Pittsburgh, Oregon, Texas A&M, Florida
Key Losses: Texas, UNC, Florida, Texas, Central Florida
At one point this season, Florida State was ranked in the top 5 of the Ultiworld Power Rankings after coming off of impressive runs at Warm Up and the Stanford Invite. But the team has lacked punch since then, going 2-5 and looking flat at Easterns and struggling with their fellow Florida teams in the Series.
Which team will show up to Nationals? Last year, in the team's first qualification in years, they went a disappointing 1-4 after a fairly strong regular season. By most measures, this year's regular season was more impressive, and the team has notched wins over a number of strong teams. But like some other teams on this list, FSU's best victories came early in the season as many of the northern teams were still thawing from a long, brutal winter.
But don't sell FSU short — they are an athletic bunch with a feisty defense and playmakers that can hang with the best.
Captain and Callahan nominee Chris LaRocque deserves a lot of credit for not only helping the team on the field this season but also for building a successful program along side coach Peter van de Burgt over the past four years.
LaRocque touches the disc a lot as the team's center handler and is often looking downfield for Andrew Roney and his brother Andrew LaRocque.
The team lives and dies through its defense, however. When they are at their best, the D line is playing hard-nosed man-to-man and forcing cutters to earn their under cuts. They play a high-flying, layout heavy style and are prone to make the highlight reel play.
The team is deep with athletes, but not with skill players. The offensive load is shouldered by just a handful of top players and if you can limit those few key cogs, they are prone to giving up breaks. The D line can mask some of those O mistakes by getting breaks of its own, but when the team is flat, like at Easterns, they struggle to win games. When they're sharp, look out.
POOL ANALYSIS
Florida State will face Texas, North Carolina, Tufts, and Massachusetts in pool play.
FSU is dead center in this pool. They match up quite well with Tufts and Massachusetts, who simply don't match them on athleticism, and not so well with Texas and UNC, who are deeper and just as loaded (if not more so) with athletes.
FSU has given UNC some tough games dating back to the fall, when they challenged UNC at CCC. They also put up a very good game on UNC in the semis at Stanford; UNC needed a late upwind break to regain the lead and win the game. But UNC really struggles in the wind — if Cincinnati is calm, UNC should make easier work of FSU.
FSU seems poised to make prequarters and will probably feel good about their chances in a crossover with Pool B.