The four true title contenders -- Colorado, Pittsburgh, Texas, and North Carolina -- have distinguished themselves this season as the country's elite, often by a wide margin. Read the preview of the four top teams in the Men's Division.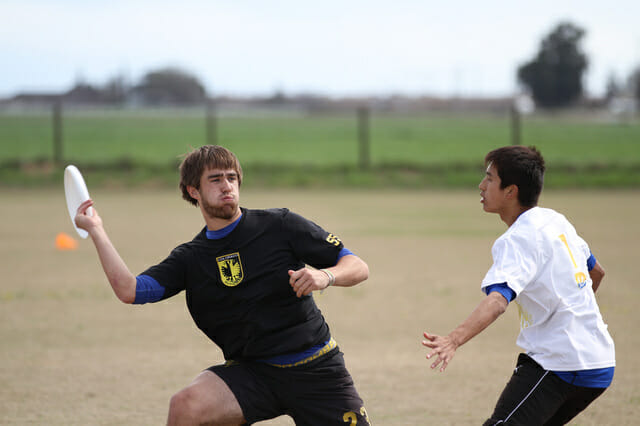 The four true title contenders — Colorado, Pittsburgh, Texas, and North Carolina — have distinguished themselves this season as the country's elite, often by a wide margin. It would come as a surprise if one of these four teams did not walk away from Cincinnati with a trophy in hand.
Below, we take a deep look at each of the Championship contenders, and exactly what needs to break right for them to win a title.
Colorado (27-2 Overall; 7-1 v. Nationals Qualfiers)
Key Wins: Texas, Texas A&M, UC San Diego, Oregon
Key Losses: North Carolina
The undisputed #1 seed and the king of the regular season is the long-time powerhouse Colorado Mamabird. With only one truly meaningful loss — to the season's other dominant player, North Carolina — Colorado has been the cream of the college crop, driven forward by Callahan frontrunner Jimmy Mickle and a deeply experienced and talented supporting cast.
Mamabird's surge this season after a disappointing 2013 has been remarkable. The team slimmed down its roster to just over 20, down from nearly 30 a year ago. They focused heavily on improving their defense. The move has paid off in spades: the team has been rolling its competition.
Though they sit atop a deep Pool A, they should outshine their competition there and certainly have a clearer path than most to the semifinals.
One potential point of concern: the team hasn't really had many big wins against teams outside of their region. They beat Oregon and Wisconsin, but neither have had outstanding seasons. The one powerhouse — other than Texas — that they've faced was UNC in the quarters at the Stanford Invite, and they lost fairly convincingly )though they nearly climbed back into the game in the second half).
You certainly wouldn't venture to call the team untested, but their reps against Regionals-level teams and Texas/Texas A&M vastly outweigh their games against other Nationals level teams.
Colorado gets huge contributions from all over their roster. Mickle is obviously the centerpiece — perhaps even to their disadvantage at times — but Tim Morrissy, Stanley Peterson, Hidde Snieder, and Pawel Janas are all critical pieces to their success.
Colorado has the luxury of being able to put out a line of seven that may well win every individual matchup on the field. Few teams match the top-end depth that Colorado has.
Colorado was unceremoniously ousted from the tournament last year in the prequarters by UNC-Wilmington, who stifled their pull plays with roller pulls and limited Mickle's effectiveness. But the real key for Colorado will be their defense. Against UNC, they really didn't have an answer for the high-flying offensive attack. A zone look did force some mistakes by the UNC handlers, but they struggled to generate blocks, despite a number of gifted individual defenders like Peterson and Morrissy.
They will need to bring their defensive A-game to be able to extend past semis and, potentially, to a National Championship.
POOL ANALYSIS
Colorado will face Harvard, Wisconsin, UC San Diego, and Eastern Michigan in Pool A.
It's hard to see Colorado losing a contest here. They dominated Wisconsin 15-7 at Centex and may just be too deep for the Hodags to counterpunch. Harvard is a very solid team, but will be losing a number of individual matchups on every point.
For any team to really have a chance at taking down Colorado in pool play, they will need to have a stellar offensive performance, very smart team defense, and excellent coaching. Could it happen? Crazier things have. But don't count on it.
Pittsburgh (32-9 Overall; 9-7 v. Nationals Qualifiers)
Key Wins: North Carolina, Wisconsin, Florida, Florida State, Carleton
Key Losses: North Carolina, Florida, Michigan, Texas A&M, Florida State
It really didn't take long for two-time defending National Champion Pittsburgh to bury the questions about whether or not they could really compete without 2013 graduates Tyler Degirolamo and Alex Thorne. Handing the theretofore-undefeated North Carolina their first loss of the season at the Stanford Invite, and then reaching the finals of the same tournament pretty much answered the question. Another deep run at Easterns, and another win over then-#1 UNC, made it clear that Pitt was back in the Championship conversation.
Since the middle of February, Pittsburgh has lost just two games — once to UNC in the finals of the Stanford Invite, the other in the finals of Easterns to Michigan. They arguably have a better resume in the second half of the spring than any team, including Colorado.
Callahan nominee Marcus Ranii-Dropcho proved why he earned his team's nomination with a stellar performance at Easterns in front of a national audience on Ultiworld. His versatility — size, strength, skill, and speed are all in his arsenal — enables him to be a threat anywhere on the field.
He and Max Thorne are the drivers of the Pitt offense, a break-heavy, patient attack that uses the entire field.
Trent Dillon, the NexGen alumnus, remains one of the team's best individual defenders, though Dillon has had a larger offensive role so far this season.
PItt's greatest asset may be its coaching staff, headed by Nick Kaczmarek. The staff's preparation remains unparalleled in the college division, with multiple assistant coaches spending hours poring over tape and, later, watching hours of opponents' games at Nationals.
Pittsburgh's chances at a threepeat have climbed steadily throughout the season, but the team does have some weaknesses. They were exposed by Michigan, particularly by 6'9″ Jesse Buchsbaum, in their deep defense. Pitt is not tall this season, and their best deep defender, Ranii-Dropcho, is more vital to the offense.
Their win against UNC at Easterns came against a team that was clearly not playing its best, and lost one of its stars, Ben Snell, to a knee injury during the contest.
Still, Pittsburgh has the experience on the big stage that the other contenders simply do not have. Nobody wants to face Pitt deep in the tournament.
POOL ANALYSIS
Pittsburgh will face Texas A&M, Michigan, Central Florida, and Dartmouth in Pool B.
Everyone knows this well by now: Pitt has lost to all three of the teams below them at some point this season. But all of those losses — save for the finals loss to Michigan at Easterns — came at Warm Up when Pittsburgh was in heavy development mode and barely resembles the team we saw late in the season.
Of course, the other teams have improved as well. But it's a mistake to think that Pitt is an underdog just because they've taken losses. The team was very frustrated about the loss to Michigan and, frankly, they are the better team. They got caught by an unfamiliar Michigan zone and simply could not take advantage of Michigan turnovers.
Could Pitt got shocked in this pool? Absolutely. Every team has firepower and Pitt is a well-scouted program. But Pitt is extremely deep and gets impressive run out of their "second string" defense, led by youngsters like freshman Jonah Wisch and sophomore Carl Morgenstern.
That depth — and the program's experience — always seems to shine through at Nationals.
Texas (23-5 Overall; 7-3 v. Nationals Qualifiers)
Key Wins: Wisconsin, Oregon, Florida, Texas A&M, Harvard
Key Losses: Colorado, Central Florida, Wisconsin
Like their South Central rival Colorado, this is Texas' best chance at a National title in a long time. With Callahan nominees Will Driscoll and Mitchell Bennett back for another season, and a crazy tall, athletic roster, TUFF fans have to be eager to see the team pull out all the stops as they try to nab a title.
The team has been defined by consistently good play, year in and year out, but haven't broken through to semis in years. Texas is clearly talented enough to do so this year. They battled Colorado to double game point at South Central Regionals and had chances to win the game.
Long-time coach Calvin Lin has stuck to his formula — a fairly rigid vertical stack — year after year to produce strong teams. But even he recognizes that the system has needed to find some flexibility in order for the team to reach that next level. They'll have their chance this weekend.
Texas had a strong season last year but were stunned in the prequarters by Dartmouth and missed the bracket. With another tough pool, prequarters could be in their future again. They'll look to rewrite the story this year.
Lots of role players from last year have filled into starting-quality players, and the team's height may be unrivaled at the tournament. The team is packed with 6'0″+ cutters, and even some of their handlers stand tall. Ironically, perhaps their best pure cutter, Bennett, is a relatively short 5'9″. Don't underestimate him, though — he earned the team's Callahan nod for a reason.
POOL ANALYSIS
Texas will face North Carolina, Florida State, Tufts, and Massachusetts in Pool C.
The obvious matchup to watch here is Texas v. UNC. The two teams haven't played yet this season, and watching the individual matchups play out should be a blast. Texas is a great deep cutting team — UNC struggles with deep defense. UNC shut down Colorado by limiting Mickle — Driscoll is just as important to Texas.
Based solely on regular season resumes, it seems that UNC has the edge, but so much will come down to the little things — defensive adjustments, one-on-one matchups — that it could break either way.
Texas should overpower the other teams in this pool — they are just as athletic as FSU, but more skilled top to bottom. And they just outmatch Tufts and Massachusetts across the line.
If Texas wins the pool, a semis appearance looks probable. If they lose, the road may get too rocky.
North Carolina (33-4 Overall; 13-3 v. Nationals Qualifiers)
Key Wins: Colorado, Pittsburgh, UNC Wilmington, Michigan, Florida State, Harvard
Key Losses: Pittsburgh, UNC Wilmington
UNC Darkside was a juggernaut to start the year. An undefeated fall led right into an undefeated start to the spring, with the team dominating the ACC Ultimate Championships and Queen City Tune Up. The team took its first loss of the year in pool play at the Stanford Invite, but immediately righted the ship, got their biggest win of the year over Colorado in the quarters, and won the tournament.
The team was flying high with a #1 ranking and an elite tournament victory under their belts. Perhaps complacency started to creep in.
The team was flat at Easterns, even as they advanced to the semifinals. There, they got thoroughly beaten by Pittsburgh and, adding injury to insult, lost star defensive handler Ben Snell to a patellar dislocation.
Refocused and reenergized, the team set its sights on the Series. They rolled through everyone right up until the Regional final, when they ran into a red-hot Wilmington team that stunned them, 15-10.
So what to make of this UNC team? Have they failed to develop in the later part of the season as the teams around them have been building?
It seems more likely they have just been worn down a bit by a long season and flying high so early in the year. The team seemed mentally checked out a bit at Easterns, and then had their bell rung by Wilmington at Regionals.
The team has had to adjust to life without Snell, who has been rehabbing and trying to get ready for this weekend. His status is uncertain. New rotations on defense have replaced more stop-gap measures, and the team has started to click. They dominated Ring of Fire in a scrimmage last week.
Handler Jon Nethercutt and Callahan nominee and elite deep cutter Christian Johnson will pace the offensive line as the team uses its impressive depth on the defensive side of the disc. Charlie Schaffner will generally take the opposition's best deep cutter, and Tim McCallister — perhaps the team's regular season defensive MVP — will take the best middle/in cutter.
The team, despite a relative skid in the past month and a half, is still an extremely dangerous matchup and is the only team at Nationals to have beaten the #1 seed, Colorado. They still remain one of the favorites to reach the Championship game, but they might have to go through Pitt — a team that has been a huge thorn in their side for two years — in the semis to get there.
POOL ANALYSIS
UNC will face Texas, Florida State, Tufts, and Massachusetts in Pool C.
All of the analysis from above about the Texas/UNC game applies here. It will be close, and it will be fun to watch. UNC's defense has been a step above Texas' during the season, so if you think defense wins championships, go with UNC.
Florida State has proven a tough matchup for UNC so far this season, but UNC's depth has consistently given them the edge. Expect more of the same.
Vegas would take UNC to break seed and win this pool, but with so many question marks about Carolina's play in recent tournaments, no bet is a sure thing.